Model and GuavaPass country manager Sambie Rodriguez started off her year with a major life milestone: She finally married her long-time beau, Ligo Vice President Mikko Tung, yesterday, February 3.
The couple tied the knot with an elegant church wedding at the Manila Cathedral flanked by their adoring close family and friends. All eyes were on the gorgeous bride as Sam walked down the aisle in an intricately emroidered tulle lace Vera Wang gown, complete with a dainty tiara, and dangling floral earrings to finish off her princess bride look. Mikko, on the other hand, was a dapper groom in his navy suit and tie.
Sam's bridesmaids, consisting of Bianca King, Mari Jasmine, Beauty Gonzales, and Sarah Lahbati, to name a few, complemented the blushing bride by donning rose pink Boom Sason gowns, each with varying necklines.
Still in their gowns, some of the girls even threw in a surprise number for the couple, as they danced to a choreographed performance of Dua Lipa's One Kiss.
ADVERTISEMENT - CONTINUE READING BELOW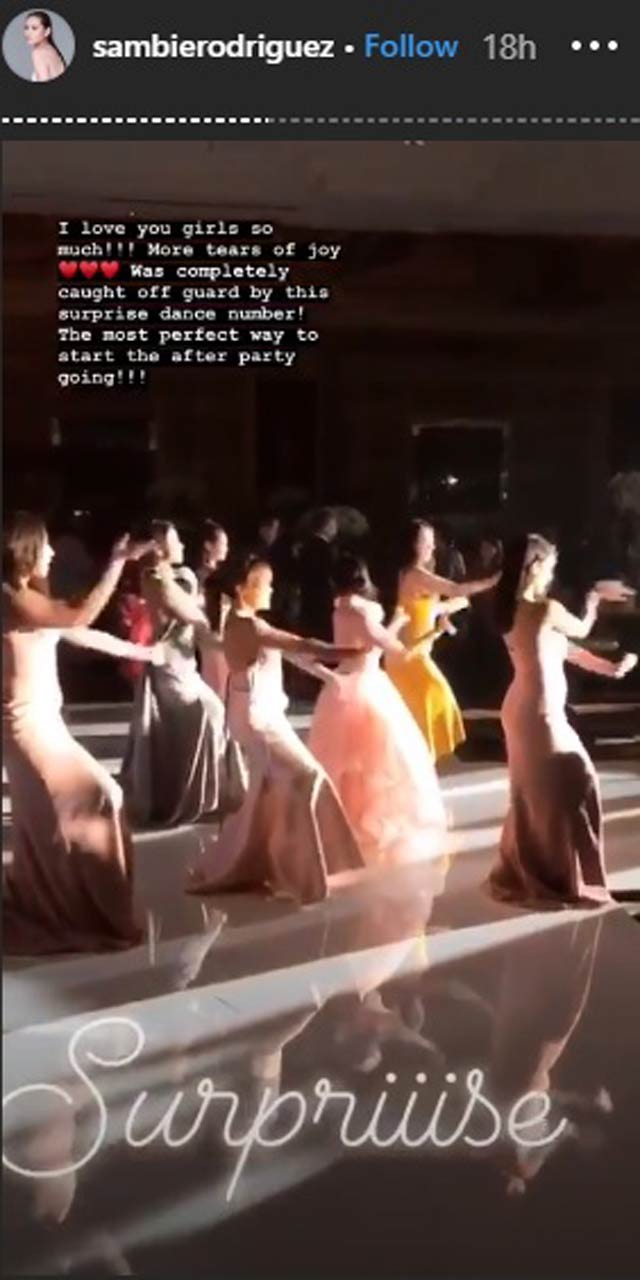 Sam's bouquet for the big day consisted of a classic mix of white peonies and lilies by events stylist Dave Sandoval.
Held in Makati Shangri-La, Dave and Get Married Philippines wedding planner Kutchie Zaldarriga took the simple yet elegant feel of Sam's white bouquet and magnified it ten-fold for the newlyweds' wedding reception. "Just clean, classic elegance with a fresh look and crisp lines @makatishangrila for Mikko and Sam," Kutchie's caption of the venue reads, highlighting a pristine white, green, and rose gold palette.
Of course, not ones to fall behind, Sam and Mikko's family and friends showed up to the nuptials in their best tailored suits and flowing frocks for the lovely couple.
Scroll down to see what their guests wore below!
Miggy Rodriguez
Katz Salao
KC del Rosario
Tom Rodriguez
Raymond Gutierrez, Miggy Rodriguez, and Mac Puckett
Richard Gutierrez
Erika Reyes
Mikee Lim and Ally Lim Gonzales
ADVERTISEMENT - CONTINUE READING BELOW
Victoria Fenelle
Cris Cu and Tristan Seisa
BJ Pascual, Sam Lee, Mari Jasmine, Rajo Laurel, Nix Alañon, Raymond Gutierrez, Miggy Rodriguez, Mac Puckett, Arthur Nowak, Emel Rowe, and Ashleigh Rye
Congratulations, Sam and Mikko!