It's not a day for Rosario Juan without a cup of coffee or five. She takes it black and meticulously brewed to perfection before heading off to work. As the owner of Makati-based café, Commune, the smell of the morning drink never leaves Rosario even as she steps out of her house and into what she calls her second home, a.k.a. Commune's base operations in Población. There, comforted by the white noise of customers, and the constantly lingering fumes of joe, was where she had spent her routine days before the Coronavirus crept up on the country.
From manning the cashier, entertaining guests, and overseeing events at her café, Rosario's steady life, like that of millions, had been overturned in just one night. But while a life on pause may be the price to pay for staying alive, for Rosario, the grind never stops. Instead of cultivating her days serving coffee in a building at the heart of Makati, she now concerns her solitary months with these three things: taking care of her parents, keeping her business afloat, and aiding a raging health war outside, all while sequestered in her home.
Rosario, along with Candy Gatmaitan Bernardo, Doctor Gia Sison, Gang Badoy of Rock Ed Philippines, and a few others, came up with the idea for Frontline Feeders Philippines (FFPH)even before the lockdown was put into place. A non-profit organization fully established after the announcement of the community quarantine, FFPH delivers meals to hospitals across Metro Manila day in and day out. What had started out as a bilao of pancit for Makati Medical Center, pre-quarantine, soon ballooned into 3000 meals a day for 50 Hospitals in the capital.
ADVERTISEMENT - CONTINUE READING BELOW
"The challenge was not so much that the doctors don't have the money to feed themselves. It's really because magsasara yung restaurants. Wala ngayon silang mabilhan ng food, and even the kitchen operations of the hospitals, nireduce na rin yun." Rosario explains. "It's really so they have one less thing to think about."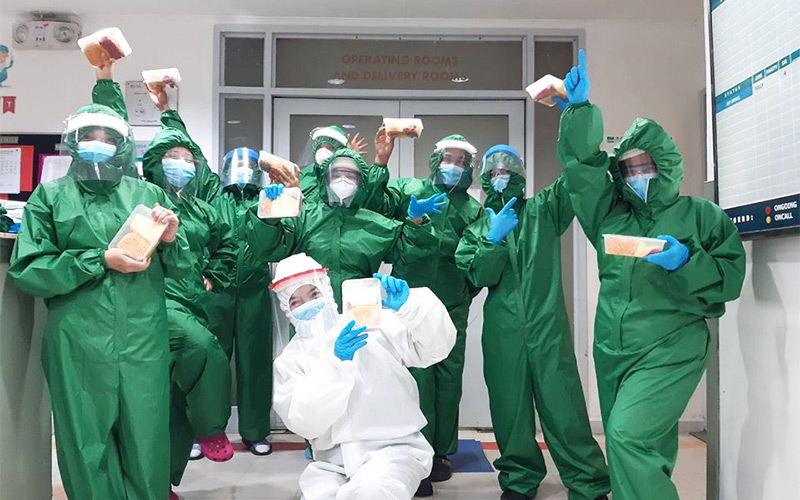 The movement thrives under the fiery spirit of volunteerism headed by a pool of coordinators, which had been slowly built up to around 20 generous souls by the time the enhanced community quarantine was announced. Each utilized their network of connections in order to pull in more helping hands and generate donations to keep Frontline Feeders moving. Luckily, aid in both cash and kind were not hard to come by. Much as Filipinos shared the grueling repercussions of the pandemic, so have many sought to extend whatever help they can. By their first call for donations, FFPH quickly garnered responses from individuals and big corporations alike, with the likes of Pilipinas Shell Foundation, Jollibee, Panda Express, and Chowking each donating food stock to provide for the ingredients needed in mass producing thousands of meals for our medical frontliners.
ADVERTISEMENT - CONTINUE READING BELOW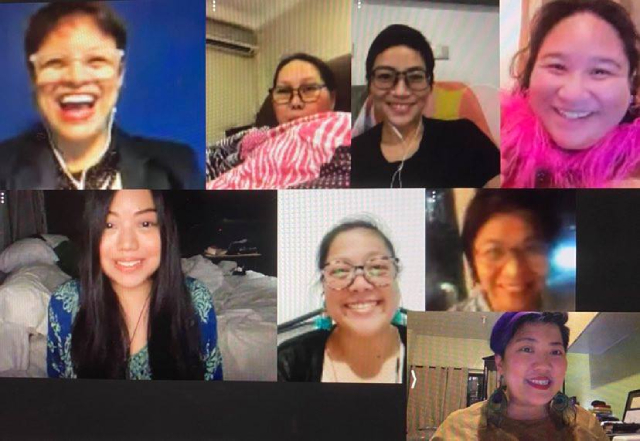 "There was one crazy period wherein we got like 2500 pieces of balut, 15,000 fresh eggs, and 50,000 quail eggs," Rosario fondly recalls. This outpouring of support, however, also proved to be a double-edged sword out to test their patience and skills in coordination. It's almost mindboggling to imagine the mental gymnastics required to systematize the logistics needed for such a feat, especially with all the restrictions around the Metro in place at the time.
ADVERTISEMENT - CONTINUE READING BELOW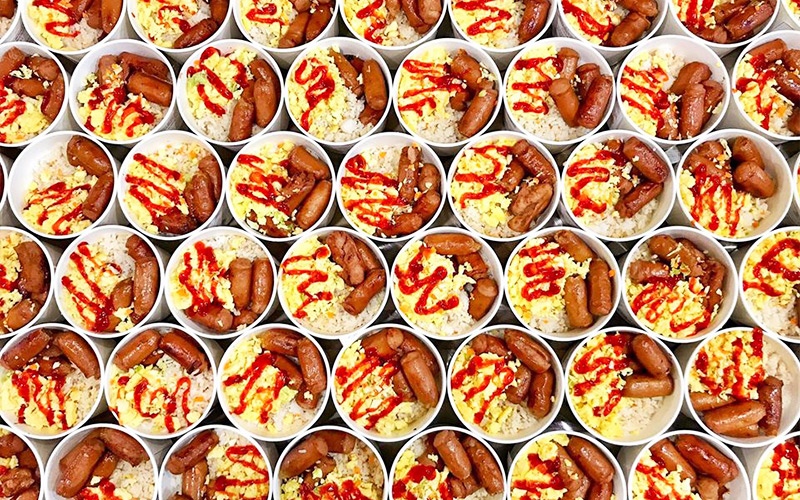 Rosario, for her part, manages to make it work, along with her fellow coordinators. Apart from figuring out how much of each donations go to each partner kitchen, there's also the question of how much food should be delivered to each hospital. "Each person in the coordinating team is assigned to a specific hospital. Some of us have two or three hospital 'babies.' Each coordinator or frontline feeder would have a contact inside the hospital—usually it's the doctor in the ER or someone part of human resources—and they consolidate the donations and then they distribute them," Rosario reveals. "So we constantly update. Ilan ba talaga ang kailangan na meals? Anong oras niyo kailangan? When is it most needed? Because one of the other objectives is hindi masayang yung donations." As of writing, Rosario estimates the number of meals they've distributed to 300,000 lunchboxes over the span of three months.
ADVERTISEMENT - CONTINUE READING BELOW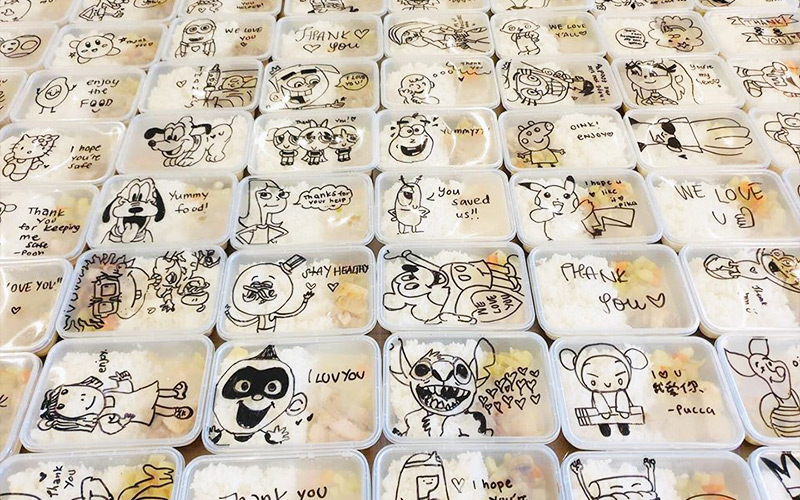 As successful as Frontline Feeders may sound so far, the fact that the private sector can only take so much isn't lost on Rosario. "Ang tagal!" she huffs tiredly. "You've heard about the thing called donation fatigue, right? Volunteer fatigue may ganon din." At the time of our conversation, FFPH had already been operating for a good three months, kept running solely by donations and volunteers. Though the fight is far from over, millions of Filipinos have already dared to step out of their homes amid new general community quarantine (GCQ) measures in Manila. Rosario points out "When you're being forced to go back to the normal routine it becomes a bit harder to sustain the interests of donors, and to still be able to keep asking for donations. Not to mention the energy of our volunteers, so we constantly make sure to check on each other."
ADVERTISEMENT - CONTINUE READING BELOW
That said, exhausted as they are, Rosario and her team constantly find the motivation to continue. Their driving force points back to the heart of FFPH: the medical frontliners hard at work. "We really hear firsthand feedback from the doctors. They would tell us na it's not just food, or the fact na kailangan may kainin at mabusog. It was that every time they receive food, they feel so much love and support, and it really keeps them going."
ADVERTISEMENT - CONTINUE READING BELOW
As FFPH draws near to its fourth month, Rosario reveals that operations are soon bound to slow, if not completely halt altogether. Now that more and more food establishments are restarting their businesses this GCQ, she hopes to whittle down their list of 50 hospitals into a narrowed down selection of COVID-19 centers to concentrate on. "We'll help them sort of be self-supporting by matching them up with the kitchens, or at least introducing them to each other. That way kung kailangan nila mag order ng food, pwedeng sila-sila na ang mag usap." The new goal now is to strike the middleman and essentially prepare these hospitals and kitchens to enter into an ecosystem that can last them for the long, uncertain battle ahead.
To learn more about Frontline Feeders Philippines, visit their Facebook page here.
Related Stories from Preview.ph
Hey, Preview readers! Follow us on Facebook, Instagram, YouTube, Tiktok, and Twitter to stay up to speed on all things trendy and creative. We'll curate the most stylish feed for you!