You could say that newlyweds Paolo Salgado, 29, and Gela Muñoz-Salgado, 28, star in a love story that rivals the best rom-coms. They first crossed paths online in 2011, when Gela's Facebook comment on Paolo's gig poster led to months of chatting. It was during their long conversations that they discovered each other's love for romantic comedies, especially John Hughes classics. On their first official date A.K.A. physical meet cute, Paolo gave her a DVD copy of the only John Hughes film she hadn't seen, Ferris Bueller's Day Off.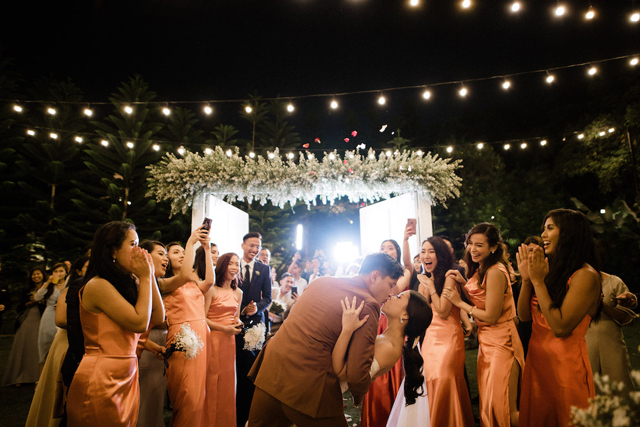 ADVERTISEMENT - CONTINUE READING BELOW
In 2015, Paolo asked Gela to be his girlfriend by recreating the famous cards scene in Love Actually, making him her first and last boyfriend. For his proposal last year, he conquered his fear of heights and took her on a Ferris wheel like Ryan's grand gesture for Marissa on The O.C., another favorite of theirs. When they got down from the Ferris wheel, their loved ones were waiting to celebrate with them, along with a crowd of onlookers drawn to the movie-like scene.
"Always matchy," the couple had unintentionally coordinated outfits even during Paolo's surprise proposal. Indeed, style has always been a big part of their relationship as they both work in the creative field. Paolo is the founder and creative director of Agape Design Studio, while Gela is a blogger at Gelabeef, the founder of online shop EFFY Clothing, Agape's social media director, and a freelance fashion stylist.
With their mutual love for rom-coms and style, it was only fitting that they went with a rom-com theme for their prenup shoot and wedding. "After six years of being together and 10,000 outfit shots later," as Paolo said in his wedding vows, they tied the knot in a joyous celebration that exceeded all their rom-com expectations.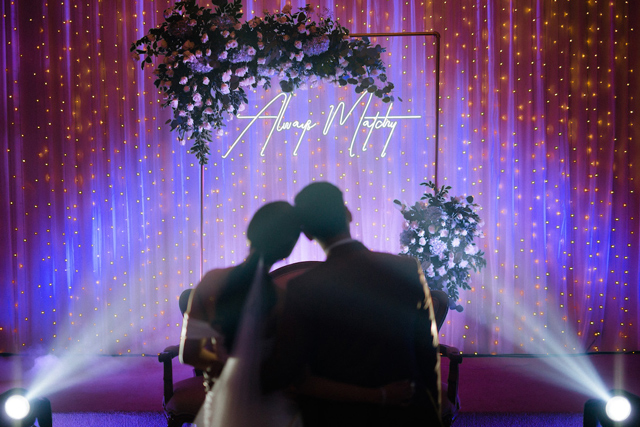 ADVERTISEMENT - CONTINUE READING BELOW
As another chapter unfolds in their love story, Gela reminisces about their prenup shoot last year and their wedding day last February.
Out of all your favorite rom-coms, how did you choose which scenes to reenact for your prenup shoot?
"Paolo and I picked some of our favorites that we felt we could recreate with items that we already had in our closet or items we could find thrift shopping. We also factored in the setting—what would work well on the streets of Metro Manila.
"The Notebook (although this is more of a romance film than a rom-com): Paolo already had Noah's clothes, so it was a matter of interpreting their first dates if they were set in Binondo.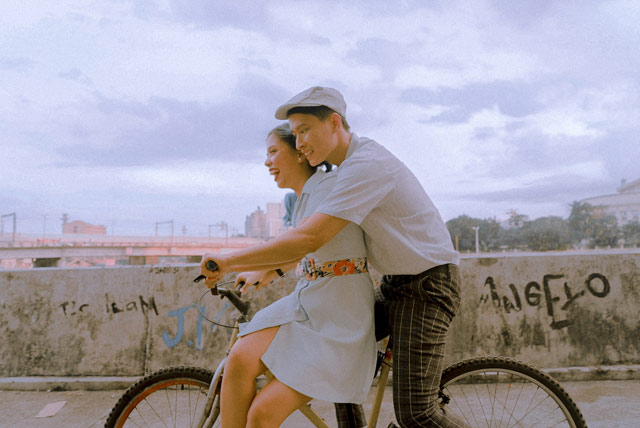 ADVERTISEMENT - CONTINUE READING BELOW
"We prayed to God that day to somehow provide us with a bicycle for the iconic scene, and lo and behold, a young boy was biking home from school near the river, and we asked if we could borrow his bike for a few shots. The boy went home with 50 pesos, and we got Noah and Allie's bicycle scene!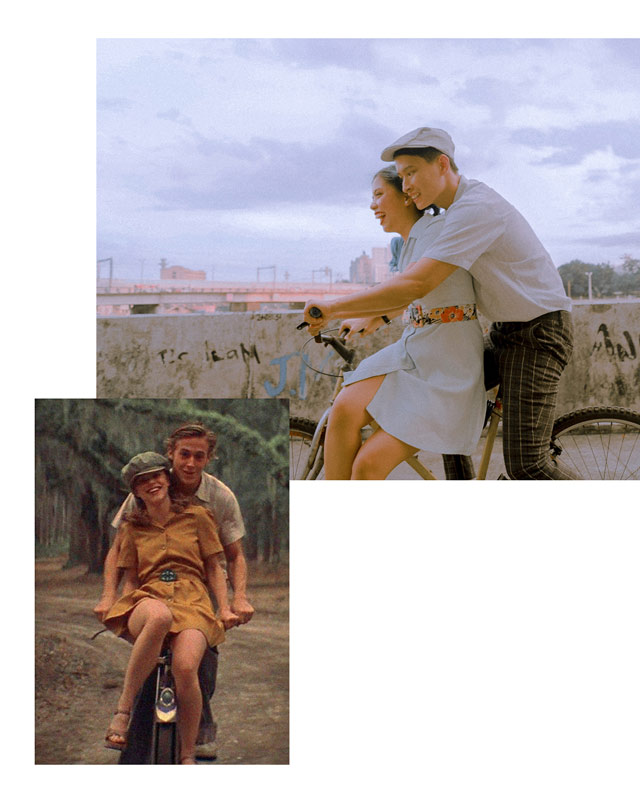 ADVERTISEMENT - CONTINUE READING BELOW
"Say Anything: We had seen this '80s movie before we started dating, and we really liked the fashion in this film. So iconic—both John Cusack's boom box gesture and his outfit.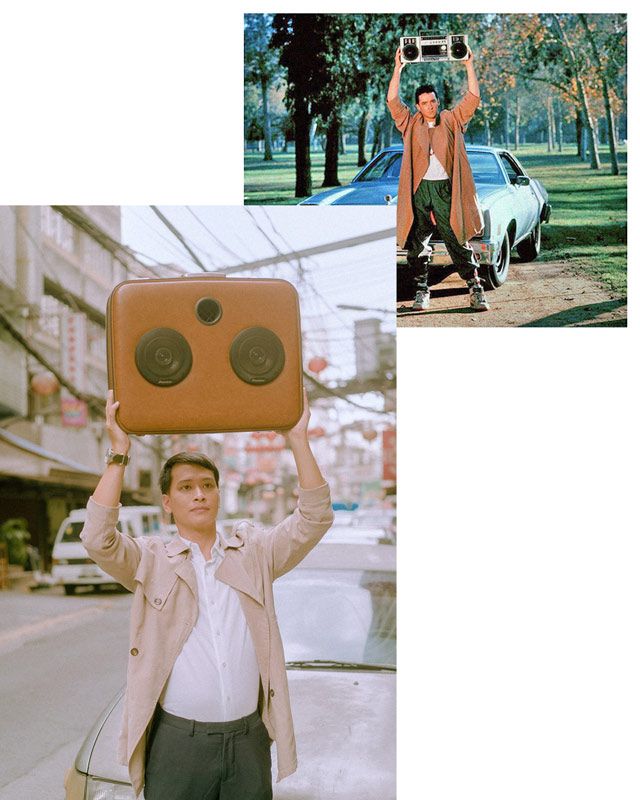 "We borrowed a custom boom box suitcase from one of Paolo's best men, Paco Pili. We couldn't find a boom box like John Cusack's, butI think it all worked out in the end as the suitcase added its own flair to the layout.
ADVERTISEMENT - CONTINUE READING BELOW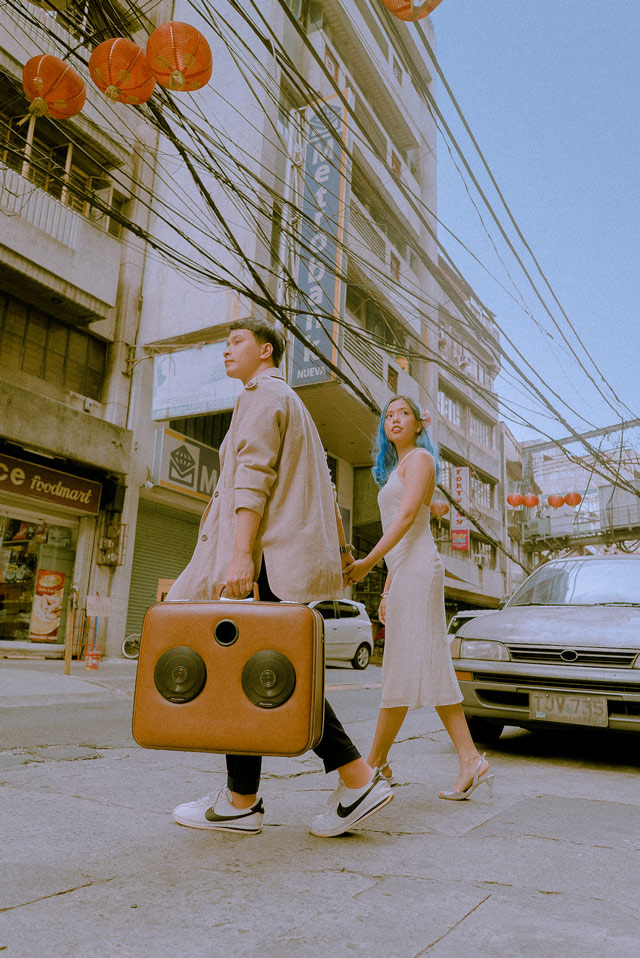 "Sixteen Candles: I'm a huge fan of this movie and Molly Ringwald! I've always wanted to recreate the cake scene with my own Jake.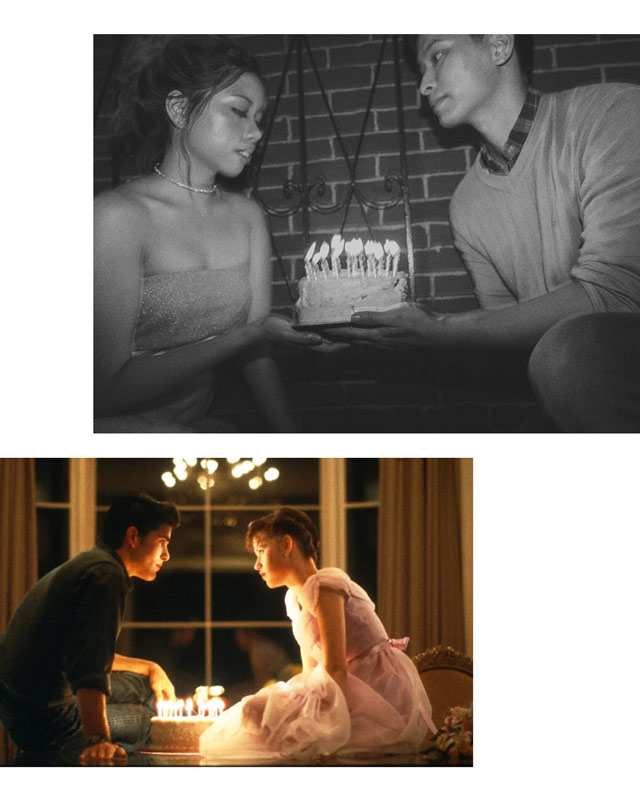 ADVERTISEMENT - CONTINUE READING BELOW
"Now that I've found my dream guy, I told Paolo that this movie was a non-negotiable—even if it meant fixing a melting cake and sitting on pipes in a dark alley in Poblacion."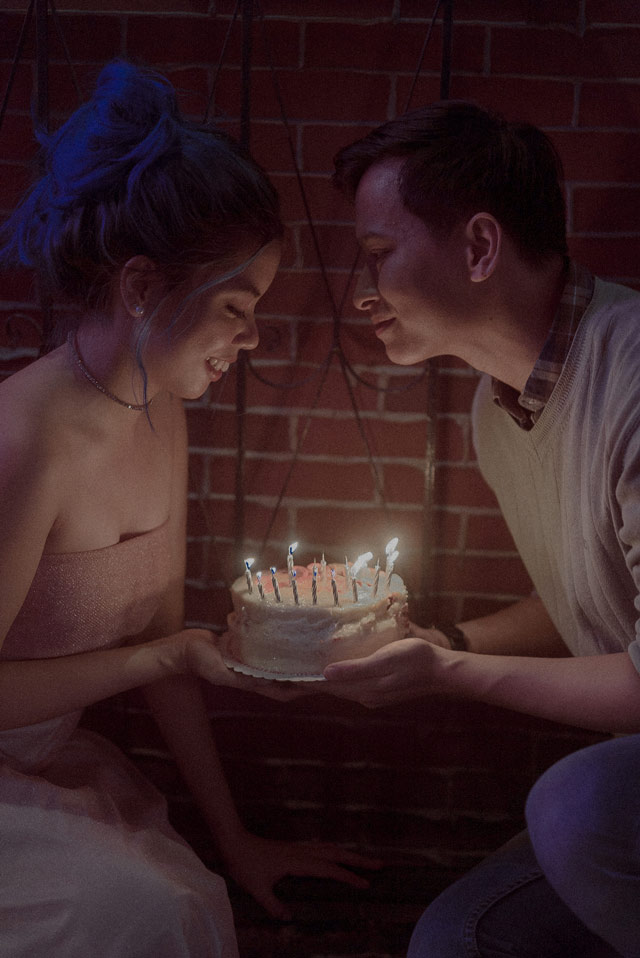 Take us behind the scenes.
The clothes: "Since we were on a budget, we decided to style ourselves using clothes we already had or we found in Libertad thrift shops. Can you believe that my pink prom dress for the Sixteen Candles layout was only 250 pesos?"
ADVERTISEMENT - CONTINUE READING BELOW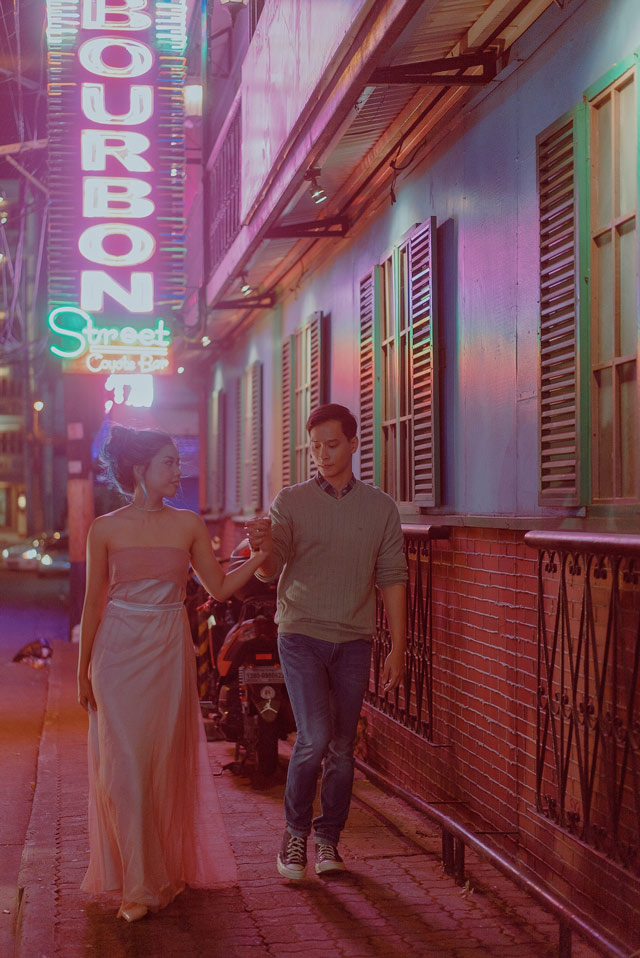 The makeup and hair: "Hair, makeup, and grooming were by my good friend Brylle Ramirez. Fun fact: I actually re-dyed my hair blue the day before the shoot, and it started staining the clothes due to the heat! Good thing we had a lot of tissue and wet wipes on hand!"
ADVERTISEMENT - CONTINUE READING BELOW
The setting: "Anthony Ariston of Pixelight Multimedia had been wanting to shoot us for quite a while. We went for a 'lost in the city' kind of look with different sceneries and textures. Paolo and I had always wanted to shoot around old Manila and Poblacion, so it was a win-win situation for all."
Photo processing: "Jeline Catt is a fellow BF Homes gal, and I've always admired the content she creates. I knew she'd be able to create the dreamy film vibe we wanted."
Posters: "Paolo designed our wedding invites and movie-inspired posters. We used our prenup photos to create a movie poster wall on our wedding day.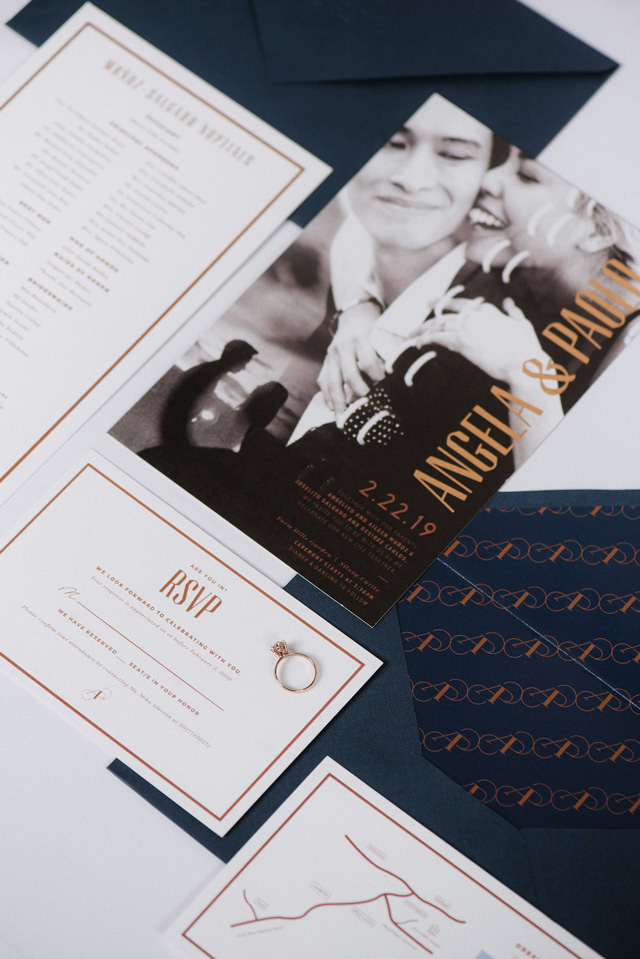 ADVERTISEMENT - CONTINUE READING BELOW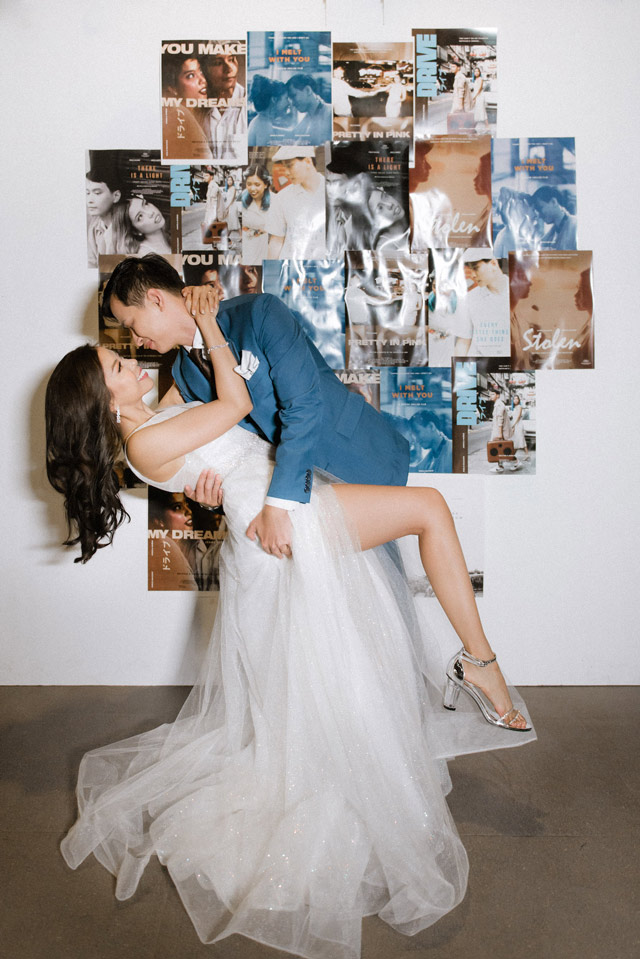 "I love how he got creative and used songs from our wedding playlist as inspiration for the titles!"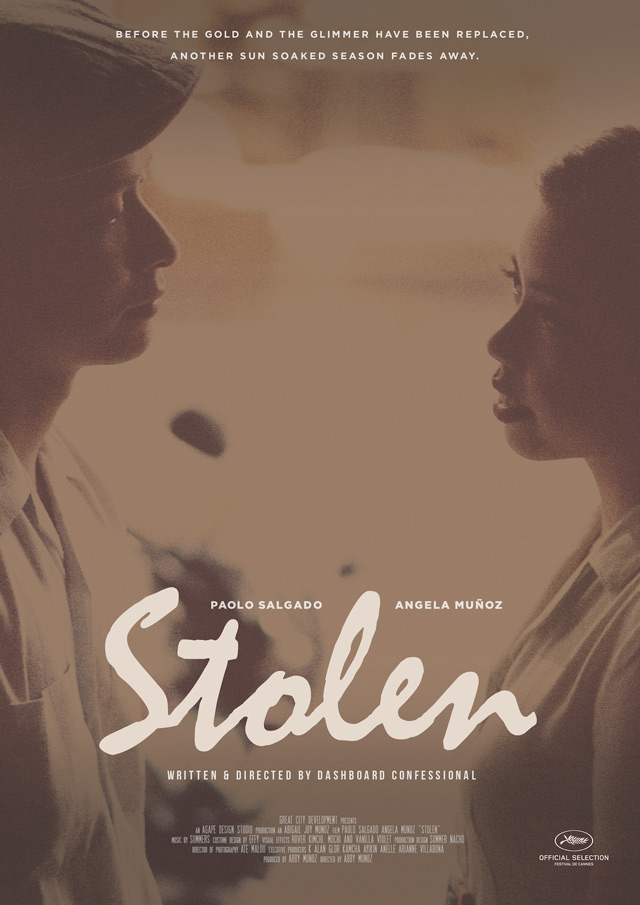 ADVERTISEMENT - CONTINUE READING BELOW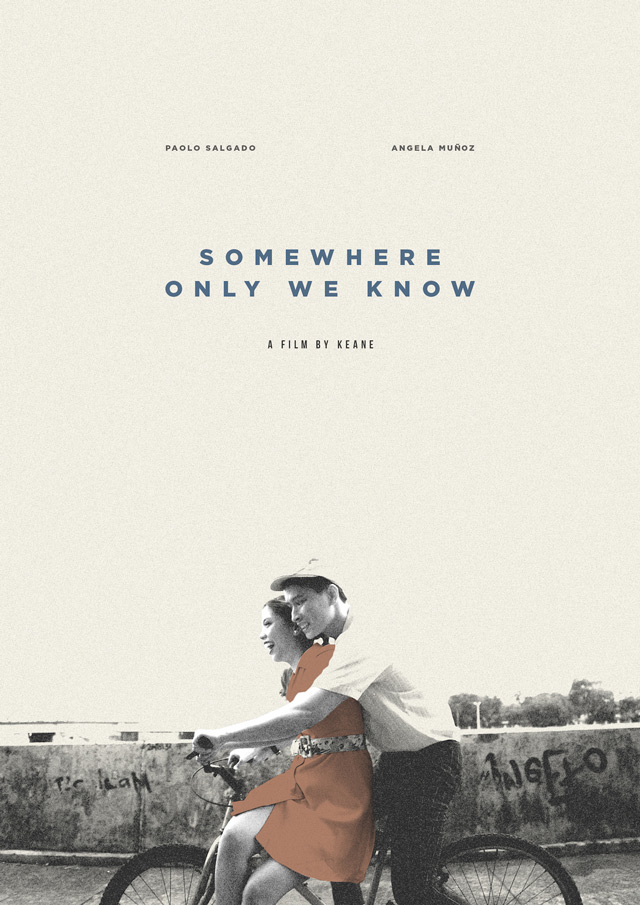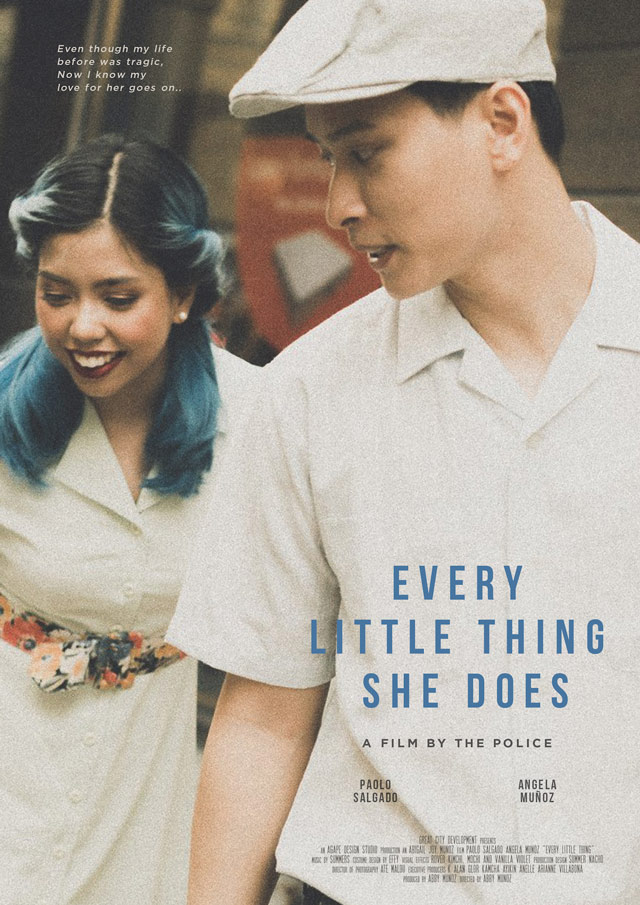 ADVERTISEMENT - CONTINUE READING BELOW
How did you choose your team for the prenup shoot and wedding video?
"We chose our team for the prenup shoot because 1) we love the work they put out; 2) we love working with our friends; and 3) they offered affordable prices that worked with our wedding budget—let's be honest! We are so grateful to Anthony, Brylley, and Jeline as this dream shoot of ours wouldn't have been realized without their talents and help!"
ADVERTISEMENT - CONTINUE READING BELOW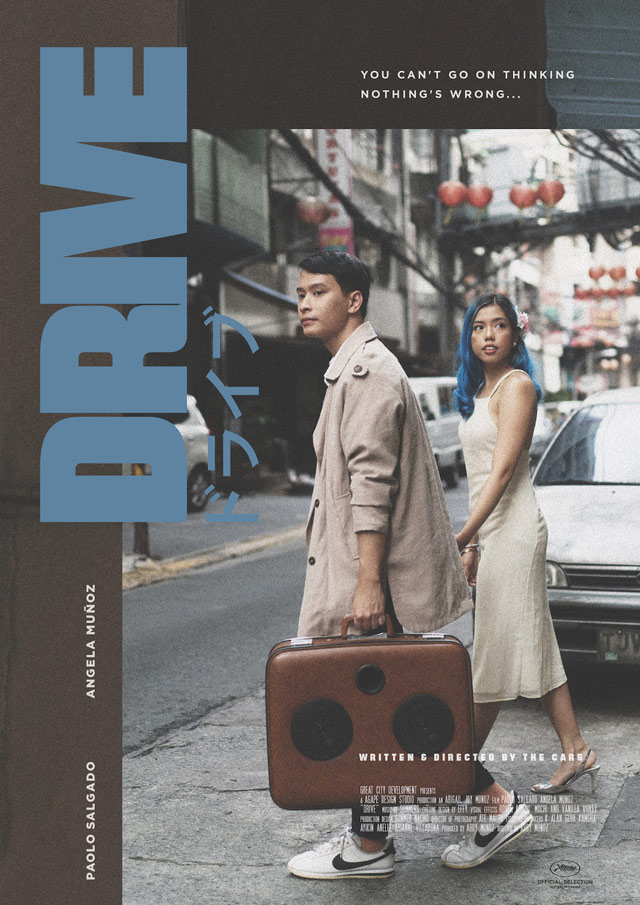 "Our video team for the wedding is Hello & Co. Cinema owned by my #girlboss best friend and maid of honor, Phoebe Rutaquio. She and her team really studied the rom-com trailers that we sent them, and they executed our idea and captured the feels perfectly!"
You also made a Spotify playlist for your wedding day.
"We really wanted the guests to feel like they were in a rom-com. The playlist started out as a private thing between us so that we could easily compile the songs that we wanted to play during the ceremony. We decided to share it because OSTs are one of the things we love about rom-coms."
ADVERTISEMENT - CONTINUE READING BELOW
Tell us about the wedding day itself—if this were (500) Days of Summer, how would the expectations vs. reality montage look like?
"I actually never had a dream wedding, but I always had two wedding desires: a garden or outdoor wedding and a man after God's own heart. You should know that I am a very OC, detail-oriented woman. But on the morning of my wedding, I sat down and talked to God to help me just enjoy the wedding regardless of whatever may or may not happen.
ADVERTISEMENT - CONTINUE READING BELOW
"But you know what? Our wedding was even better than what I expected! Our loved ones were all there, the weather was perfect, and our entourage looked amazing. The flowers, styling, and all the details we worked so hard on turned out great. We had an Auntie Anne's kiosk—our favorite movie snack—so our guests were successfully not hangry.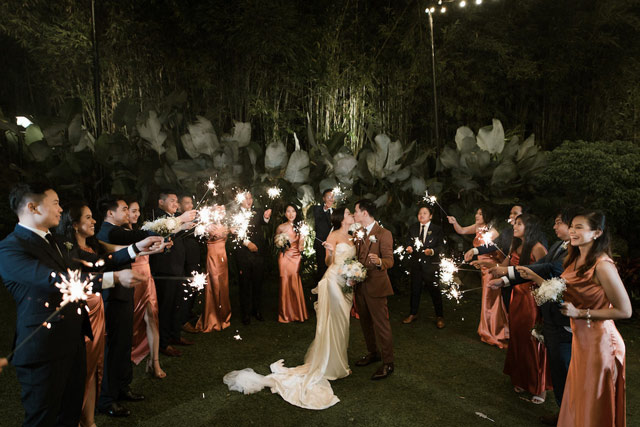 ADVERTISEMENT - CONTINUE READING BELOW
"Paolo wore a suit by Felipe & Sons, inspired by Ryan Gosling's brown suit in La La Land. I had two gowns by Vee Tan for the ceremony and reception, which were inspired by Carolyn Bessette's satin slip dress that she wore to marry John F. Kennedy Jr., as well as the designs of Romona Keveza.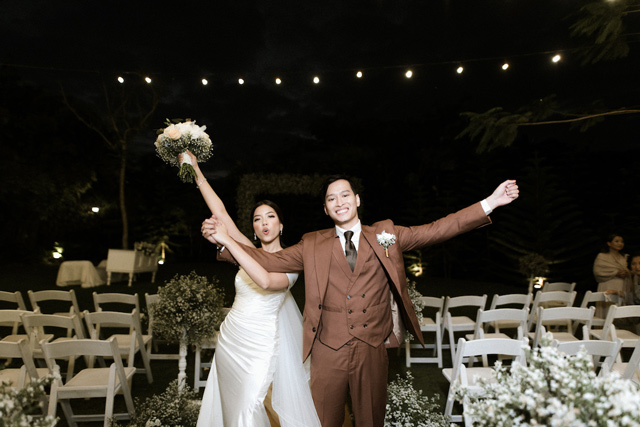 ADVERTISEMENT - CONTINUE READING BELOW
"I felt beautiful as I walked down the aisle to my answered prayer, my leading man—it couldn't get any better than that!"
Related Stories from Preview.ph
Hey, Preview readers! Follow us on Facebook, Instagram, YouTube, Tiktok, and Twitter to stay up to speed on all things trendy and creative. We'll curate the most stylish feed for you!