I have been wearing glasses since I was in sixth grade. Perhaps I could blame it on a lucky mix of genetics and late-night reading habits, which eventually turned into all-day use of gadgets. Currently, I use a 4.25-grade lenses that help me correct my nearsightedness and let me see everything else.
But as my new work-from-home situation changed my day-to-day set up and needs, I found myself needing a brand new pair of glasses. After all, I work in front of my laptop for a minimum of 12 hours a day, then switch to my phone to check social media, and then shift to my iPad for my Netflix binge-watching needs. Now, with my reasonable fear of the outside world, I simply couldn't fathom having to step out to acquire new glasses to fit my current lifestyle.
Enter, Sunnies Specs online. Getting a new pair of lenses can easily be done virtually, paid online, and delivered right in the comfort of my own home. Below, I'll take you through the entire process!
Step 1: Make an online account if you haven't already.
Step 2: Start shopping!
Here's the fun part! I scrolled through Sunnies Specs' ample collection of stylish glasses. After hours of indecisiveness—there are far too many cute options, I kid you not!—I eventually settled on Helsinki frames that boasts of a hexagon shape that fits my rounded face. I chose the adorable Guava pink color because, why not! It's a fun and an unusual choice.
ADVERTISEMENT - CONTINUE READING BELOW
Step 3: Time for customization.
If you're a returning customer, you can easily pull up your old Sunnies Specs records and have them build your new order on it. You can also book a virtual consultation with one of their in-house doctors to help you in the right direction. Since I'm a new customer, I opted for this route.
I was assisted by Dr. Julien via Sunnies Specs' Facebook Messenger account right away. In this chat, I laid out all the necessary information he needed. This included my last eye check up, current presciption grade, and my contact lenses grade. He also needed my latest eye record which I unfortunately don't have. Given this situation, he advised that I needed to come in for a check up.
While this was something that I wanted to avoid, he posed a valid point: I have no existing records and since I felt my lenses need adjusting, I'll need professional assessment that can only be done in person. Okay, I concede!
Step 4: Book your in-store appointment.
I selected the next day appointment from the nearest operating mall. What was comforting in their system is that you just need stay in the store for a short amount of time. Each appointment is scheduled at a 15-minute interval, you're practically just popping in and out! I booked the earliest available slot, 10:15 a.m.. Since I'm the first customer to be examined, everything was spotless and I didn't need to wait for them to sterilize the room before my use. The staff also maintained proper safety protocols, like wearing masks and talking to me from a safe distance. Inside the exam room, I noticed that Dr. Chuck's second nature was to reach for a spritz of rubbing alcohol—a comforting habit for paranoid customers like me!
Apart from calming my nerves with his good practice of cleanliness, the good doctor also gave me sound advice on my current needs. He did a thorough assessment of my eye issues. One, he asked if I'm getting enough sleep daily, and two, he wanted to know how long my screen time is every day. As I described my line of work, he sort of understood what my eyes go through on a daily basis. We then went through the usual eye refraction and check up before revealing to me that I actually needed a lower lens grade than my current one!
I was of course surprised at this new information since all my past eye check ups presented an upward trend when it came to my lens grade. But Dr. Chuck explained that when our eyes are constantly strained and tired, they would overcorrect, tricking our brain into thinking they need more help in correcting our vision. So, with these in mind, Dr. Chuck issued me a new prescription after our efficient 15-minute consultation.
ADVERTISEMENT - CONTINUE READING BELOW
Step 5: Decide if you want to wait for your glasses or finish the transaction online.
As usual, your new glasses can be finished in four short hours. But, since I didn't want to stay in the mall longer than I needed, I opted to finish my order online. So, I was taught how to input my prescription online and then, I skedaddled.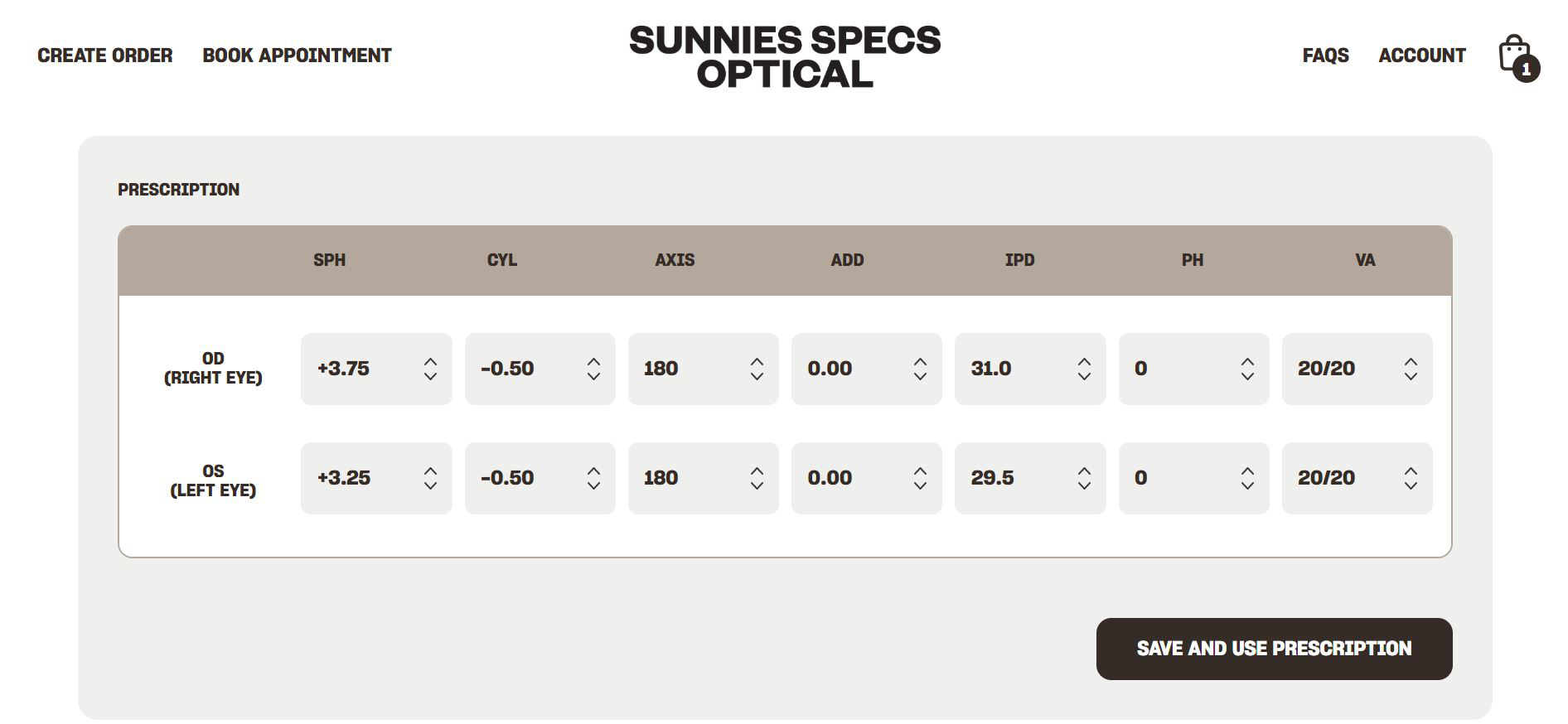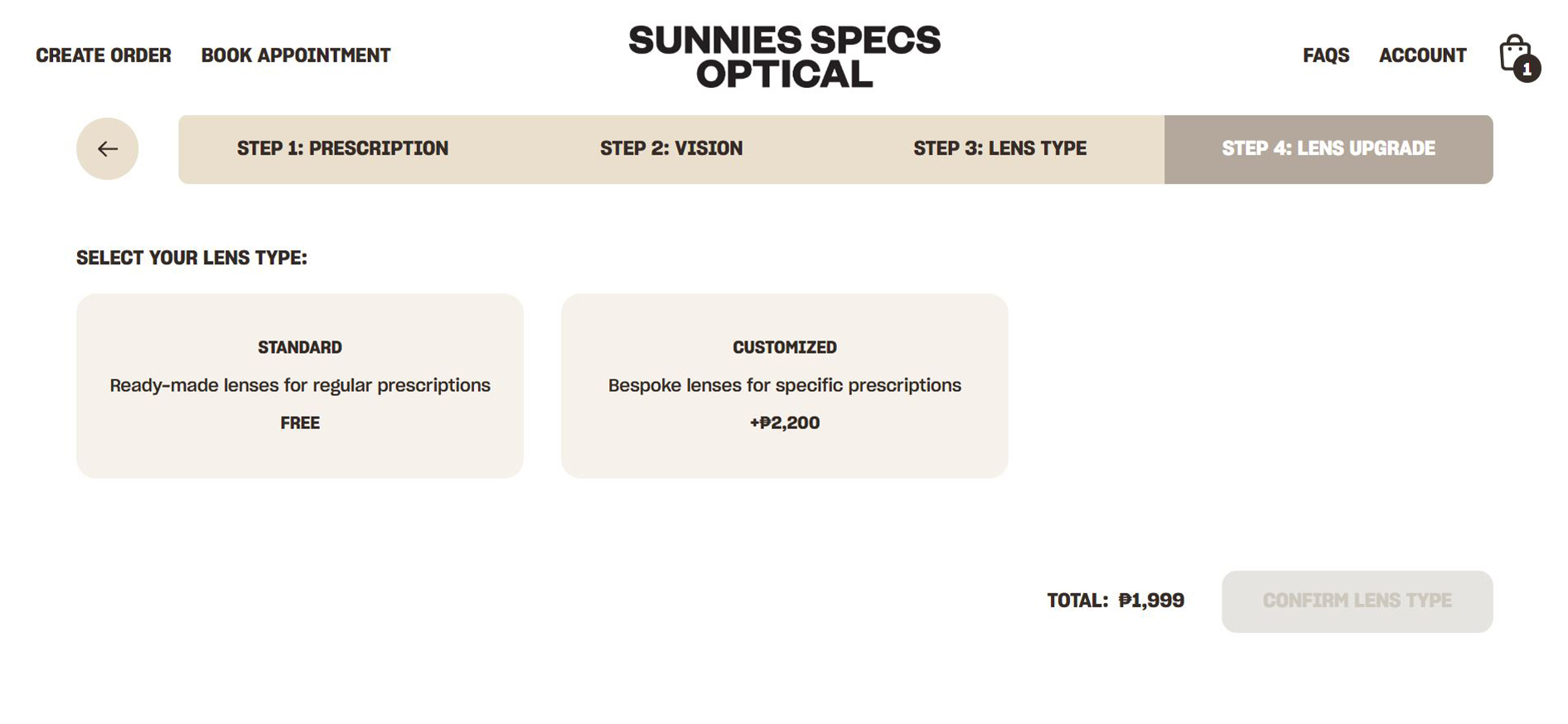 Step 6: Complete your order!
So, back on my computer, I logged into my Sunnies Specs account. I easily picked up where I left off, input my new prescription, added some upgrades (you can choose cool options like blue light protection and anti-scratch features), and after a few clicks, I've completed my order. You can opt to pay with your credit card or via COD. Easy peasy!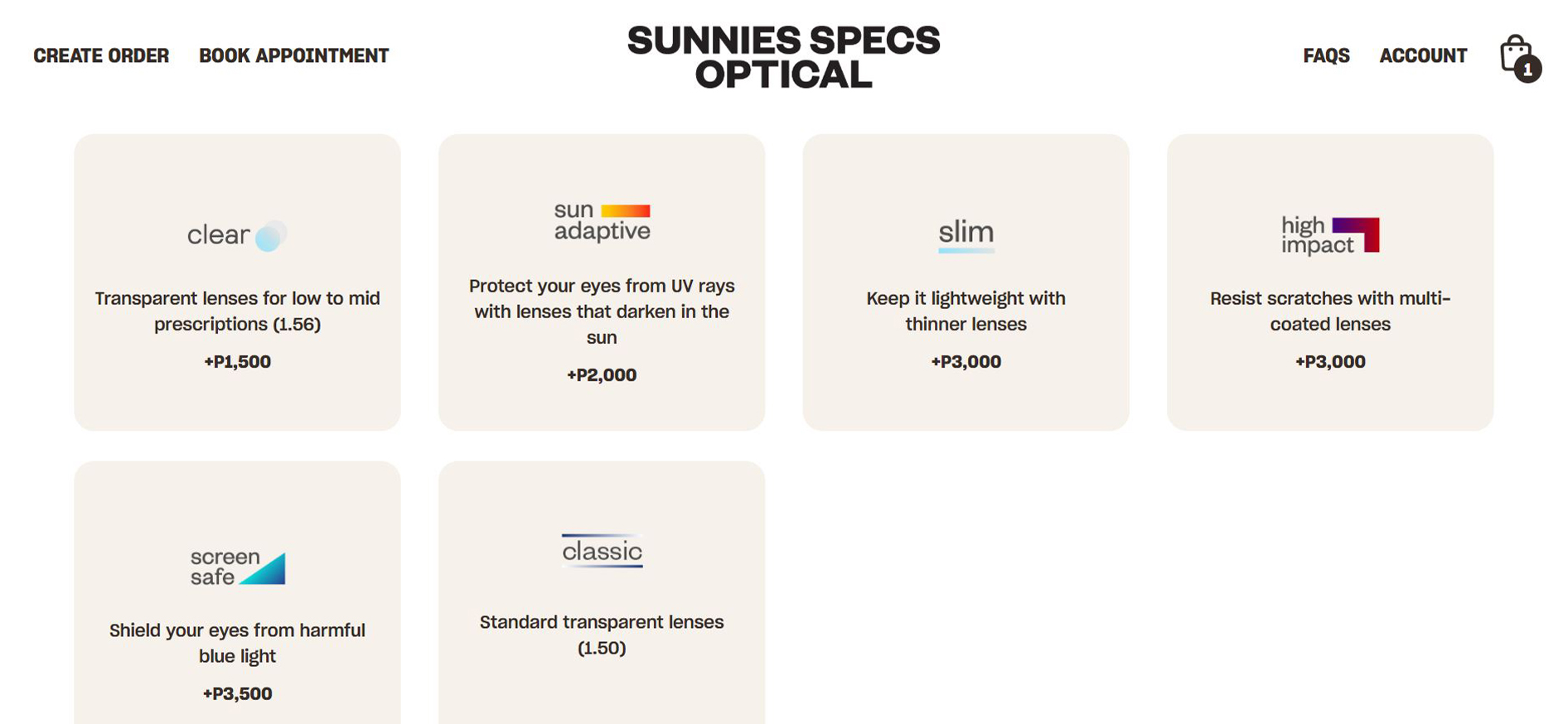 After only a couple of days, I'm greeted with a text message that my order was on the way to me! So convenient! Now, I feel more comfortable with my new pair of "eyes," knowing I'm given a pair that's suitable for my new lifestyle.
Related Stories from Preview.ph
Hey, Preview readers! Follow us on Facebook, Instagram, YouTube, Tiktok, and Twitter to stay up to speed on all things trendy and creative. We'll curate the most stylish feed for you!