In a sea of smart phones promising clear and high-quality photos, film cameras seem to have lost their place. Modern technology caused most people to forget the lost art of traditional photography. And with this app, its creators aim to bring back the fulfilling feeling of taking photos, old-school style. Read on!
What: Gudak Cam App by Screw Bar, P49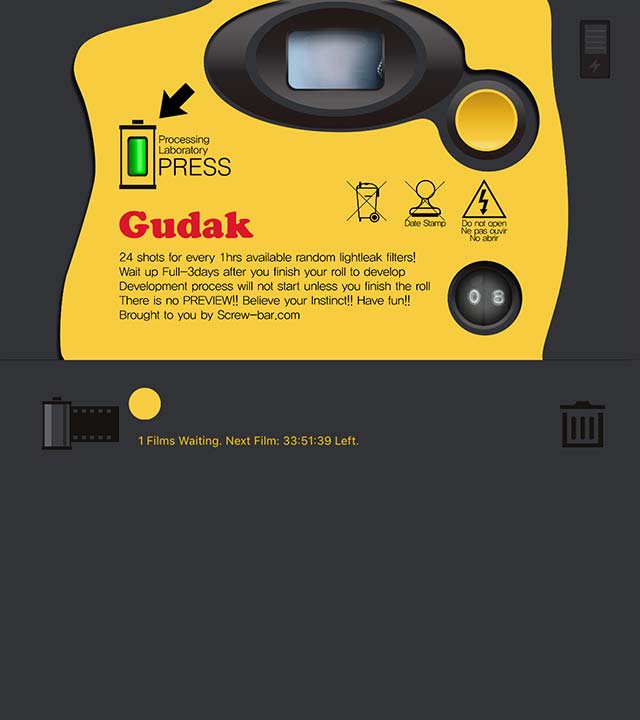 IMAGE Steph Sison
What it is: It's an analog disposable camera app. Basically, it turns your phone into an analog camera. You get 24 shots, all of which you can't take a peek of until the roll gets developed three days later. You also get a fresh roll an hour later.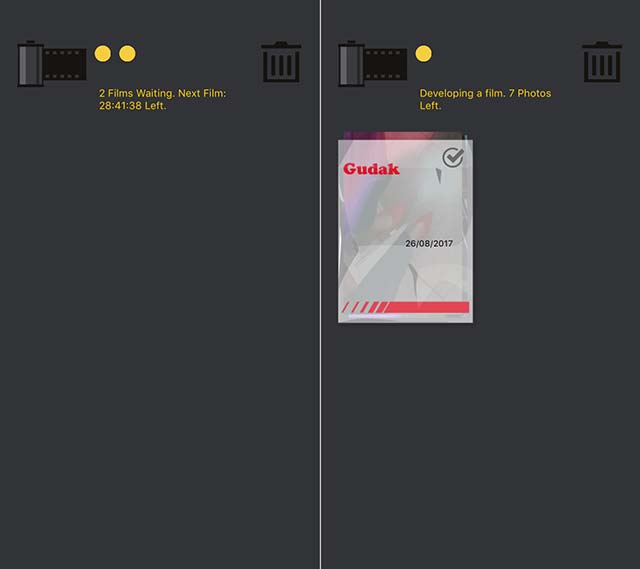 ADVERTISEMENT - CONTINUE READING BELOW
IMAGE Steph Sison
Left: Two rolls are waiting to be developed
Right: This is how the interface looks like when you've got a roll developed and while you're still developing another.
How I Used it:
When I first heard about this app, I was immediately intrigued. I have dabbled in analog photography back in college and have kept a film camera ever since. Going into film camera is an expensive hobby—your money goes into buying rolls of films, perhaps even on photo paper, developers, solutions, and setting up your own dark room if you have the resources and space. This also tests your patience as it takes a while before you develop and capture the perfect photo.
I bought the app for about P50, which is a huge markdown compared to buying a P350 roll of film or spending P1500 for 50 pieces of photo paper. On the interface, I had the option to put a time stamp, toggle with the flash, and tap on the processing icon to view how many more hours I had to wait before my photos get developed.
I used the app as I would if I were holding a film camera. I thought hard about my composition (btw, you only have a tiny viewfinder where you can see your subject before taking the shot) and restrained myself from taking "safety shots" as I was used to when taking photos on my phone. I trusted my instinct when I took each shot. Perhaps the challenge here is that there's no way of telling if you have enough light to show your subject and that you have no control over how it would turn out as random light flares are added to random photos.
Below, I tested the app by capturing various subjects:
Portraits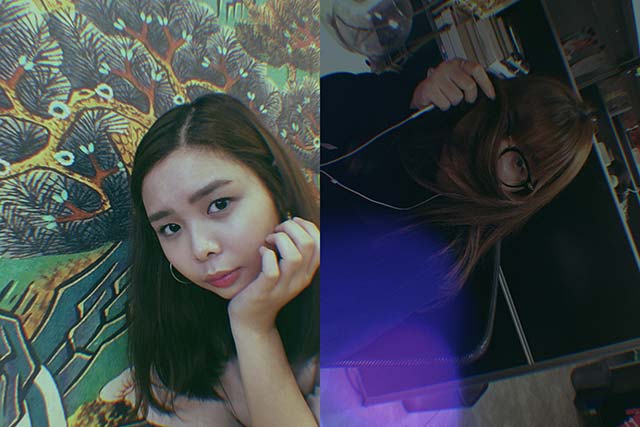 ADVERTISEMENT - CONTINUE READING BELOW
IMAGE Steph Sison
Left: Initially, I wanted to take a selfie, but I remembered you can't do that on an analog cam. So I asked my sister to take the photo instead. No filters were also available for me to use to improve the photo either after.
Right: This was a candid photo of my officemate Yanna, one work night. We only had a few fluorescent lights turned on then. The blue flare was added by the app itself.
Pets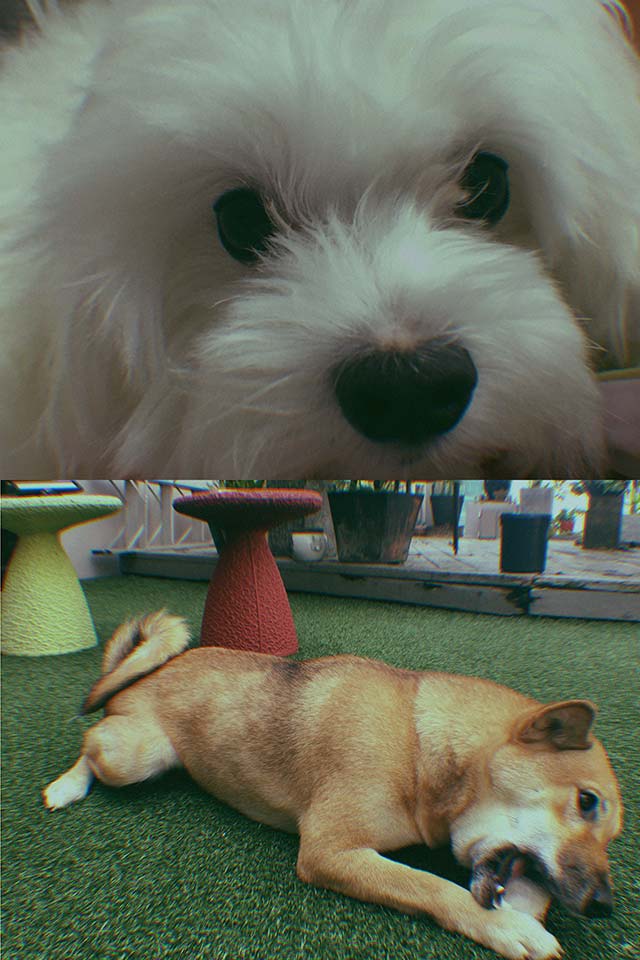 ADVERTISEMENT - CONTINUE READING BELOW
IMAGE Steph Sison
When it comes to moving subjects, I had to learn to snap quickly and know when to stop pressing the shutter. Otherwise, I would have used up all my shots. The first photo was taken indoors while the second one was outdoors.
Food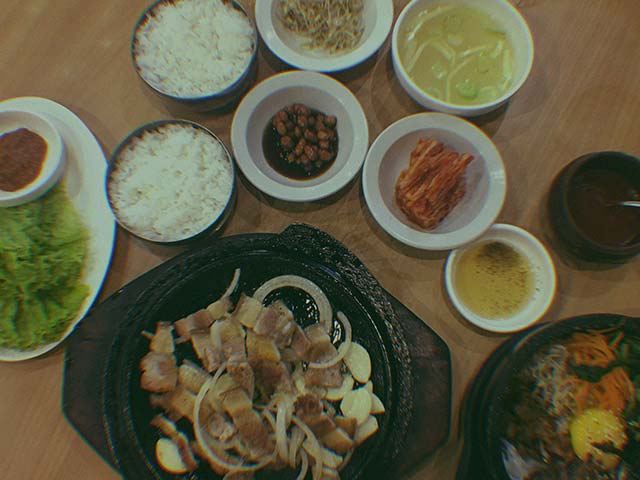 IMAGE Steph Sison
The food didn't look as appetizing as I intended it to be. The film effect desaturated the colors and added more grain.
ADVERTISEMENT - CONTINUE READING BELOW
Nature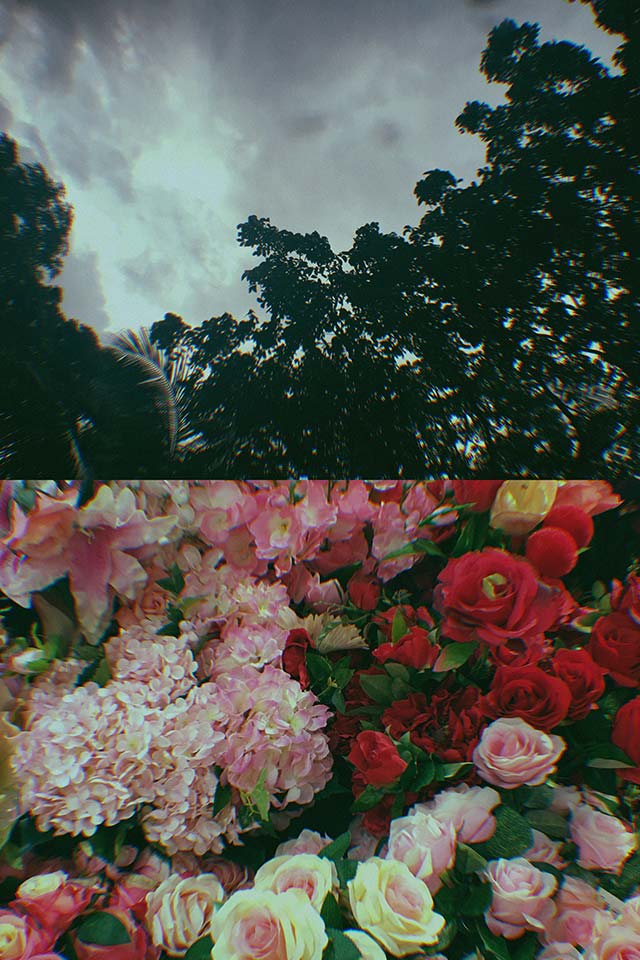 IMAGE Steph Sison
Nature subjects came out pretty nicely. The app added drama and a sense of nostalgia. The only missing thing here would be a totally unrelated quote and it's Instagram-worthy already.
Landscape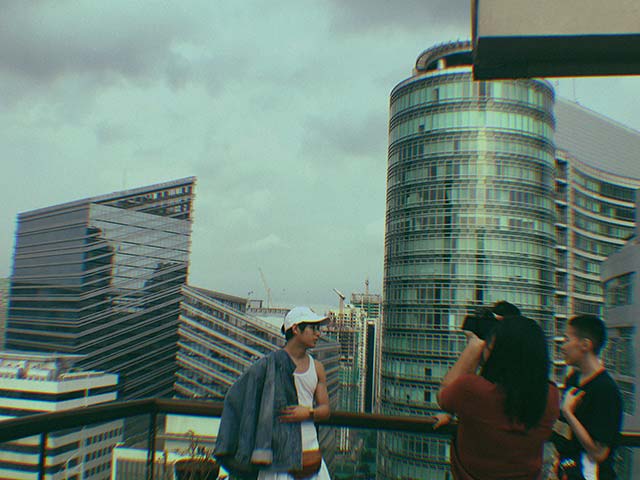 ADVERTISEMENT - CONTINUE READING BELOW
IMAGE Steph Sison
This was taken from the terrace of a penthouse in a high-rise condominium building in BGC. I liked how the app highlighted the cool tones of the photo and tamed the bright sun.
Indoors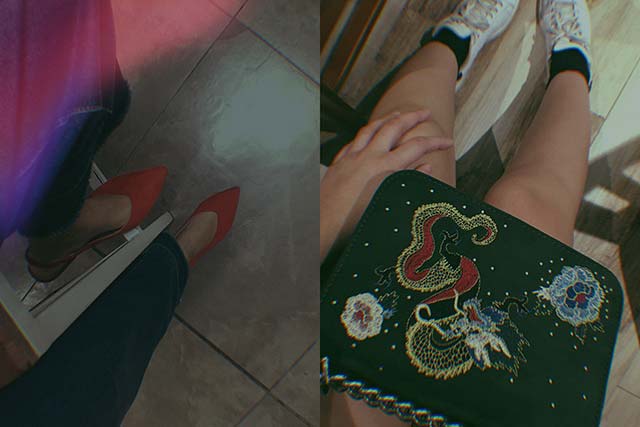 IMAGE Steph Sison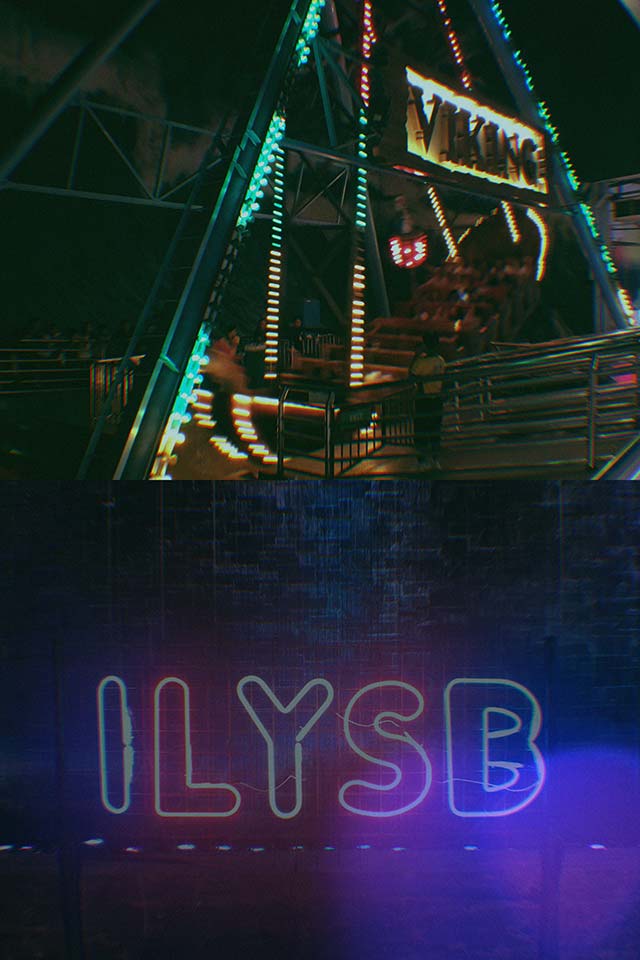 ADVERTISEMENT - CONTINUE READING BELOW
IMAGE Steph Sison
The amount of light available while you shoot affects the way the photo comes out. The app also works well even on brightly lit subjects like the colorful LED lights here.
Conclusion:
At first, I thought it was quite ironic trying to replicate the feeling of taking photos from a film camera by using digital technology. But I guess it's less about the output that you eventually focus on, but the experience itself. Mimicking the three long days (I cheated on my second roll by tinkering with the phone time settings) and having limited control over how the photos would look like gave me anxiety and thrill at the same time. I wanted to keep taking photos, especially for certain fleeting moments, even if I can't check the photo right away. Quality-wise, it's close enough to achieving the same vibe and feel that a real film camera gives.
ADVERTISEMENT - CONTINUE READING BELOW
But if you ask me, I think the app would be better appreciated if you already have an experience using an analog camera. If that's the case, you're trained to really be frugal in your shots because you know their worth. You're also more used to quick thinking and careful planning, and you know that moments go by and you have to act fast if you want to keep that memory.
In a nutshell, it's a charming little app that lets you experience the allure of film camera and digitally have a copy of any precious memory. It's worth every penny.
Related Stories from Preview.ph
Hey, Preview readers! Follow us on Facebook, Instagram, YouTube, Tiktok, and Twitter to stay up to speed on all things trendy and creative. We'll curate the most stylish feed for you!