We've all heard the stories of hopeful brides eventually turning into bridezillas as they fall further into the stress of planning their wedding. The pressure of making sure that everything goes perfectly doesn't just end at the church doors. A lot can go haywire on the day itself, including the seemingly miniscule details that fly over your head while planning: Who's going to properly hold down your long train? Who'll be opening the church doors for you? Who's going to tell your overly-excited guests not to ruin your solemn walk down the aisle with their unruly phone cameras?
Stressed out already? Fret not, because there's one thing you can always do to alleviate all your worries: Hire a wedding coordinator! While some may say that doing so is an unnecessary expense on your part, we beg to differ.
Preview reached out to seasoned coordinator Rhed Sarmiento to help us understand the importance of booking one. Below, we list down the reasons why getting a wedding planner is a must for every couple.
ADVERTISEMENT - CONTINUE READING BELOW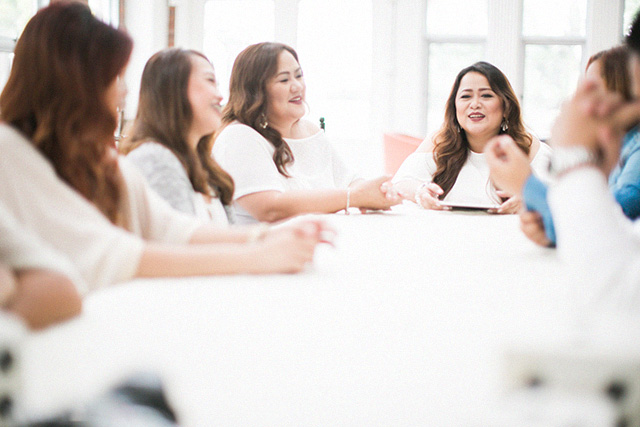 A coordinator will help keep you within your budget.
When planning your dream wedding, the last thing you'll want to stress about is how to bring all your Pinterest boards into fruition while taking your budget into account. While all those carefully curated photos look good on paper, no one ever mentions how truly expensive they are until you're forced to make drastic compromises. A wedding planner will, however, do everything s/he can to keep your vision alive, while making sure you don't go broke by the time your honeymoon rolls in. They may even have fresh ideas to share with you. "[Our job] involves discussing budget, conceptualizing the theme together with the couple, and other event logistics," Rhed tells Preview. "Subsequent pre-wedding duties would include consultation and recommendations of suppliers based on their requirements. Mindful of the budget, a wedding coordinator negotiates and looks for the best possible suppliers."
CONTINUE READING BELOW
Recommended Videos
A coordinator will direct you to the right suppliers.
Speaking of suppliers, getting married, at least for most people, is a one-time affair. Meaning, despite the reviews and comments you can find online or from your friends, you're still technically going into the wedding industry blind, which makes your search for those no-fail, perfect suppliers even more harrowing. "A good coordinator will lead you to professional suppliers. With coordinators having the first-hand experience and interactions with suppliers, their recommendations then become highly credible. Their tips, pros, and cons of many details of weddings are based on their experience," Rhed explains.
As a bonus, wedding coordinators not only help you find the right suppliers; they'll also make sure to look after their performance so you and your guests get only the best service on the big day. "If there's already a warning sign before the wedding day for the suppliers, [or if] we haven't worked with before or heard negative feedbacks about them, I always keep them updated about the wedding and make sure that they acknowledge. I make a plan B and talk to similar suppliers just in case there's an SOS on the day of the wedding. We monitor their work early on during the wedding, since I always have a coordinator at the reception and church early."
ADVERTISEMENT - CONTINUE READING BELOW
A coordinator will keep your guests in check.
When asked about the most frequent issues wedding coordinators and brides face on the day of the wedding, Rhed had this to say, "We encounter issues with family members, relatives or friends who interfere and meddle with the program. There are also entitled and very needy guests, guest who didn't RSVP and still brought extra uninvited guests." Sounds like a whole unnecessary headache you'd rather not deal with on your special day, right? Thankfully, a wedding coordinator is someone experienced enough to handle said unruly guests, along with other matters pertaining to keeping everyone in check. "For entourage and family, we always make sure that we disseminate information about the wedding timeline, call time, reminders from pictorials up to the reception, their personal things and activities."
ADVERTISEMENT - CONTINUE READING BELOW
A coordinator will make sure everything happens as planned.
While the bride and groom are getting prepped and pampered in their respective hotel rooms, the wedding coordinator is in charge of everything else that goes on outside, making sure every single detail goes off without a hitch. "A wedding coordinator ensures that every detail that was discussed in the final plan is realized. My job as wedding planner has so much to do with being detail oriented, organized, and also being innovative. I direct the pace of the wedding and the reception, from preparation timeline to signaling what will commence next in the given timeline. It also becomes my job to calm down the bride and groom throughout the planning process."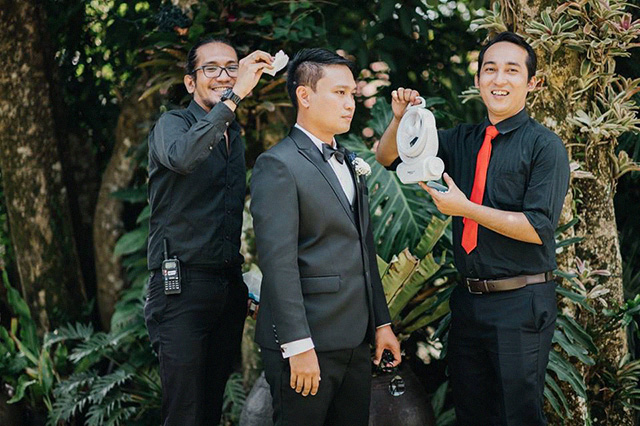 ADVERTISEMENT - CONTINUE READING BELOW
A coordinator will help ensure a smooth transition from ceremony to reception.
Wedding planners also happen to be professional venue flippers. They have the job of safely herding your crowd of guests to your reception venue while you enjoy your first blissful moments with your new spouse, without having to worry about anything else. It's also their duty to make sure your reception vendors are at the venue right on time and are prepared to receive your entire entourage of friends and family.
A coordinator even deals with the aftermath.
After the party, you and your guests will want to end the night on a high note, which obviously doesn't include having to think about picking up after yourselves. Don't fret because your wedding coordinator's got that covered, too. They're trained to supervise the clean-up, and make sure nothing important gets lefts behind in the venue. When we say they're your all-around fairy godmothers, we mean it: from start to finish.
ADVERTISEMENT - CONTINUE READING BELOW
A coordinator will make sure you enjoy your wedding more.
Overall, with the promise of an experienced coordinator handling every single detail of your nuptials, you can be ensured a memorable, stress-free wedding. After all, your main duty as a bride is to just enjoy your special day with your groom. "Whether the wedding is simple or grand, a couple deserves to celebrate their milestone in an organized and well-executed planning, thus making it memorable and enjoyable," Rhed says.
Should anything go wrong, your coordinator will be the one to address the problem and find a solution.
"As a coordinator, I also function as a troubleshooter. I will find solutions when the need arises," Rhed explains. "Gone are the days that parents and relatives are the ones busy and preparing the nitty gritty stuff on the day of the wedding. The couple's families need to enjoy and relax on the wedding day as well, especially since they also have some roles in the entourage and in the pictorials."
ADVERTISEMENT - CONTINUE READING BELOW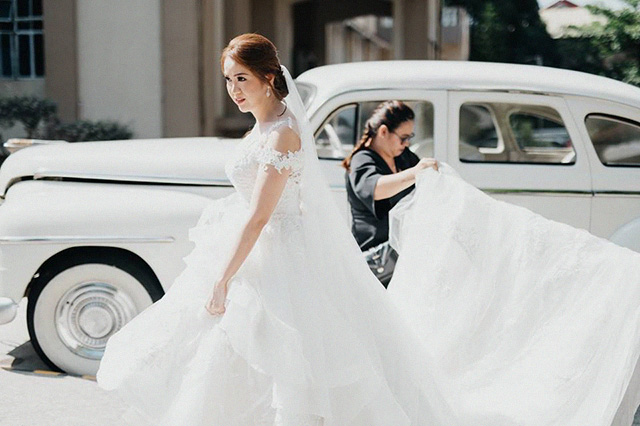 Convinced now? Before you jump right in and hire a wedding planner, be sure you're set on the type of help you think you'll be requiring. Continue reading below as Rhed explains the three different types of services that you can avail of from a wedding coordinator.
ADVERTISEMENT - CONTINUE READING BELOW
1. Full Planning
"Full Planning covers the conceptualization of your wedding theme, booking all your suppliers, up to the end of your wedding day. As your coordinator, we usually recommend and suggest wedding suppliers depending on your budget and requirement. The way we do it, we usually suggest suppliers that we've worked before with good standing performance and reasonable price.
"This service is usually availed by couples who are based overseas, and those who are very busy with their career and would like someone to do the preparation for them. But sometimes, I also have clients who are hands-on on their wedding and would like to get suggestions, opinions, and recommendations from the professionals in this field. This also covers document assistance and RSVP. Planning starts from the time that they booked the services."
2. Turn-Over Coordination
"Turn over coordination covers halfway their wedding preparation. Usually planning starts six months before their wedding and client should book their major suppliers already. Minor suppliers that need to be booked will be recommended by our team."
ADVERTISEMENT - CONTINUE READING BELOW
3. On-the-Day Coordination
"OTD covers your wedding day only, from hotel, to ceremony and reception. Meeting starts two months before the wedding. But we usually suggest also suppliers to our couples whenever they ask us for recommendations."
Related Stories from Preview.ph
Hey, Preview readers! Follow us on Facebook, Instagram, YouTube, Tiktok, and Twitter to stay up to speed on all things trendy and creative. We'll curate the most stylish feed for you!