Whenever I'm asked why I'm in London, and why I chose this place to exist in for now, the answer that pops in my head and then quickly gets blurted out is simple and straight-forward. "I am half Filipina and half British," I always say. Since I'm also a citizen here, it's the easiest option and almost a no-brainer. And then I start ruminating a little, wondering if the answer is too simple. So then, I start mumbling something about having "lived in the Philippines my whole life with my mom and it's about time I found out what my dad's home is like." From this, I usually get an "aaahh…" and enthusiastic nods.
Strangers seem to love a little preview of how you were formed and molded to the person you are now, so any mention of family is always welcome. But after, I try to move on to another topic, because honestly, I, too, have no clue what I'm doing at the moment. This might surprise you, dear reader, because I seem to give off a vibe that I always have everything figured out. And yes, I usually do, but not this time. My move was a leap of faith, a few years in the making.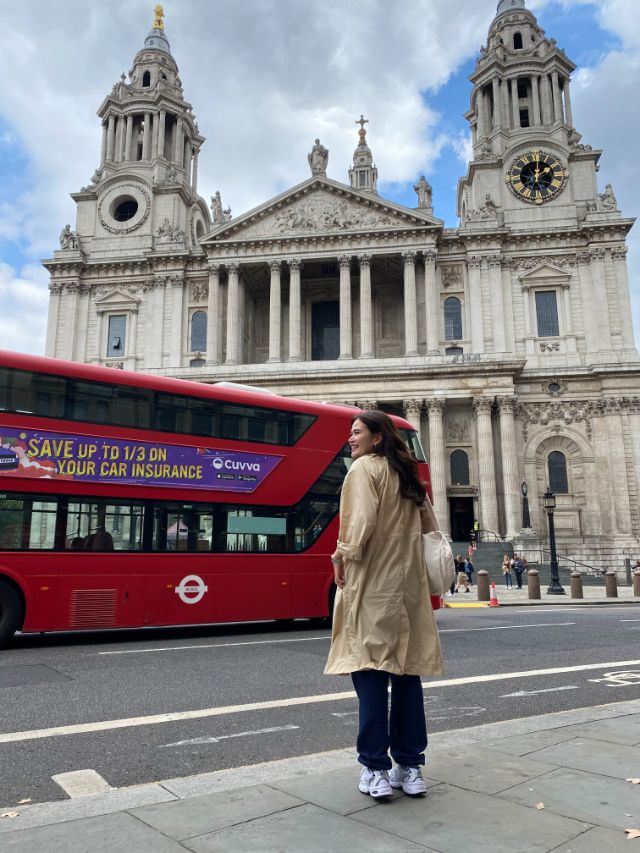 ADVERTISEMENT - CONTINUE READING BELOW
Bela Padilla Shares How She Moved to London:
For years, I've been telling my close friends that I think it's time to move—that I have already achieved what I wanted to do and I'm ready for a new challenge. But I have to admit, the comfort of having a new movie or a TV show had somewhat prevailed and that made me stay in Manila longer than intended. Until one day I woke up and realized, years have passed and there I was, still doing what I already knew how to do.
When I started saying this in 2017, I didn't know exactly where I wanted to go. I've always wanted to live in France (either in Paris or Provence), but the French language and I often just make it to the pleasantries. In Switzerland, it's the perfect mix of city and nature. After filming there, I witnessed first-hand how efficient everything is. But still, I wouldn't know what to do there and having a boyfriend (hi, Norman!) from a certain place doesn't cut it for me as a reason to relocate, especially not at this point in my life. I also thought about living in Singapore, where I would still be close in proximity to Manila—but then again, what would I do in Singapore? And then finally, I flew to London in 2019.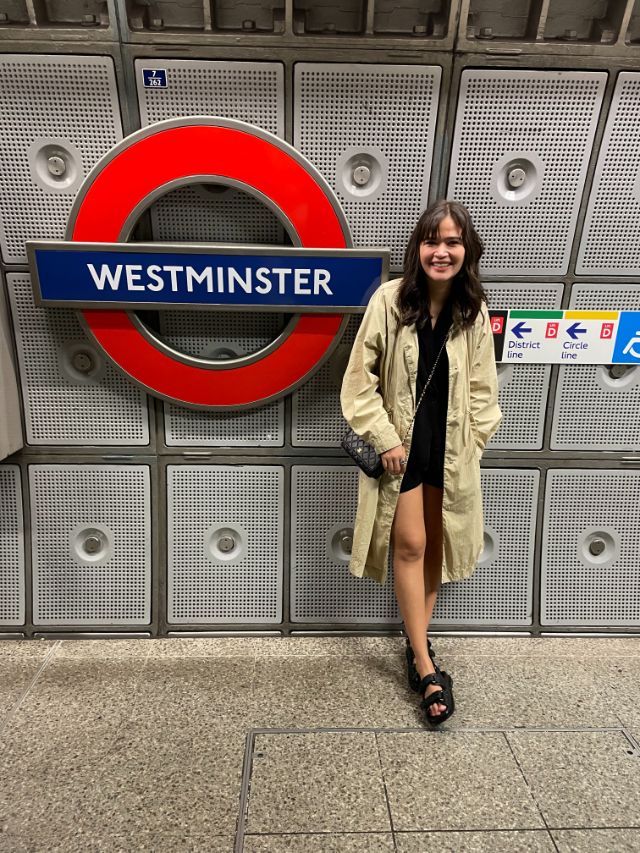 Little Transitions
To those who don't know, I have two sisters and a brother here in England, as well as a brother in Manila. My siblings here in England live about two hours away from London. In 2019, I had a mini break in between shooting Mañanita; On Vodka, Beers and Regrets; and Sino Ang Maysala. When I say "mini break," I mean six days. So I booked a ticket to visit my family and spent three days with them, reuniting after years of not seeing each other. Shortly after, I spent the remaining three days in London. During which, I was amazed by how fast-paced life in London is. It reminded me of Tokyo. So I told myself, the next time I return, it would be to live in one of those rows of white houses. (True enough, I now live on a street with rows and rows of white houses.) Of course, I also went to all the touristy spots. I've practically seen everything by now, except for the Big Ben.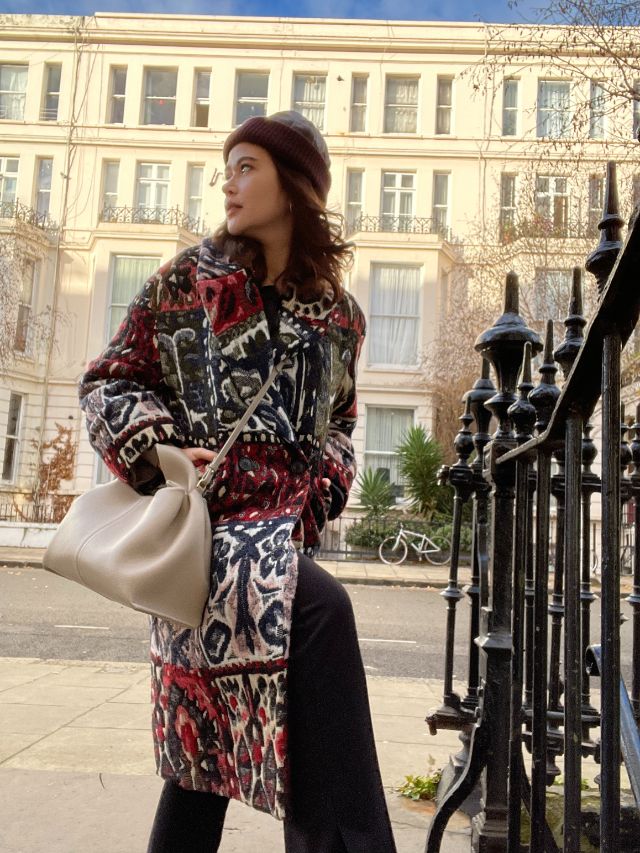 ADVERTISEMENT - CONTINUE READING BELOW
I started thinking of what it would mean for me to really leave, so I decided to finish all my film and TV commitments. From time to time, I would look up places online that I could see myself living in. A modern two-bedroom just by Portobello Road, a one-bedroom with rooftop access near Bayswater, or a two-bedroom corner unit with a '70s-vibe kitchen in Marylebone. I researched on the requirements and endlessly checked blog posts by other people who've moved from Manila to London. I was very specific because it's important to me to manage my expectations. There were days I'd obsess over the details and weeks when I would completely forget. And then the pandemic happened.
I was shooting a movie in South Korea in February 2020. When we got there, there were 18 cases of COVID-19. After weeks of filming, on the flight home, we were told flights would be blocked soon to contain the cases and that we were lucky to get a flight. Things got bad, fast. That hit me hard: the idea of not having a choice to leave. Of course, it was such a trivial concern compared to the impending threat of a global pandemic. But I still grieved for the life I imagined I'd have.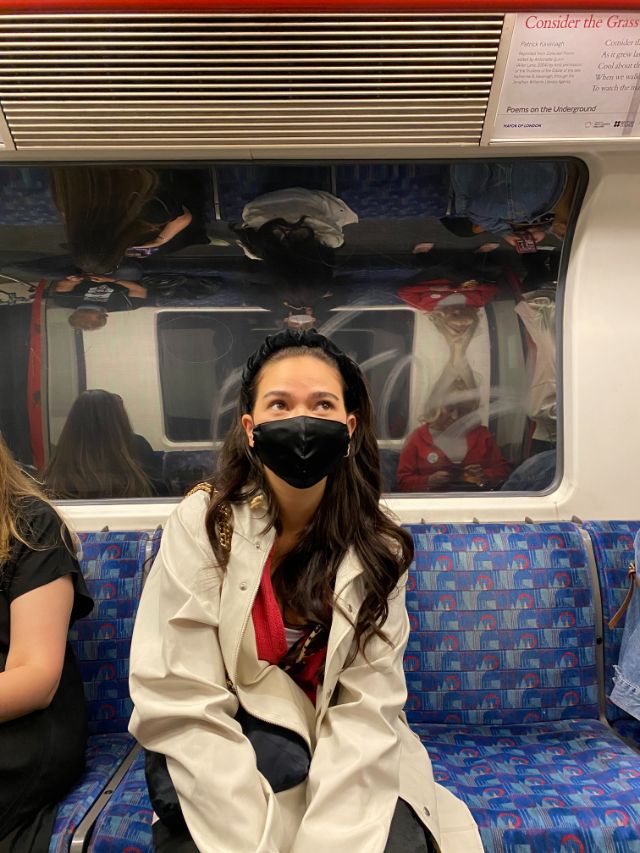 I decided to write my upcoming movie 366 and committed to directing and acting in it, too. Despite everything. I was very happy to see familiar faces on set. We were one of the first productions that pushed through with shooting with COVID restrictions. Meanwhile, nobody knew I had moved out of my five-bedroom condominium unit to an apartment with one room. I was slowly training myself for a future life in London. I parted ways with my assistant of eight years, Winnie, who was one of the first people who knew about my plans. (I told her about it so that she, too, could prepare.) I've always been a little independent in a sense, but after that I really started doing everything for myself. And I'm happy I did that little transition before the big move.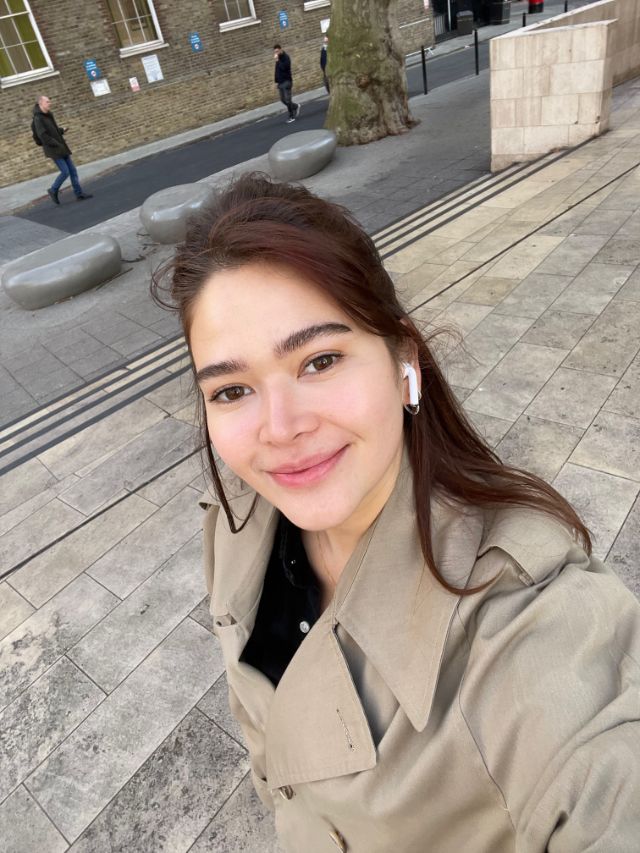 ADVERTISEMENT - CONTINUE READING BELOW
After filming 366, editing, and dubbing for it, I started giving my things away. Clothes, books, my car, and pretty much everything I had accumulated since I started working went to the right people. The ones left that I wanted to bring with me, I put in boxes—some books, clothes, and a few mugs. When the boxes were picked up from my house in Pasig, they asked me for an address in London to send it to. I didn't have one yet back then, so I had them store it for me first. Next on my to-do list were the technical details. I set aside savings that I planned to leave in Manila and prepared the money I was gonna bring with me. When I saw a little glimmer of hope, as restrictions were starting to loosen up a bit, I booked my ticket. See, when I say I don't know what I'm doing, it mostly comes from a place of having had to do and prepare so much for my actual move that I didn't think this far ahead. But I honestly couldn't be happier.
Bad at Goodbyes
I left Manila in July with an envelope filled with documents, a few letters from friends and some memorabilia inside my suitcase, along with enough clothes to sustain me for months. On the days leading up to my flight, I spoke to my cat, Sputnik, the most. I wanted to make sure he didn't forget our 11 years together. (He now lives happily with my brother.) I spent my last day in Manila with my mom, brother, and niece, but they didn't make it to the airport in time to send me off. Waze took us to different routes. (Just as life was about to in a matter of hours.) That was more than fine, though. I appreciated the last-minute conversations we had while emptying the remaining contents of my fridge more than hugs at the entrance of the airport.
I'm very bad at goodbyes. There was Tracy, who is like a sister to me. She rode to the airport with me. She checked if I had everything I needed and kept the conversation light, assuring me that this was the right time. There was also my best friend and chosen sister, Dani, along with her daughter Millie and husband Xavi, who came to the airport just before I went in. Dani knew I'd resist, but she still gave me a long tight hug and told me to call anytime I needed help.
ADVERTISEMENT - CONTINUE READING BELOW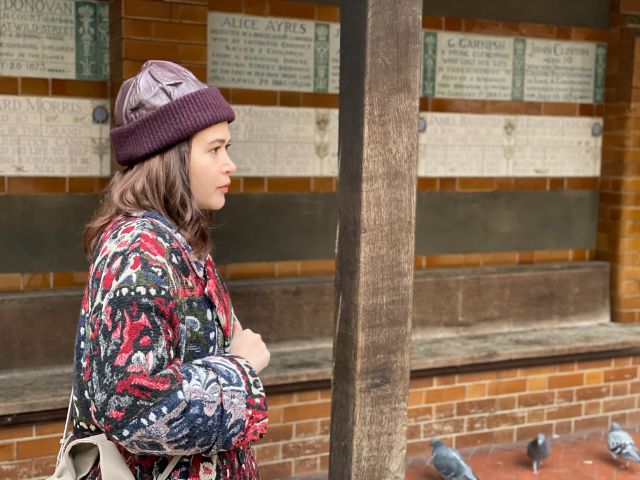 I flew to Switzerland first, then I went on a road trip to Italy and woke up in Tuscany in a beautiful house with a vineyard where guests of the owner left messages of gratitude. More hours on the road followed as I journeyed across Siena, to Florence, to Albinia, to Ortobello, to Lido di Camaiore and then back to Zurich where I swam in a lake for the first time. I traveled from one place to another every day for weeks on end. I also took a train to Basel to wander and spend time in its museums with Norman or Aynur, before swimming in a river that flows rapidly so all you'd really have to do is let go and enjoy the ride. When I felt that it was time, I booked a flight to London.
With a hotel as my base for a week, I started looking at the apartments I found online. This whole process only took a few days. A one-bedroom Victorian with a high ceiling and a garden eventually won in the end, and that place is now home.
Living a Slow Life
I spend my days writing. Since I've gotten here, I've finished one script and I'm in the process of writing a new one for Viva Films. I'm collaborating with my mentor, Sir Ricky Lee, on this and it will be shot here in London this year. When I'm not writing, you would probably find me in Hyde or Holland Park, in the V&A museum (where Harry Styles' infamous cardigan is on display), the Tate Modern, or maybe on the streets of Soho or Carnaby Street.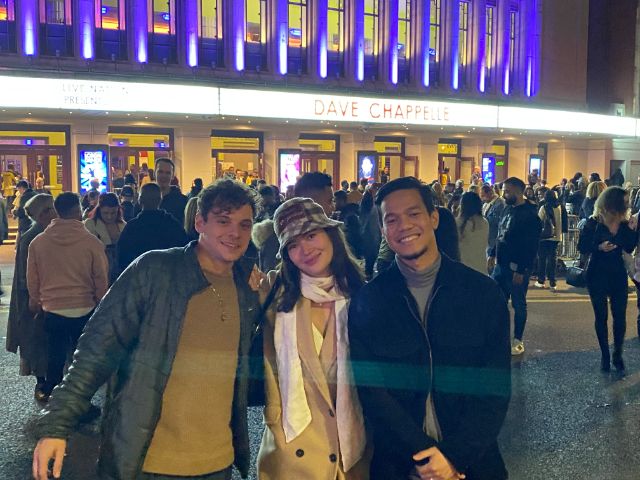 During the weekends, I'm either in Borough Market, Mercato Mayfair, Hampstead Heath or swimming in a sports club. I enjoy this slow life. I'm making up for the years of being told exactly where I'd be every day, being a different person, crying for someone else's pain and laughing for whichever character I am on a certain day's joy. I always say that I started working at 16, and since I lived out so many people's lives, I am now finally experiencing what its like to be 17.
ADVERTISEMENT - CONTINUE READING BELOW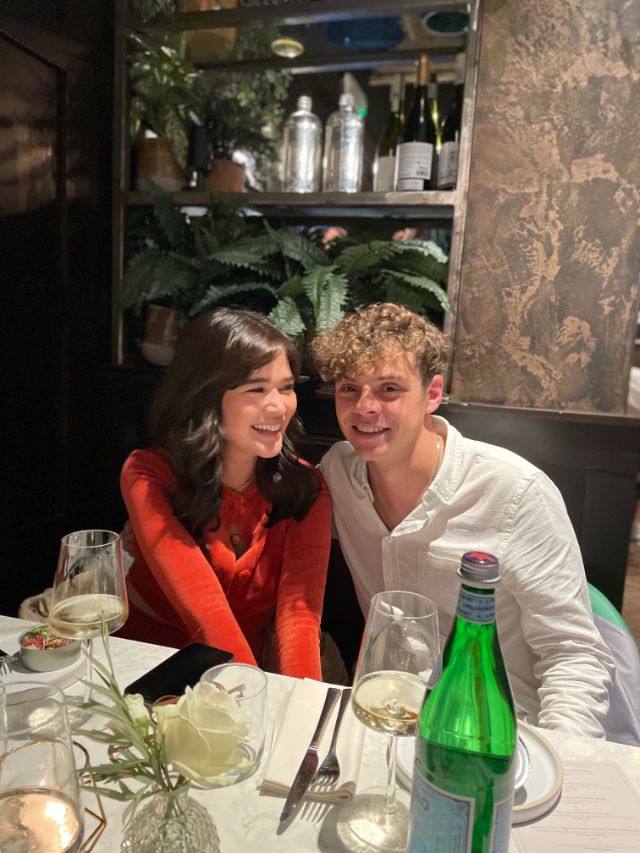 I know this slow life will end soon as I prepare to do new films and write new stories that I believe should be told. But for now, I am very happy here. At 30, I decided to start fresh and follow my heart's desires. Two nights ago, I saw an Agatha Christie play at the London County Hall. It was dark when I emerged from the underground and the wind was blowing cold winter air around my face. I shook the hair off of my face and looked up, Big Ben was staring down at me. Daunting in the night but also somehow comforting. I smiled and thought to myself, "I'm really in London now."
Preview is now on Quento! Click here to download the app for iOS and Android and enjoy more articles and videos from Preview and your favorite websites!
Related Stories from Preview.ph



Hey, Preview readers! Follow us on Facebook, Instagram, YouTube, Tiktok, and Twitter to stay up to speed on all things trendy and creative. We'll curate the most stylish feed for you!