Ever dreamt of experiencing the magic that is the Maldives only to have that dream cut short by the harsh realization that is the consequent travel expenses? Don't fret, because you can still get your summertime happy-ever-after without having to leave the country and drain your bank account.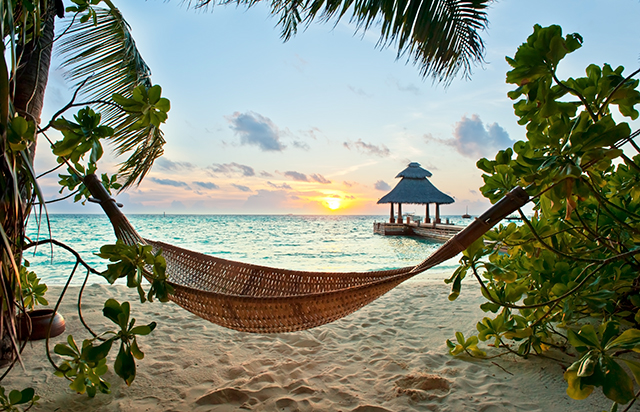 ADVERTISEMENT - CONTINUE READING BELOW
We have breathtaking, Instagram-worthy gems tucked in Southern Tagalog, waiting to be explored: island resorts inspired by the Maldives' water villas. Whether you're a beach bum by heart or just craving some seasonal wanderlust, these local resorts should definitely be added to your bucket list.
Related Stories from Preview.ph
One of Palawan's best-kept wonders, Huma Island's claim to fame are the "floating" villas atop its turquoise waters carefully crafted after the Maldives itself. Widely known as the "Maldives of the Philippines," Huma Island is among the most popular local destinations for those who want a quick getaway from the raging city hassle. The island resort is located in Busuanga of northern Palawan and hosts 64 water villas above coral banks. Beach villas are also available for guests who would rather witness the pristine view from the sidelines.
With the remarkable Kapuruan Spa and the infinity pool, Huma Island specializes on offering guests the best form of relaxation. For those with a heart for adventure, the island resort has its own dive centre and in-house instructors who can teach guests and help them plan their diving escapades. Best of all, guests' dining experience is guaranteed to be all-stars, with the Al Fairuz Lebanese Restaurant, Al Dente by the pool, Rudi's Wine and Cheese Bar, and more.
Miniloc is a place to get to know the Philippines at its barest and finest, as proven by the island resort's tag as El Nido Resorts' Eco-Discovery spot. Guests can spend their vacation with a 1.5-meter jack fish and a wide array of other marine species at the house reef. They can also visit and explore the famous Big and Small Lagoons and Snake Island, or drop by the Entalula Beach Club.
ADVERTISEMENT - CONTINUE READING BELOW
Showcased with native aesthetic, the gorgeous Miniloc Island Resort offers a "back-to-basics Filipino coastal village vibe" to guests. Indeed, every vital part of their rooms was designed to give off an authentic, provincial feel. Rooms are thatched-roofed, with wooden floors, walls made of sawali or woven bamboo slats, a private veranda, and furnishes crafted with indigenous materials. Aside from the Maldives-inspired water cottages, the island resort also has a garden, a cliff, and beachside cottages, as well as seaview rooms.
ADVERTISEMENT - CONTINUE READING BELOW
Traditional meets contemporary in Apulit Island Resort as each cottage incorporates native architecture with modern, stylish designs. All cottages in this island resort are built atop the sea, gifting guests with a crystal clear view of Palawan's Taytay Bay. There are two types of cottages available: water cottages, which can only accommodate a pair; and two-level loft water cottages, which can house at most four people.
ADVERTISEMENT - CONTINUE READING BELOW
Dubbed as El Nido Resorts' Eco-Adventure island resort, Apulit itself is a thrill, with so many activities for guests to busy themselves with: rappelling down a 60-meter limestone cliff, diving to see a Japanese ship wreck, spelunking, island hopping, and snorkelling, among several others. The island resort has guest activity coordinators that will help plan guests' adventure trips and make them one to remember.
El Nido Resorts' Eco-Sanctuary island resort lives up to its epithet. Lagen Island lies in the midst of a vast, four-hectare forest and a shallow lagoon, and is said to have the "the densest forest over limestone out of the 45 islands and islets of Bacuit Bay." With such a lush area, some of Lagen Island's best known activities are birdwatching and mangrove exploration. Aside from these, guests can take part in many other on-site, complimentary activities, such as sports and traditional Filipino games.
ADVERTISEMENT - CONTINUE READING BELOW
The island resort stays true to keeping its environment green, with recycled timber integrated in their cottages. Other than water cottages built on stilts, it is just expected that Lagen Island features forest rooms by the edging of the forest, as well as the beachfront cottages accentuated by a lovely view of the cove. Every room caters to three persons and has full-length sliding doors and a private veranda, suitable for a peaceful getaway.
ADVERTISEMENT - CONTINUE READING BELOW
Staying true to its name, Stilts is well-recognized for its exquisite, stilts-risen cottages. Perched in the heart of Calatagan, Batangas, the resort is home to three white beaches: Harmony Beach, Serenity Beach, and Destiny Beach.
With a selection of three types, the floating cottages all have a bedroom, a loft, and a living area. Aside from these, Slits also offer beach cottages, Simplicity villa and bungalows, tree houses, and camping trips—a perfect destination for families who crave for quiet relaxation. Their activities range from adventure packages and aqua sports to spa treatment and recreational activities, depending on what floats their guests' boat.
ADVERTISEMENT - CONTINUE READING BELOW
Eco tourism spots are always a no-fail option for every nature trip. Found in Naglayan Island and surrounded by the seas of Culion, Calamianes group of Islands in Palawan, Sunlight Eco Tourism Island Resort takes pride in being "the only luxury retreat in the region that can claim a true island getaway." The island resort offers a huge selection of amenities fitted to the guests' preference. Whether patrons want to relax in a spa, workout in their fitness gym, learn about diving in their dive shop, or even catch up on some me time in their private library, Sunlight Eco Tourism has it all.
ADVERTISEMENT - CONTINUE READING BELOW
A total of 99 villas lie on the west and east sides of the island, standing just atop the seas. With glass floors in selected portions of the villa proper, guests are indulged in a spectacular view of the seas on the surface and below right in the comforts of their holiday home.
Did we miss any other local resort with floating villas and cottages a la the Maldives? Let us know about it!
Hey, Preview readers! Follow us on Facebook, Instagram, YouTube, Tiktok, and Twitter to stay up to speed on all things trendy and creative. We'll curate the most stylish feed for you!