Imagine this: It's the early 2000s, dinner's finished, you've got fresh clothes on, and you're about to turn on your favorite Koreanovela through your local channel. Sounds familiar, right? It's no secret that even before we could easily search them on Netflix, K-dramas were already part of our daily routines. In fact, the hallyu wave especially flourished in the country during this era, so much so that local networks were inspired to create Philippine adaptations of beloved originals like My Girl, My Name is Kim Sam Soon, and Full House; and they've continued to do so ever since.
Now, since we're already on a walk down memory lane, how about we take a look at some of the past Philippine adaptations of hit K-dramas, plus all the ongoing and upcoming ones that any K-culture enthusiast should definitely check out.
1. Encounter/Boyfriend
Korean leads: Song Hye Kyo, Park Bo Gum
Filipino leads: Cristine Reyes, Diego Loyzaga
Produced by: TV5
ADVERTISEMENT - CONTINUE READING BELOW
The original plot: Far from their home in South Korea, two strangers meet by fate in the romantic streets of Cuba. After spending a wonderfully intimate night together, the pair part ways without knowing they will cross paths once again. Where Cha Soo-hyun is a rich hotel CEO weighed down by her suffocating mother-in-law, the much younger Kim Jin-hyuk is both free-spirited and hardworking. When they meet again in Korea, the two transform what once was a brief encounter into an emotional love affair.
Fun Fact: Diego Loyzaga, who plays Jin-hyuk's Pinoy counterpart in the local adaptation, admitted that he actually felt great pressure when it came to recreating Park Bo Gum's iconic role.
2. Descendants of the Sun
Korean leads: Song Hye Kyo, Song Joong Ki
Filipino leads: Jennylyn Mercado, Dingdong Dantes, Jasmine Curtis Smith, Rocco Nacino
Produced by: GMA-7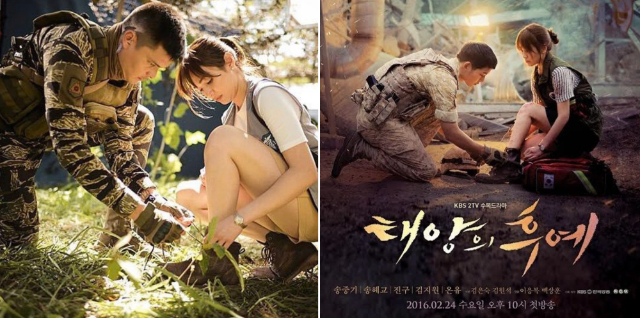 The original plot: A captain of the South Korean Special Forces and a high-performing doctor and trauma surgeon cross paths and are immediately smitten with each other. Unfortunately, their conflicting beliefs keep them from seeing eye to eye. Everything changes, however, when their lives intersect once again on the battlefield. Now pushed together in a time of adversity, the two inevitably fall in love. Apart from featuring an electrifying romance, the drama also touches on the diverse values that make ordinary people heroes in their own simple ways.
Fun Fact: The localized version, led by Jennylyn Mercado and Dingdong Dantes, ran for a total of 65 episodes on GMA-7.
3. My Love from the Star
Korean leads: Jun Ji Hyun, Kim Soo Hyun
Filipino leads: Jennylyn Mercado, Gil Cuerva
Produced by: GMA-7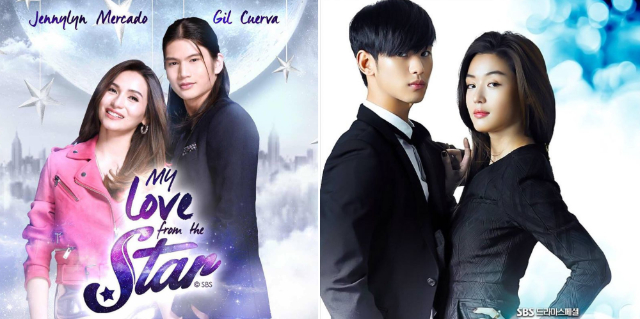 The original plot: An alien who landed on earth during the Joseon Dynasty in 1609 finds himself stuck in the human world after sacrificing his one and only way back to his planet in exchange for saving a girl named Seo Yi-hwa from falling off a cliff. After centuries of toiling and being all he can become—a doctor, astronomer, lawyer and banker—he now takes on the role of a college professor. On top of this, he's also achieved a nearly perfect "human being" appearance, enhanced abilities, and a cynical view of humans. His rather pessimistic perspective on humanity is only further aggravated when he gets entangled in the crazy life of a former child actress with an attitude problem.
ADVERTISEMENT - CONTINUE READING BELOW
Fun Fact: Initially, it was Alden Richards who was set to play the lead male role instead of Gil Cuerva.
4. Coffee Prince
Korean leads: Yoon Eun Hye, Gong Yoo
Filipino leads: Kris Bernal, Aljur Abrenica
Produced by: GMA-7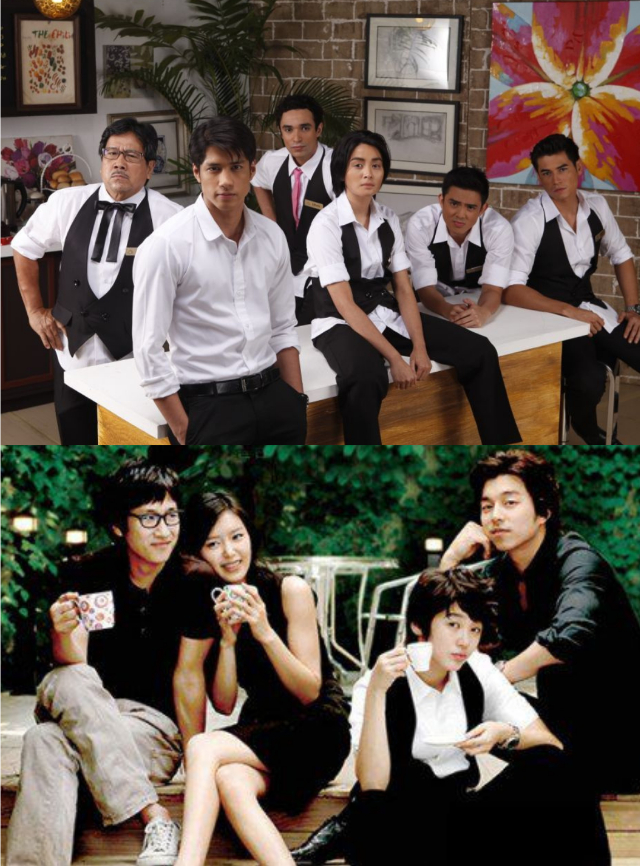 The original plot: Often mistaken for a boy for her tomboyish looks, Go Eun-chan is mistakenly hired by Choi Han-kyul, a chaebol heir, to be his fake gay lover so he can escape the blind dates arranged by his grandmother. Their relationship only gets complicated when Han-kyul revives an old coffee shop and decides to only hire handsome men to drive in customers. In need of money, Eun-chan keeps up her male appearance and starts working for Han-kyul, who ends up developing feelings for her, confusing his sexuality in the process.
Fun Fact: 13 years after the K-Drama aired, the Korean cast reunited in MBC's Youth Documentary 20 Again.
5. My Name is Kim Sam Soon
Korean leads: Kim Sun A, Hyun Bin
Filipinos leads: Regine Velasquez-Alcasid, Mark Anthony Fernandez
Produced by: GMA-7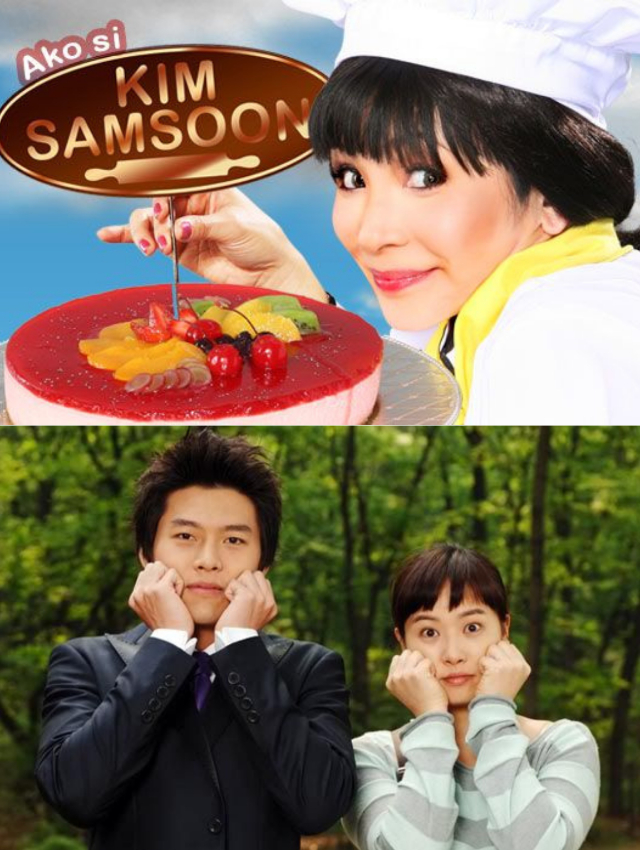 The original plot: Sam-soon is a daring and loud, yet ironically insecure 30-year-old woman who is struggling with her weight, her recent job loss, her break-up with her brazen cheating fiancée, and her rather old-fashioned name. Luckily, things start to look up for her when Hyun Jin-heon, the owner of a fancy French restaurant called Bon Appetit, hires her as his pastry chef.
Jin-heon leads an equally complicated life. Often bombarded by his mother with unwanted blind dates and a chance to take over their lucrative hotel business, he draws up a risky contract with Sam-soon to be in a fake relationship with him in exchange for the money she badly needs. However, as we all know, contracts rarely go as planned.
ADVERTISEMENT - CONTINUE READING BELOW
Fun Fact: The show's Pinoy adaptation was actually Regine's first project with GMA-7 after signing an exclusive contract with the network.
6. Full House
Korean leads: Song Hye Kyo, Rain
Filipino leads: Heart Evangelista, Richard Gutierrez
Produced by: GMA-7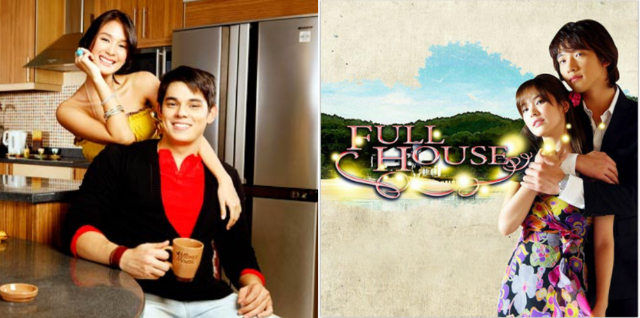 The original plot: An aspiring writer named Han Ji-eun resides alone in her big and lofty home, Full House, which she received from her late father. She can barely keep up with the hefty price of her living expenses and doubts that her inheritance will sustain her. Surrounded by equally desperate people in need of money, she's tricked by her very own best friends into going on a vacation so they can sell her house and pocket a generous sum of the money for rent and medical bills.
When Ji-eun comes back to a snobbish man named Lee Young-jae now living in her home, she has no choice but to agree to become his maid. That is, of course, until they draw up a fake marriage contract that satisfies both their desires: for the title of Ji-eun's house to be given back to her, and for Young-jae to make his crush jealous.
Fun Fact: Some of the scenes in the pilot episode of the Philippine adaptation were actually shot in Prague!
7. My Girl
Korean leads: Lee Dae He, Lee Dong Wook
Filipino leads: Kim Chiu, Gerald Anderson
Produced by: ABS-CBN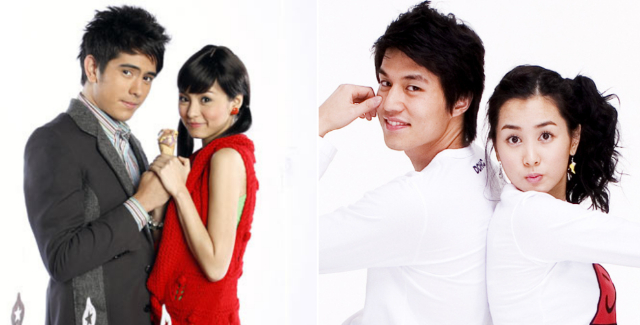 The original plot: The drama revolves around tri-lingual Joo Yoo-rin, a skillful liar and scammer who decides to independently take on the debts of her gambler father. There's also Gong-chan, the sole heir to the grand L'Avenue Hotel and grandson to an ill man with a dying wish: to meet a long-lost family member. Meeting each other when Yoo-rin translates for a guest in Gong-Chan's hotel, the latter seizes the opportunity to plot a scheme where Yoo-Rin acts as his distant cousin in exchange for a hefty sum of money.
ADVERTISEMENT - CONTINUE READING BELOW
Unwilling to deceive the old man but sinking deep into her father's debts, she takes the deal. To their surprise, Gong-chan's grandfather is so pleased that it literally heals him from his deathbed. Now stuck in their ruse, the pair find themselves sharing not only one roof but also romantic feelings for each other.
8. Only You
Korean leads: Han Chae Young, Jo Hyun Jae
Filipino leads: Angel Locsin, Sam Milby
Produced by: ABS-CBN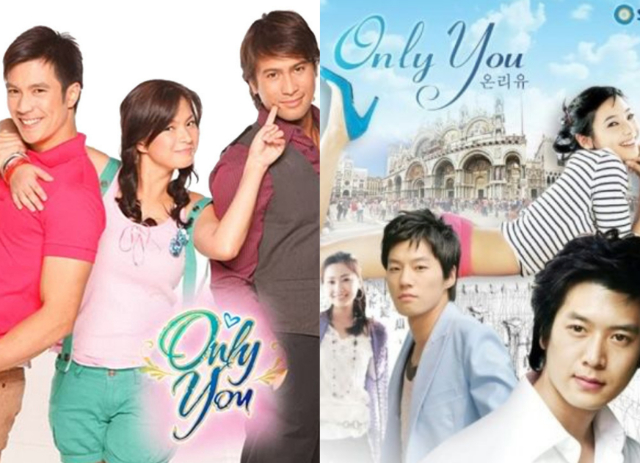 The original plot: Eun-jae, an absolute lover of food, travels to Italy with a friend in search of a teacher who can teach her how to make great pasta. She eventually meets Yi-joon, a wealthy young man who flew to the country in hopes of finding his estranged mother. When a string of events leads them to spending the night together, the two decide to quickly part ways the next day, unaware that Yi-joon has left Eun-jae pregnant with their child. She keeps her pregnancy from Yi-joon a secret, until they cross paths again six years later and rekindle their past romance.
Fun Fact: In the Pinoy version, rather than studying in Italy, the first half of the show is set in South Korea.
9. Baker King
Korean leads: Yoon Shi Yoon, Joo Won
Filipino leads: Mark Neumann, Akihiro Blanco
Produced by: TV-5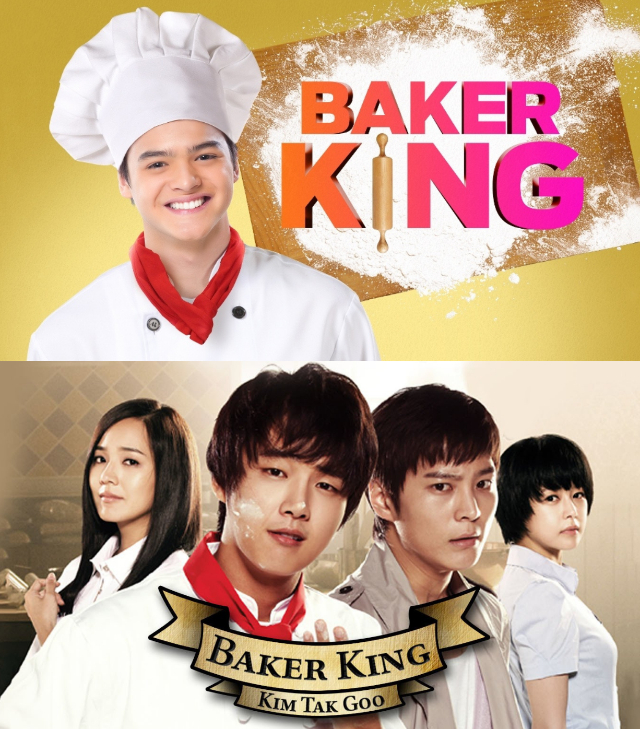 The original plot: Kim Tak-gu is the illegitimate son of a company's CEO. When his mother is kidnapped, he leaves his home and spends 12 years in search of her. He pursues his dreams in the process and enters a baking school where he crosses paths with his half-brother who, unbeknown to Tak-gu, harbors a long-standing resentment against him. In a battle to be the best baker of the land against his divisive brother and his other family members, Tak-Gu journeys to find what life, family and love truly means.
ADVERTISEMENT - CONTINUE READING BELOW
FYI, the original Korean version of the series is titled Bread, Love, and Dreams.
Fun Fact: The Pinoy series is known as the first Korean drama adaptation produced by TV-5.
10. My Fair Lady
Korean leads: Yoon Eun Hye, Mark Neumann, Jeong Il Woo
Filipino leads: Jasmine Curtis Smith, Vin Abrenica, Luis Alandy
Produced by: TV-5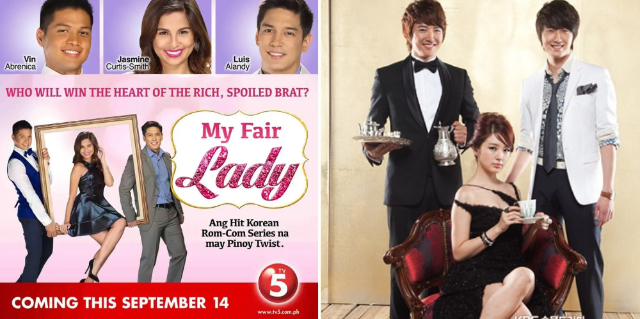 The original plot: Armed with riches, good looks and a powerful background Kang Hye-na, the orphaned heiress to a large conglomerate, lives alone in a grand mansion of which she calls the "Lady Castle." When she gets into a scuffle with a mischievous man, he somehow ends up as her household manager, and causes even more of a bind when he ends up unknowingly gaining her affections.
Fun Fact: TV5's adaptation of the series replaced Baker King after the show concluded airing.
11. The World of the Married
Korean leads: Kim Hee-ae, Park Hae-joon, Han So-hee
Pinoy leads: TBA
Produced by: ABS-CBN
The original plot: A story adapted from a British drama series spearheaded by BBC titled Doctor Foster, this riveting drama revolves around married couple, Ji Sun-woo, a revered family doctor, and her deceiving husband Lee Tae-oh, who also aspires to be a director. Though they seem to have the perfect life, their marriage falls apart when Sun-woo learns of her husband's infidelity. Out for blood, she sets out on a warpath to get revenge on Tae-oh and his much younger mistress. Currently the highest rating K-drama on cable TV, the Korean adaptation was well-received thanks to its enthralling narrative filled with irresistible twists and turns.
A Philippine adaptation of the show was recently announced by ABS-CBN, with an already rumored star-studded cast. That said, fans anticipating this release should gear up for a whirlwind of events and emotions that will no doubt leave them stressed yet captivated, to say the least.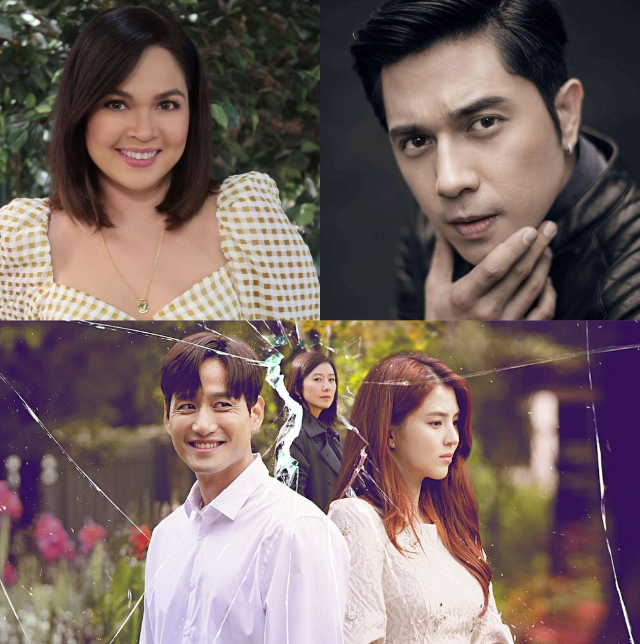 ADVERTISEMENT - CONTINUE READING BELOW
Preview is now on Quento! Click here to download the app for iOS and Android and enjoy more articles and videos from Preview and your favorite websites!
Related Stories from Preview.ph
Hey, Preview readers! Follow us on Facebook, Instagram, YouTube, Tiktok, and Twitter to stay up to speed on all things trendy and creative. We'll curate the most stylish feed for you!