If you've already watched the trailer to Disney's latest fantasy release then you'll know just how majestic and extravagant the costumes are in The Nutcracker and The Four Realms. The story centers around a young Clara (Mackenzie Foy) in search of a special key that can open a precious gift close to her heart. This quest leads her to a magical parallel world divided into four realms, of which she finds herself having to save in order to retrieve her key.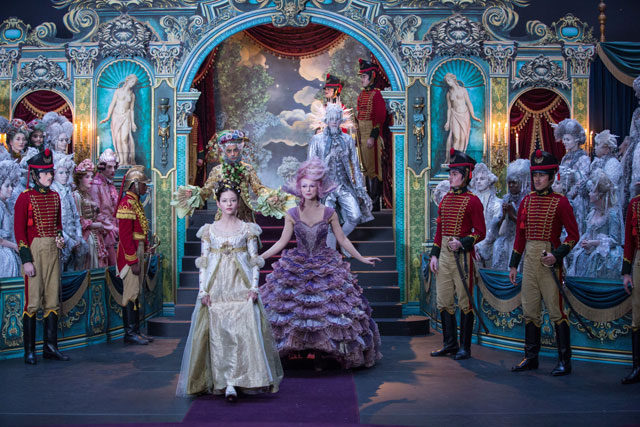 ADVERTISEMENT - CONTINUE READING BELOW
Set in 18th century London, Oscar-winning costume designer Jenny Beavan brushed up on Victorian era culture—from toys, to streets, to fairytales—in order to build inspiration for the movie's grandiose designs. In the end, she—along with the rest of the production team—came up with designs and decors likened to every child's Christmas fantasy; extravagant, picturesque, and downright magical.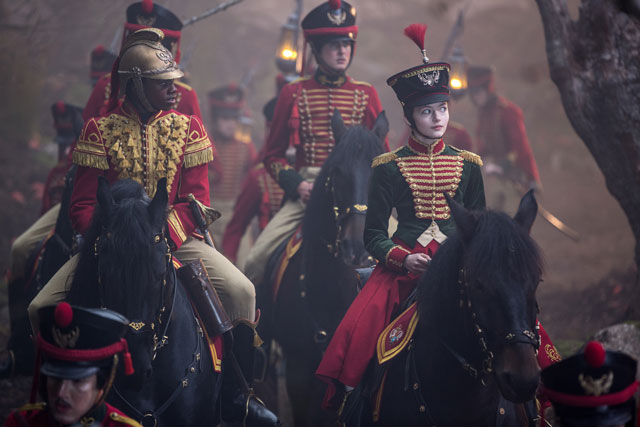 CONTINUE READING BELOW
Recommended Videos
Read up below as Jenny tells us more about her creative process for the costumes, her favorite characters to design for, and more! Take a peek at the original costume illustrations while you're at it.
Did you watch any of The Nutcracker adaptations growing up? If so, did you get inspiration from them for the costumes?
"I've never seen another film of it but [what] I do remember as a child is going to the ballet in London and just being absolutely swept away as a seven-year-old, and I just thought it was the most magical thing ever. [As for the inspiration] I think the general excitement of it, yes."
Can you take us through your creative process for designing the costumes?
"The production designer, Guy Hendrix, had been on board for a good six weeks before and had started to create some designs and mood board. So I knew the world he was creating to try and fit into. So that was extremely helpful. He sort of set the tone and then I could just follow in to these different worlds. Obviously, I made up what people actually looked like but I have a sort of base and a world to fit everyone into in the realms. In real life we went for late Victorian look for, you know, a snowy London, wintery clothing. But when we get into the realms then, of course we were in pure hands of fate."
ADVERTISEMENT - CONTINUE READING BELOW
Is there an embellishment or fabric that you could say you made use of the most?
"No, to be honest we went out and tried anything but had to do with the different themes, like a floral theme, a sugary theme, or obviously for a snow and ice [theme] there were lots of silver and lace, and luxury fabrics, and things that had almost like snowflakes on them. I had buyers who went out and found these incredibly interesting and often very cheap fabric."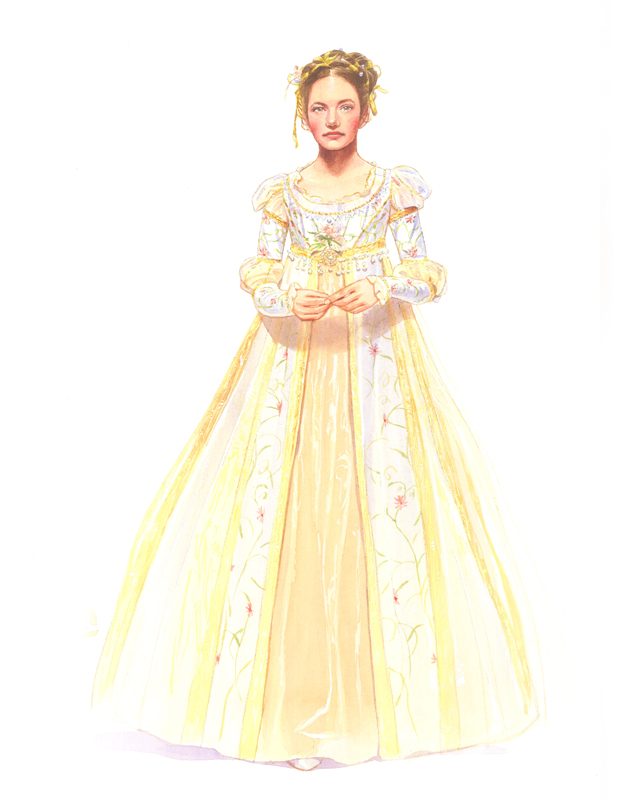 ADVERTISEMENT - CONTINUE READING BELOW
"Clara gets a new look for the extravaganza, choosing a gold and cream Victorian-style frock made of silk brocade, cream organza, gold silk and gold mesh with pearl, gold and diamante decoration."
How would you describe your designs for the movie?
"I have no idea. I think I'd describe the real world as real and grounded as a sort of contrast to the extreme fantasy. But the fantasy, in a way, though, is... you know when you have a dream at night you often relate it to something you'd feel in the day? So we related the characters in the realms, like the porcelain china figures that the mother may have had in her special cabinet or a mantel piece, there was a reality even to them in that they came from something she'd seen."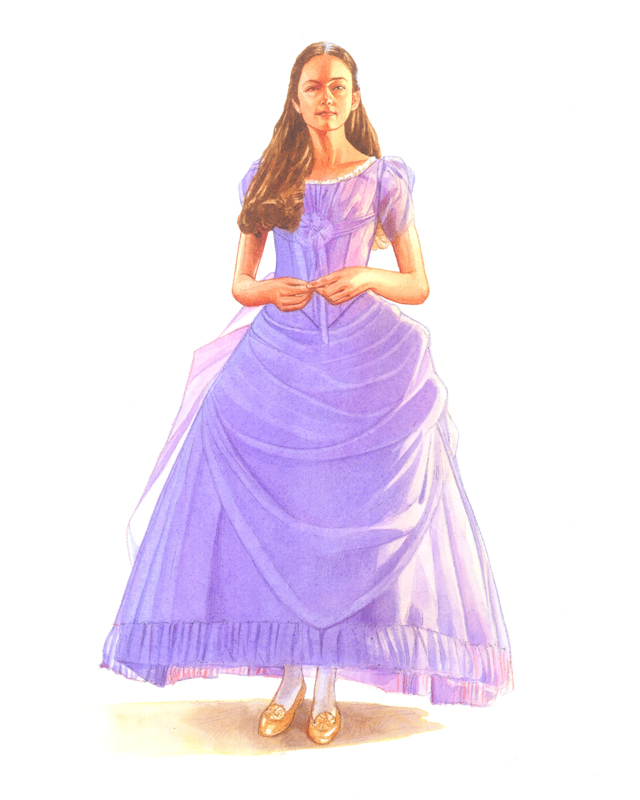 ADVERTISEMENT - CONTINUE READING BELOW
"[Clara's dress for Drosselmeyer's party] is lilac silk taffeta with organza and chiffon. Mackenzie is tiny, so I wanted to keep it very delicate."
Did you face any difficulties in designing the costumes?
"The usual. The fact that they moved in them and that we covered them in icicles and the glitters were everywhere! But we had just enough time, we just had enough money. There's always a slight late casting on children, and I think we had more stunt work than we'd imagined so we needed more repeat costumes. It was more logistics, really; I didn't have any problems with the creation of the design. It's just that when you suddenly have to make 12 of something, you can run out of fabric."
How long did it take you to complete the costumes?
"I think we had about a 12-week preparation period. But of course that doesn't mean you don't see everything on day one, and we had about a 16-week shoot so of course if something wasn't appearing 'til later on in the movie you would have longer to prepare it. We didn't actually shoot on the realms costumes until a few weeks into the shoot so we had a bit longer on them."
ADVERTISEMENT - CONTINUE READING BELOW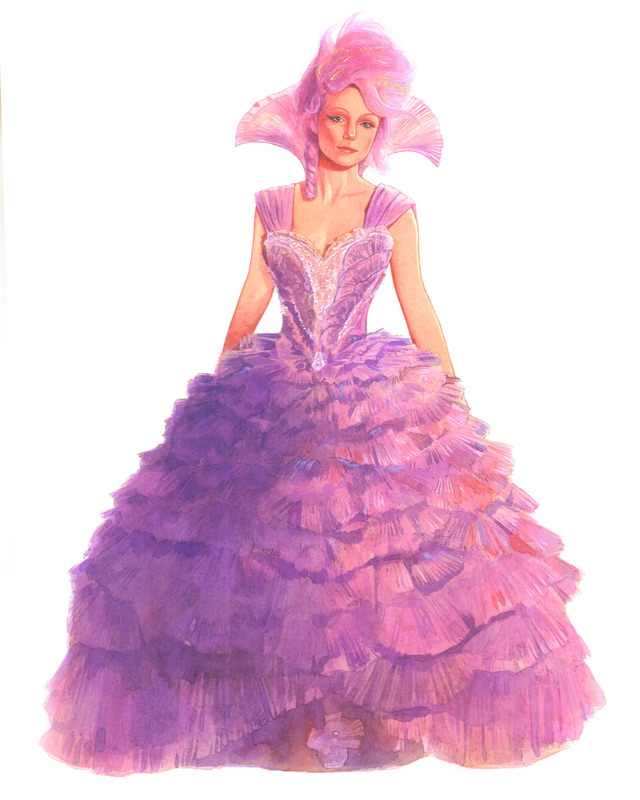 "[For Sugarplum] we wanted a dress [with] a lot of movement, so it's made out of layers of little pleated fans—there must be 200. They take a phenomenal amount of fabric to create."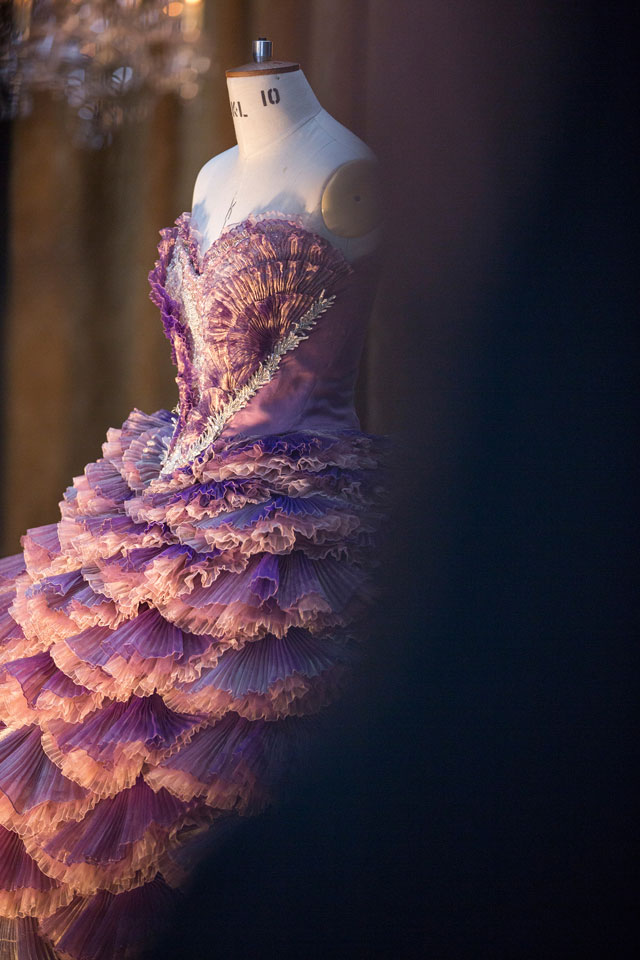 ADVERTISEMENT - CONTINUE READING BELOW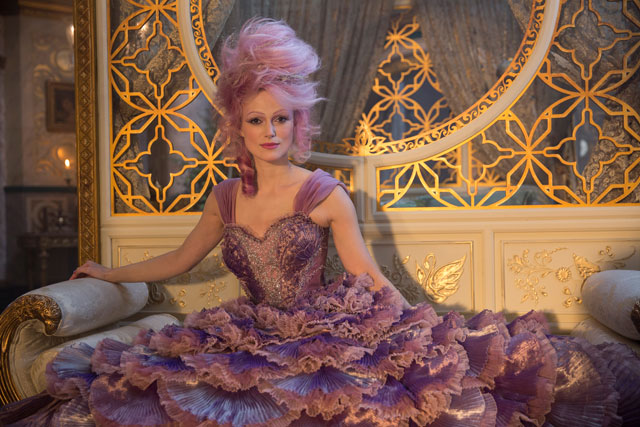 Did you have a favorite character to design for?
"Not really, I love them all! I mean, obviously I'm terribly fond of Clara and Sugar Plum, and I loved the little soldier costume that Clara wears when she goes off to fight Mother Ginger. I loved Drosselmeyer's embroidered panels, which were done by a friend in Denmark. I was also very fond of Richard E Grant's crazy silver [costume]. I think it was from a plastic material we found somewhere; that was really fun to do."
ADVERTISEMENT - CONTINUE READING BELOW