I'm not ashamed to admit that I'm a sucker for hugot movies. My Netflix history can confirm that when I don't know what to click play on, I always end up going for a flick about a pair of lovers who are just trying their hardest to make things work. "The sappier, the better," I say. Isa Pa with Feelings (2019), I'm Drunk, I Love You (2017), and That Thing Called Tadhana (2014) are only some favorites with scripts that I've already virtually memorized.
While I'm cautious about saying that things are "slowly going back to normal" today, one indication that they really are is that cinemas are opening again. One of the first local titles to make a comeback to the physical theaters is Ngayon Kaya, T-Rex Entertainment's latest offering featuring the buzz-worthy love team of Janine Gutierrez and Paulo Avelino. It chronicles the story of AM (Janine) and Harold (Paulo), two music-loving college kids who reunite years after graduation to settle some "what-ifs."
ADVERTISEMENT - CONTINUE READING BELOW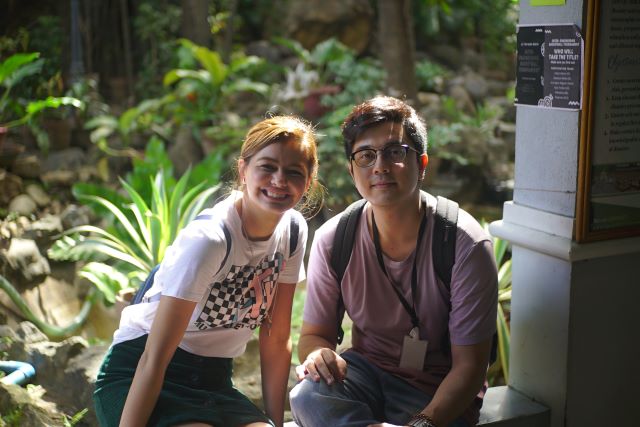 I should point out that I am a huge fan of both its lead stars. Janine's Gawad Urian-nodded performance in Babae at Baril (2019) is an acting masterclass everyone needs to see. It was such a far cry from her bubbly rom-com bits, and yet, you're still enamored by the brown-eyed lead character, albeit you'll be sympathizing with her on a much graver level. Her leading man, on the other hand—well, do I even have to say it? Paulo's charm, both in fiction and in real life, has made hearts flutter all over the nation, mine included. That slight dimple he has on when he grins is so distinctly his, he might as well have it insured.
ALSO READ: 8 TV Shows and Movies Starring Janine Gutierrez Any Fan Should See
Fans may assume that "PauNine" was founded through their Dreamscape teleserye, Marry Me, Marry You. But their professional partnership actually began with Ngayon Kaya, which was a pre-pandemic production. It was a pot of soup that simmered for almost three years, and after everything that halted its supposed release, it's finally ready to be served. I'm no chef, but you know what they say: The longer a broth boils, the better it gets.
It's soup that'll provide the nourishment many have been needing. These recent times have been so fast-paced and unnerving that something like a cheesy rom-com is almost a necessity now. Jen Chuansu, the film's screenwriter, describes the experience of watching movies like this as a "catharsis" of sorts. They may not be for everyone, but they're like a breathe of life simply because they're so familiar.
ADVERTISEMENT - CONTINUE READING BELOW