After the success of Netflix's original teen shows like the heartfelt comedic-drama Atypical, to their current thrilling series The Society, it seems the streaming-service has moved to straddle the genre's spectrum with their latest release, Trinkets.
A teen drama that delves into serious issues like kleptomania and physical abuse, to comparatively lighter situations like covert high school romances, the show's heart evidently focuses on the blooming friendship of three teen girls. Elodie (Brianna Hildebrand), Moe (Kiana Madeira), and Tabitha (Quintessa Swindell) all belong to different hierarchies of the high school food chain, but soon find themselves in the same Shopaholics Anonymous group after a shared affinity for stealing. It's your classic story of misfits and unlikely friends discovering a much-needed bond with each other, complicated by the current issues that most teens face today.
So, is it worth your nightly Netflix binge-watch? Check out what we think of the first four episodes below!
ADVERTISEMENT - CONTINUE READING BELOW
What I liked about it
It's a show centered on female friendship.
From movies like Someone Great and Sierra Burgess is a Loser, Netflix contiunes their highly feminist-era friendships with Trinkets. Having come from different backgrounds and walks of life, the three lead girls are all catty remarks and vehement avoidance when it comes to each other, but the more they coincidentally find themselves in similar situations, the more they end up growing fond of the other. Which then eventually results to a ride-or-die loyal trio who have each other's backs no matter what. "I think that the show really speaks a lot to finding your tribe or finding your people. Which I think is super relevant to being in high school." Brianna Hildebrand tells Preview. "It's one thing I think people will be able to relate to, is finding your pack and I think the show does a really good job of representing that and just speaking to making friendships and learning to trust in one another and have that trust reciprocated."
CONTINUE READING BELOW
Recommended Videos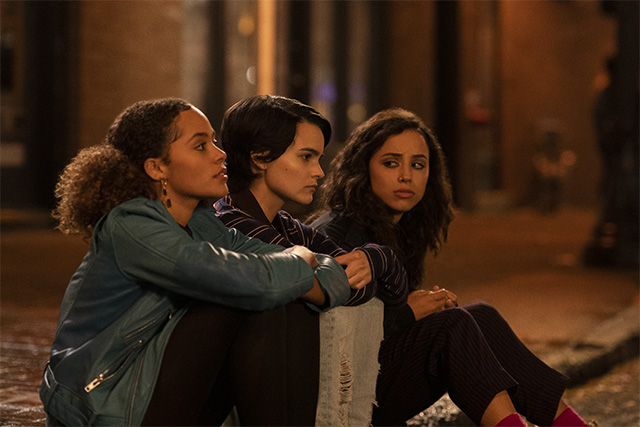 It's all about breaking stereotypes.
At first glance the three leads play into your cliché stereotypes. We have the awkward introvert, the recluse delinquent, and the picture-perfect popular girl. However, as the episodes progress we soon find out that allowing the audience to box these girls into their assumptions of them in the beginning, is key to having us connect with and root for the characters the moment they prove to be more than just their labels. "It stresses that despite how people are on the exterior there's often so much more going on in the inside." Kiana Madeira adds. "Even though people find themselves in their social circles and hanging around with some people, a lot of times we feel like we need to stay in that box and that's not how life should be lived. So I think it's important to allow yourself to be more than one thing, as teenagers. Be malliable to change and surround yourself with new people who support you."
ADVERTISEMENT - CONTINUE READING BELOW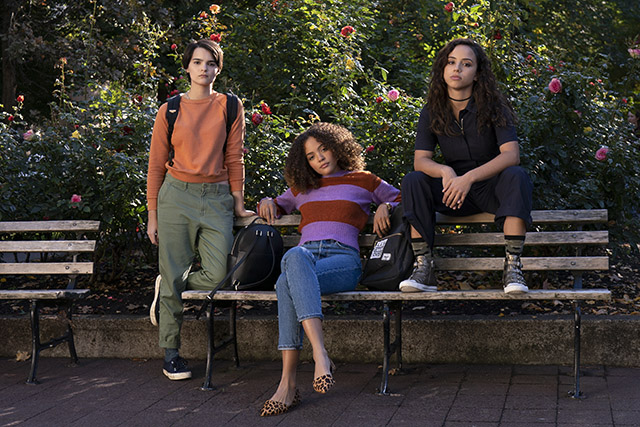 What I didn't like about it
The 30-minute format.
While ultimately promising, Trinkets' less then 30-minute runtime per episode falls short from giving this drama enough breathing room to develop its characters and establish its important emotional beats. Without spoiling much, the jump in the first episode from Elodie, Tabitha, and Moe either disliking or being indifferent to each other, to suddenly gaining a sense of, if not yet friendship, comradery towards the other, feels undercooked and, quite frankly, potentially underserved. Then again, a short runtime for a teen drama such as this is rare if not without an added comedic premise, which the show unfortunately lacks. It's a classic case of writers and showrunners having to learn to make do with what they have, instead of biting more than they can chew per episode.
ADVERTISEMENT - CONTINUE READING BELOW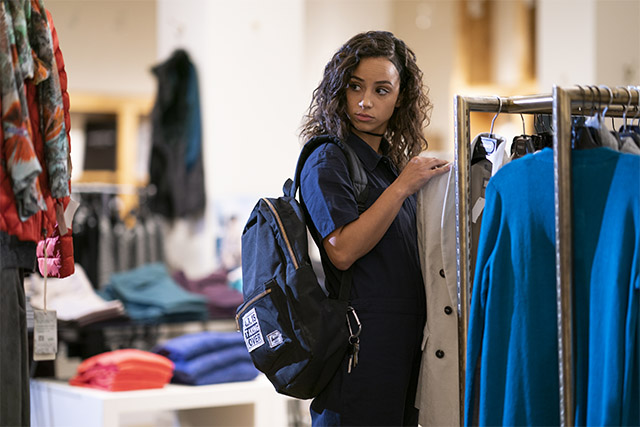 Its heightened portrayal of kleptomania.
"If there are forces that can randomly take people away. There should be forces that randomly give you things for free," Brianna's character Elodie reasons over a Shopaholics Anonymous session. It's a moving and poignant scene that no doubt leads the viewer to sympathize with the teenager. Hell, I even found myself nodding along. But perhaps therein lies the problem. Though she's aware stealing wrong, Elodie justifies it as a means to getting even with the world for what she's lost. It's a smart, sentimental line rightly belonging to a TV drama, but stripping away its intent to draw out emotion, the line, and how the rest of the show portrays kleptomania can be rendered harmful to young viewers who don't know any better. We're talking about a young, impressionable teen audience who can take these words— said in a place of grief and bottled-up anger—to mean that sentiment alone validates their need to steal. Not to mention the lack of repercussions the three characters meet everytime they continue to nip away at stores, the first four episodes. Without being granted to see the rest of the series yet, we can only hope the show's handling of the topic takes a much-needed 180 as it progresses.
ADVERTISEMENT - CONTINUE READING BELOW
That said, Quintessa Swindell does offer quite the differing intriguing perspective to think about with regards to how the show treats kleptomania and the act of stealing. "I think one of the most interesting things about the show is that it doesn't only highlight kleptomania. You learn more about how these girls have lost a sense of control in their own lives, and also in situations they've involuntarily dealt with," they point out. "I think kleptomania is a facet of that. I think it's about these young girls trying to regain control of their lives and take the things that they can."
ADVERTISEMENT - CONTINUE READING BELOW
So should you watch it?
It's safe not to expect much of a roller coaster from its short episodes. But if you're in for a fast-paced drama, both light in its teen genre, yet packs an emotional punch at the same time, then Trinkets is the easy yet meaningful watch you could be looking for.
Related Stories from Preview.ph
Hey, Preview readers! Follow us on Facebook, Instagram, YouTube, Tiktok, and Twitter to stay up to speed on all things trendy and creative. We'll curate the most stylish feed for you!