Almost every TV show has the stereotypical nerd character. You'll notice them from the get-go: round specs, collared shirts, long lines peppered with incomprehesible jargon. They're braniacs of substance but never of style, A.K.A. the tired TV trope actress Laura Dreyfuss is proud to break on Netflix's, The Politician. The new series is a political satire centering on Payton Hobart (played by Ben Platt), an ambitious teen who's got his eyes on the U.S. Presidency. Laura plays McAfee Westbrook, one of Payton's best friends and "political consultants."
Unlike most characters who are often pegged as their respective show's geeky info central, McAfee partners her baffling booksmarts with a covetous wardrobe to boot. Judging by the way she rocks every colored power suit imaginable throughout the show's eight episodes, and paired with designer avioators no less, she may well be a powerhouse style inspiration to aspire for.
"McAfee was really exciting to create because her style was inspired by strong women like Gloria Steinem and Diane Keaton, as well as David Bowie for some rock n' roll touches, like her sky high platforms by Martin Margiela," Claire Parkinson, The Politician's costume designer, tells Preview. "We used Gucci blue aviators, Commes des Garçons sneakers, Dries Van Noten tops underneath her suits, and many more elevated pieces to make her look bold. We found these incredible Celine tan and white loafers [that] she wore a few times as well," she added.
ADVERTISEMENT - CONTINUE READING BELOW
Claire also mentioned that McAfee's unembellished 'fits were intentional. "Although her suits and style were very simple, the shapes and silhouettes really ranged throughout the season. We also made sure keep her free of adornment so we didn't give her handbags and her jewelry was consistent throughout the season," she shared.
Below, we talk to McAfee herself, Laura Dreyfuss as she discusses the essence of her character's fashion sense, playing a queer character, and more.
Describe your character's fashion sense. How is it different from yours?
"It's fun. The most fun thing for me with the style was getting to create this person and the clothes were a huge part of that development. I love her clothes! It actually completely affected my own style in life. The baggy powers suits just felt so effortless and cool and there's really so much power in that. To be a woman and to put on a suit, that just feels so fun."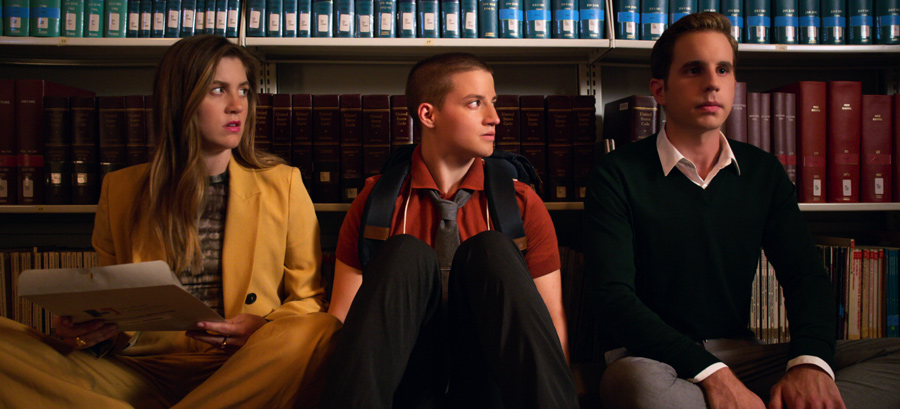 Did you get a say on your wardrobe?
"We were approached with an idea of what the costumes would be and we got to decide with our wonderful costume designers if that felt comfortable, and if that felt right to us. So we were really able to collaborate together. Those were actually my favorite days, when we would go in for fitting because Claire [Parkinson] and Lou [Eyrich] were amazing. That was really fun to be able to learn from them how to pair things and know what works and what doesn't, and also how it serves the person you want to be in that moment."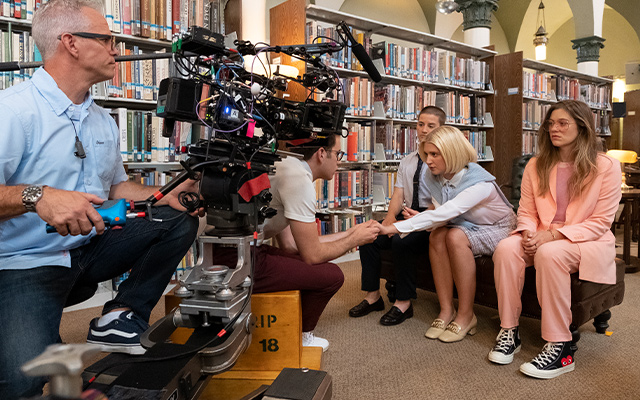 ADVERTISEMENT - CONTINUE READING BELOW
"For me it was really interesting because my character's so smart and yet the suits made her cool and that changed how I was as an actor. She had a line of different colored suits and I was just like 'Wow! Let's do pink, let's do green!' The minute you put the suit on they can see on your face like ''oh this is something they love' because of how we react to it and how we feel in it. Whereas there would be certain things I'd put on and my reaction would be like 'ok yeah it could work,' and they'd be like 'no.' So they can tell that it doesn't resonate, and that's so important when you're playing a role and you're on camera and you have to be comfortable."
What's the one thing you'd like the audience to take away from your own character's story arc?
"I think that you can be smart and cool at the same time."
Why is it important for you to be able to play a queer character on the show?
"The thing that excites me so much about the show is that all of these characters are unapologetically themselves and they don't need to explain themselves. I think in the future it would be a perfect world in which we don't have to say what we identify as. We can just be that and everyone can be that and accept one another for it. That's what's so exciting to me is that we just are and we're just existing as our beautiful selves. So that was really special for me to do and it just felt very natural. I think it's really important to have representation like that."
The Politician is available now for streaming, exclusively on Netflix.
Related Stories from Preview.ph
Hey, Preview readers! Follow us on Facebook, Instagram, YouTube, Tiktok, and Twitter to stay up to speed on all things trendy and creative. We'll curate the most stylish feed for you!