I'll be honest: I'm not an avid watcher of romantic-comedy flicks. I find them predictable, formulaic, and with repetitive character tropes, considering the amount of movies that come out in this genre every year. Having said that, the Netflix Original film Always Be My Maybe still piqued my interest because of its diverse (almost) all-Asian cast, and I was somewhat sure that the script would be intelligent and funny since both lead stars Randall Park and Ali Wong co-wrote it.

The story is simple; former best friends Sasha Tran (Ali Wong) and Marcus Kim (Randall Park) meet again after 15 years back in their hometown in San Francisco, but while some things have stayed the same, some things have changed for the two as well. Sasha is now a super successful celebrity chef, who only really came back to San Francisco to open her new restaurant. While Marcus is still a struggling musician with his high school band Hello Panic and also works for his dad's air-conditioning installation company Harry & Son.
ADVERTISEMENT - CONTINUE READING BELOW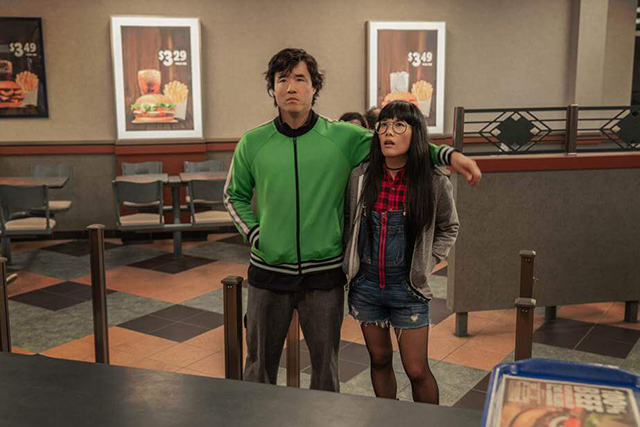 The movie starts off with a nostalgic throwback to the '90s: the music, the fashion, and the TV shows (Clarissa makes a short cameo for all the '90s kids out there). It then reveals the history between Sasha and Marcus and ultimately shows their adorable friendship and undeniable chemistry. After an awkward and equally hilarious night in Marcus' beat up Toyota Corolla (not a spoiler because this is in the trailer!), the pair eventually drifts apart and stops speaking to each other.
ADVERTISEMENT - CONTINUE READING BELOW
Recommended Videos
What I Liked About It
It features a successful Asian woman who has found herself.
Unlike the typical rom-com leading lady stereotypes that feature women in search of themselves or are unsure of who they are, Sasha Tran is confident in almost every aspect of her life. Sasha is a great example of a successful woman who doesn't let a hiccup in her love life define or determine who she is or who she can be. Instead, Sasha uses that heartbreak to grow and be a positive influence on Marcus.
But that also doesn't make her too perfect and unrelatable. Sasha also shows us how success can make us forget who we are and turn us into a person we're really not. Though painful, she admits to this flaw, and that makes her even a stronger character.
The jokes are very current and snappy.
ADVERTISEMENT - CONTINUE READING BELOW
As a fan of the series
Fresh Off The Boat
, I didn't expect anything less from Randall Park. His delivery is always on time and he has a great way of playing that uncool yet adorable character you can't help but relate to. When Sasha and Marcus get together, there's no shortage of witty one-liners and feel-good dialogue about current issues and personalities like
Meghan Markle
, the rise of high-end (yet gimmicky) culinary cuisine, expensive designer athleisure, influencer culture, and so much more. Also
Keanu Reaves
plays such an important character in this film just because of what he represents and how he plays it up. He's hilarious!
The humor can be sarcastic and sometimes self-deprecating, but if you're a fan of intelligently-written comedies that poke fun at pop culture, this film is so up your alley!
Marcus' girlfriend Jenny is the unsung style star of the film.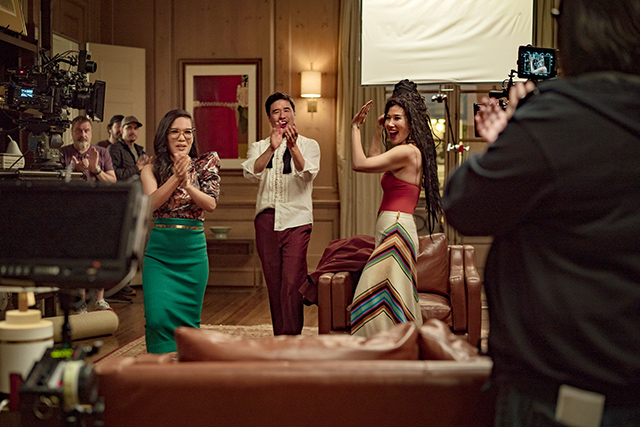 ADVERTISEMENT - CONTINUE READING BELOW
"How does an Asian girl even get dreadlocks?" Sasha asks after meeting Marcus' five-month girlfriend Jenny (
Vivian Bang
). Though weird and obviously satirical in representation of the neo "woke and hippy creative," Jenny's personal style is undeniably fresh, quirky, and fashionable. From her silky purple caftan to velvet puff-sleeved top—which she paired with a striped asymmetrical skirt—that she wore to a double date, Jenny stood out for me as that underground street style star with an unapologetic fashion sense.
In contrast to Sasha's uptight and polished outfits, Jenny looks like she's wearing the clothes and not the other way around—spanks or no spanks! Sorry, Sasha!
It's refreshing to see Asian customs and culturally specific quirks on screen.
If you're an Asian-American, this film will mean so much more to you. I appreciate that they went with culturally specific jokes and experiences that really set this film apart, and it's obviously a tribute to a community that rarely sees their stories told on the big screen.
ADVERTISEMENT - CONTINUE READING BELOW
I also loved that they incorporated Asian family culture. It tackles love between parents as well, which is something we don't really see in American movies. It's that part of the story that also makes Always Be My Maybe thoughtful and equal parts enriching and entertaining.
What I Didn't Like About It
Sometimes the scenes feel disjointed and don't transition well.
Though there are a lot of hilarious and memorable moments in this movie, I couldn't say that everything flowed smoothly as a whole. There were certain plot points I wish they sewed in tighter and earlier in the film, instead of them being mere footnotes in the end. I also do understand that the script had a lot of jokes and funny scenarios, but the movie could have focused more on the more interesting and meatier parts of the narrative.
It does fall into typical rom-com traps.
Though it's fresh to see a diverse cast and Asian leads, the film doesn't feel all that original in terms of cinematography and editing. You still get the pop music soundtrack inserts and "happy couple" montage at some point in the film—but nothing too corny at least!
So Should You Watch It?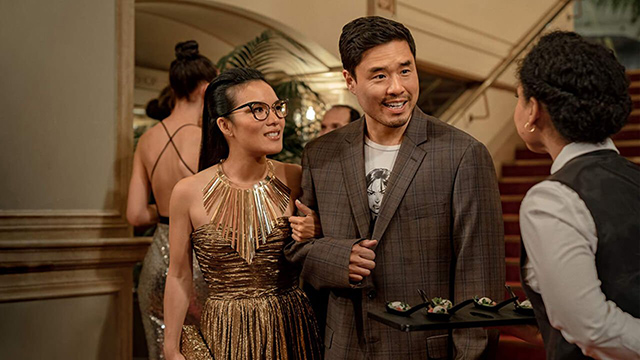 ADVERTISEMENT - CONTINUE READING BELOW
If you love rom-com movies, but more importantly quality comedies, you should definitely watch
Always Be My Maybe
. It's a feel-good film you can watch over and over again with friends and family, and it's sure to invoke lots of laughter and even a few tears.
Always be My Maybe is now streaming on Netflix.
Related Stories from Preview.ph



Hey, Preview readers! Follow us on Facebook, Instagram, YouTube, Tiktok, and Twitter to stay up to speed on all things trendy and creative. We'll curate the most stylish feed for you!