I was never that person who held parties or hosted dinners to celebrate my birthday. In fact, for my birthdays and Christmas holidays, I prefer spending time alone with myself in and around nature. However, for my 50th year, I made a pact—I would hit the pause button on all my preferences and my own limited beliefs about what I can or cannot do. I wanted to experience new things that I would remember for years to come. I made a commitment to go beyond my comfort zone. I chose five milestone events, one for each decade of my existence, to celebrate my 50th year. I've been hiking here and abroad for 17 years.
ADVERTISEMENT - CONTINUE READING BELOW
Hiking fulfills my very powerful need to retreat inside myself. I consider it a form of moving meditation and is my favorite tool for keeping my mind, body and spirit at peak states. While many mountaineers aim to climb the seven highest summits of each continent, my goal is to experience as many mountain ranges as I can. Here in the Philippines I have scaled many summits in the Cordilleras, Sierra Madres and Zambales mountain ranges. Abroad, I have hiked high altitudes (8,000-12,000 ft.) and very high altitudes (12,000–17,000 ft.) in the Andes, Sierras, and Atlas mountain ranges.
That said, I have never been to the Himalayas and the highest I have gone was 14,700 ft. in the Andes. Mount Everest, which is the mountain of all mountains, is in the Himalayan mountain range. The Everest Base Camp (EBC), at 17,590 ft. falls under the category of "Extreme Altitude." So, I decided to level up my game and include hiking the EBC on my list of 5 Milestone Events for 2017.
PREPARATION
There were two aspects to my preparations: Endurance Training and Performance Nutrition.
Endurance Training
Endurance training consisted of gym sessions (indoor) and "training hikes" (outdoor). For my indoor program, I consulted Mr. Greg Banzon, a 53-year-old triathlete who understood the rest and recovery demands of people my age. Greg created a plan that required the use of gym machines such as the elliptical and treadmill, which I don't particularly fancy. Greg explained that "specificity" was important. The specificity principle in sports training promotes training a certain body part to yield benefits that are specific or related to it.
ADVERTISEMENT - CONTINUE READING BELOW
I had to perform a variety of activities to prepare for the exact requirements of the Everest hike. My training plan was interesting, varied and engaging. My body responded extremely well. Despite the daily challenge, I never felt physically battered or beaten.
For my outdoor program, I was coached and trained by Koi Grey a.k.a. "The Mountain Man," who is a bit of a legend in the Philippine mountaineering world. Training hikes with Koi and his group "The Grey Squad" meant having customized itineraries that explored unestablished or difficult trails in a fraction of the time it would normally take most people. He created itineraries with massive elevation gains in just a few hours. He took us to trails that were very rocky, muddy, steep, slippery, dense, long, and generally made for "beasts" like him!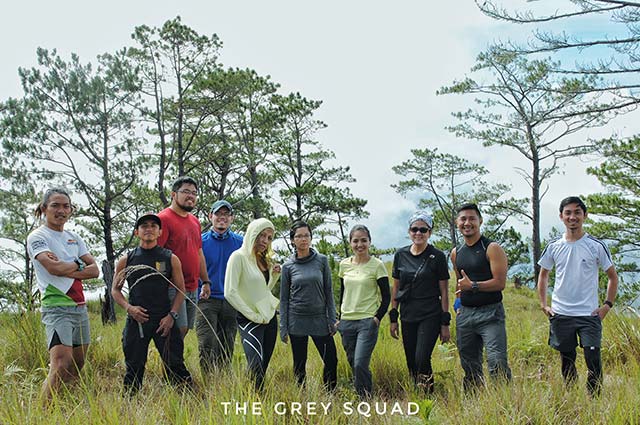 ADVERTISEMENT - CONTINUE READING BELOW
IMAGE Nadine Tengco
The Grey Squad
A few months of hiking with The Grey Squad conditioned my body so well that I never felt sore in my legs or feet during the long and arduous EBC climb. More than anything, Koi's training hikes honed my inner strength and mental fortitude, which kept me going during my most trying moments in the Himalayas. My training hikes also gave me a valid reason to be outdoors often. There is not a day that goes by when I do not yearn to connect with nature.
Performance Nutrition
The focus of my performance nutrition was not on increasing energy and stamina. Modesty aside, for my age, I knew I was already a beast. My endurance training under Greg and Koi guaranteed that. My main concern was to find a food solution to prevent Acute Mountain Sickness (AMS) because unlike many people who can take medicine for it, my options were limited to meditation and food nutrients to minimize the effects of high altitude. I am severely allergic to many pharma drugs and Diamox, the drug of choice for altitude sickness, since it contains a substance that nearly killed me in 2001. I am also allergic to pain-killers, so I can't find relief from symptoms of AMS through drugs.
ADVERTISEMENT - CONTINUE READING BELOW
I read through many scholarly articles on the benefits of certain food nutrients in reducing the incidence and severity of AMS. I was particularly drawn to cutting-edge research during Mount Everest expeditions that uncovered the role of Nitric Oxide (NO) on altitude acclimatization. Nitric Oxide is manufactured by the body, but consuming nitrate-rich foods such as beets, dark cocoa, and goji berries increases the body's production of NO.
ADVERTISEMENT - CONTINUE READING BELOW
I experimented with nitrate-rich recipes for a convenient trail food for hiking, which is fruit leather. I included ingredients rich in iron, such as blackstrap molasses and chlorella to boost my body's production of hemoglobin. I also added superfoods such as maca and chia seeds plus anti-inflammatory fruits and herbs that ease pain and increase the body's ability to recover from physical stress. I had a lot of fun experimenting on my fruit leather recipes!
ADVERTISEMENT - CONTINUE READING BELOW
THE CLIMB
Arrival at Kathmandu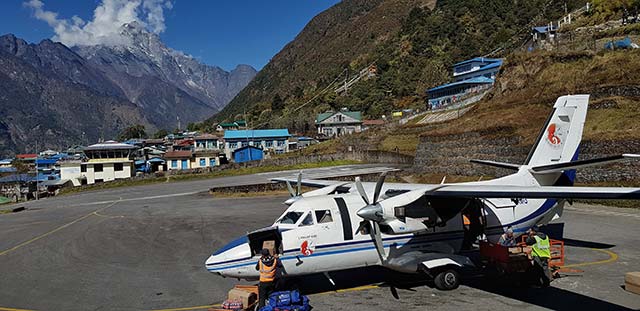 IMAGE Nadine Tengco
Lukla Airport
I joined the Everest's Southern Base Camp trek, which was organized by a local mountain tour company. We started our adventure by flying from Kathmandu to the world's most dangerous airport in Lukla, where we met our Sherpa guides and superhuman porters who would be accompanying us for the entire duration of our hike. Sherpas are mountain dwelling people of Nepal and Tibet who have been essential to the ascents of various Himalayan mountains. They possess great strength and stamina and are well-adapted to the extreme altitudes of the Himalayas. I saw many Sherpas going up and down our trail carrying loads of goods, which often weighed more than they did!
ADVERTISEMENT - CONTINUE READING BELOW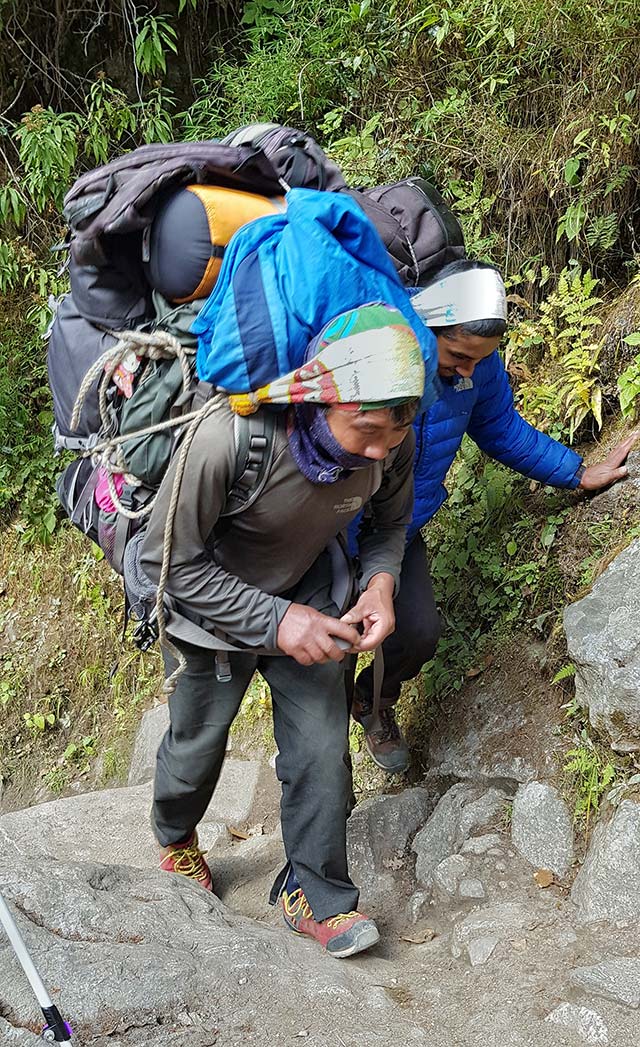 IMAGE Nadine Tengco
Sherpa porters
On the first day of our hike, we descended from Lukla (9350 ft.) to the village of Phakding (8550 ft.). As we began our trek, my emotions overcame me. I started sobbing uncontrollably. I could not believe I was actually there. I was overwhelmed with gratitude as I recognized the many things that had to align to get me where I was. I felt it necessary to ask the heavens to give me the strength and fortitude to see it through.
ADVERTISEMENT - CONTINUE READING BELOW
Day 1
Day one of our hike was a "chill" day, as we took our time in getting to our lodge. We stopped along cafés and posed in front of countless Tibetan Buddhist landmarks. These spiritual landmarks such as stupas, multi-colored prayer flags, spinning prayer wheels, and stones engraved with Tibetan Buddhist prayers, are ubiquitous in the Himalayas. They are blissful and mystical sights to behold even in the desolate high mountains.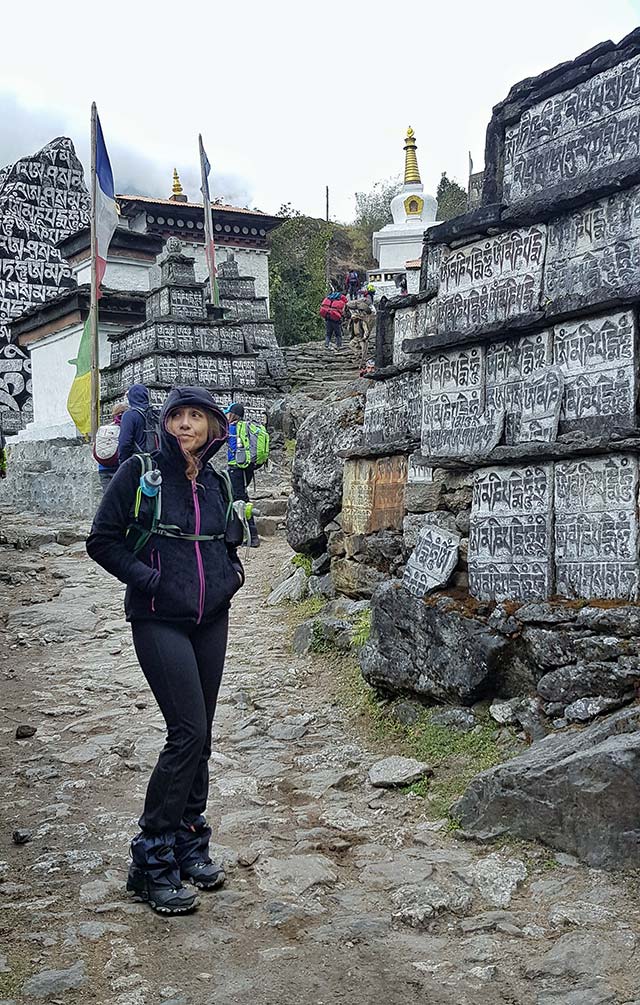 ADVERTISEMENT - CONTINUE READING BELOW
IMAGE Nadine Tengco
Posing by one of the Tibetan Buddhist landmarks
Day 2 - 11,350 ft.
The next day, we went up north. We passed several high suspension bridges over the freezing glacial waters of the Dudh Kosi, the highest river with the wildest white water in the world! I constantly lost myself in a trance caused by the ever-present sound of the raging waters.
We hiked through the village of Monjo, the entrance to Sagarmatha National Park, a UNESCO World Heritage site. We caught our first glimpse of Everest during the steep ascent to the market town of Namche Bazaar, which is a historic trading post with spectacular views of the sharp glistening peaks of the Kongde mountains. The local markets were abound with trekking gears, clothing and other supplies.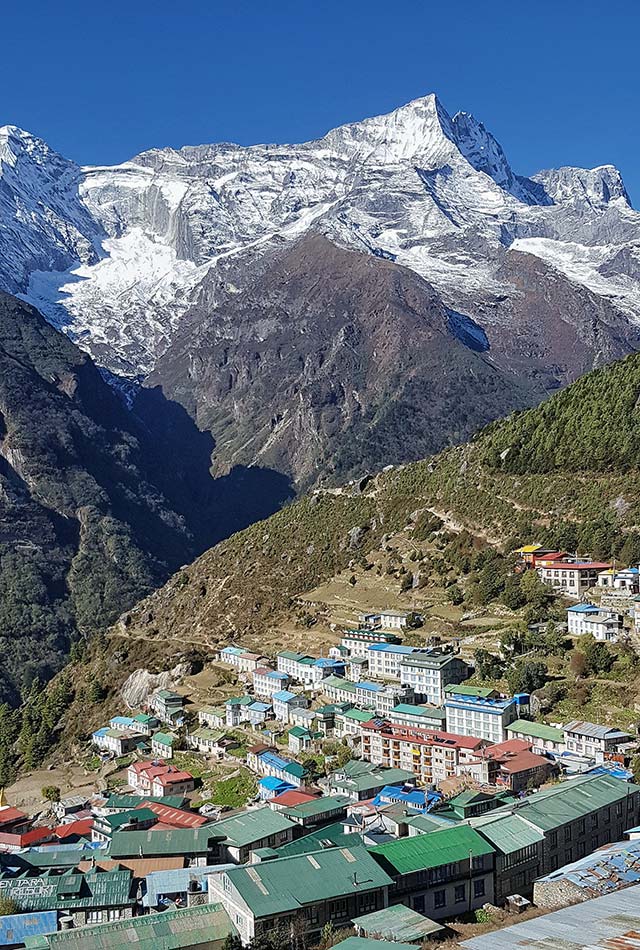 ADVERTISEMENT - CONTINUE READING BELOW
IMAGE Nadine Tengco
The Namche bazaar
It was a challenging day as we pushed all the way to 11,350 ft. Altitude specialist doctors recommend a minimum of two to three nights to reach 9850 ft., but we trekked way above these guidelines in just over 24 hours! The final ascent to Namche was the hardest part. Namche is an essential acclimatization stop so we at least stayed there for two nights. My spirit was down, my resolve weak after over 12 hours of walking. Somewhere along the way, I started feeling dizzy.
Day 3
On day three, we hiked to Syangboche Airport, which is considered the highest airport in the world. We continued climbing to the Everest View Hotel for a great panoramic view of the Himalayan Mountains of Everest, Lhotse, and Ama Dablam. We descended back to Namche for the night as we were practicing the "Climb High, Sleep Low" maxim used by mountaineers. For one more night, I basked in the decent facilities of our lodge as I found out that after Namche, we would be staying in lodges with very small rooms without facilities such as private toilets with hot water. To me, that was like a death sentence.
ADVERTISEMENT - CONTINUE READING BELOW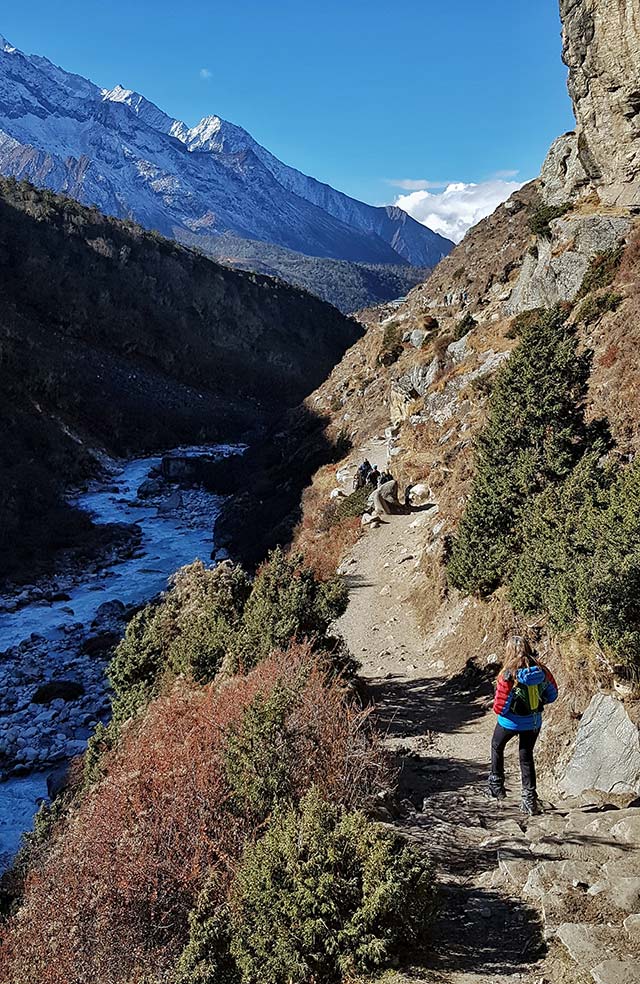 IMAGE Nadine Tengco
Feeling one with the mountains
Day 4
The next day we descended deep into the Dudh Kosi valley where the trail leads us to views of Mount Everest. The trail was wide and set high above the river. We then ascended to Tengboche, a cultural and spiritual center for the people of the Khumbu region.
ADVERTISEMENT - CONTINUE READING BELOW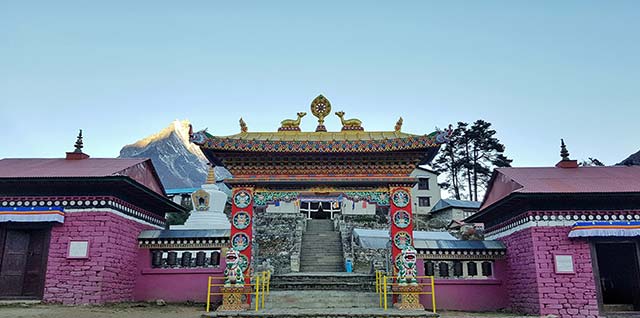 IMAGE Nadine Tengco
A monastery or
gompa
in Tengboche
The Tengboche gompa or monastery is spectacularly situated in a commanding position amidst superb views of the mountains and surrounding valleys. It fascinated me to learn that everything in the gompa—the layout of the surrounding buildings and structures like the "wheel of life," murals, and other radiant artwork is dictated by ancient principles of spirituality, numerology and geometry. We spent one night in this village situated at 12,664 ft.
ADVERTISEMENT - CONTINUE READING BELOW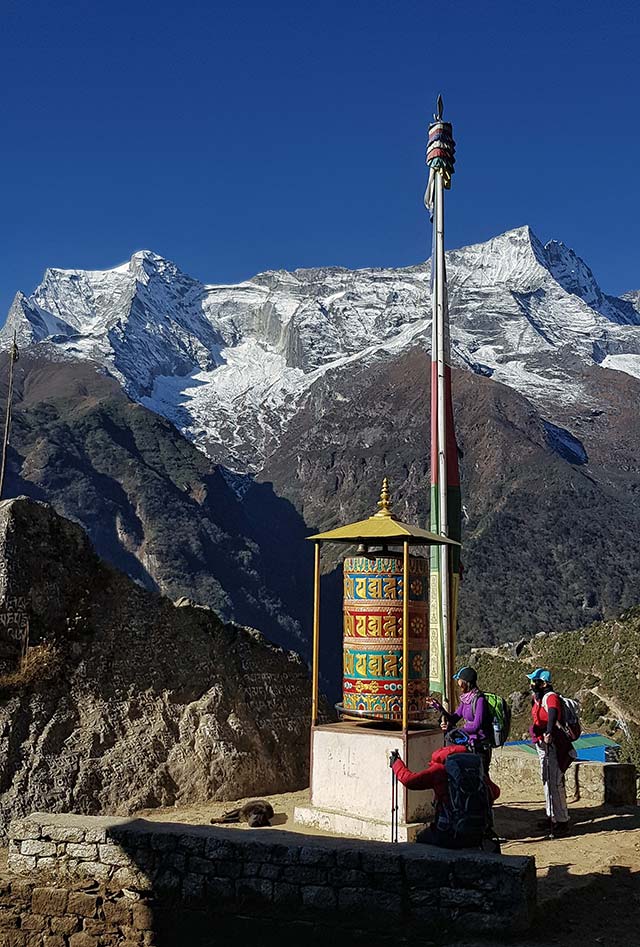 IMAGE Nadine Tengco
The prayer wheels
Day 5-6 - 14,463 ft.
We left Tengboche on a terribly cold morning. The sun was absent for hours as we made our way through a valley trail that was icy long. Day 5 was when we trekked beyond tree line (13,000 ft.), or the altitude above which trees do not grow. When we arrived in Dingboche (14,463 ft.) where we were scheduled for two nights, I told our tour company that I would not join the next day's hike. I wanted my body to acclimatize properly.
ADVERTISEMENT - CONTINUE READING BELOW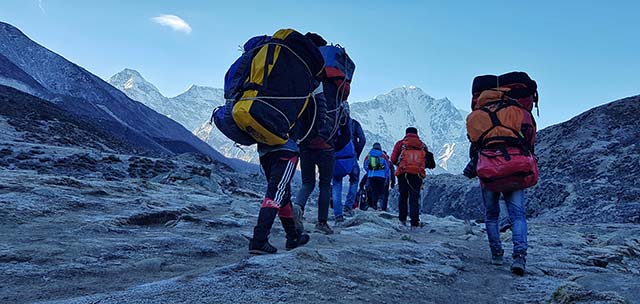 IMAGE Nadine Tengco
The ice cold trails from day five
I spent day six doing breathing exercises, meditation, yoga and recovery stretches. I was already suffering from the lack of proper stretching—my usual flexible dance muscles and joints were tight, tense, and thus, painful. I felt fantastic at the end of day six because I was able to give my mind and body the necessary time to rest and recover.
ADVERTISEMENT - CONTINUE READING BELOW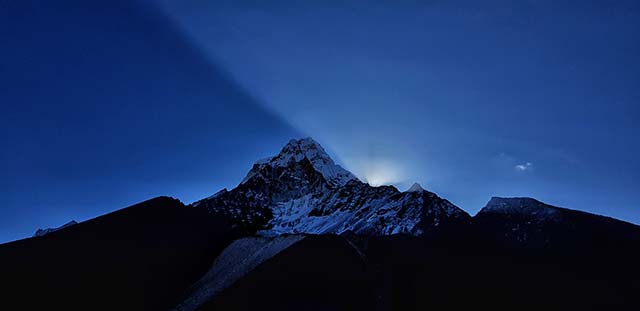 IMAGE Nadine Tengco
Sunrise in the Himalayas
Day 7 - 16,207 ft.
Day seven was yet another long day as we made our way to our next stop high in Lobuche (16,207 ft.). This was the day I broke my personal record in the Andes at 14,700 ft. Koi was carrying a Pulse Oximeter, which became my security blanket the moment we hit very high altitudes. I frequently measured my blood oxygen level and pulse rate to make sure I was okay. At sea level, my oxygen saturation is around 98-99. As we went higher, my blood oxygen level dropped. In day three when I struggled with AMS, my readings went down to 64.
ADVERTISEMENT - CONTINUE READING BELOW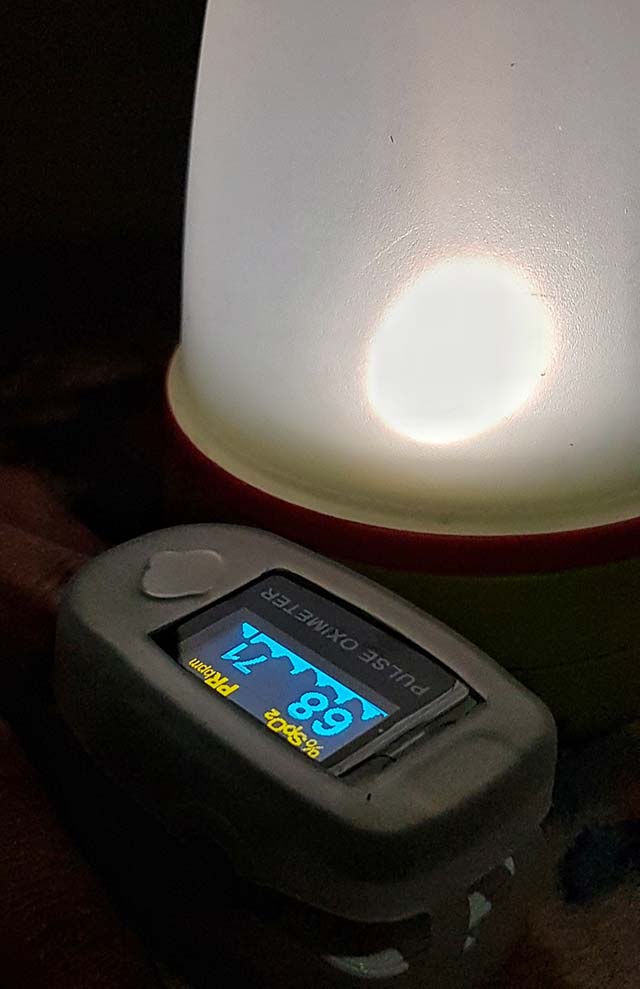 IMAGE Nadine Tengco
My blood oxygen level went below the 70s
By day seven, I was pathetically losing my battle with the icy cold weather and it was affecting the way my body adapted to altitude. That night, despite hours of conscious deep breathing, I could not get my readings above the low 70s. I fought hard to sleep because of the freezing temperature inside our rooms. The next day, I woke up with a fever. To make matters worse, I was weakened by profuse bleeding due to hormonal issues that are considered "normal" at my age.
ADVERTISEMENT - CONTINUE READING BELOW
Day 8 - 17,594 ft.
The last day was not a good day to be "normal" because we were bound for the apex of our climb, the Everest Base Camp (17,594 ft.)! By the time I arrived at our lunch stop in the remote village of Gorak Shep (16,962 ft.), I was already nauseous, wasted and unable to move further. I wanted to stay in Gorak Shep and make the assault to EBC the next day, but I was not allowed that option by our tour company. Instead, I was given the opportunity to ride a horse to the base camp. It was a blessing in disguise! A horse ride to Everest? Wow! A milestone within a milestone!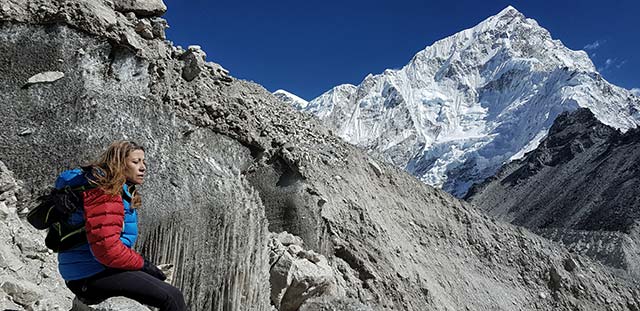 IMAGE Nadine Tengco
ADVERTISEMENT - CONTINUE READING BELOW
Wasted on the way to Gorak Shep
The horse ride was dizzying but ultimately surreal. After almost two hours, I made it to the pinnacle of our trek. I fully believe in enjoying the journey, so I can't really say I felt ecstatic or wildly triumphant upon reaching the goal. I think I felt more relief than accomplishment that I made it that far without dying! I was happy though to take a photograph of myself with my book because I talked about going to Everest in one of the chapters, which I wrote a year before it actually happened!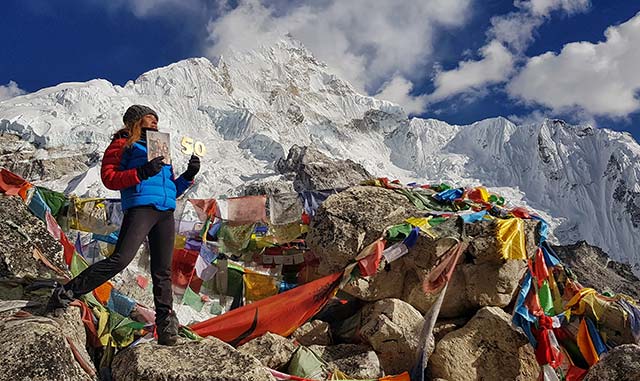 ADVERTISEMENT - CONTINUE READING BELOW
IMAGE Nadine Tengco
At the pinnacle on EBC with my book, Sexy at Any Age
We did not to push further up Kala Pattar (18,192 ft.) on the next day as planned. Most of us were not feeling well and none of us were willing to wake up at 3AM when it would be minus 30 degrees or more. Instead, we started retracing our steps as we made our way down for the next few days.
Q&A with Preview:
What do you think were the most challenging parts of your climb? How did you overcome them?
On days two and three of the hike at 12,000 ft., I suffered from AMS. I could have avoided my symptoms had I not hiked too fast and not allowed myself to get dehydrated. Rapid ascents of non-acclimatized mountaineers to altitudes above 8,000 ft are associated with AMS. I was so used to my beast-mode training hikes that I failed to notice I was going at a speed that was detrimental to my body's ability to acclimatize. I was already at high risk for AMS and should have known better than to speed up and not hydrate. When we arrived in camp, I meditated and practiced the breathing techniques my guide taught me in the Andes mountains when I suffered from AMS.
ADVERTISEMENT - CONTINUE READING BELOW
My next biggest challenge was the freezing temperatures that got worse as we ascended the Himalayan mountain range. Again, it must be genetics. Not only am I a Filipino born and raised in the tropics, I am also part Palestinian. My ancestors were nomadic Bedouins who lived in the dessert. My body efficiently cools itself down in hot weather. Something inside my DNA kicks in and adapts fast to extreme heat. In contrast, my body expends so much energy keeping itself warm in very cold weather. It's also not like I have adequate body fat to keep me toasty!
The only tool I had to help me overcome my badly broken mind, body and spirit was meditation. I focused on mantras that helped change my body's physiology as well as my overall feelings of anxiety. I kept telling myself not to argue for my limitations and that I was stronger than what I believed. I gently coaxed my body out of fear, pain and discomfort. It also helped that I had such a nurturing guide. Koi moved hell, heaven and earth to keep me comfortable. He used natural balms and teas to soothe my aches and pains.
ADVERTISEMENT - CONTINUE READING BELOW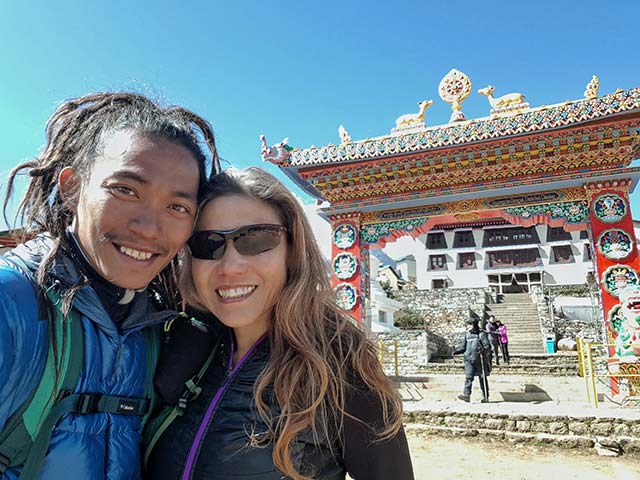 IMAGE Nadine Tengco
With my guide Coach Koi in Tengboche
On the other hand, what parts of the climb did you like and enjoy the most?
Trekking through the highest mountain on earth was very daunting and exciting at the same time. The Himalayan mountain range is paradise on earth—the snowcapped mountains, glaciers, rivers, lush vegetation and rich culture and heritage provided such a visual treat! You get to walk through semi-medieval villages seemingly caught in a time warp. Their countryside is free from roads and motorized vehicles. The trails are mysterious pilgrimage routes peppered with Tibetan Buddhist monasteries and spiritual landmarks. The beauty of the Himalayas rejuvenates the body and soul. After a while, my mind and body harmonized with everything around me. Being in the presence of such natural majesty helped me feel connected with my own greatness.
ADVERTISEMENT - CONTINUE READING BELOW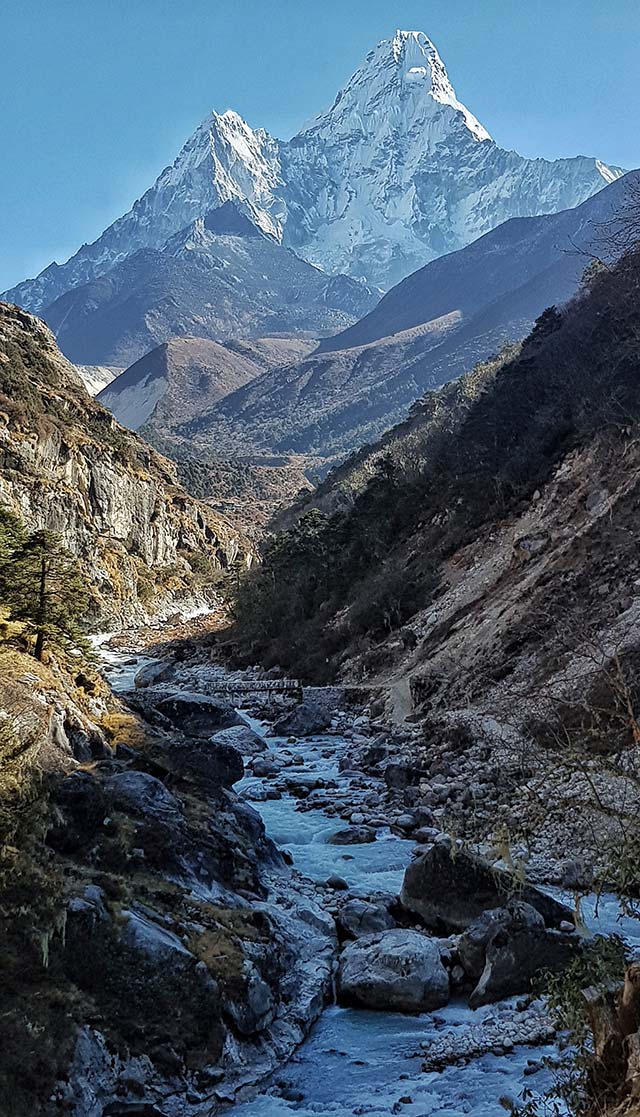 IMAGE Nadine Tengco
The beauty that leaves me breathless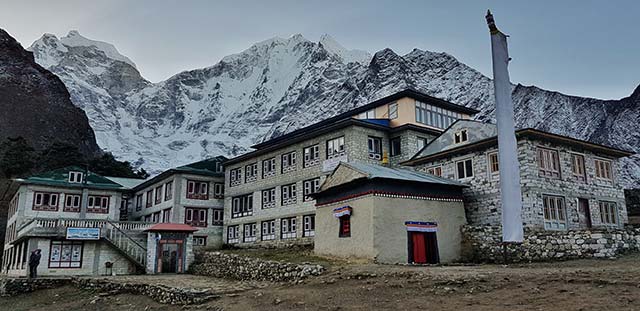 ADVERTISEMENT - CONTINUE READING BELOW
IMAGE Nadine Tengco
At Tengboche
What motivated you to continue despite these challenges?
A firm belief that I was greater than my challenges. Initially, I got overwhelmed and felt helpless about my aches, pains and physical discomfort but I found a way to condition my mind with better feeling thoughts.
How did it feel when you were almost at the Everest Base Camp?
This may sound so cliché, but it was really the journey and not the destination that was important to me because I hike not to conquer anything but to retreat inside myself and connect with nature. Reaching the EBC is certainly an accomplishment and is icing on the cake, but what I cherish more is my experience of the beauty and spiritual serenity of the Himalayas. I could not contain my emotions in the presence of such majesty. I will also remember how I have grown in consciousness from the entire experience of using my mind to heal and overcome my body's many challenges. It takes focus and many hours of dedicated training to master this skill and during the hike, I learned powerful new ways to cultivate this connection.
ADVERTISEMENT - CONTINUE READING BELOW
IMAGE Nadine Tengco
Fierce at 50
Is there anything you would have done differently?
If ever I get to do this again, I would choose a customized private tour, which would allow me to plan an itinerary that allowed for a longer but sensible acclimatization schedule. I want to have the option of a slower ascent or an alternative lower altitude trek. I would stay longer in certain places to allow my body to acclimatize better. On my own, I would not feel hurried because I am not adjusting to anybody else but my own pace and rhythm.
ADVERTISEMENT - CONTINUE READING BELOW
Aside from that, I would most definitely choose the warmer spring months. Our group went during classic trek season in early November, which is the approach of winter and the busiest period in the region. October and November offer the clearest weather and stunning views, but the freezing cold is not for me. The second trekking season starts in end March until May. The warmth and comparative lack of trekkers would definitely suit me better.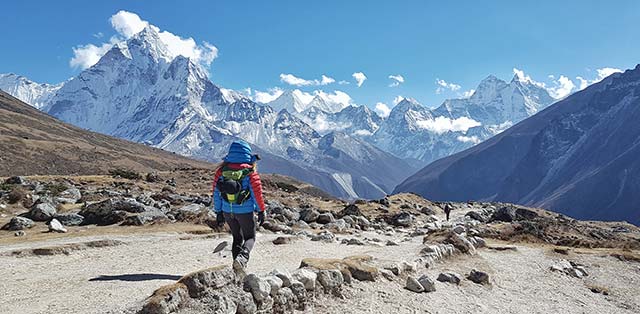 ADVERTISEMENT - CONTINUE READING BELOW
IMAGE Nadine Tengco
Lost in the majesty of the Himalayas
Would you recommend this activity to other people? And if you were to give future climbers advice, what would it be?
Trekking the Himalayas is physically demanding but not beyond the capacity of many. If you lead a sedentary life, you must plan an exercise program at least six months before the trip. There is no substitute for climbing mountains to learn how to navigate unpredictable, uneven, and ever-changing landscapes. You need to go on a few challenging hikes, i.e. multi-day, long walking hours, steep ascents and varied landscapes, to help prepare for the EBC trek.
ADVERTISEMENT - CONTINUE READING BELOW
IMAGE Nadine Tengco
In the higher areas, where it looked as if we were on a different planet
It is important to have medical insurance that covers adventure travel such as trekking to high altitude. While trekking, you are a long way from help and you will often be your own doctor. Our group was particularly blessed to have two doctors amongst us. We almost lost a young member of our group to High Altitude Pulmonary Edema (HAPE). If it were not for them, the young man may not have survived. As I mentioned earlier, fitness does not determine a person's ability to cope with high altitude. It is imperative for anyone who wants to take this journey to know their options for dealing with AMS. It is important to climb slow and not over exert. If you begin to show symptoms of moderate AMS, don't go any higher until symptoms decrease. Always remember that different people will acclimatize at different rates. Hydrate well because you will lose a lot of fluids as you acclimatize to high altitude. Read up, research, and plan ahead!
ADVERTISEMENT - CONTINUE READING BELOW
As told to Nicole Arcano.
Related Stories from Preview.ph
Hey, Preview readers! Follow us on Facebook, Instagram, YouTube, Tiktok, and Twitter to stay up to speed on all things trendy and creative. We'll curate the most stylish feed for you!