It's no secret that the Philippines is a pageant-obsessed country. We always express a deep fascination for our candidates' dresses, beauty looks, and, of course, their signature runway walks. Below, we take a look back at the famous pasarelas popuralized by our past Miss Universe bets over the years.
Miss Universe 2010 4th runner-up Venus Raj's Pilapil walk
Venus Raj's Pilapil walk was named that way to pay tribute to the beauty queen's humble beginnings in Camarines Sur. She revealed that she used to practice her walk as a model on a pilapil, a narrow piece of land in a rice field.
Related Stories from Preview.ph
Miss Universe 2011 3rd runner-up Shamcey Supsup's Tsunami walk
Shamcey Supsup's trademark beauty queen walk called Tsunami was coined by her friend who always told her to "walk like a tsunami" to blow the pageant judges away.
ADVERTISEMENT - CONTINUE READING BELOW
Miss Universe 2012 1st runner-up Janine Tugonon's Cobra walk
Janine Tugonon's signature strut was nicknamed the cobra walk because it was meant to hypnotize her audience. According to an interview, Janine's Cobra walk can be achieved by doing a "fast crisscross walk with a slight shoulder shake and a pivot" at the end.
Miss Universe 2013 3rd runner-up Ariella Arida's Arriba walk
Ariella Arida sashayed down the Miss Universe runway with her Arriba walk. The said technique was all about projection and focused on the smooth glide of her hips.
Miss Universe-Philippines 2014 MJ Lastimosa's Camel walk
MJ Lastimosa popularized the camel walk in 2014. The walk was perhaps fashioned after a popular jazz step of the same name that entailed the precise, polished, yet smooth swivel of the hips down to the calves.
Miss Universe 2015 Pia Wurtzbach's Tanim-bala walk
Pia Wurtzbach was out of ideas when asked of her signature pasarela's name. And so, during a TV guesting on Vice Ganda's show, the comedienne suggested to call the beauty queen's stride tanim-bala. Vice explained that it was an apt name due to Pia's sharp smize.
Miss Universe-Philippines 2016 Maxine Medina's Alta walk
Maxine Medina's signature stride at the 2016 Miss Universe meant rolling her shoulders in perfect sync with the gliding of her hips, completed by the beauty queen's full, captivating smile.
Miss Universe-Philippines 2017 Rachel Peters' Infinity walk
Rachel Peters' signature walk was developed to highlight her long legs. It was a strong stride that made Rachel glide down the runway with her elegant and statuesque figure.
Miss Universe-Philippines 2018 Catriona Gray's Lava walk
Catriona Gray's Lava walk is now an iconic pasarela. It was an ode to the beauty queen's Bicolano roots where the famous landmark Mayon Volcano is located. The walk was said to mirror the slow flow of lava, which Cat demonstrated by gliding, swaying, and slow-mo turning.
ADVERTISEMENT - CONTINUE READING BELOW
Film director Marlon Rivera also had this to say about her walk, "Turn ala dance, meaning fix your head to a front spot for as long as possible, now turn. Hips go first, shoulders follow, then at the last moment the head leaves the front spot and turns to snap to the front.
"The body sections turning not all at once but in a series of different speeds to create that 'ramping' effect. The head snap also throws all the hair to that fan flick. Sandwiched between a brisk ramp, this kind of turn not only breaks the speed of the walk but also creates the illusion of a slow motion within the turn. Try it. I did. A lot of times. It works. With a medium-weight scarf as hair. You're welcome."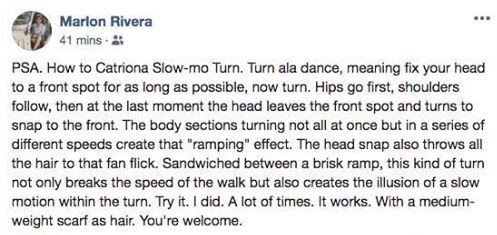 ADVERTISEMENT - CONTINUE READING BELOW
READ MORE STORIES ON MISS UNIVERSE 2018 HERE:
All the Signature Walks of Filipina Beauty Queens Over the Years
7 Miss Universe 2018 Candidates Wore Gowns by Filipino Designers to the Prelims
Here's Catriona Gray's Signature Look for Miss Universe 2018
You Have to See Catriona Gray's Lava Walk at Miss Universe 2018
Catriona Gray's National Costume Will Be Exhibited in Multiple Museums
You Have to See Catriona Gray's Preliminary Interview Outfit
Filipino Designer Monique Lhuillier to Judge Miss Universe 2018
All the Jaw-Dropping National Costumes From Miss Universe 2018
All the Looks Catriona Gray Wore in Thailand for Miss Universe
All the Details of Catriona Gray's National Costume for Miss Universe
FYI, Catriona Gray's Latest Miss Universe OOTD Has a Symbolic Meaning
Here's Your First Look at Catriona Gray's Miss Universe Walk
This Is How Catriona Gray Is Preparing for Miss Universe 2018
Hey, Preview readers! Follow us on Facebook, Instagram, YouTube, Tiktok, and Twitter to stay up to speed on all things trendy and creative. We'll curate the most stylish feed for you!