Missed out on the main event? Here's a rundown of what happened during Miss Universe 2020:
1. Zozibini Tunzi's speech
The outgoing Miss Universe titleholder stole the spotlight each and every time she appeared on screen! Not only is Zozibini a fabulous, fabulous dresser, (she might even be the chicest Miss Universe of all time)– she's marvelously eloquent and inspiring, too. In the beginning, she opened the program with a speech on ambition. "Ambition is not a dirty word. Throughout history, ambition is seen as a positive trait in many, yet ambitious women are viewed as bossy or selfish," she said.
"My advice to all women: be brave, be bold. Chase your dreams. You owe it to yourself and the universe to be unapologetic. Ambition is not something to shy away from. We embrace challenges. We take up space," she said, reiterating her winning Q&A answer.
Definitely a strong start to today's pageant!
ADVERTISEMENT - CONTINUE READING BELOW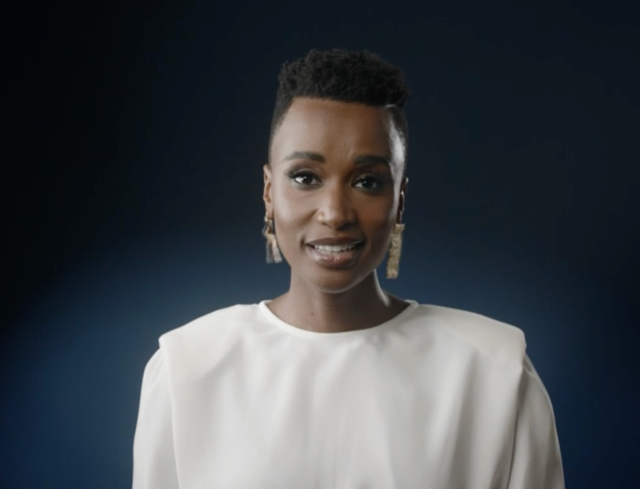 2. The announcement of the Top 21.
This year, they really wasted no time in gettting straight to the Top 21 announcement!
The candidates who made it into the Top 21 are: Columbia, Peru, Australia, France, Myanmar, Jamaica, Mexico, Dominican Republic, U.S.A, Indonesia, Argentina, India, Curaçao, Puerto Rico, Philippines, Brazil, Great Britain, Nicaragua, Thailand, Costa Rica, and Vietnam.
CONTINUE READING BELOW
Recommended Videos
Fun fact: In her individual video that flashed when she was announced as a finalist, Miss Indonesia bragged about her extremely high tolerance for spicy food, claiming that she could devour chilis better than anyone else! We're living for her unfilteredness!
3. The behind-the-scenes sequences of the national costume competition and the individual interviews.
As we all know, pageants aren't all about glitz and glamour. At the end of the day, the Miss Universe title is still a job and responsibility, and you can be sure that what happens onstage is only the tip of the iceberg.
ADVERTISEMENT - CONTINUE READING BELOW
Fans of any show love a good behind-the-scenes portion. This year, we were treated to exclusive peeks into the nerve-wracking backstage preps for the national costume, as well as the eight-minute individual interviews all candidates were required to undergo.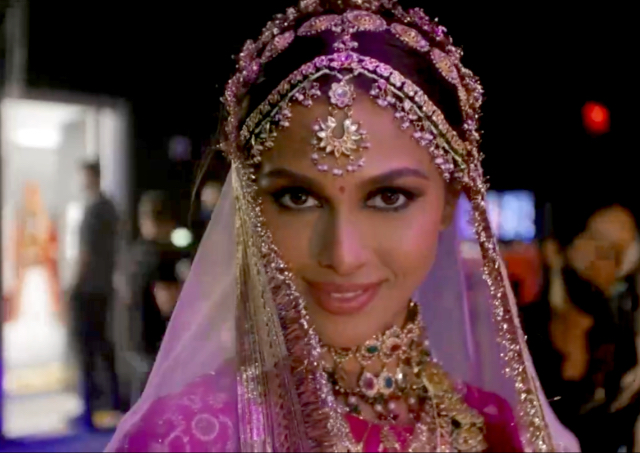 ADVERTISEMENT - CONTINUE READING BELOW

4. The swimsuit portion.
The Top 21 ladies powerwalked in variously colored croc skin bikinis. We also got to see our very own Rabiya Mateo rock it out in a bright yellow swimsuit. It looks like yellow was her top color for this stretch!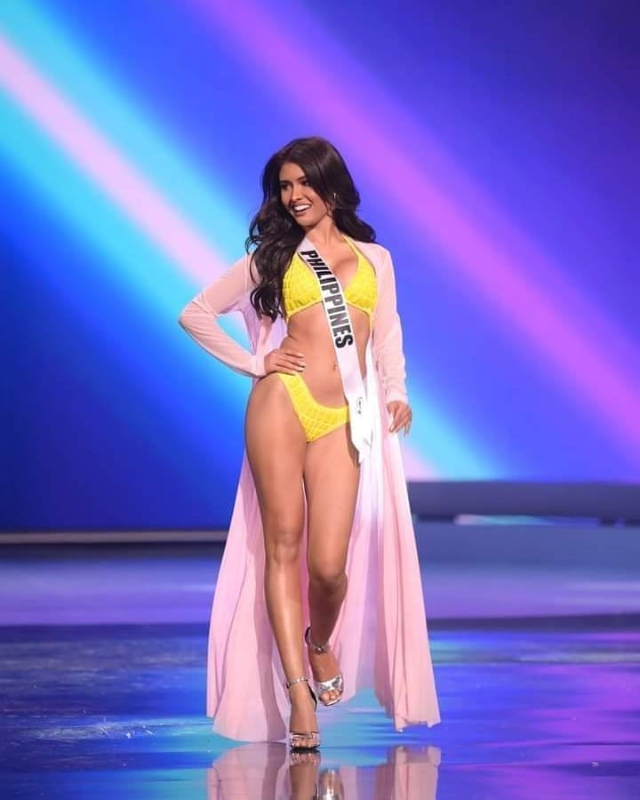 5. The announcement of the Top 10.
At this stage, Philippine bet Rabiya was eliminated from the competition. The Top 10 included the representatives of Jamaica, Dominican Republic, India, Peru, Australia, Puerto Rica, Thailand, Costa Rica, Mexico, and Brazil.
ADVERTISEMENT - CONTINUE READING BELOW
Shortly after the pageant, Furne One Amato, who designed Rabiya's evening gowns, wrote on Instagram: "We are still so proud of you @rabiyamateo. Like a phoenix, on your own pace and time, you will soar high."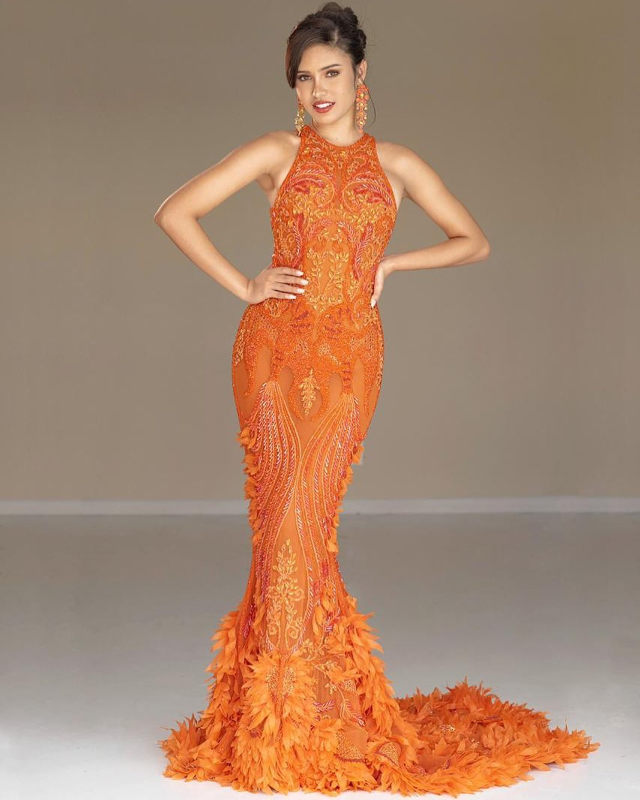 6. The evening gown portion.
All the ladies dazzled onstage—literally! Crystals, gems, and sequins were all the rage this evening. Miss Jamaica dazzled in an aluminum silver gown studded with multicolor gems, while Miss Dominican Republic and Miss Peru wore bronze. Miss India wore a lavish golden gown that melted into white gold at the bottom—classic pageant style. Miss Australia went full ice queen with a frosty white gown covered in what looked like diamonds. And, Miss Puerto Rico wore a daring nude longsleeved top studded with massive gems and a slinky white skirt.
ADVERTISEMENT - CONTINUE READING BELOW
The ladies who wore color were Miss Thailand, who wore an abstract paint-swirl blue and silver gown; Miss Costa Rica and Miss Mexico, who both wore sparkly red gowns with strategic cutouts; and Miss Brazil, who wore a nude gown covered in blue gems.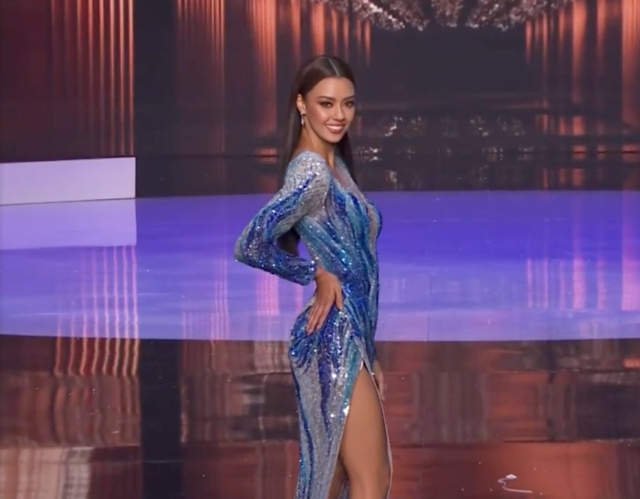 7. The awarding of the Impact Award to Miss Bolivia.
For the first time ever, Miss Universe gave out an Impact Award, which was received by Miss Bolivia. The award is given to a candidate who is spearheading a valuable advocacy in her home country. Lenka Nemer D'rpic was awarded $10,000 to continue her initiative, Huertos Urbanos Bolivia, which aims to educate people on sustainable food cultivation and to eradicate hunger.
ADVERTISEMENT - CONTINUE READING BELOW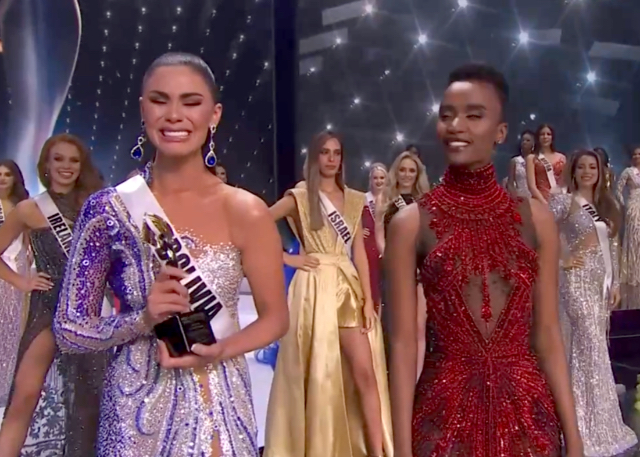 8. Miss Myanmar wins Best National Costume.
For her simple yet powerful traditional costume that made a statement about the crisis in her home country, Miss Myanmar Thuzar Wint Lwin took home the coveted Best National Costume award. The 69th Miss Universe pageant was definitely a powerful time for political statements, as it also saw Miss Singapore Bernadette Belle wearing a Singaporean flag with the tagline, "Stop Asian Hate" painted across it.
ADVERTISEMENT - CONTINUE READING BELOW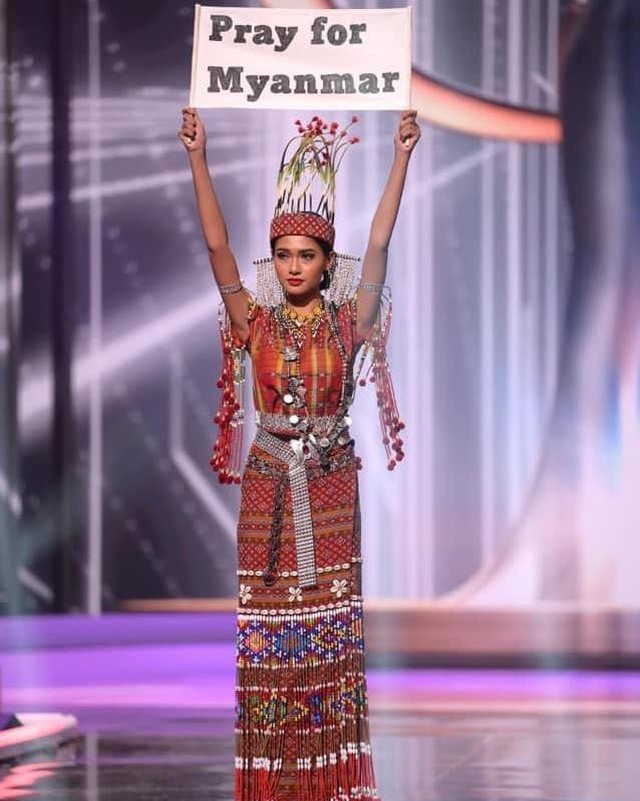 9. The queens discussing pressing social issues in candid conversations.
It is now clear: Miss Universe is slowly doing away with all traces of superficiality and rehearsed sentimentality. Many contestants, regardless of whether they placed in the Top 21 or not, were given the platform to sit down with one another in one-on-one studio interviews, to have candid conversations on beauty standards in the pageant world, bullying on Instagram, sexual abuse, abusive relationships, and gender-based violence.
ADVERTISEMENT - CONTINUE READING BELOW
These subversive and timely segments redefined the position of the pageant in a shaken and rapidly changing world.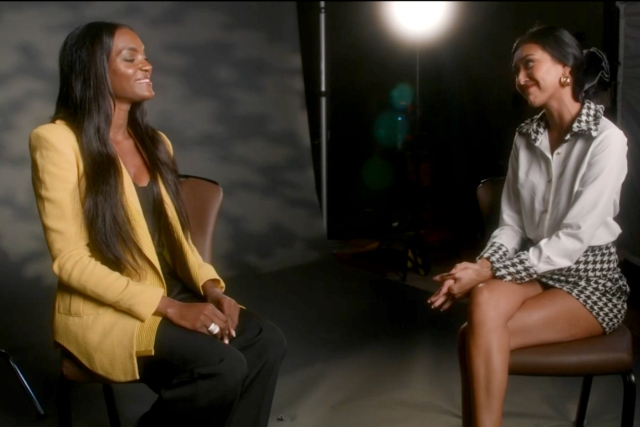 10. The substantial, no-nonsense Q&A portion.
The much-awaited Q&A segment had a breakthrough in its execution this year. Let's start with the camerawork: Instead of a passive wide shot of the stage, the camera zoomed in on each contestant as she answered her assigned question. Much like a newscaster, she spoke while staring straight into the camera, holding the microphone herself—an active and confident stance.
ADVERTISEMENT - CONTINUE READING BELOW
Veering away from twee questions about personal hobbies or simulated positivity, the line of questioning this year zeroed in on COVID-19 border control, women in leadership positions, and sexual and domestic abuse.
For the Final Statement round, the Top 5 candidates had to give a candid and impromptu speech on an assigned topic for thirty seconds. The topics were: beauty standards, protest and free speech, mental health, climate change, and global poverty.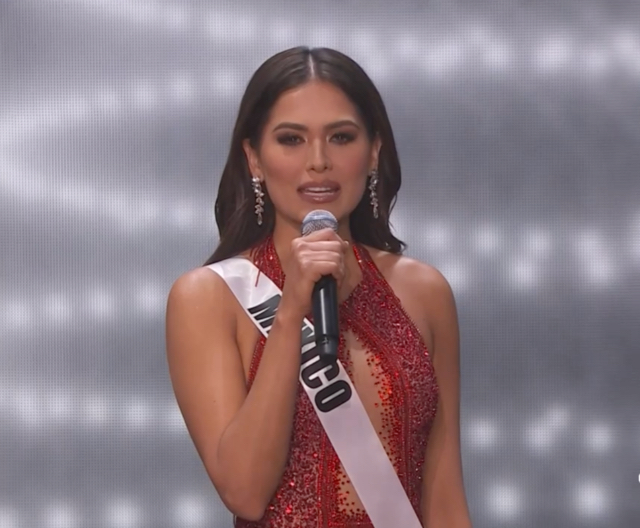 ADVERTISEMENT - CONTINUE READING BELOW
11. Zozibini Tunzi was congratulated by previous Miss Universe winners, and took her final walk in a breathtaking African-inspired gown.
If it wasn't clear before, it is now: Zozibini Tunzi might just be the most fashionable Miss Universe titleholder ever. There's a wisdom to her style which no other winner has rivalled.
She slayed yet again in a black-and-white African-inspired ensemble.
Before her final walk, previous titleholders expressed their gratitude to her for her service, and that they were proud to call her their sister.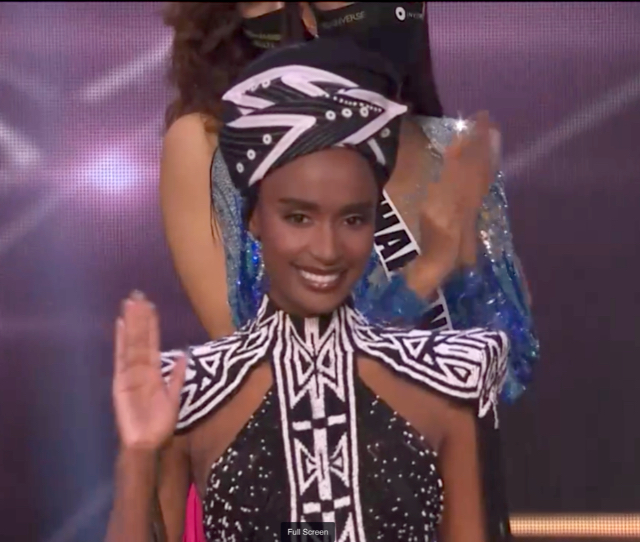 ADVERTISEMENT - CONTINUE READING BELOW
12. Because they couldn't hold hands, the Top 2 ladies did this instead:

ADVERTISEMENT - CONTINUE READING BELOW
Miss Brazil and Miss Mexico awaited the life-changing announcement with open arms–literally.
12. Miss Mexico Andrea Meza was crowned Miss Universe 2020!
Mexico's Andrea Meza is the new Miss Universe! This is the third win for Mexico, following Ximena Navarrete in 2010 and Lupita Jones in 1991.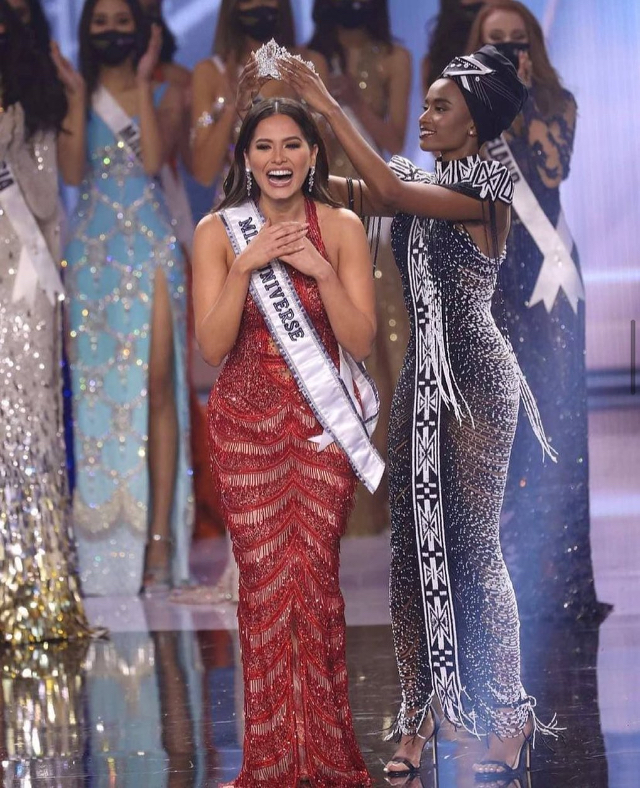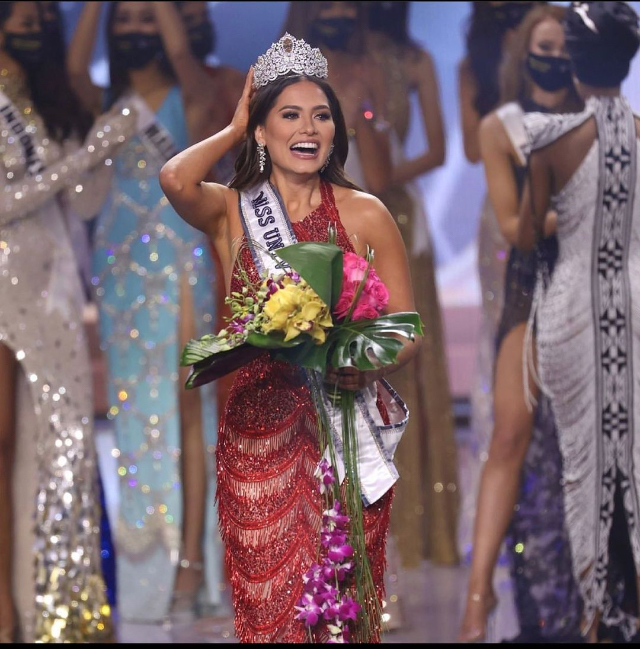 ADVERTISEMENT - CONTINUE READING BELOW
Congratulations to Andrea and all the contestants of the 69th Miss Universe pageant!
READ MORE STORIES ON MISS UNIVERSE 2020 HERE:
ADVERTISEMENT - CONTINUE READING BELOW
Preview is now on Quento! Click here to download the app for iOS and Android and enjoy more articles and videos from Preview and your favorite websites!
Related Stories from Preview.ph



Hey, Preview readers! Follow us on Facebook, Instagram, YouTube, Tiktok, and Twitter to stay up to speed on all things trendy and creative. We'll curate the most stylish feed for you!