We're only a few days away before we witness who will take on the torch of Miss Universe as our reigning beauty queen Pia Wurtzbach talks her final walk as Miss Universe. And while we're rooting for our bet Maxine Medina, let's take the time to get to know her competitors. These ladies aren't just the epitome of beauty, they are also well-rounded individuals who excel outside their beauty queen image. Get to know them as you scroll down!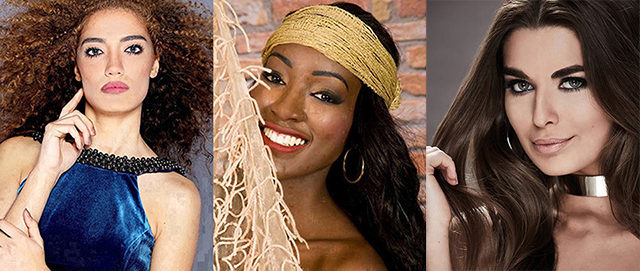 IMAGE Miss Universe
Albania: Lindita Idrizi is no stranger to beauty pageants as she has won over three titles already including Miss Elbasan, Miss Europe Continental, and Miss Universe Albania.
Angola: Luisa Baptista is a Psychology major who also volunteers at the the National Institute of the Fight Against Cancer.
Argentina: Estefania Bernal is a professional model while studying Media Communications. She dreams to be a television producer one day and is an advocate of women's rights, too.

IMAGE Miss Universe
Aruba: Charlene Leslie has a Bachelor's Degree in Nutrition and Dietetics and is pursuing her master's degree in Nutritional Epidemiology and Public Health. She is also a physically active and healthy person thus, she would like to use her platform to educate and lower the prevalence of obesity and lifestyle diseases worldwide.
Australia: Caris Tiivel is passionate in working closely with children who are in need. She hopes to raise funds and mentor them as her Miss Universe advocacy.
Austria: Dajana Dzinic is a law student who also likes to work on humanitarian projects such as helping refugees and animals.
Bahamas: Cherell Williamson is an entrepreneur, makeup artist, face painter, and jewelry designer. Her business, Bahamian Boutique, trains hearing-impaired young ladies on the art of jewelry making which led her to open the Hearing Impaired Native Craft Center. She is also an advocate of HIV/AIDS awareness.
ADVERTISEMENT - CONTINUE READING BELOW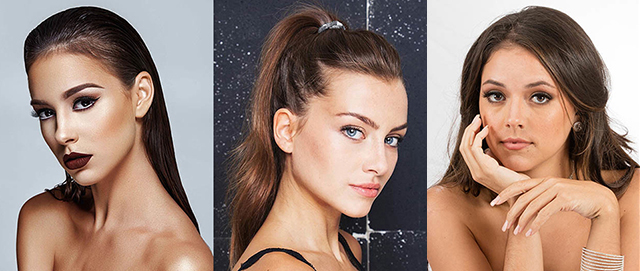 IMAGE Miss Universe
Barbados: Shannon Harris is an avid reader, especially when it comes to self-improvement books. She has also worked with several charities in Barbados, including I Am A Girl that works with high school girls to empower them to know that their voice matters, this will incidentally also be her advocacy as Miss Universe.
Belgium: Stephanie Geldhof was a professional esthetician before becoming a Marketing Management student. She is also a model, a painter, and a singer. If she were to be crowned Miss Universe, Geldhof would want to be a role model and make a difference to people all over the world.
Belize: Rebecca Rath is a sporty gal with a degree in Hospitality Management and works in their quaint hotel. She hopes to raise awareness for domestic violence and contribute to the non-profit children institutions in her country.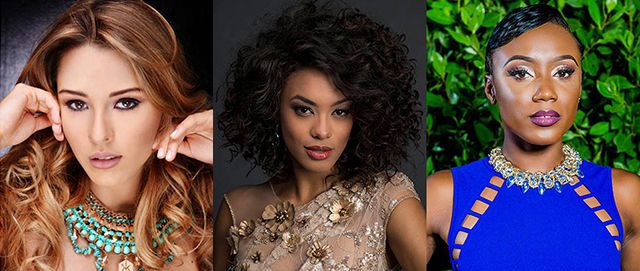 IMAGE Miss Universe
Bolivia: Antonella Moscatelli received her education and learned the English language inside a convent.
Brazil: Raissa Santana has a degree in Marketing and loves to cook and play basketball. If she wins the crown, she would like to focus on child adoption and the elderly.
British Virgin Islands: Erika Renae Creque is an absolute daredevil interested in bungee jumping and skydiving. She also has a great love for the environment and participates in various non-profit organizations such as Association of Reef Keepers, Caribbean Youth Environmental Network, Green VI and Greencrete VI. Additionally, she is a trained firefighter with knowledge in basic life support skills, first aid, and has completed basic EMT training.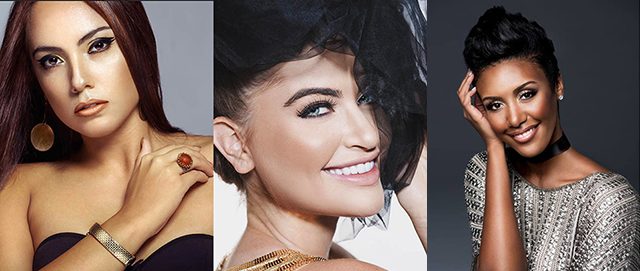 IMAGE Miss Universe
Bulgaria: Violina Ancheva is studying European Studies and hopes to become the first woman president of Bulgaria. She is also an advocate for people who have suffered and are suffering from anorexia.
Canada: Siera Bearchell is a law student, entrepreneur, runner, and golfer. She plans to use her law degree for business endeavors and to help the most vulnerable communities throughout the globe. As Miss Universe, she would like to focus on working with young women on their self-worth, self-esteem, and confidence.
ADVERTISEMENT - CONTINUE READING BELOW
Cayman Islands: Monyque Brooks participates in major programs, festivals, and dances. She has a bachelor's degree in Hospitality and Tourism Management, and currently works at the Department of Tourism.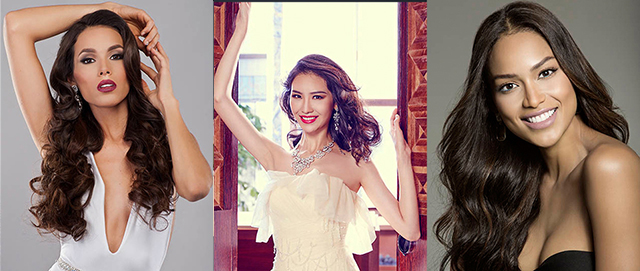 IMAGE Miss Universe
Chile: Catalina Paz Cáceres enjoys spending most of her time with animals, painting, or volunteering. She also hopes to raise awareness and support women who have been abused.
China: Li Zhen Ying is studying to get a degree in Administration. You can find her playing the ukulele or volunteering at Smile Train. Her other interests include singing, dancing, and acting.
Colombia: Andrea Tovar, graduated college with an Industrial Design and Photo Production degree. She wants her generation to be properly educated on the environment. Thus, one of her dreams is to create an innovative foundation that uses raw materials from the Pacific region to transform Colombian products.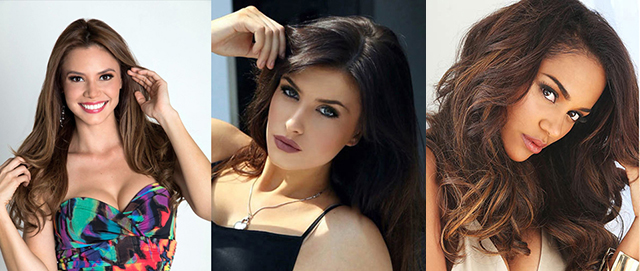 IMAGE Miss Universe
Costa Rica: Carolina Rodriguez Duran is an English teacher and a professional swimmer. She has had a passion for sports since the age of 7 and is now considered a professional swimmer. As a volunteer, she collects trash/non-organic residues from rivers to protect the water and create a cleaner environment.
Curaçao: Chanelle de Lau is a Business and Management student who loves to dance and cook exciting new dishes for family and friends. After losing her father to cancer, she is now an advocate for cancer research.
Croatia: Barbara Filipovic is an aspiring veterinarian as she especially loves playing with dogs and riding horses.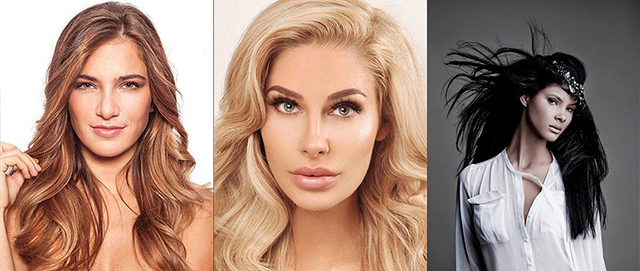 IMAGE Miss Universe
Czech Republic: Andrea Bezdekova loves to stay fit. If she isn't at the gym, you can find her exercising by dance or cheerleading.
Denmark: Christina Mikkelsen spent an entire year in China volunteering her time and efforts to various charities. She then returned to Denmark to study politics and journalism, then traveled to West Africa and obtained a job as an image consultant for a national television station.
ADVERTISEMENT - CONTINUE READING BELOW
Dominican Republic: Rosalba "Sal García" Abreu was raising cows and selling pineapples until she was quickly scouted by a modeling agency at 16.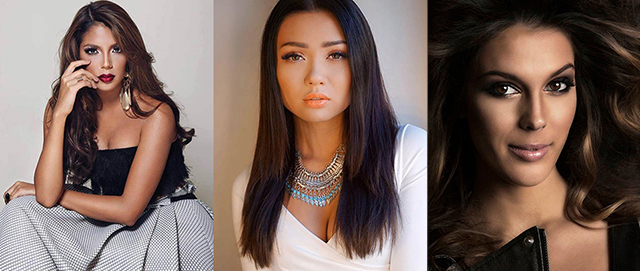 IMAGE Miss Universe
Ecuador: Connie Jiménez is an agribusiness engineer who is also an environment lover. She would also like to work on projects that teach people how to keep producing food in a eco-friendly way.
Finland: Shirly Karvinen grew up in Africa where she lived with her parents for seven years before moving back to Finland to get her Applied Sciences degree. She then went off to China to explore her roots which led her to get an internship at the Embassy of Finland in Washington D.C. She hopes to raise awareness for bullying since the issue is so close to her heart.
France: Iris Mittenaere has a degree in Dental Surgery and has always been fond of extreme sports, traveling the world, and cooking new French dishes. She hopes to advocate for dental and oral hygiene.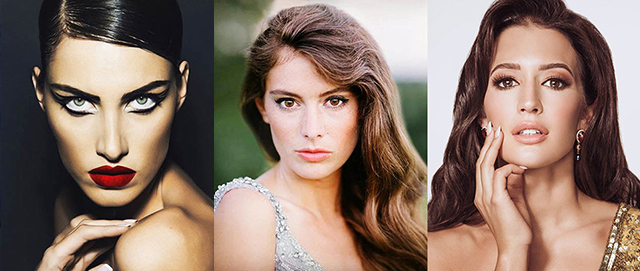 IMAGE Miss Universe
Georgia: Nuka Karalashvili is a public relations manager and model who enjoys a wide range of activities from traveling around the world to opening up a new book to read. She also has training in piano and dancing. She hopes to work with charities involving homeless children if crowned Miss Universe.
Germany: Johanna Acs is a student of Textile and Clothing Management whose concern especially lies in improving the textile production conditions in developing countries. Her biggest passion in life is traveling and has visited over 50 countries. She is an advocate for HIV awareness, and also hopes to raise more awareness and support for clothing production in developing countries.
Great Britain: Jaime-Lee Faulkner is a beauty specialist and an ambassador for a local charity that supports children and teenagers who are at risk through running away from home. She has hiked to the summit of Mount Kilimanjaro and is currently a trained and qualified ski instructor and master scuba diver.
ADVERTISEMENT - CONTINUE READING BELOW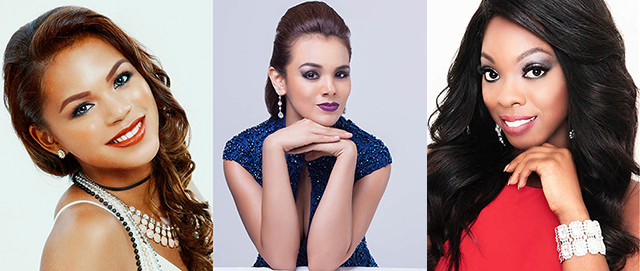 IMAGE Miss Universe
Guam: Muneka Joy Cruz Taisipic is a student studying Pre-Physical Therapy and an athlete who enjoys volleyball, rugby, or paddling.
Guatemala: Virginia Argueta dreams to one day become a deputy in the congress of the Republic of Guatemala. You can also catch her practicing her salsa. She hopes to raise the values of her nation and show the world that Guatemala is progressively developing.
Guyana: Soyini Fraser is a media personality, the executive producer of her own television series, and a professionally trained dancer and actress. She is also an aspiring Christian child psychologist.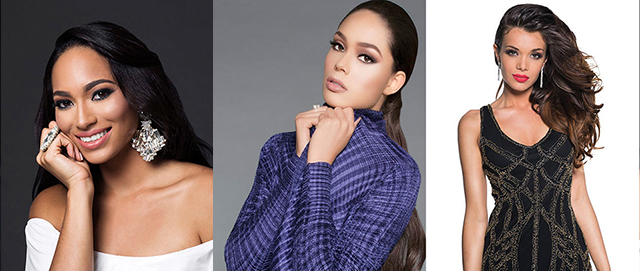 IMAGE Miss Universe
Haiti: Raquel Pelissier is a quadrilingual. She is also about to get her master's degree in Scientific Research in Optometry and Vision by working on a research project on the regeneration of the optic nerve. She hopes to become the first Miss Universe to find a cure for blindness.
Honduras: Sirey Moran is a business student who wants to help raise awareness for abandoned children.
Hungary: Veronika Bódizs is a Financial Management student who volunteers at orphanages and likes to value and remind the children of how important they truly are.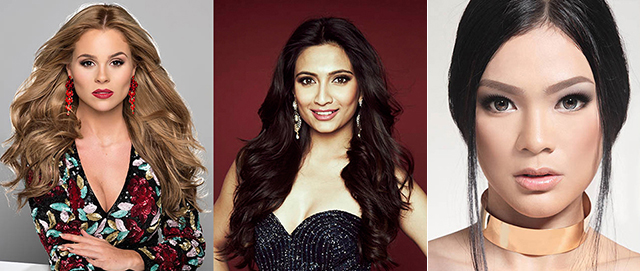 IMAGE Miss Universe
Iceland: Hildur Maria is a flight attendant with a penchant for extreme sports, motorbike racing, handball, and snowboarding.
India: Roshmitha Harimurthy is a multilingual teacher volunteering as a teacher who hopes to advocate for healthcare and HIV awareness.
Indonesia: Kezia Warouw is and informatics engineer who hopes to raise awareness for HIV/AIDS for young children and women.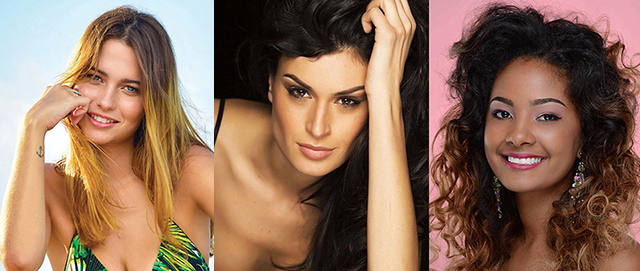 IMAGE Miss Universe
Israel: Yam Kaspers Anshel is an equestrian and a scuba diver.
Italy: Sophia Sergio is a Marketing Management student who loves to travel and enjoys exploring new cultures. She hopes to advocate Breast Cancer Awareness.
Jamaica: Isabel Dalley hopes to raise awareness for marine biology.
ADVERTISEMENT - CONTINUE READING BELOW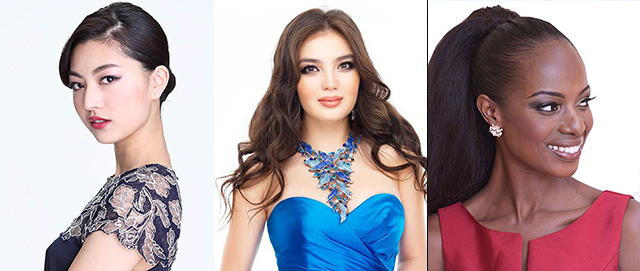 IMAGE Miss Universe
Japan: Sari Nakazawa is a senior dental student with a passion for children and travel.
Kazakhstan: Darina Kulsitova enjoys collecting souvenirs and money from every country she's been to. She is also an advocate for climate change.
Kenya: Mary Esther Were has written a novel hopes to get published soon, plus she's also a marketing administrator for CNBC Africa and Forbes Africa. Hoping to take home this year's crown, Mary would like to advocate HIV awareness, drug addiction, and affordable rehabilitation.
IMAGE Miss Universe
Korea: Jenny Kim is a student double majoring in International Office Administration and English Language and Literature. She volunteers as an interpreter at the Indonesian National Museum and would want to advocate and raise awareness for child abuse.
Kosovo: Camila Barraza loves traveling and dreams to support her family. With the crown, she hopes to help as many people as possible.
Malaysia: Kiran Jassal is a bookworm and fitness junkie coming from a family of law enforcers. Currently, she is studying dentistry.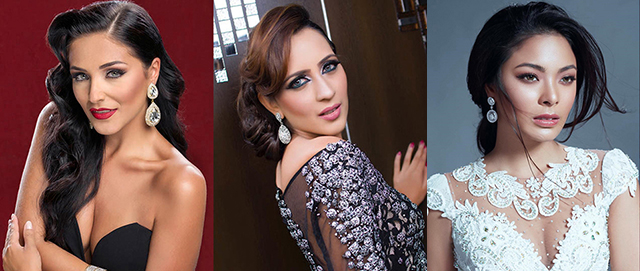 IMAGE Miss Universe
Malta: Martha Fenech is a brand PR representative for a global cosmetics company. She is currently writing a book about her travel experiences and eventually hopes to host her own travel show. She is also attempting to visit every country in the world, raising funds for ALS research in her country.
Mauritius: Kushboo Ramnawaj holds a degree in Chemical and Renewable Energy Engineering and is an active contributor to non-governmental organizations. As a lover of nature, the flora and fauna of Mauritius is very important to her.
Philippines: Maxine Medina is a professional model and a residential condominium interior designer. She is known to be an advocate of children thus, she would love to continue to work with adolescents who have cancer if crowned Miss Universe.
IMAGE Miss Universe
ADVERTISEMENT - CONTINUE READING BELOW
Mexico: Kristal Silva has always wanted to compete in the pageant, and if crowned she would like to get involved in building homes for those in need.
Myanmar: Htet Htet Htun is a model who currently owns her own event management company. She also conducts her own DJ classes for beginner students. Htun is also looking forward to raising awareness for those who are suffering with HIV.
Namibia: Lizelle Esterhuizen is working towards national reconciliation and uplifting the previously disadvantaged in her homeland.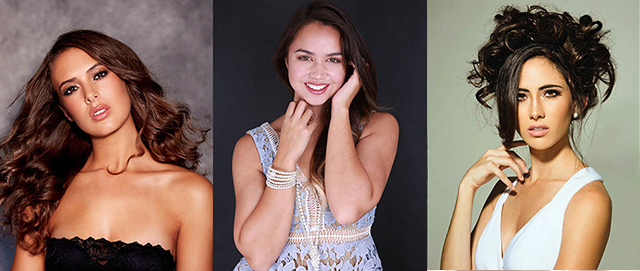 IMAGE Miss Universe
Netherlands: Zoey Ivory, is a professional model and dancer. Additionally, she is known for having an artistic side, nursing a passion for music, art, and photography. If she wins the title, she would love to continue to help children learn by tutoring and reading stories to them.
New Zealand: Tania Dawson has a double degree in Drama and Film/Television, and Media Studies. On top of that, Dawson has a graduate diploma in Secondary Teaching. Dawson is now a secondary teacher in Media Studies and Drama and even volunteers at Variety: The Children's Charity. If she becomes the next Miss Universe, she would like to support anti-domestic violence, gender equality, and women's rights.
Nicaragua: Marina Jacoby is a model and commercial actress that has appeared in two international Mercedes Benz Fashion Weeks and television commercials. Currently, Marina is leading a campaign against bullying in her country.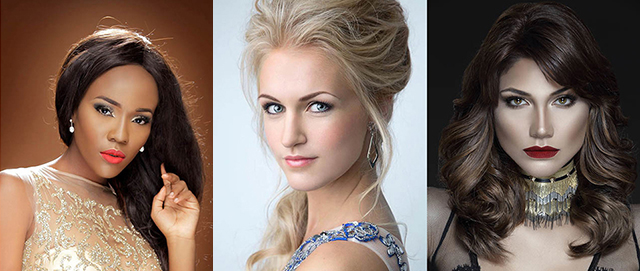 IMAGE Miss Universe
Nigeria: Unoaku Anyadike holds a degree in Psychology and is currently undergoing the National Youth Service Corps (NYSC) in her country at the Federal Inland Revenue Service (FIRS), which is a mandatory service to her country. She is an advocate of endometriosis in her country and is very passionate about children.
Norway: Christina Waage is the local union leader for Nes Red Cross and is also a student in nursing school. Christina chose this career path because helping people is an act that she holds close to her heart. She is passionately working hard to bring help and advocacy to children with disabilities.
ADVERTISEMENT - CONTINUE READING BELOW
Panama: Keity Drennan is a model who advocates for children who have autism. She believes that society today has a lot of misinformation on autism. She wants the world to know that children with autism have just as many skills, if not more, as everyone else.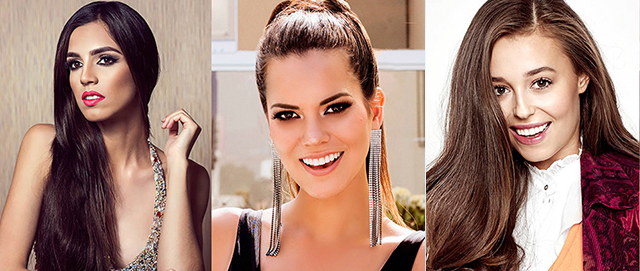 IMAGE Miss Universe
Paraguay: Andrea Melgarejo is a medical student, a haute couture professional model, a car racing co-driver, and a chemistry, math, and physics teacher. She also volunteers at schools from rurals areas, orphanages, nursing homes, and assists children who are deaf.
Peru: Valeria Piazza is a Media Communications graduate who was part of the team that developed a new educational program called SOI System, which makes sure that a person's intellectual abilities are being worked on and are well-developed. She was also an ambassador for INABIF, WWF, Smile Train, Supreme Court (Social Rural Programs), Liga Contra el Cancer, and Ponle Corazón (Cancer Prevention). She also has an active lifestyle, as she enjoys rock climbing, yoga, meditating, and traveling. Valeria is an advocate of raising awareness against violence towards women and children.
Poland: Izabella Krzan studies Economics and likes to play volleyball. She hopes to raise awareness on the terrorism happening around the world.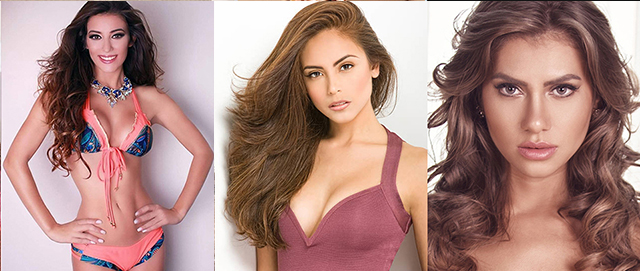 IMAGE Miss Universe
Portugal: Flávia Brito has a degree in Tourism working as the chief stewardess at Motor Yachts. She also enjoys traveling, cooking, reading, and watching movies. She leads an active life where she is into swimming, handball, and volleyball. Flávia hopes to help and raise awareness for people who are homeless because she believes they deserve attention, education, medication, and joy.
Puerto Rico: Brenda Jimenez plans to one day become a neonatal pediatrician in hopes of helping children have a better quality of life. Pigeon racing, horseback riding, and modeling are some of her favorite past times. She volunteers with community initiatives to help the homeless by collecting food and personal items. She is also an advocate for HIV awareness with special attention to homeless people who could be afflicted with the disease.
ADVERTISEMENT - CONTINUE READING BELOW
Romania: Teodora Dan is a full time model who loves swimming, canoeing, and scuba diving. Not only does Teodora have an active lifestyle, but she's also artistic and is a great painter. She hopes to advocate for abused and abandoned animals.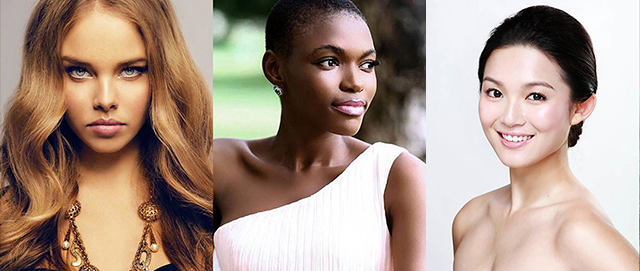 IMAGE Miss Universe
Russia: Yuliana Korolkova is a 22-year old student attending British Higher School of Art & Design who enjoys doing yoga. If crowned, she would like to fight against substandard food such as trans fat.
Sierra Leone: Hawa Kamara is the first contestant to represent Sierra Leone. She also spends her time volunteering by talking to young girls about the importance of education. She hopes to advocate and raise awareness for HIV/AIDS.
Singapore: Cheryl Chou is an active person who plays touch rugby and leads a plant-based lifestyle. A lover of sports, she played for her middle school's touch rugby team for three years. She would like to support animal rights and spread the importance of veganism around the world if crowned as Miss Universe.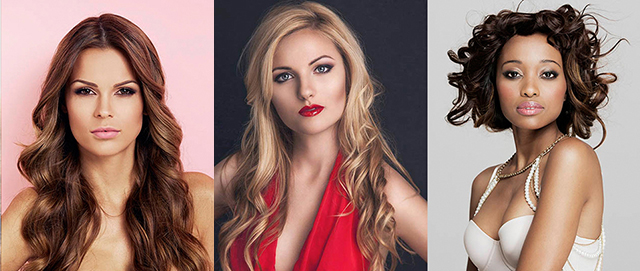 IMAGE Miss Universe
Slovak Republic: Zuzana Kollarova is an animal lover who also likes traveling, learning about different cultures, and meeting new people.
Slovenia: Lucija Potočnik is a teacher-to-be who supports organizations that offer education to under privileged children.
South Africa: Ntandoyenkosi Kunene is currently the official ambassador for the Cell C Take a Girl Child to Work Day. The organization gives South African girls first-hand experience in an industry, and allows them future career opportunities.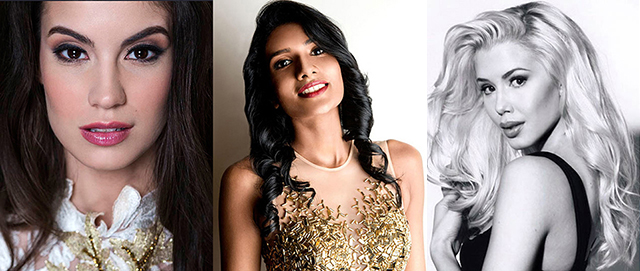 IMAGE Miss Universe
Spain: Noelia Freire is a certified hair dresser and model. She loves staying active by working out or playing a sport like basketball or soccer. If crowned Miss Universe, Freire hopes that she can advocate and raise awareness for breast cancer.
Sri Lanka: Jayathi De Silva holds a degree in Molecular Biology and Forensic Science and an MSc in Cancer Biology. She completed her studies and returned home to pursue a career in science and philanthropy. Currently, she works as a scientist, primarily focusing on cancer research and identifying genetic diseases, apart from modeling on the side. One day, she hopes to become a renowned cancer researcher, contribute towards finding a cure for cancer with her research and improve the quality of life for terminally ill patients.
ADVERTISEMENT - CONTINUE READING BELOW
Sweden: Ida Ovmar is an aspiring personal trainer with a passion for the great outdoors. Ida is a part of Sweden's Sami people which are the only indigenous people of Scandinavia recognized and protected under the international conventions. She is on a mission to inspire others to live a healthy and active lifestyle.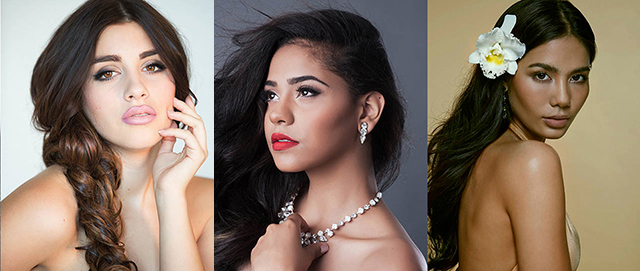 IMAGE Miss Universe
Switzerland: Dijana Cvijetic is a successful model who hopes to get involved in raising awareness for animal rights and be a voice that can hopefully change fashion in a positive way.
Tanzania: Dihan Dimack currently works as an administration officer while pursuing a modeling career. She has graced the cover of three Tanzanian magazines, won several Swahili Fashion Week awards, worked with over 15 designers, and has been featured in advertisements. Dimack hopes that her knowledge and beauty will take home the crown this January, and if so, she hopes to raise awareness on wildlife conservation in Tanzania.
Thailand: Chalita Suansane is a Microbiology student who loves to devote her spare time in orphanages that house children who have inherited HIV from their parents, children who were abused, and children who have lost their family. If crowned, she would like to raise awareness and advocate for HIV/AIDS.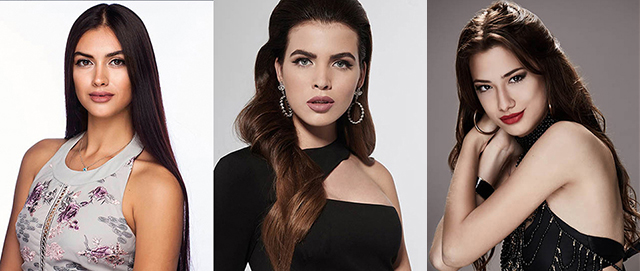 IMAGE Miss Universe
Turkey: Tansu Cakir is currently studying Nutrition, Dietetics, and Psychology and loves to be active by doing pilates, yoga and kickboxing. If crowned Miss Universe, she would like to work with an organization that raises awareness to end world hunger.
US Virgin Islands: Carolyn Carter is an active spokesperson for HIV/AIDs awareness. In her down time, she is a fashion blogger and painter.
Ukraine: Alena Spodynyuk was a professional handball player in her teens and was even chosen for the Olympic reserve of the Ukraine. She is currently studying Tourism and Hospitality.
ADVERTISEMENT - CONTINUE READING BELOW

IMAGE Miss Universe
Uruguay: Magdalena Cohendent is a Business Administration student who enjoys reading, cooking and cycling. If crowned, she would love to continue to support and raise awareness for HIV. On top of that, she would also like to fight against environmental pollution.
USA: Deshauna Barber is the first woman actively serving in the US Army Reserve to win the title of Miss USA. She has completed her Masters of Science in Computer Information Systems and works as an IT analyst for the U.S. Department of Commerce. Deshauna has been spending her year as Miss USA working directly with soldiers suffering from PTSD and focusing on suicide prevention in the Armed Forces.
Venezuela: Mariam Habach is a dentistry student focused on providing children with the care they need for healthy and beautiful smiles. She also enjoys singing and dancing. Mariam hopes to advocate for HIV awareness if she takes home the crown.
Vietnam: Le Hang has volunteered for a number of organizations. She is currently the ambassador for the Miss Universe Vietnam Fund and Vietnam Agent Orange Relief as well as Smile Train Vietnam and Red Cross Vietnam. She enjoys playing the zither, painting, boxing, and practicing martial arts. If crowned the next Miss Universe, she would like to use her voice to protect endangered animals and wishes to be a cultural activist.