Rejoice, Filipinos! Just a few moments ago, 26-year-old Pia Alonzo Wurtzbach was crowned Miss Universe 2015, being the third Filipina to bring home the crown.
The Top 3: Miss USA, Miss Colombia, and Miss Philippines
Just when everyone thought that it was Miss Colombia, Ariadna Gutierrez, who won, succeeding fellow Colombian and former Miss Universe Paulina Vega, host Steve Harvey made a very shocking recall. Quickly apologizing for reading the card wrong, he announced that it is in fact our very own Miss Philippines who won the prestigious beauty pageant—indeed, a mind-blowing turn of events that left the crowd polarized!
ADVERTISEMENT - CONTINUE READING BELOW
Pia's reaction moments after Steve Harvey announces she is the official winner of the Miss Universe pageant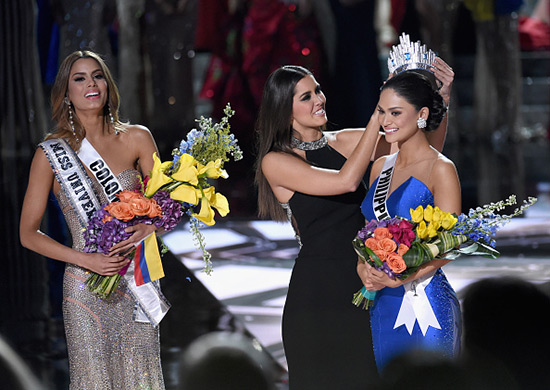 ADVERTISEMENT - CONTINUE READING BELOW
Miss Universe 2014 Paulina Vega tansfers the crown to Pia, after Miss Colombia had been mistakenly announced as the winner and already celebrated on live television. Photo by Ethan Miller for Getty Images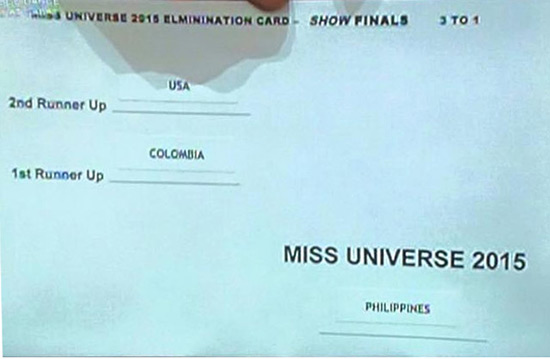 The embarrassed host shows the results card to the camera.
When asked why she should be the next Miss Universe, Pia answered, "To be a Miss Universe is both an honor and a responsibility. I will use my voice to influence the youth and I would raise awareness to certain causes like HIV." To which, she added:
ADVERTISEMENT - CONTINUE READING BELOW
"I want to show the world, the universe rather, that I am confidently beautiful and with a heart."
Congratulations, Pia! You've made all of us proud!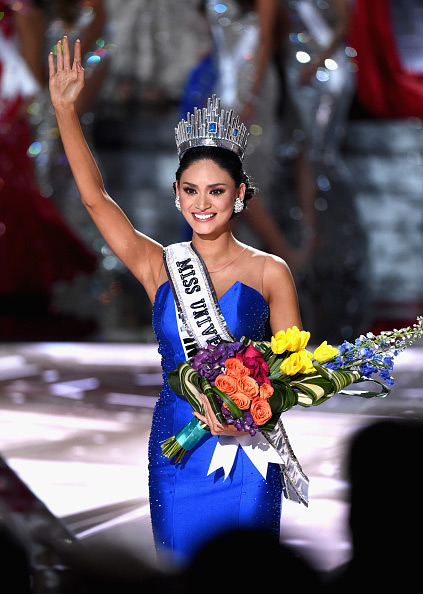 Miss Universe 2015, Pia Alonzo Wurtzbach. Photo by Ethan Miller for Getty Images

Watch the awkward announcement of the official winner below: