When it comes to controversial food combinations, we'd have to say mint chocolate is definitely at the top of the list. Although lately it seems like South Koreans have taken this debate to a whole new level, seeing as they've managed to incorporate mint chocolate into everything—and we mean, everything.
ADVERTISEMENT - CONTINUE READING BELOW
Since the craze began months ago, locals have been fusing mint chocolate with snacks, drinks, desserts, and pastries such as cakes and macarons all over SK. South Korean Youtubers have even taken to making mukbang content just to try out these trendy snacks.
Among them is Nado, a popular Korean mukbang eater famous for stuffing her face with drool-worthy food in every one of her videos. From ice cream, to cakes, and cookies, she makes her way through her vast assortment of minty green snacks, eventually claiming that the refreshing flavor is definitely a great way to beat the summer heat! Take note though that it's not for the faint of heart. Nado points out that the mint flavor doesn't exactly agree with some snacks, so much so that you might feel like some of the food is actually mixed with toothpaste! We'll leave you to decide if that agrees with your palate or not.
CONTINUE READING BELOW
Recommended Videos
If you watch her video closely, you might even recognize Tom's Farm, a flavored almond brand well-known for its addictive honey butter and wasabi variants. Well, now you can try their nutty almonds with a minty twist!
While it's understandable that this flavor combination became popular with snacks and desserts, Korea's mint chocolate hype didn't end there.
ADVERTISEMENT - CONTINUE READING BELOW
One restaurant owner decided to take the road less traveled, and created his own take on this trend by making Mint Chocolate Fried Chicken! Yes, you heard that right. According to the store's official product description, this specific menu item is "sweet and refreshing at the same time."
The owner explained that he simply wanted to give his customers a fun and memorable experience through his food, and it seems he was succesful in doing just that. In fact, Chung Ha, a South Korean singer, recently tried his dish on the popular YouTube series Wassup Man. After one bite, she remarked that it was definitely one of her most memorable experiences this year.
ADVERTISEMENT - CONTINUE READING BELOW
Watch the full video below.
If you're only learning about the country's obsession with it now, FYI, the chocolate mint craze started to catch on in South Korea late last year. Locals even resorted to putting mint chocolate sauce on their fried chicken just to try it out for themselves! Who needs barbecue sauce anyway?
To put her self-proclaimed mint chocolate-loving taste buds to the test, Lee Su Hyun, a vocalist from the Korean sibling duo AKMU, tried this chicken sauce hack in a mukbang video released last November 2020. After taking a bite though, let's just say her loyalty to the much-debated about flavor was sorely shaken. If you're curious about the taste, she described it as having a burning sensation that didn't even taste like mint chocolate at all! She does add, however, that if you endure the taste long enough, you might get a hint of the chicken flavor you're looking for.
ADVERTISEMENT - CONTINUE READING BELOW
Of course, we can't talk about this food trend without mentioning the minty rendition of South Korea's popular street food—tteokbokki. This vibrant colored dish is filled with all the usual elements of the mainstay Korean snack: rice cakes, sausages, and fish cakes. Except it all comes with a heaping serving of mint chocolate sauce, topped with chocolate chips!
You have to see it to believe it, below!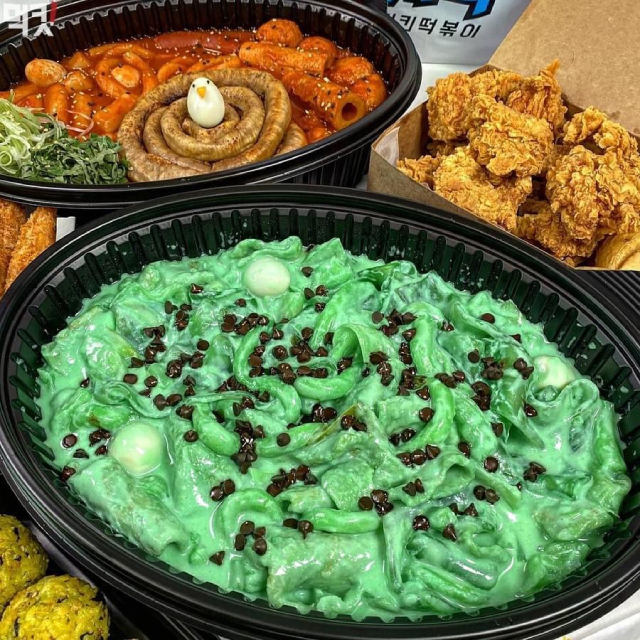 ADVERTISEMENT - CONTINUE READING BELOW
So, what do you say? Would you try out this food trend for yourself? Sound off in the comments below!
Related Stories from Preview.ph
Hey, Preview readers! Follow us on Facebook, Instagram, YouTube, Tiktok, and Twitter to stay up to speed on all things trendy and creative. We'll curate the most stylish feed for you!