Miley Cyrus' new music video for Malibu is amazing in itself, but below, we list down some fun facts about the track that will make you love it even more.
1. Miley actually lives in Malibu.
Originally from Nashville then Los Angeles, Miley has now moved to fiancé Liam Hemsworth's Malibu home. The two live with seven dogs, two pigs, and two miniature horses. Adorable.
2. Liam photographed the album cover.
Who else can take such a raw and beautiful photo of Miley, right? The singer actually credited her fiancé on Instagram when she posted the photo!
ADVERTISEMENT - CONTINUE READING BELOW
4. She wrote the song on her first day shooting for The Voice.
In an interview with Billboard, Miley reveals that it was during an Uber ride when she wrote Malibu. As her car drove past the beach, she immediately became inspired by how lucky she was that Liam brought her to their new place. She even said so in the song: "Cause you brought me here and I'm happy that you did 'cos now I'm as free as the birds chasing the wind."
4. It's somewhat inspired by her fiancé.
Being inspired by Malibu obviously points to Liam. "I'm from Nashville, dude. I never really went to the beach," Miley says, like she sang in the track. Liam brought the Nashville girl to the California seaside and helped her embrace the off-city life. "It's something about Malibu that's very freeing for me," she continues.
ADVERTISEMENT - CONTINUE READING BELOW
5. She recorded it inside a trailer.
On the same day Miley wrote the song, she called up writer-producer Oren Yoel to help her with it. She had him bring a laptop and microphone to The Voice shoot and the two recorded Malibu inside Miley's trailer. Oren plays all the instruments in the track.
6. There's a dance for it!
You may have missed it in the music video, but Miley confirms that this is how you should bop to the chorus!
ADVERTISEMENT - CONTINUE READING BELOW
IMAGE YOUTUBE/mileycyrusvevo
7. It got the #1 spot on iTunes US a few hours after its release.
'Nuff said.
8. Ariana Grande, Nick Jonas, Katy Perry, and Demi Lovato showed their support for Miley!
Ariana and Demi liked Miley's Instagram post, while Nick and Katy shared the song on IG stories and Twitter, respectively.
ADVERTISEMENT - CONTINUE READING BELOW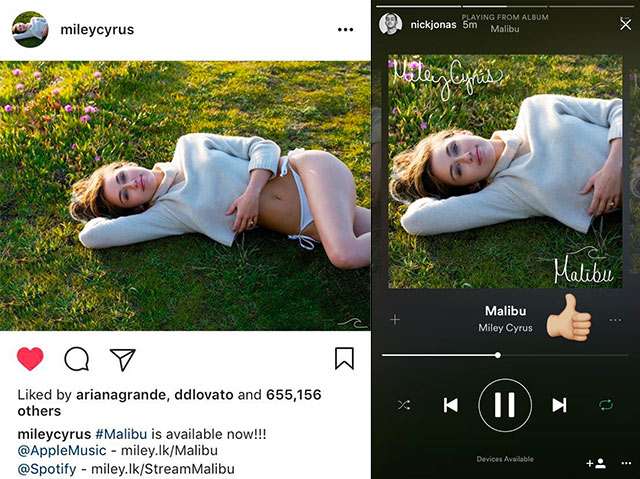 IMAGE TWITTER/popcrave, TWITTER/mileyupdateEU
ADVERTISEMENT - CONTINUE READING BELOW
Haven't watched the video yet? Check it out below!