It's easy to call one's self modern and liberated. However, when faced with certain circumstances and experiences, one finds a certain tension that may not have been realized before.
Enter, Mich Dulce. The world-renowned milliner had her eggs frozen in 2016 and found that being a woman in this modern world isn't as easy as women would like it to be.
Her art exhibit entitled At Least I Won't Regret Anything articulates the whirlwind of thoughts, emotions and struggles that she experienced during the entire process. The exhibit's thought-provoking introduction explains that essentially, a woman's body is hers to begin with—society has simply subjected her to norms which she then harbors throughout her life. Such unconscious subjugation leads to inner conflict and thus, the freedom that was inherently hers is oftentimes forgotten. One can even call to mind philosopher Iris Young who notions that a woman relates to the world with inhibition. And so, when a process such as freezing eggs comes into the picture, it isn't exactly a walk in the park.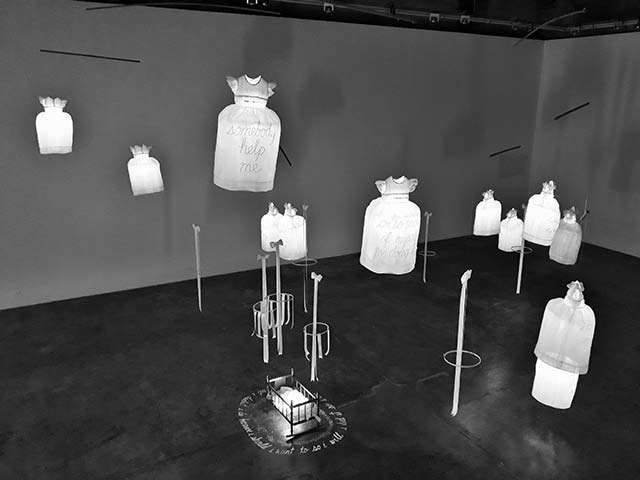 IMAGE Nicole Cruz
The exhibit fleshes out many facets of the tension contained in reproductive autonomy which blurs the boundaries of the personal, social, political and the spiritual. Turns out, Mich Dulce found herself in a tremulous territory. Hence, the handwritten journal entries on the walls, the hanging baptismal gowns and the haunting nursery rhyme music in the background.
ADVERTISEMENT - CONTINUE READING BELOW
Baptismal gowns hang and prance mid-air, each one bearing a different statement such as a thought that had crossed her mind or something she had felt. The statements were embroidered using pearls to suggest femininity. One can also find that the garment may seem like a white confection, as if it were ironically, a wedding cake.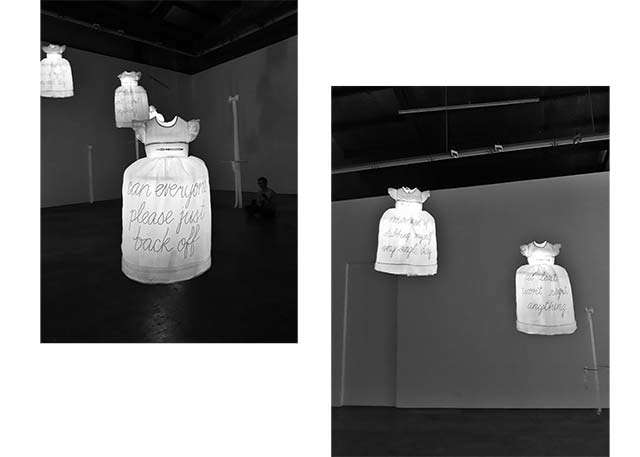 IMAGE Nicole Cruz
The baptismal gowns also feature real syringes used during the process, concretizing the realness of her egg freezing experience. Juxtaposed with the embroidered text, each needle-laden gown also represents burdens and struggles towards reproductive autonomy.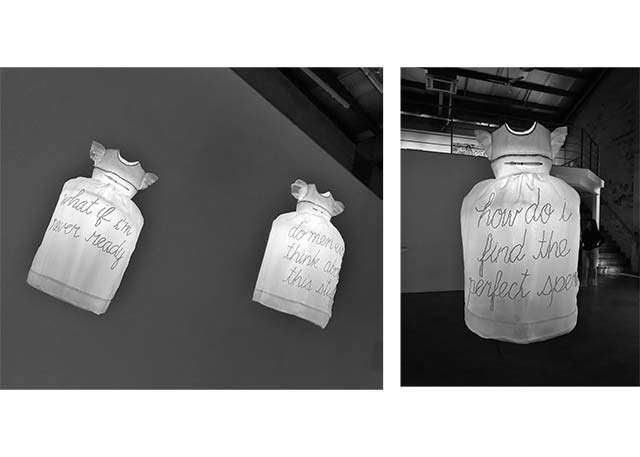 IMAGE Nicole Cruz
From self-reassuring sentiments, doubts, confusions and society-addressed quips, the floating baptismal gowns speak words that hang overhead, as if waiting to be grasped and listened to. As a whole, the statements are also invitations for viewers to join the dialogue.
ADVERTISEMENT - CONTINUE READING BELOW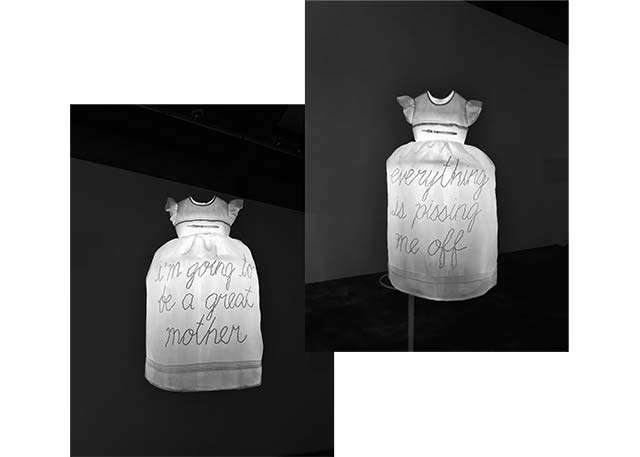 IMAGE Nicole Cruz
In the middle of the space is a glowing wooden cot with white ribbons. Visitors can pick up a ribbon and write how they feel about fertility or childbearing issues as a way of participating. They can then pin it on the cot mobile. It may not seem obvious at first, but the baptismal gowns are hung and positioned in groups to mimic cot mobiles that slowly rotate.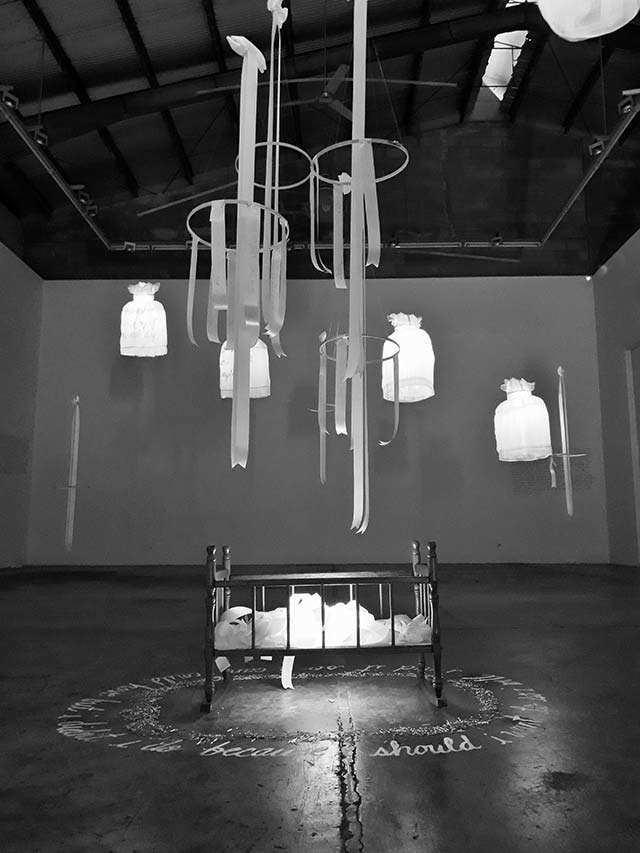 IMAGE Nicole Cruz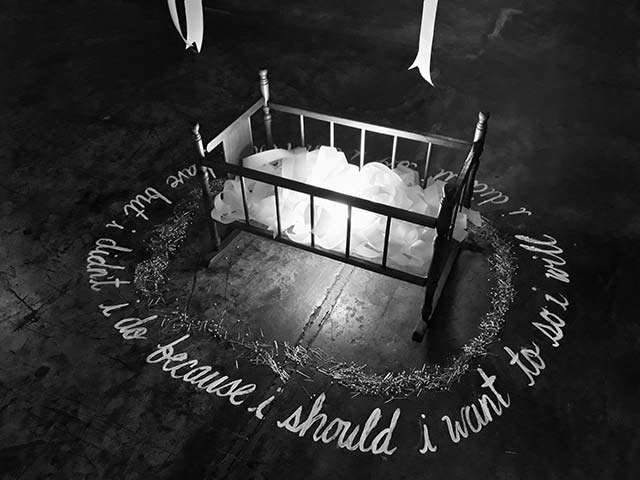 ADVERTISEMENT - CONTINUE READING BELOW
IMAGE Nicole Cruz
The most intimate part of the installation would have to be the two handwritten journal entries on the walls at the back corners of the space. Here, one can't help but feel as if he or she has stepped into Mich Dulce's mind and heart. The two entries were written in the months of January and February of 2017, recalling a past whose impact continues to unravel today.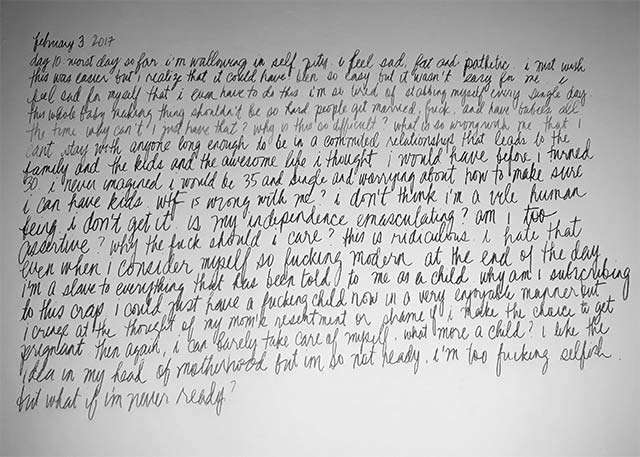 IMAGE Nicole Cruz
In a nutshell, At Least I Won't Regret Anything gives us a glimpse into Mich Dulce's journey as a woman reasserting a truth: that her body belongs to her.
The exhibit runs until January 29, 2018 at Finale Art File, La Fuerza Compound (Gate 1), 2241 Chino Roces Ave., Makati City.