Truth: I am the least athletic person ever. And if someone was least likely to learn to surf, it would have been me. I have crap balance, I'm screamy and always unable to focus, and I hate the sun and getting dark. That said, I do love the water, and I love the beach.
Surfing was always something I thought was cool and looked fun, but basically I had believed my entire life that it was completely not compatible with me considering how non-active and non-outdoorsy a person I was. I had tried it once 10 years ago in Bali for about 10 minutes and thought, "Okay, tried surfing, I can check that off my list, next!".
A few months ago though, my friend Nancy had asked me to go to Lombok, Indonesia with her, and as she's a kite surfer, I thought I should try and find activities to do while she does her thing. Learning to surf seemed like the logical thing to do (kite lessons didn't really resonate with me), so being the sigurista girl I am, I thought I would call my other friend Neva to take me to La Union to try surfing in this country before I committed to spending even more money to try it in another.
ADVERTISEMENT - CONTINUE READING BELOW
I never did end up going to Lombok, but after five hours of surfing lessons in San Juan and catching waves and experiencing beginner long-ish rides to the shore, a weird thing happened and I realized I really enjoyed it. I kept thinking about the next time I'd be able to do it, and how I really wanted to learn how to surf so I could catch waves by myself. I think that's what they call "stoked." Whatever it was, I knew I had to learn and I had to learn to do it right, but wasn't sure exactly how I could fit in regular trips to the beach to actually have a proper surfing learning curve.
CONTINUE READING BELOW
Recommended Videos
My friend and yoga teacher Cookie told me about a program called Surfcuit, run by the Philippine Surfing Academy headed by surfing coach Paolo Soler. An intensive training program, it's actually a bootcamp for beginner to intermediate surfers who want to boost their surfing ability and fitness. It is also designed for surfers who are locked in Metro Manila and don't have the time to take trips outside the city to hit the beach. The sessions last four hours long, once a week for six weeks, and are conducted at the wavepool at Club Manila East in Taytay, which is a mere 30 minutes from Robinsons Galleria. The opportunity to learn to surf in the city? It had to be done.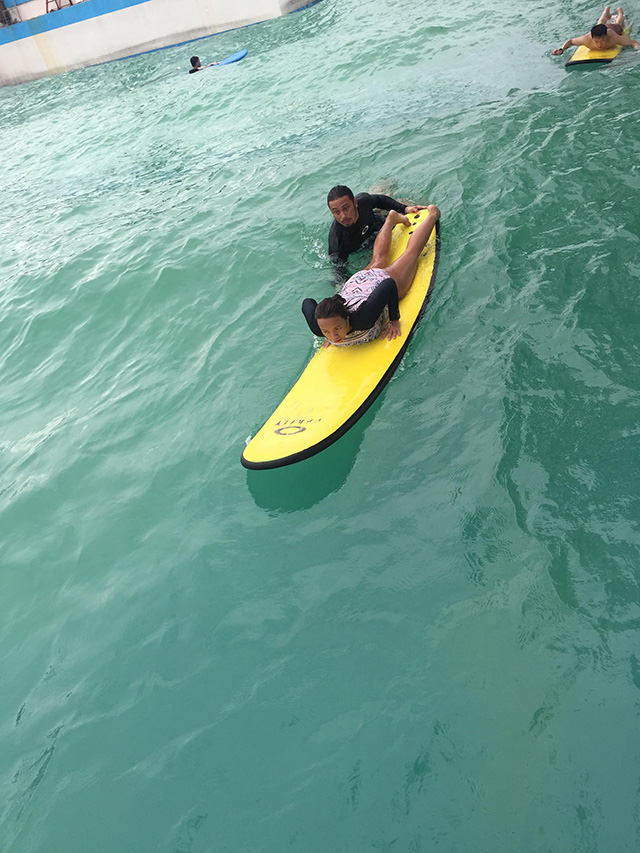 ADVERTISEMENT - CONTINUE READING BELOW
IMAGE Courtesy of Mich Dulce
I can't tell you how beneficial it was for me to learn the basics of surfing in a controlled environment. In the first 30 minutes of the first day, there were already so many things taught to me that didn't even come up in the five hours I was taking surfing lessons in San Juan. I learned how to pop up on my board the right way, the proper way to position my feet. I learned the right form for paddling, which I didn't know while I was in San Juan and led me to put added strain in my back. I learned about ocean safety, how to get into the water and how to position my board when getting into the ocean.
Every training day, Surfcuit students ride from 40 to 60 waves, which is a lot more than a beginner can catch in the ocean. The frequency and regularity of these waves helped me to build my confidence on just being on the board and learning to balance. I learned to improve my stance, with a lot of help coming from coaches Paolo, Joey and Francis screaming at me to bend my knees, or put my weight forward or back. By day two, I was learning how to turn left and right and learning to do eskimo rolls in order to get through giant waves when in the ocean. Day four, I was attempting to cross step—something which I think I would have never even bothered to attempt if I had been learning in the ocean!
ADVERTISEMENT - CONTINUE READING BELOW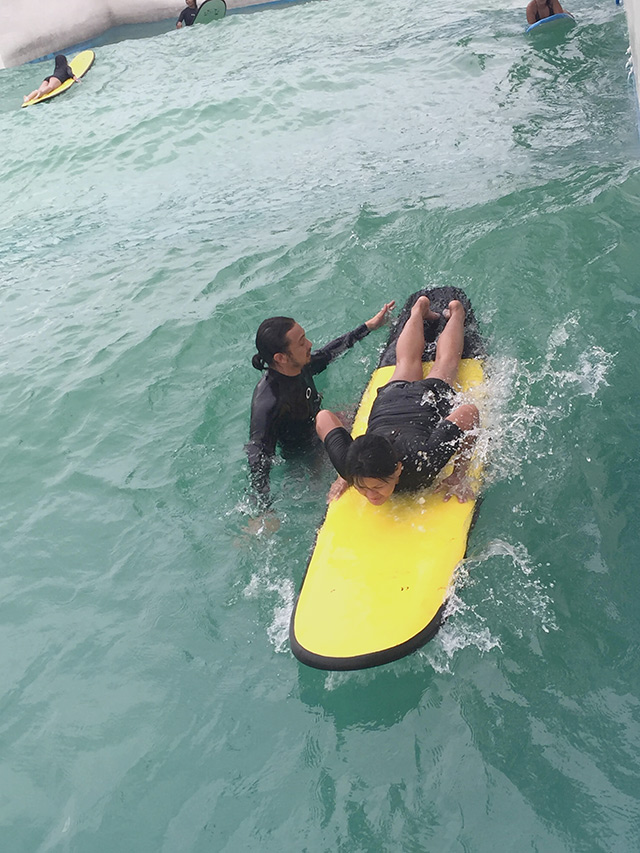 IMAGE Courtesy of Mich Dulce
I really loved the personal attention we each got at Surfcuit from our coaches despite it being a group class. Coach Paolo is great because he's really attentive to each student, and always give pointers on how each can improve as you are getting back into the lineup. Another thing that sets Surfcuit apart is that it was really developed to prepare and strengthen your body for surfing. So apart from the time you spend trying to catch waves and riding them, there are drills when the wave pool is turned off to build stamina and muscle for paddling. A total paddling distance of two kilometers is what each Surfcuit student does each session, which is probably how I managed to lose 10 pounds since I started Surfcuit two months ago.
ADVERTISEMENT - CONTINUE READING BELOW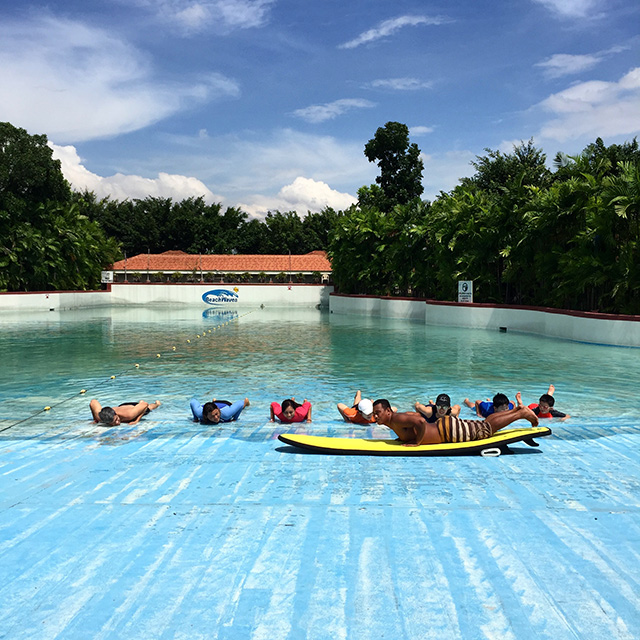 IMAGE Courtesy of Mich Dulce
Of course the main goal of taking surf lessons is to get out of the wave pool and into the ocean, so each Surfcuit batch (currently they are on batch 35!) graduates with a trip to the beach, where Paolo still continues to lecture and teach, explaining currents and rips, how to read waves and calculate where it's going break. Even when you're in the water and in the line up, he still is attentive and encouraging as ever.
ADVERTISEMENT - CONTINUE READING BELOW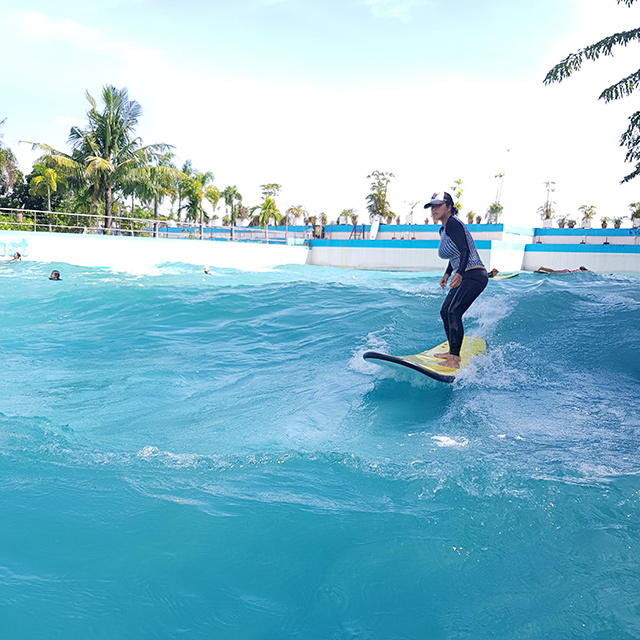 IMAGE Courtesy of Mich Dulce
While I have yet to catch my own waves and have a long way to go in terms of my surfing ability, the program has really given me the basics I need to surf, plus a four hour workout each week that really toned my body like the gym has never done before. I never thought I'd be able to even stand on a board, and now I'm officially addicted. If you've ever wanted to learn to surf but never had the time to do regular trips to the beach, then Surfcuit is for you.
ADVERTISEMENT - CONTINUE READING BELOW
For Surfcuit inquiries and bookings call or text +639178946767.
Related Stories from Preview.ph
Hey, Preview readers! Follow us on Facebook, Instagram, YouTube, Tiktok, and Twitter to stay up to speed on all things trendy and creative. We'll curate the most stylish feed for you!