My story as feminist began with my love of music. I like to quote Kathleen Hanna a lot by saying "Riot grrrl was my gateway drug to feminism." It was via bands like Bikini Kill, Le Tigre, Bratmobile, and Sleater-Kinney that I felt real empowerment as a woman, and I learned about fighting the patriarchy, ending misogyny, and the fight for gender equality.
I consider myself lucky that during that time, I had my bandmates, my original girl gang, Death By Tampon, to explore all of that with. We had each other to talk to about our frustrations, our anger, the injustice we felt, the concerns that were bothering us in the context of our womanhood, and had an outlet to let that out by writing songs and making art. But I was still very insecure about my feminism. I wanted to learn more.
In my years traveling and living in other countries, I was lucky to have been able to explore that by going to feminist meets, women's festivals like WOW in London, riotgrrrl events and gigs. I would always come home feeling inspired and more educated, learning a lot more from other people's stories and talking to strangers and asking questions than from the many books I would buy and read. It was easy and welcoming, but still targeted the big issues. Most of all, physically being there with other women felt like I was part of something bigger than myself, that I wasn't alone, that other women shared my struggles, my thoughts, my worries, my dreams, my activism, and my insecurities. I always wished that something like that existed in Manila.
ADVERTISEMENT - CONTINUE READING BELOW
People are motivated into action because of their emotion, and I guess my emotions turned me into an accidental activist.
The leap into action for me to make Grrrl Gang Manila came from my wounded ego, my insecurities, my loneliness, and my frustrations. It was a series of events. I felt insulted by the fact a guy I was dating had used my posting about my egg freezing on Facebook as an excuse to end things, saying I shouldn't be talking about something so private like that, when it had nothing to do with him and everything to do with me and my fertility and my future. I was confused and insecure about the decisions I was making about my body, and wanted to talk to other women about my experiences. I felt alone and afraid while I was hormonal and freezing my eggs, and relied so much on the kindness, compassion and empathy of other women who understood what I was going through and why this was important to me. I was frustrated and worried for the future of my country, under a misogynistic leader who has no regard for human rights, and for the future of the world with another misogynist leading the world's most powerful nation and challenging women's rights in the so called land of the free.
CONTINUE READING BELOW
Recommended Videos
This is really sappy, but I believe the universe will always provide what you need when it is right. And this proved so true when I reached out to feminist girl friends I wasn't even really close to with the idea of aiming to create a safe, non judgmental space for opening up the conversation of feminism and women's issues in Manila, for discourse, for support. Marla Darwin, Claire Villacorta, and Earnest Zabala were like angels–they immediately related to the cause, brought their knowledge and experience to the table, had the most brilliant ideas and were filled with passion. We were all different kinds of feminists that agreed to disagree. In that month and a half of planning online while I was in Paris, I learned so much from three other girls, what more with everyone else?
Since we launched Grrrl Gang Manila online, our little group of four has expanded to a volunteer group of 20, some friends and some strangers, that came together for a common cause, all truly amazing women each with a different story to tell. Just sharing a table with these women to plan out Saturday's meet already felt like change could happen. Listening to why they wanted to help out with Grrrl Gang, it seemed we all had some kind of frustration and indignation and wanted to do something about it together, for each other. Our goal for the first meet that happens this Saturday, March 25 at 2pm at UP Diliman's Bulwagang Tandang Sora, is to hear what everyone's issues are, and collectively come up with what we want Grrrl Gang Manila to be.
ADVERTISEMENT - CONTINUE READING BELOW
Here's the deal. All I can bring to the table and the only stories I can tell are my stories and my struggles in Manila as a 35-year-old single, upper class, Catholic, heterosexual, educated, modern cis woman with curly hair and big boobs, born into a really conservative family. I can tell you about how much I hate the culture of shame we have and propagate in this country; how that really pisses me off, because guilt and shame affect my decisions as a woman on a daily basis and makes me feel like I'm living a double life when being true to yourself is already hard enough. I can tell you about how my story changed when I moved to Paris, where suddenly I was a working class woman of color that had to deal with racism, not just from strangers but even from my closest friends, on a daily basis. I can tell you how frustrating it is to experience acts of harassment and injustice, but still be afraid to speak up, and how unfair it is that you're damned if you do, and damned if you don't. I can tell you how tired I am of being catcalled, of hearing the word 'rape' being used casually, how I had to condition myself to believe its okay for other people to comment or make jokes about my breasts so I don't have to feel annoyance every time when I shouldn't even have to subject myself to that, how I'm tired of getting that look of pity from older people because I'm 35 and not married or in a committed relationship, and how I just want to scream when I hear comments like "nakakahiya, babae pa man din" or "ay babae kasi eh" or "how unbecoming of a lady."
ADVERTISEMENT - CONTINUE READING BELOW
While I have my stories, know what I am, and know what I've been through, I cannot speak for other women and their experiences. I can't speak for married women, trans women, disabled women, urban poor women, lesbian women, Muslim women, women who have experienced domestic violence, and so on and so forth. That's why we need as many voices as we can to make up Grrrl Gang Manila. There are so many stories to tell and listen to, and more often than not, some part of another woman's stories will resonate with each of us as women. If there's anything I've learned from being involved with girl groups abroad, or even just chatting with the GG volunteers here over the past week, it's how powerful hearing someone else say "me too" or "I agree" or "that happened to me too" is, and how that shared experience can move mountains and help us feel less isolated and powerless and motivate us into action.
ADVERTISEMENT - CONTINUE READING BELOW
When I froze my eggs, I was in Belgium alone. A woman named Alexis, who I've only met once, volunteered to pick me up from the hospital. She carried my bags, helped me with my things, and drove me from the hospital and stayed with me at my hotel even if she lived outside Brussels. I asked her, "That's so kind of you, why did you do this?"
She said something that I'll always remember and I now vow to try and live by. She said, "Because I'm a woman, and you're a woman, and I know that what you are going through is tough and you shouldn't be going through it alone. If we're not here for each other, then who else will be?"
We as women have more in common than we have differences, and it's time to speak out amongst each other and agitate for change, in solidarity.
ADVERTISEMENT - CONTINUE READING BELOW
Please read our jump off manifesto. If any of this resonates with you, or even if it just makes you curious, then I hope you come and join the conversation with us and add your voice to it.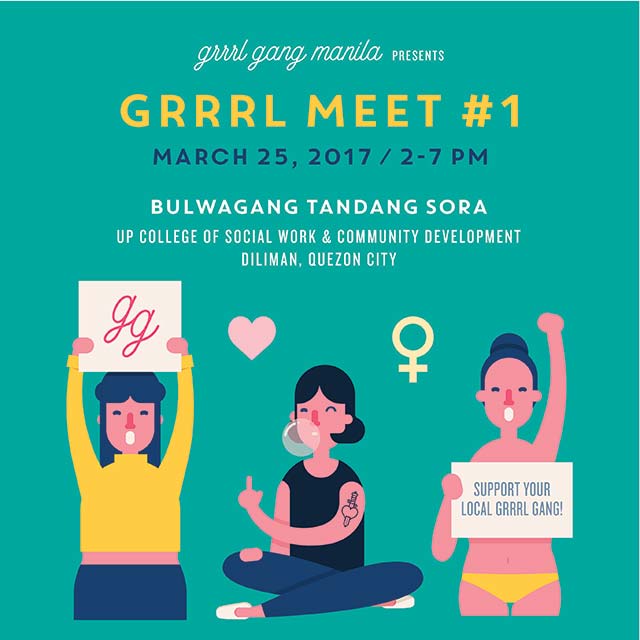 IMAGE Marla Darwin
Grrrl Gang Manila's Grrrl Meet # 1 is on March 25, 2017 at Bulwagang Tandang Sora, UP College of Social Work and Community Development, Diliman, Quezon City. Registration is at 2pm, Forum starts promptly at 3pm. It is free to attend.Please note that this is a woman only event including trans women, those who were assigned female at birth, and all others who identify as female, genderqueer or non-binary.
ADVERTISEMENT - CONTINUE READING BELOW
Related Stories from Preview.ph






Hey, Preview readers! Follow us on Facebook, Instagram, YouTube, Tiktok, and Twitter to stay up to speed on all things trendy and creative. We'll curate the most stylish feed for you!