A new year means a new set of events for the yearly astronomical calendar, and if you're a sucker for meteor showers, and jaw dropping eclipses then brace yourself because 2021 is full of amazing sky shows to watch out for. Don't want to miss any of it? We've got you covered!
Below we list down 10 of the most-anticipated astronomical events this 2021.
TOP STORY: 10 Universally Flattering Hair Color Ideas If You're Planning a Makeover
Quadruple Conjunction (March 9/10)
According to the Washington Post, we can expect a rare quadruple conjunction to grace the skies this March. Mercury, Saturn, and Jupiter will all reportedly line up perfectly while the crescent moon sits alongside them in the distance. "All three will be visible with the naked eye in the predawn sky, with Jupiter being the brightest in the middle," they further explain. Venus will join the three planets as the sun rises in the Northern Hemisphere, but will only be viewable along with the trio for a quick 15 minutes.
ADVERTISEMENT - CONTINUE READING BELOW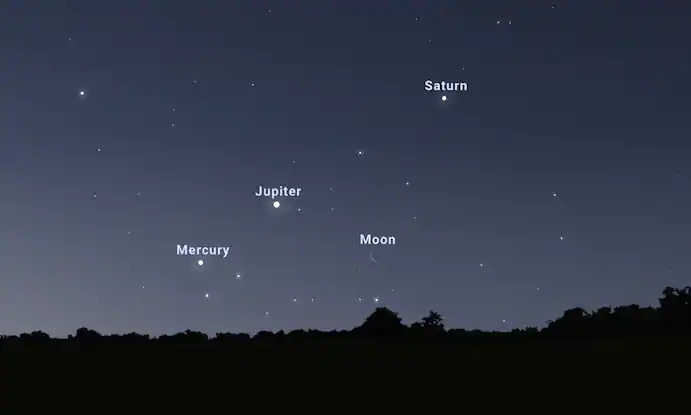 Lyrid Meteor Shower (April 22/23)
The annual Lyrid Meteor Shower is expected to reach its peak by April 22 and 23 of this year. Coincidentally these given dates were also exactly when the Lyrids peaked last year. According to seasky.org, these shooting stars may be best seen "from a dark location after midnight."
CONTINUE READING BELOW
Recommended Videos
Super Moon/Pink Moon (April 27)
While we've long established that April's yearly Pink Moon won't actually provide us with a cotton candy ball in the sky, what makes the full moon for April 2021 so special is that it's also projected to be the first of three supermoons in the year. As per earthsky.org "A supermoon is a new or full moon closely coinciding with perigee, the moon's closest point to Earth in its monthly orbit…it has to come within 90% of its closest approach to Earth to be dubbed a supermoon." So don't be surprised come the 27th if the moon looks a little larger and closer than usual.
Total Lunar Eclipse (May 26)
If you want to see the moon turn into a rusty, blood red color then don't forgot to look up at the sky on May 26. FYI "A total lunar eclipse occurs when the Moon passes completely through the Earth's dark shadow, or umbra," explains seasky.org. This special eclipse will reportedly be viewable from parts of eastern Asia, Australia, and western North America.
ADVERTISEMENT - CONTINUE READING BELOW
Annular Solar Eclipse (June 10)
The appearance of this year's "ring of fire"—when the moon only covers the sun's center—will only be seen by locals from Northern Canada, Greenland, and parts of Russia. Hopefully though they'll be taking pictures for us skywatchers on the other side of the world.
ADVERTISEMENT - CONTINUE READING BELOW
Perseid Meteor Shower (August 12/13)
Best known for being one of the brightest and active meteor showers, the Perseids usually grace our skies between July 17 to August 24. For 2021, this astronomical event will reach its peak on August 12 and 13, where observers can expect up to 60 meteors zooming past per hour.
ADVERTISEMENT - CONTINUE READING BELOW
Blue Moon (August 22)
According to astronomers a Blue Moon only comes once every two to three years, and no it won't actually look blue. So if we recently had one on October of 2020, why are we experiencing another Blue Moon so early on after the last? Well, as it turns out the Blue Moon actually has another definition. That is "the third of four full moons in a single season, with a season being between a solstice and equinox," as expounded on by earthsky.org. Hence, the full moon coming this August may also be considered a Blue Moon.
Total Solar Eclipse (December 4)
A Total Solar Eclipse occurs when the moon completely blocks the sun, thereafter highlighting the sun's corona. Unfortunately, this cool phenomenon will be restricted to Antarctica, while a partial eclipse will be seen throughout South Africa.
ADVERTISEMENT - CONTINUE READING BELOW
Geminid Meteor Shower (December 13/14)
Producing 120 multicolored meteors per hour at its peak, the Geminids is the known as the "king" of meteor showers. This 2021, these set of shooting stars will be visible from December 4 to 20, but will demonstrate its best sky show on December 13 and 14.
Ursid Meteor Shower (December 22/23)
Though only considered as a mild meteor shower, the Ursids will be the last shower of 2021 with its peak occurring on December 22 and 23. We say it's the perfect time to catch a shooting star and wish for an awesome 2022 ahead.
Related Stories from Preview.ph
Hey, Preview readers! Follow us on Facebook, Instagram, YouTube, Tiktok, and Twitter to stay up to speed on all things trendy and creative. We'll curate the most stylish feed for you!