Tanghalang Ateneo's Marisol is as compelling as it is disturbing. The titular character, Marisol, may well be having the worst week of her life. After being assaulted in a dark alley and losing sleep over loud, incorrigible neighbors, her guardian angel appears to her only to announce her departure from Marisol's life. Why? Their God has grown old and senile, planning on bringing the whole world with him to his grave, and it's up to the angels on high to throw a coup d'etat to save the whole of humanity. What comes after this somber scene is a series of vignettes illustrating a world gone mad, thrown into chaos, where neither time, geography, nor any form of sense exists, and in the middle of it all is a perpetually confused yet dauntless Marisol.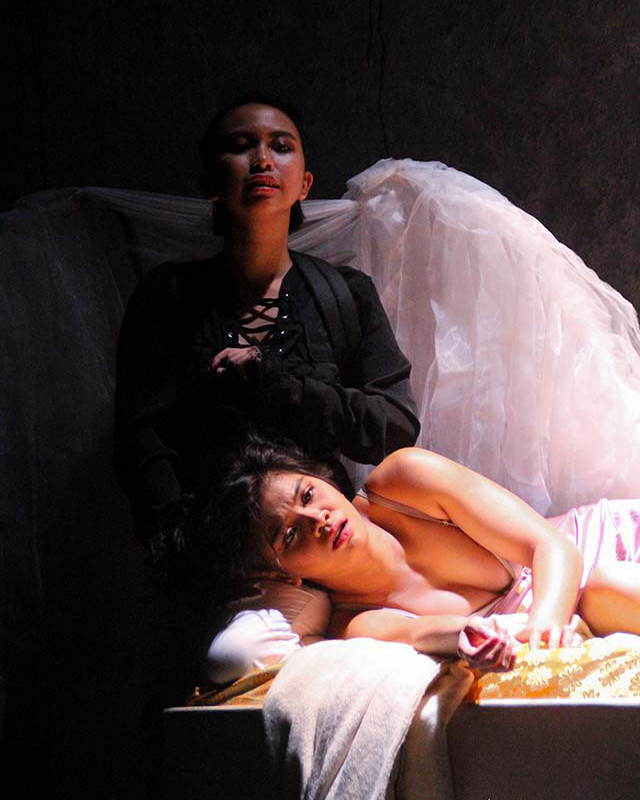 ADVERTISEMENT - CONTINUE READING BELOW
Maddening as it may come off in the moment, it's refreshing for a story to treat its audience with intelligence and the ability to question for themselves, rather than being spoon-fed tired didactical ideas. It's almost impossible to fully grasp the play without getting into the headspace of its original author, Jose Rivera. Even the cast and crew admit to a shared confusion in the beginning of their artistic process. But what came of traversing the unknown and unfathomable by Tanghalang Ateneo's talents is a succesful, surreal commentary on our world today amid our senile "gods," and a society in need of a revolution to open their eyes to a world already in perile.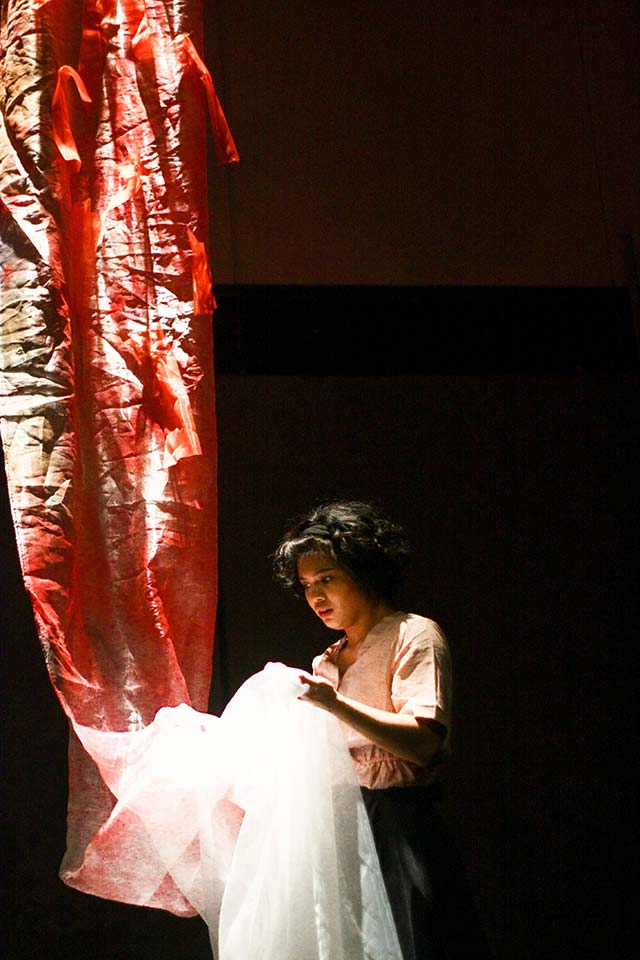 ADVERTISEMENT - CONTINUE READING BELOW
In a play that treads a thin line between the realistic and the downright outrageous, we're left to wonder how one would envision the sartorial sense of a world as magical as it is mundane. To find out more, we talked to Marisol's Costume Designer Darwin Desoacido (Ang Larawan: The Musical, Ang Huling Lagda ni Apolinario Mabini, My Big Bossing) and the Costumes Mistress Shannon Lauson (Dekada '70, Mula Sa Buwan) below.
Can you talk me through your process in designing the costumes?
D: "My process for designing the costumes for Marisol wasn't that easy or simple. I had to read the script twice and I kept telling myself, 'Ano nga ulit yung play?' Then I read it again and got some help from our director. Sabi ko sa kanya, 'Ang lalim ng play! At nakakabaliw siya,' and she said, 'Diba! Kaya nga ikaw kinuha ko kasi baliw ka din.'
ADVERTISEMENT - CONTINUE READING BELOW
"For my design process, I got some photos/pegs for each character and discussed it with our director for any changes or revisions. I also made sure that the color pallete blended well with each character para hindi mukhang sabog tignan. Neutral and earthy colors ang pegs ko for them."
S: "The process was also a mix of considering the script and an attempt at hinting at the contemporary or modern."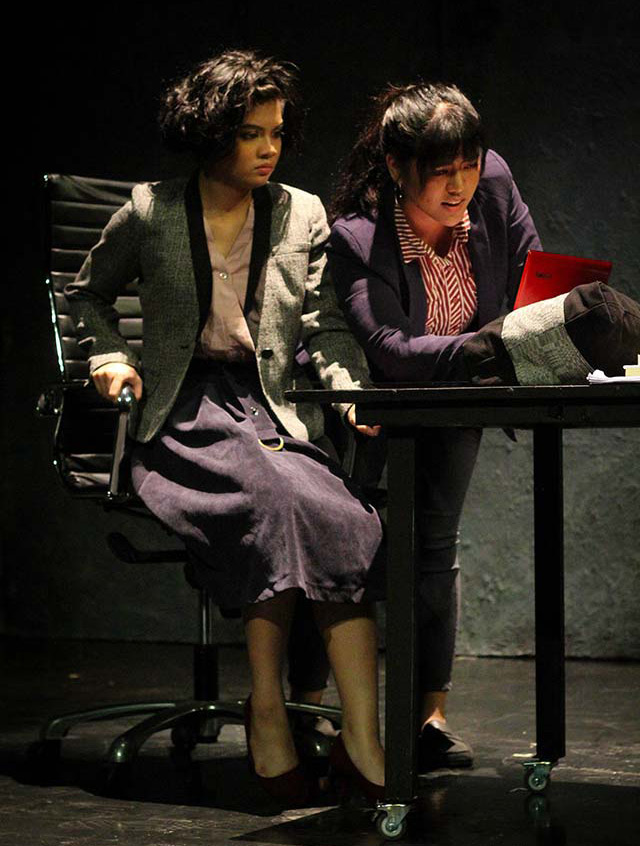 How would you describe the aesthetic you went for?
D: "The costumes were inspired from everyday clothes of 2019. Every day when I walk through the streets, nai-imagine ko ang mga characters sa mga taong nakakasalubong ko. I respect the text and I was guided by it. I was not limited by it, but still I chose to follow my artistic expressions, and of course it will not be possible with the help of Shannon and the costumes team sourcing out, canvassing, and putting the costumes together."
ADVERTISEMENT - CONTINUE READING BELOW
S: "Basically, we appealed to the magic realist sensibility of the play, but maintaining the pretense of everything being 'normal.' Reimagining the world at the brink of apocalypse brought about by a war of the heavens (a senile god, and his angels tired of his leadership). The most 'magic' we provided were the wings. Everything else echoes contemporary and modern aesthetic (i.e. Supreme shirt, ripped jeans). Hinayaan namin na ang magdala sa pagiging magic realist niya ay yung acting siguro."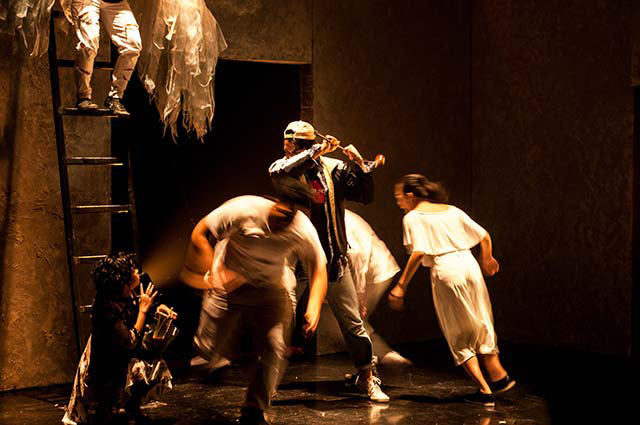 ADVERTISEMENT - CONTINUE READING BELOW

Marisol attempting to calm down the Rich Woman (Rosalaine Pesarit)
What was the process like in designing and creating the angel's wings? W

hat material were the wings made of?
D: "I used organza cloth for the wings because it's more appealing and looked like a portal to another world."
ADVERTISEMENT - CONTINUE READING BELOW
S: "The wings are called manual articulating wings. They're made out of pipes and ropes. They're more flexible than wood and lighter than steel para durable."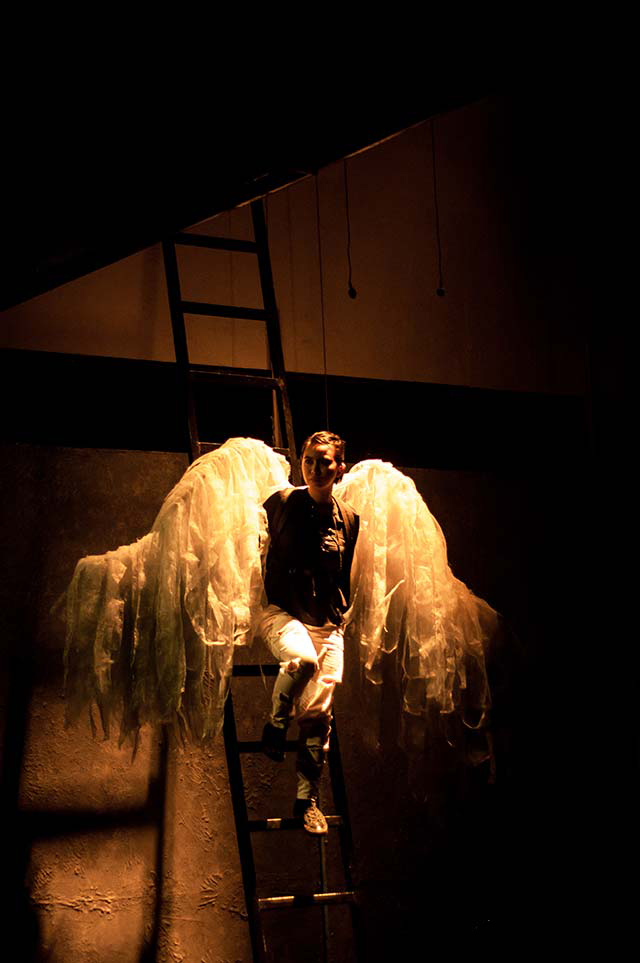 Did you face any challenges in designing the costumes?
D: "Yes! Especially the wings kasi kailangan siyang retractable. And we were opening in a couple of days but then hindi pa siya ganun kaappealing tignan on stage. So nag distress pa kami at nag dye ng wings."
ADVERTISEMENT - CONTINUE READING BELOW