Growing up, most of us thought of Antarctica as a place reserved for scientists—and, well, penguins. Later on, I've learned that people go there for reasons other than scientific research. Travelers from all walks of life visit the southernmost continent to take a cruise to catch some of its most breathtaking views, go stargazing (it has one of the most spectacular night skies), see the wildlife (seals, penguins, and whales are some of the regulars), kayak around icebergs, attend the Icestock Music Festival (seriously cool!) and run a marathon.
Yes, run a marathon.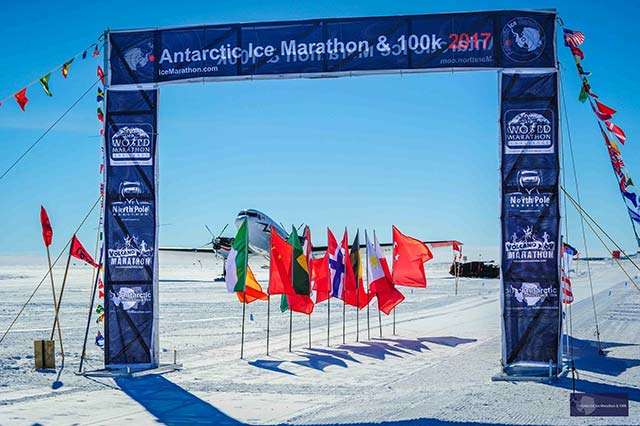 IMAGE Courtesy of Maggie Wilson-Consunji
The Antarctic Ice Marathon—the world's most southerly marathon—is spearheaded by Global Running Adventures, Inc., which also organizes the world's most northerly marathon, the North Pole Marathon; the world's highest desert marathon, the Volcano Marathon; and the World Marathon Challenge (seven marathons, seven continents, in just seven days). Whew!
ADVERTISEMENT - CONTINUE READING BELOW
This year, the Antarctic Ice Marathon took place on a moving glacier, called Union Glacier, where 55 runners from six continents braved the sub-zero temperatures and biting winds to complete the 42-kilometer course. The Philippines, we're proud to report, was well represented.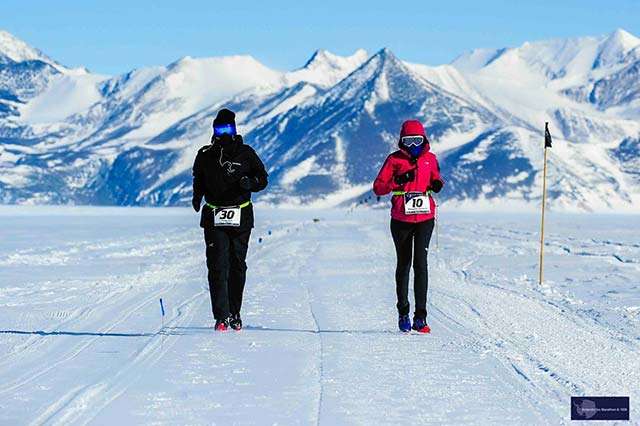 IMAGE Courtesy of Maggie Wilson-Consunji
Couple Victor and Maggie Consunji both finished strong, with Maggie being the first ever Filipina to finish the race.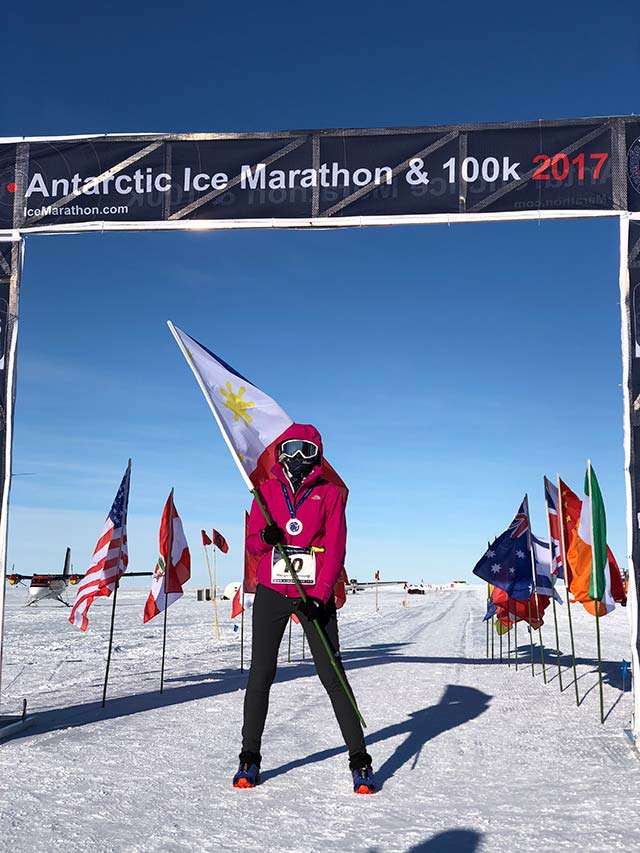 IMAGE Courtesy of Maggie Wilson-Consunji
Wearing a full balaclava with buff and visors to cover her head and face, keeping her upper body warm (or at least trying to) in a Merino wool-base top, insulation layer and a wind shell jacket, her legs in Merino wool-made layer, wind breaker pants, two pairs of wool socks, and her Salomon trail running shoes, she tested her mettle in the most extreme conditions. The TV host, former beauty queen, digital influencer, and entrepreneur can now add "Antarctic Ice Marathon finisher" to her growing list of achievements.
Below, Maggie shares her experience. Read on!
When did you start running? We heard this was your first full marathon?
"I started running in 2015 because my husband had decided to secretly register me for a half marathon. [Laughs.] Since then, I've been running mostly shorter distances mainly for exercise—I do five-kilometer to 10-kilometer [runs]. I've done two half marathons, though, my first being in Perth, Australia and one in Kenya, which I did about two months ago. But Antarctica was indeed my first full marathon."
Is there anything surprising about running that you have come to love?
"To be completely honest, I'm not a huge fan of running but the fact that I get to stay healthy and fit and basically eat whatever I want is definitely something I love."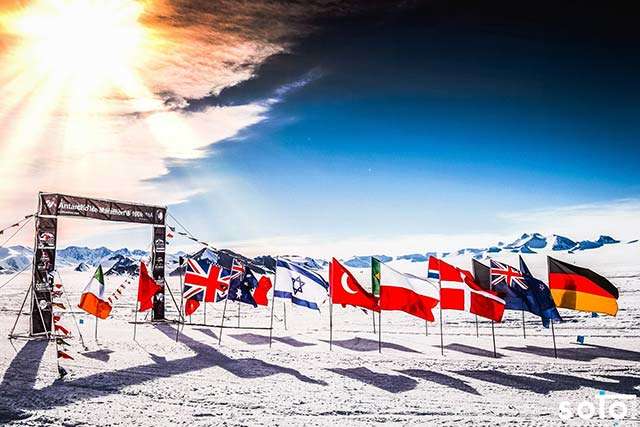 ADVERTISEMENT - CONTINUE READING BELOW
IMAGE Courtesy of Maggie Wilson-Consunji
How did you come up with the decision to join the Antarctic Ice Marathon?
"Well, last year, my husband had this crazy idea of running a marathon on every continent and Antarctica would be continent number seven. He was the first Filipino to run a marathon in the North Pole, too. So this 'race-cation,' as we like to call our run trips, was the last race he needed to do to get qualified in the 7 Continents Club and Grand Slam Marathon Club and as always, I would just tag along. The price of the trip would've cost the same whether I decided to run the marathon or not so I figured, why not get a medal out of it? I would also get to be the first Filipina to do it. So it was kind of a no brainer."
How did you train for it? How long before the race did you start training?
"Well, I ran the half marathon in Kenya a month prior to the Antarctica race so I just continued training from there. I'd say I had about two to three months of training. Training is pretty straight forward. I just made sure I got my runs in at least three times a week."
Did you enlist the help of a trainer?
"When Vic and I first started running, we hired Coach Jojo Macalintal. He fixed our running form and breathing so that we could both become better runners. He's also my husband's coach for his Ironman trainings."
With a busy lifestyle, how did you space out your training? How did you fit it in?
"Most people like to get up extra early to go for a run but I really enjoy training at night. I try to run a minimum of three times a week or if I'm being extra, every other day. And I run quite late, normally between 8 and 10pm. I just feel my body is strongest at night."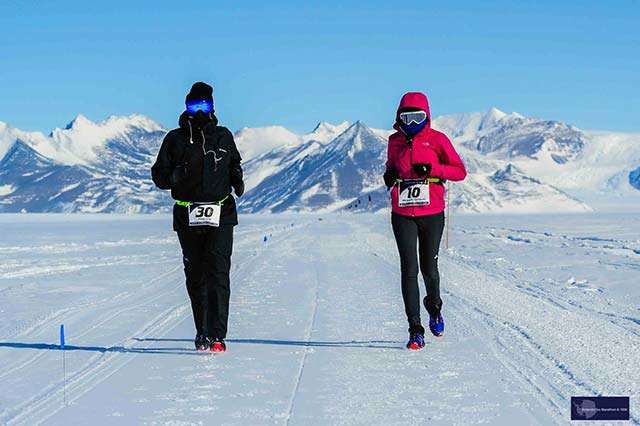 IMAGE Courtesy of Maggie Wilson-Consunji
How about diet? Did you have any special dietary requirements?
"In terms of food intake, I'm one of those runners that need fuel before a run. Normally, runners who train in the morning do so on an empty stomach. I like to make sure I get my nutrition in about an hour or two before a run. Eating carbs and lots of protein is a must. When I'm training, I definitely find myself eating more than the usual. Running a half marathon could easily burn about 1000 to 2000 calories depending on how hard you push, so eating well is a must. Protein is also vital for faster muscle recovery so I drink a protein shake before and after a run or workout.
ADVERTISEMENT - CONTINUE READING BELOW
"On race day, I make sure to eat before the race. I also pack nutrition gels in my belt, which I take every four kilometers so I don't burn out all of my stored energy too quickly. Hydrating is also extremely important. Aside from drinking tons of water, I like to fill my bottle with either Gatorade or G-Active to replenish the electrolytes you lose from sweating. The last thing you want is a dry mouth. And just in case, I take salt sticks with me, too, to avoid muscle cramping."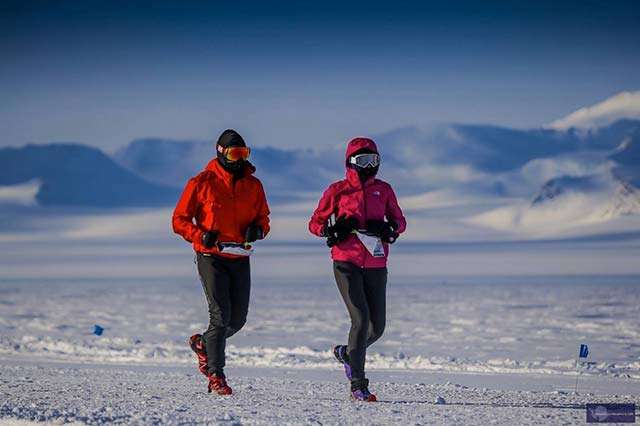 IMAGE Courtesy of Maggie Wilson-Consunji
What were your thoughts about Antarctica before the race?
"Antarctica isn't exactly the easiest place to visit but traveling to far and remote places is always something that excites me. I'm not particularly a fan of the cold either but getting to tick off 'Travel to all seven continents' off of my bucket list sounded really enticing. Plus, penguins! [Laughs.] I knew it was going to be freezing and not the most glamorous of trips but it would be an adventure of a lifetime."
How many other people joined the race?
"There were 54 other people from all over the world who did the full marathon this year. Not a lot people get to say they've run a marathon in Antarctica so it's a pretty exclusive 'club' to be a part of. Less than 500 people have ever done it, 475 brave souls to be exact."
Tell us about the race itself. What were your highs and lows?
"It was challenging and painful to say the least. While both Vic and I ran it, my husband is a much stronger runner than I am. We had to do four 10-kilometer loops and I only ever saw Vic twice. And because there were only 55 runners, sometimes you'd find yourself running alone with just the snow and the mountains in the background, with nothing but sound of your shoes crunching the snow with every stride. At times, being alone felt serene but when you're out there in sub-zero temperatures with no one else around for a couple of kilometers, it could really mess with your head. It's not your typical marathon where hoards of people crowd the race track to cheer you on; in Antarctica, you are your own cheerleader most of the time.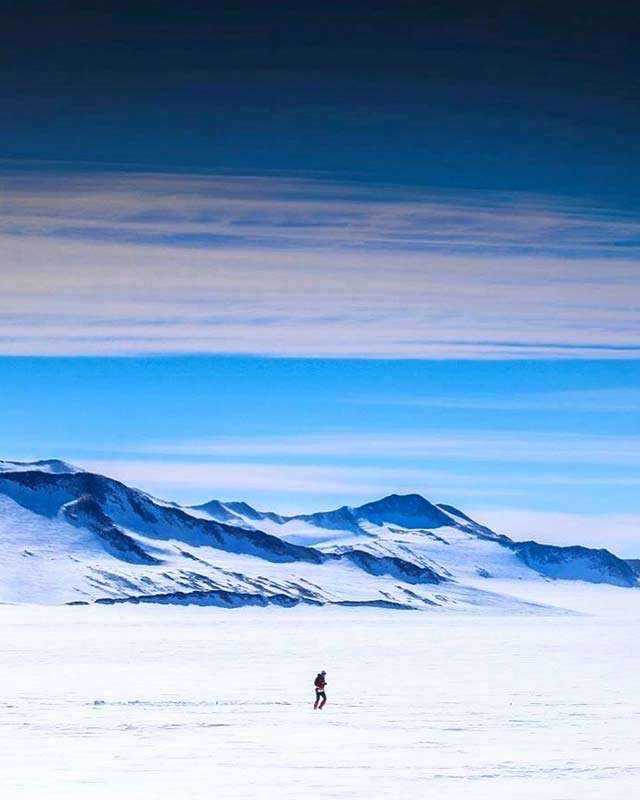 ADVERTISEMENT - CONTINUE READING BELOW
IMAGE Courtesy of Maggie Wilson-Consunji
"I was fortunate enough though to meet another runner who's just as crazy as I am to pick the Antarctic Ice Marathon as their first. His name was Peter. He joined the race with his daughter. And he was my biggest 'high' apart from crossing the finish line. When we saw each other on the course, we kind of decided to run the race together and having someone keep you company for hours really does help get you through it. We ended crossing the finish line together."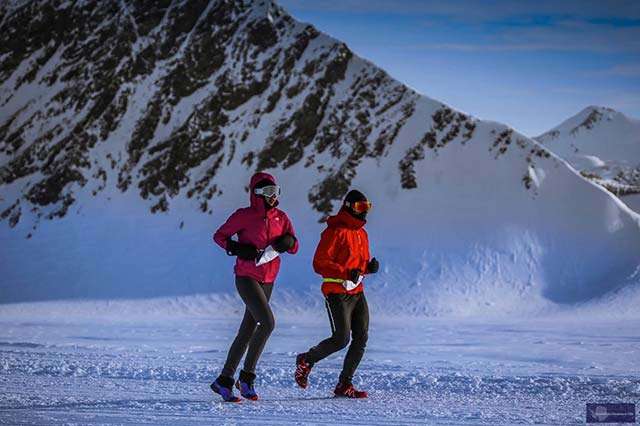 IMAGE Courtesy of Maggie Wilson-Consunji
What was most challenging about the race? Did you ever have a moment when you just felt like giving up?
"Aside from the weather conditions, which was -20 to - 25°C with 30kph winds, the most challenging part was not giving up. My husband told me before the race that if I ever felt I couldn't complete the full marathon, I could tap out after 21 kilometers and get a medal for that instead. And believe me, that sounded like the best thing ever after doing 21 kilometers. But I told my husband, I wasn't raised to be a quitter. By kilometer 30, I cried a little. No one could see it though because my face was completely covered. Before the race, the furthest I've ever run was 22 kilometers. So doing 30 was overwhelming and knowing that I had another 12 kilometers to go was both a joy and a curse. I knew I only needed to do one more loop to finish but it would be the most painful and longest 12 kilometer I'd ever had to do."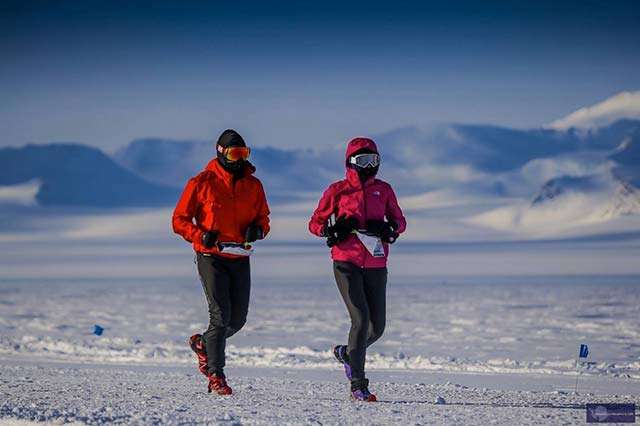 IMAGE Courtesy of Maggie Wilson-Consunji
Tell us about the terrain.
"The Antarctic Ice Marathon is the only marathon that is done on the continent itself. The location where the camp and course was situated was on top of a moving glacier, called Union Glacier, which moves about 25 meters per year. The course was well mapped out, with lots of markers and if you deviated from the course or tried to take a 'shortcut,' you'd fall into a crevasse. So basically, you're running on top of a glacier."
ADVERTISEMENT - CONTINUE READING BELOW
Tell us about the weather.
"The average temperature was -12°C but with a wind-chill of -20 to -25°C. At the beginning of the race, the winds were almost nonexistent, but it picked up half way through and when you're trying to 'run' against the wind, you put out a lot of effort but you're not really covering a lot of ground. The course was beautifully manicured by the staff of the camp, Antarctic Logistics & Expeditions, but because of the unexpected winds, half the course became covered in soft snow, which kind of feels like running on soft sand if I had to compare it to something. And that made the race all the more challenging. "
What was going on in your mind as you were about to cross the finish line?
"I remember seeing the finish line from about a kilometer away during my final stretch and you realize that's it, you're almost there, and all of a sudden, all the pain in your legs disappear and you want nothing more than to cross it as fast your legs can take you. All the other runners that had finished before me, the marathon organizers, photo and video crew and the Union Glacier, A.L.E. staff were all lined up to cheer for me and my run buddy, Peter. Crossing that finish line felt magical and surreal. I couldn't believe that I did it. I think my husband though was a lot prouder of me than I was of myself because he finally managed to con me into doing a full marathon. [Laughs.] But seriously, the natural high you get from finishing something that, in my eyes was brutal and probably one of the hardest things I've ever had to do was just euphoric."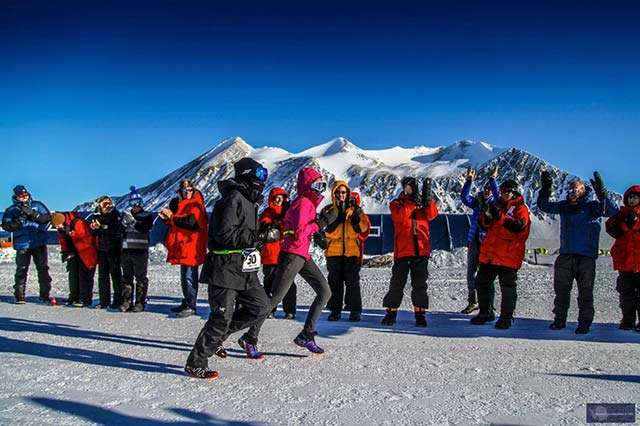 IMAGE Courtesy of Maggie Wilson-Consunji
Would you do it again?
"I don't know if I'll ever do another marathon on Antarctica. I also never thought I'd ever do a marathon period. Never say never, so yes, I might just do another one again someday. And for the record, I didn't really tell anyone that I was doing the marathon out of fear that I wouldn't finish, but I did it and if someone like me, who hates running, can do it, so can anyone else. The running community anywhere in the world is a great community to be a part of. And if you ever think you can't do it because of your weight or height, know that runners come in all shapes and sizes. Running is about discipline and more importantly, heart. Truly a humbling experience."
ADVERTISEMENT - CONTINUE READING BELOW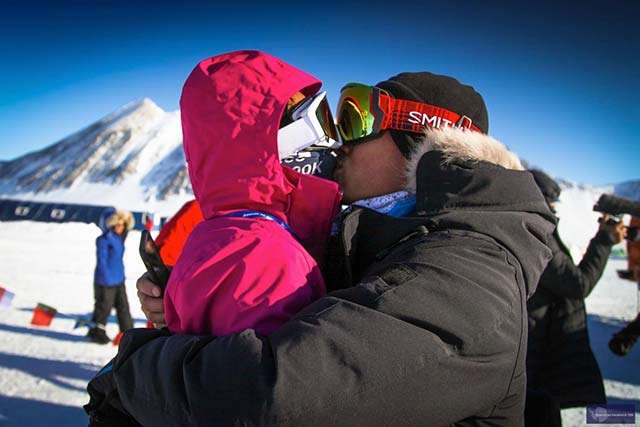 IMAGE Courtesy of Maggie Wilson-Consunji
Related Stories from Preview.ph
Hey, Preview readers! Follow us on Facebook, Instagram, YouTube, Tiktok, and Twitter to stay up to speed on all things trendy and creative. We'll curate the most stylish feed for you!