Having starred as the wide-eyed yet head-strong Aria Montgomery in Pretty Little Liars for seven years, Lucy Hale knows a thing or two about retaliation and revenge. While her character in PLL, along with her four best friends—Emily, Spencer, Alison, and Hanna—received the brunt of the beating from the enigmatic and malicious A, Lucy's role in her new film, Blumhouse Productions' Fantasy Island, wears the shoe on the other foot.
Based off the TV series of the same name, Fantasy Island, a supernatural horror thriller, follows five strangers as they embark on an island that promises to grant their deepest desires. Amongst the group is the feisty Melanie who, after being humiliated by one girl her entire high school life, is now out to get sweet, sweet revenge—even if her sought after payback comes in the form of her arch nemesis' hologram. Thus, kickstarts her own fantasy. But, as Melanie and her comrades will soon find out, oftentimes our greatest wants come with terrifying consequences.
ADVERTISEMENT - CONTINUE READING BELOW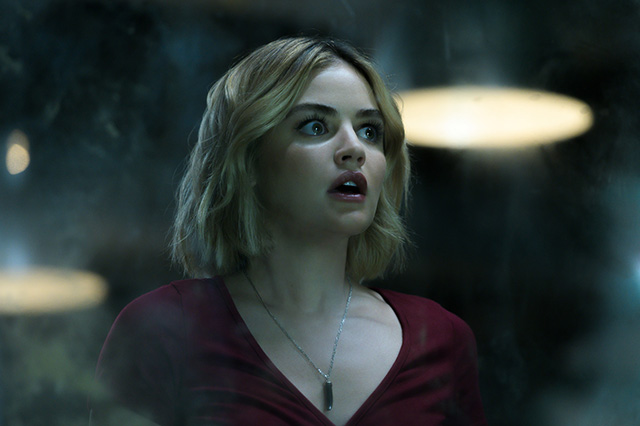 Suffice to say, if you're an OG PLL fan who had hoped for one of the main girls, particularly Aria, to turn out as A, you'll definitely get a kick out of Lucy's character in Fantasy Island. After all, it's the role that she admits to being her most challenging so far.
ADVERTISEMENT - CONTINUE READING BELOW
Find out why in our exclusive interview with the actress, below.
What about the role or the story made you say yes to this project?
"I think Melanie has quite an interesting arc in the movie, and there's so many different sides to her. She was very dimensional, which I thought was very cool. Obviously shooting in Fiji for two months was a wonderful selling point and I love the genre. It was really fun. I read the whole script and I thought it seemed like a lot of fun, and sure enough, it was. I got to do things I hadn't ever done before."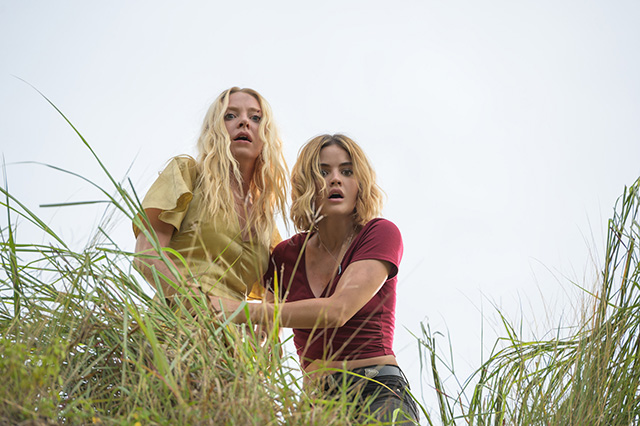 Your character's fantasy hinges on the need to get revenge.
Knowing her real motivation at the end of the movie, how did you as an actor justify Melanie's actions in your head?

ADVERTISEMENT - CONTINUE READING BELOW

"Yeah. I mean I think that was the challenge is what Melanie did, and the things she was saying, and the things she was doing go against everything I believe in as Lucy. Usually, in my characters, I try to find some truth and reality to it. So, that was the challenge, believing in what Melanie was thinking and feeling and justifying it, because Melanie truly believed in what she was doing and saying. So that in my opinion was the biggest challenge I've had probably for a role so far."
These five people came to the island chasing after a fantasy that in a way could satisfy a discontent that they had in their real lives.
Personally, what steps do you take to stay happy or at the very least content with your own life?

ADVERTISEMENT - CONTINUE READING BELOW

"Just live in the moment. Live each day like it could be your last. Just be very present. Love what you do. Surround yourself with good people. Take time for yourself. Very simple things. Harder said than done. But you know, this is your life so live it on your terms. Treat people well."
By the end of the film, what would you like the audience to take away from your character specifically?
"Um, don't hate her. No. [Laughs.] I mean I think that there's so many takeaways from the movie, but ultimately I think I just want people to have fun watching it. But on a deeper level, I think that if people are going to take anything big away from it, I think that you can see the long term effects of bullying and what it can do to someone. It's a very real issue that we deal with."
ADVERTISEMENT - CONTINUE READING BELOW
If you were to have one fantasy come to life, what it would be?
"I'm an Elvis Presley fan. So, I would love to just get to meet him. I love him so much I named my dog Elvis."
Fantasy Island is out now in cinemas, nationwide.