Chef Myke "Tatung" Sarthou has never been one to hide his roots. From writing cookbooks that explore the history and how-to's of essential Filipino dishes, to whipping up Filipino eats at his restaurants (Pandan Asian Café for casual but no-nonsense renditions of classics, along with other Southeast-Asian gems; Tatung's in Antipolo for upscale fare with Filipino flair), to spreading his know-how sans the pretense with his famed cooking show, Simpol, his love for the cuisine of the motherland is apparent.
Just talk to the celebrated chef about Filipino food and you're bound to learn something new—like how Cebuano binignit differs from ginataan by the absence of bilo-bilo in the former. Or, as the author would learn during her visit to his newest dining spot Lore, how regions like Ilocos, Cavite, and Pampanga have their own version of Mexico's pipian sauce—one that often gets its body from squash seeds and an orange hue from atsuete.
ADVERTISEMENT - CONTINUE READING BELOW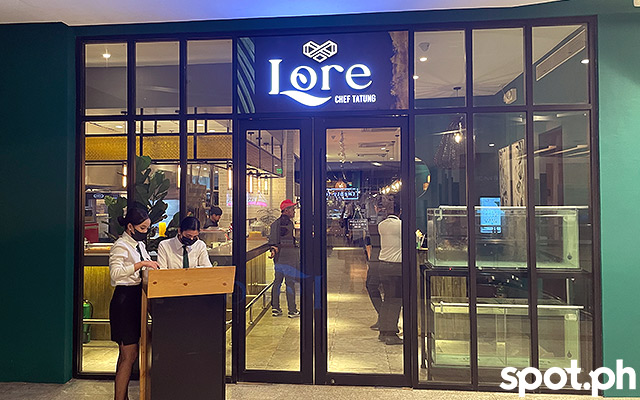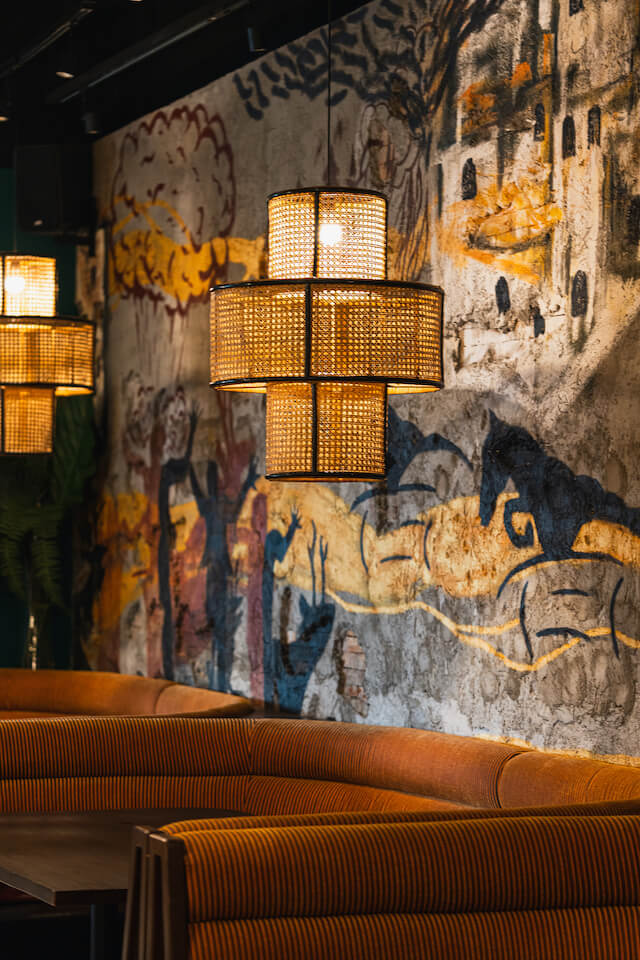 But we're getting ahead of ourselves. You're bound to have seen Lore on the feeds of your favorite food folks in the past week. The restaurant's been buzzed about, for good reason. Here, Chef Tatung tells a story that's part-historical, part-cultural, and part-personal—with local ingredients and flavors as the medium.
Local flavors form the backbone of the tasting menu at Chef Tatung's new Filipino restaurant:
Go up to the third level of One Bonifacio High Street mall and you'll find Lore. "Modern tropical" is the name of their interior game, with rattan chairs, teal walls, and a mural of animals from folklore around a campfire. It's an urbane but laid-back setting where you'll feel special for sure, but you can absolutely come as yourself. Lore need not rely on pretense, after all. It's the food that does the talking here.
ADVERTISEMENT - CONTINUE READING BELOW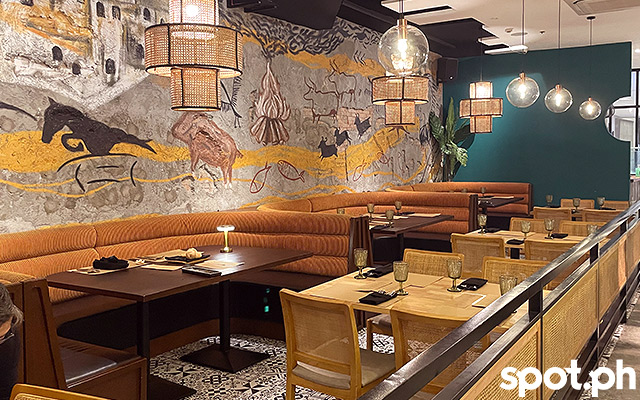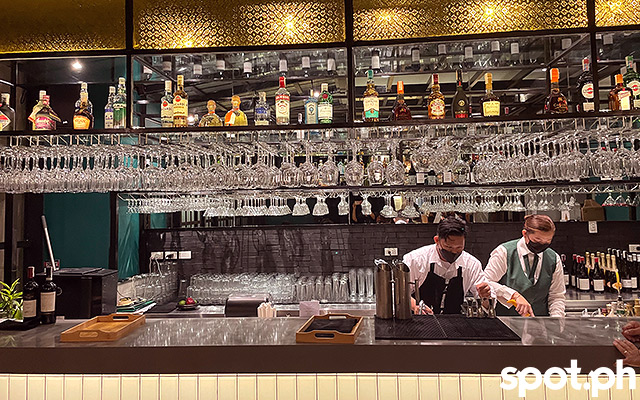 ADVERTISEMENT - CONTINUE READING BELOW
It's hard not to draw comparisons to Chef Tatung's other recently opened venture, Tatung's, which also goes by the fine-dining, tasting-menu genre. Being in BGC, however, Lore is described to be more "modern" in approach. "Siguro we're more chef-y here," Sarthou tells us. "But [it's] still very focused. Alam mo 'yong style ko, medyo tuhog eh. Not all over the place." And his magnum opus in this case is their veritable tasting menu, entitled Tapestry, which presents flavors from different time periods, and can be had in its five-course (P2600), seven-course (P3600/regular, P4000/pescetarian), and the full 10-course (P4800) iterations. The chef draws from multiple arenas to come up with dishes—from the personal to the cultural to the historical. As Chef Tatung says in a statement: "When you talk about Filipino food you cannot remove it from the context of our culture and history."
ADVERTISEMENT - CONTINUE READING BELOW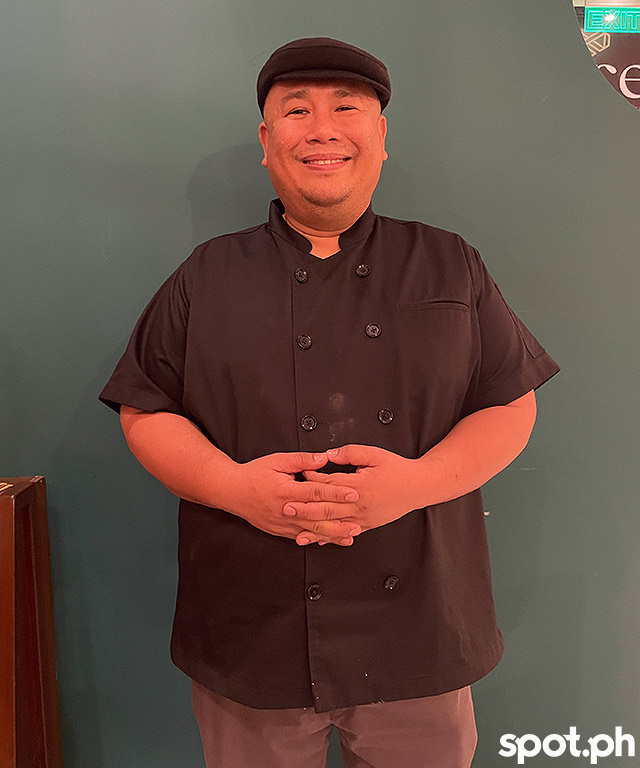 Now the prospect of a degustation can intimidate casual food fans who aren't necessarily into the whole fine-dining sphere. Fair point. But while Lore does take its culinary game seriously, it never strays far from being approachable. The presentations and mediums of expression are novel, alright, but the flavors are very much familiar. Case in point? The nostalgia-inducing Sari-Saring Palaman at Tinapay that involves a platter of spreads: tinapa butter (one that's rightfully smoky and umami), chicken liver pâté (which has a garlicky, peppery note versus its continental counterparts), calamansi mostarda (think preserved strips of rind), and chicken galantine with a dollop of rum-raisin jam for sweetness. Mix and match as you please on Chef Tatung's selection of homemade breads—baguettes, rolls, and pan de sal. Cue memories of sitting at the breakfast table with panaderya goods, morning chill and sound of early-a.m. shows blaring from the 'tube and all, before heading to school or work.
ADVERTISEMENT - CONTINUE READING BELOW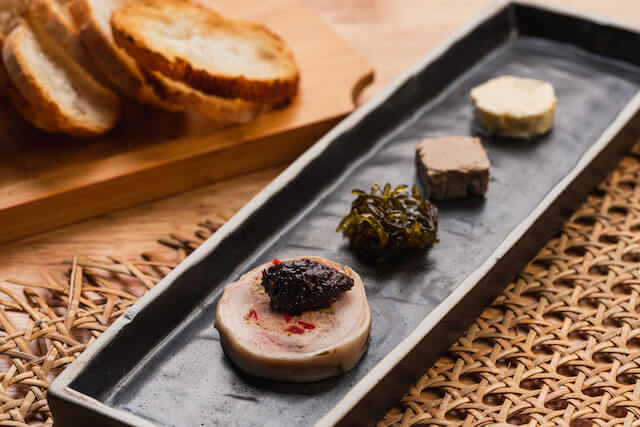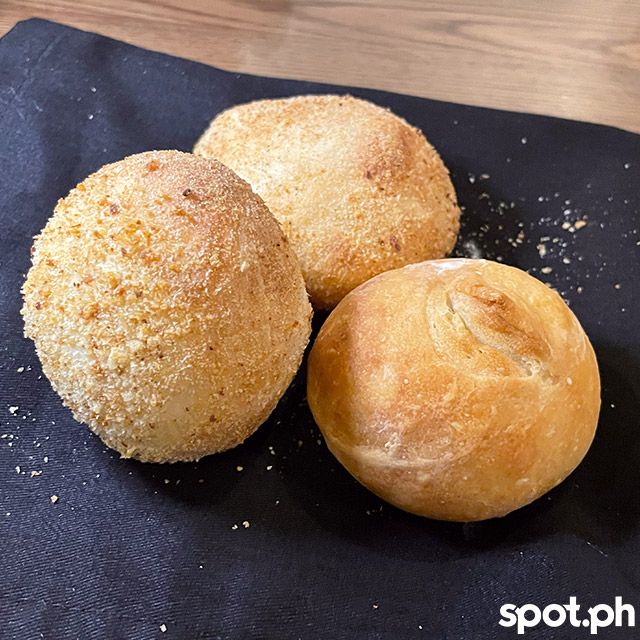 ADVERTISEMENT - CONTINUE READING BELOW
We proceed with bites that draw from his own experiences. He gets personal in the Kinilaw, inspired by previous trips to the beach where he'd consume the dish's namesake as pulutan with boiled bananas or sweet potatoes on the side. Lore's take brings together raw tuna, sea urchin, and pickled pineapple layered together into a petit timbale. In between forkfuls, you can nibble on the sweet-potato strings on the side to balance out the vibrancy of the seafood.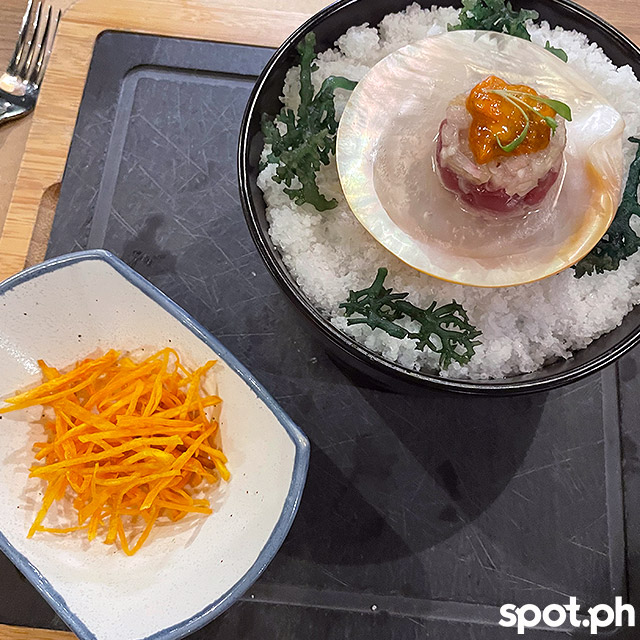 ADVERTISEMENT - CONTINUE READING BELOW
Memories of visiting Parian in Cebu—an area said to have had its own Chinatown (an arguable counterpart of it, at least)—led to the creation of the next course in the concert. The Camaron Relyeno has caul fat encasing a pork-prawn sausage that brings to mind ngohiong, what with its savory-sweet profile with a tinge of what seems to be five-spice. Adding tanginess to the mix is the glossy sauce on the side, which Chef Tatung reveals to be made with haw flakes—yup, the candy of Chinese origins that gets its plum-like taste from hawthorn berries.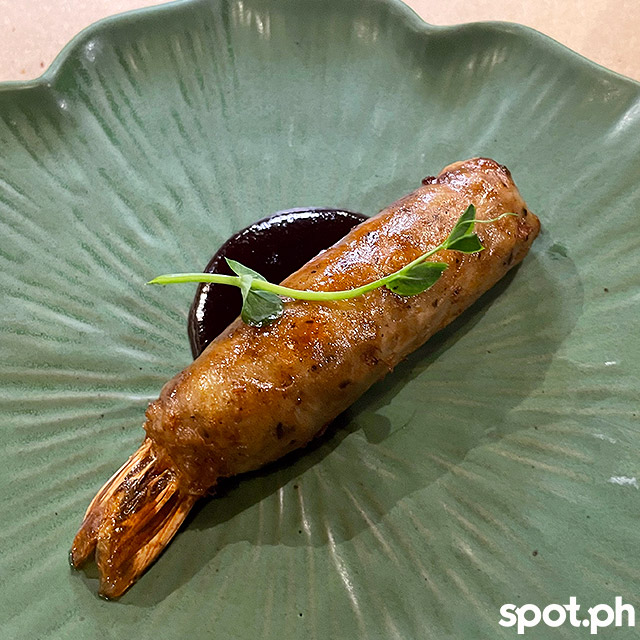 ADVERTISEMENT - CONTINUE READING BELOW
Chef Tatung honors tradition for the most part, but also isn't afraid to throw in their own twists where appropriate. In the Lumpia Fresca—a play on lumpiang sariwa—the infusion of squid ink into its blanket of a crepe brings a whisper of brininess to the mix. (Sure doesn't hurt that it colors the crepe a sexy shade of black, if we do say so ourselves.) Underneath is shrimp and crab meat—the seafood-y profiles of which are brought out by a white garlic sauce—plus strips of turnip for crisp-tender contrast.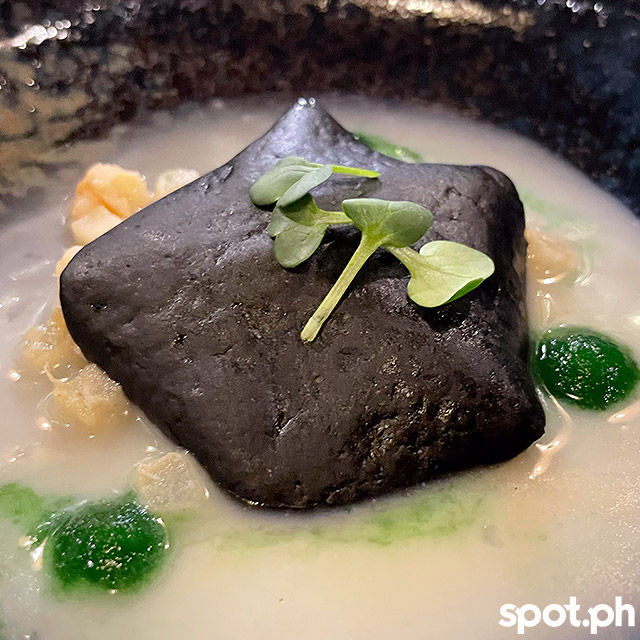 ADVERTISEMENT - CONTINUE READING BELOW
He likewise recognizes the role of cultural crossovers in shaping our cuisine today. Which brings us to the aforementioned Filipino version of pipian. The chef gets inspiration from the Kapampangan interpretation of the sauce and fashions his own take with green tomatoes, spinach, and almonds. Part-zingy and part-rich, the sauce lends brightness and body to a duet of smoked hamachi and scallops in the Mariscos con Salsa Verde. It's just the thing to bring out the subtle sweetness of the seafood, which happen to be cooked to the right soft, succulent state, too.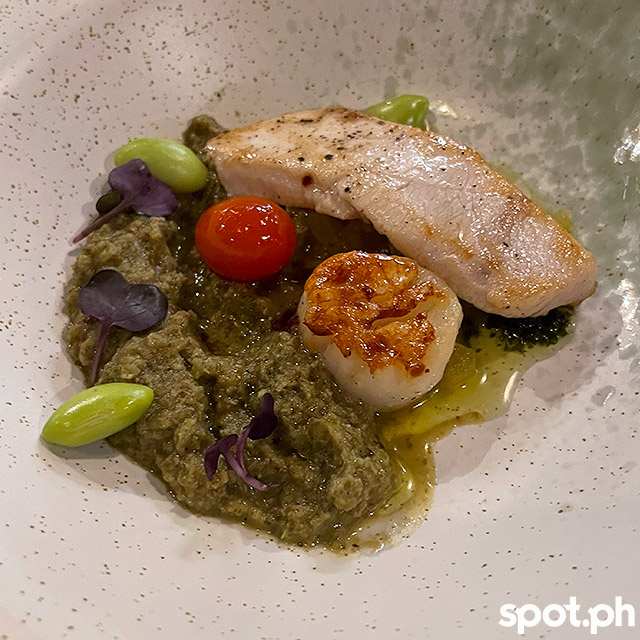 ADVERTISEMENT - CONTINUE READING BELOW
Beyond present-day customs, Chef Tatung also looks at the past and brings to the forefront oft-forgotten tidbits of history. "Some [courses here at Lore] are really research-based [recipes] which we like to replicate [and] reintroduce to the Filipino," he tells us. He talks about an under-the-radar recipe by writer and wearer of many hats Pura Villanueva Kalaw: the pollo con salsa tsokolate, described to be similar to adobo but with tablea (another Mexican influence that came by way of the galleon trade).
Sarthou pays ode to the said dish with for Lore's Pato con Salsa Tsokolate. It switches the OG's chicken for duck—the legs slow-roasted and shredded a la pulled pork, the breast seared and sliced to showcase its succulent meat—and pairs the meats with tablea-infused sauce reminiscent of Mexican mole. Part-savory, part-bittersweet, and just a touch tangy, the salsa stands up beautifully to the richness of the meat. A helping of grilled corn salsa on the side also refreshes the palate in between forkfuls—if only to keep us going back for more of that buttery duck.
ADVERTISEMENT - CONTINUE READING BELOW