After living in a condominium in Makati, Kris Aquino marked a milestone in 2013 when she and her kids moved into this three-storey property in Quezon City. The house, which has an enchanting garden, features open spaces, investment furniture pieces, and a homey cottage-inspired aesthetic. Before moving into the house, Kris decided to renovate it with the help of interior designer Rossy Yabut-Rojales and the Heim Interiors team.
Despite its size and the adjustments involved, the renovation only took three and a half months. "Ang bilis, considering malaki 'yong house. We had to take down some walls and do some expansion. The original house kasi, ang natira lang bale 'yong shell niya, the structure itself. We had to make the necessary adjustments according to Kris's needs. Plus, i-factor-in mo pa 'yong feng shui. Ang vision niya kasi is parang it's more of the Hamptons, 'yong classic na country home na perfect for the family," explains Rossy. From the striking green front door to the huge walk-in closet on the third floor, this house is truly a must-see! Take a virtual tour and check out the photos below:
Living Area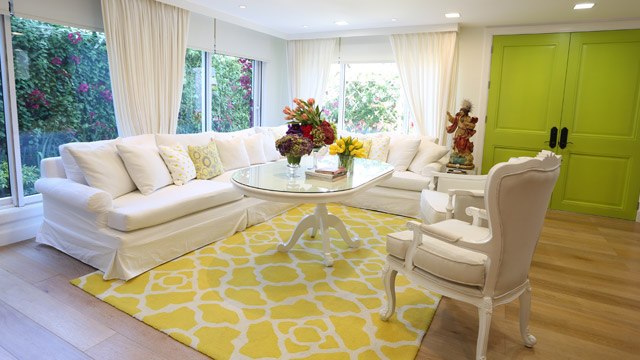 IMAGE YES Magazine
The living area has an undeniable country vibe, with huge windows letting in plenty of natural light. Having a view of the outdoors can make one feel like they're far from the city, too. Summery colors like chartreuse and yellow, as seen on the front door and area rug respectively, work well with the furniture pieces in white, completing the soothing ambiance.
ADVERTISEMENT - CONTINUE READING BELOW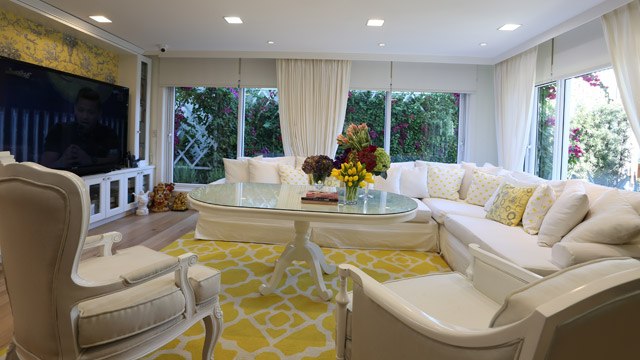 IMAGE YES Magazine
Since the area rug and the Thibaut wallpaper design behind the TV are already captivating, opting for white furniture pieces maintains a clean and cozy feel while avoiding an overdecorated look. The sectional sofa, stately upholstered chairs, and the glass-top table in the middle of the space are custom-made pieces.
Instead of an ordinary coffee table, Kris wanted to have something with the height of a dining table. "Parang kasi sa previous houses niya, sa living room, di ba you have a coffee table, pero you don't really use it naman? Ang sabi ni Kris, 'yong family niya their routine and lifestyle talaga most of the time, they're eating, working on their laptop. So they wanted to have this table to have the height of a dining table," explains Rossy.
Find a similar table at Lucina Home.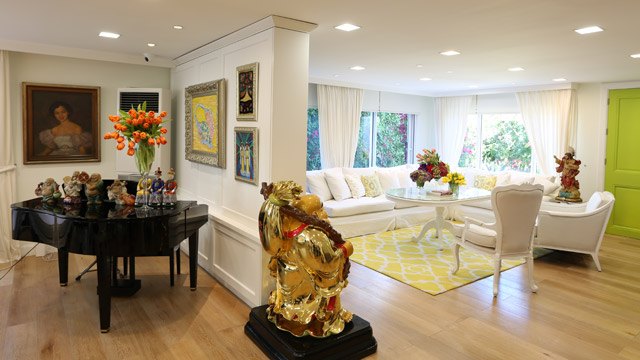 ADVERTISEMENT - CONTINUE READING BELOW
IMAGE YES Magazine
Separating the living area from the dining and kitchen areas is a TV cabinet that holds the TV, a couple of knickknacks, and several books. Not to be missed is a golden Buddha statue that stands guard beside the storage unit. In renovating the home, Rossy had to consider the principles of feng shui. Meanwhile, a black electric baby grand piano sits behind the TV cabinet and spruced up with blooms and more Buddha figurines.
Dining Area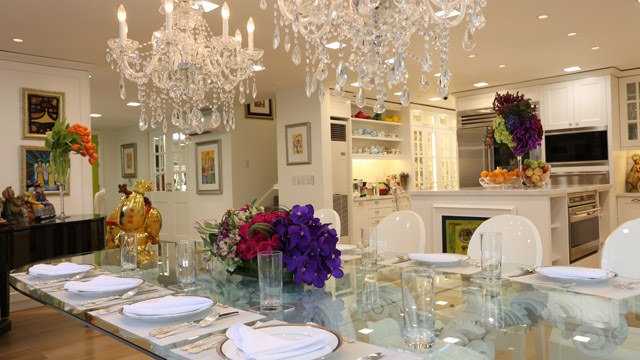 IMAGE YES Magazine
Adding elegance to the dining area are matching chandeliers and a beautiful dining table that has been with Kris for years. A treasured piece from her late mother, former President Cory Aquino, the dining table's base has been repainted white to match the home's theme and was revamped with an oval-shaped glass top.
Find similar chandeliers at Azcor.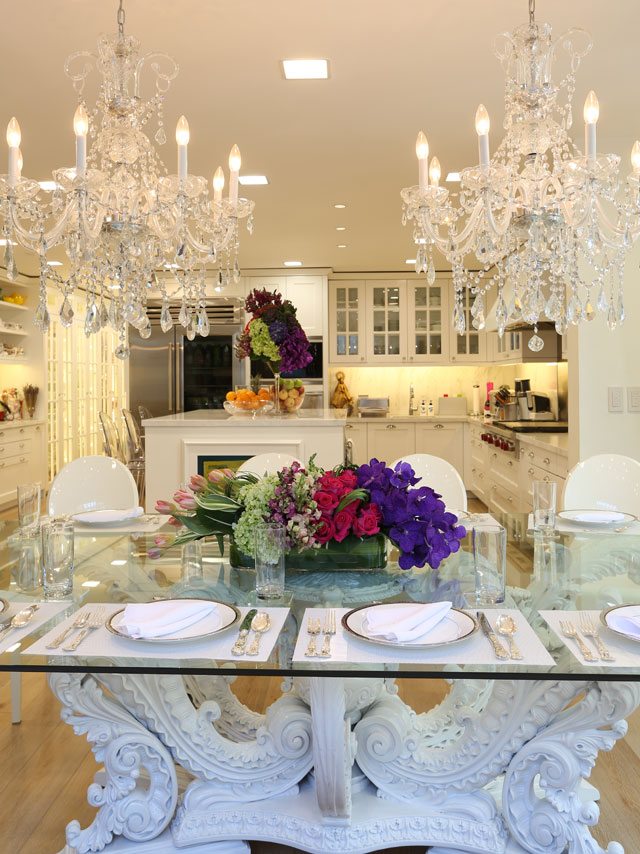 ADVERTISEMENT - CONTINUE READING BELOW
IMAGE YES Magazine
In the dining area, matching chairs were paired with a white couch to make it seem more inviting and ideal for meals. Opting for a couch makes it possible for the family and their guests to enjoy meals together.
Kris loves crystal chandeliers. In her home, these always come in pairs, a tip she learned from a feng shui expert.
Kitchen
IMAGE YES Magazine
The house follows a free-flowing design, making it airy and spacious. To follow this plan, Kris asked Rossy not to build a partition between the kitchen and dining areas. According to the designer, these areas occupy the home's "extension" as in the original blueprint, it used to be an open area where the lanai and garage are located. Kris had the area walled in to create a bigger kitchen. It's no secret that she enjoys cooking and even her new home has a huge cooking area!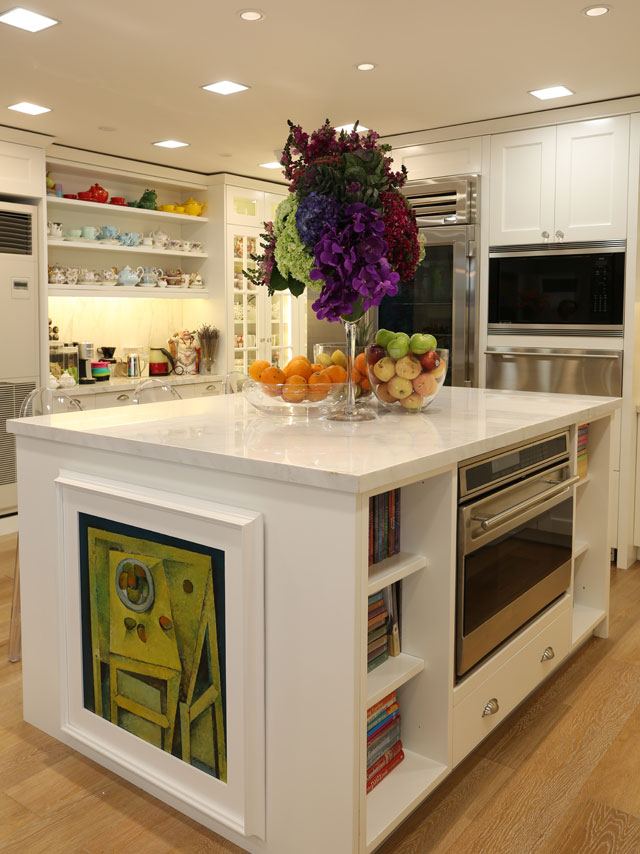 ADVERTISEMENT - CONTINUE READING BELOW
IMAGE YES Magazine
An island functions as a storage area, a breakfast nook, and as an extra prep space when needed. Kris made sure that the kitchen is open and functional. The design follows her requests—that she can entertain friends even while cooking, she can watch TV, and that she can see Josh when he's playing the piano.
Notice the lights in the kitchen? These are patterned after her makeup mirror, with alternating combination of white and yellow lights to make it easier to tape episodes in the home.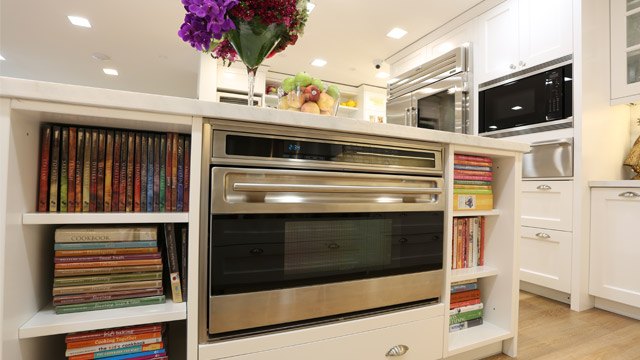 IMAGE YES Magazine
Instead of an ordinary island, this one has a marble-top counter, shelves for her cookbook collection, and a niche for her oven.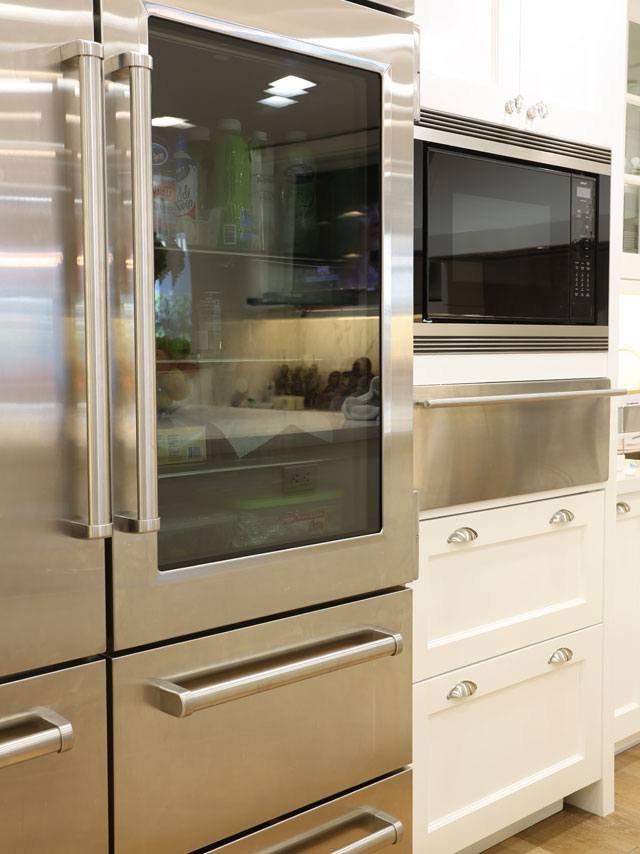 ADVERTISEMENT - CONTINUE READING BELOW
IMAGE YES Magazine
Design-wise, the cooking space showcases different elements that come together to create a unified look. The marble touches bring in elegance, the stainless steel finishes add a modern appeal, and the distressed wood adds warmth. Rossy shares that Kris specifically requested for marble countertops.
To keep the look sleek and streamlined, the appliances are housed in storage units with extra drawers and cabinets underneath.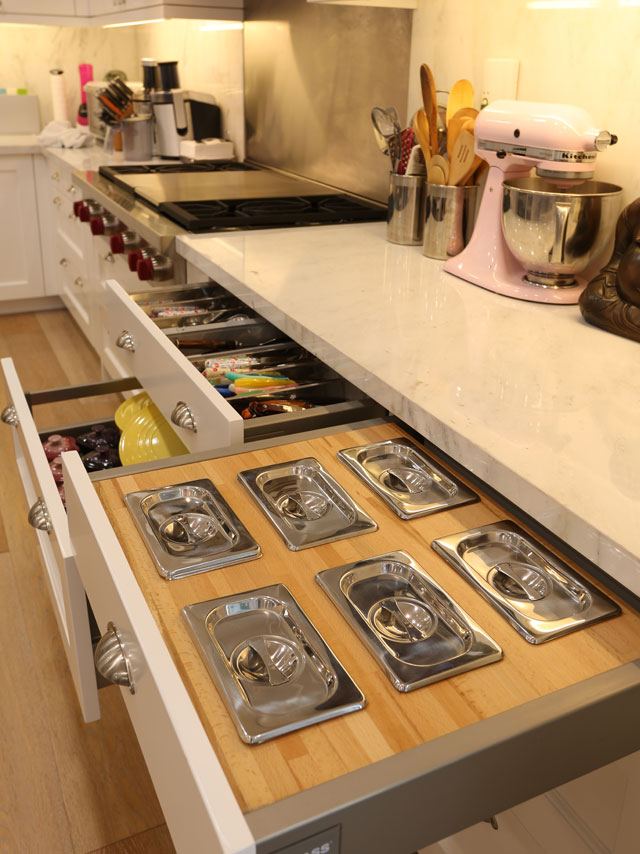 IMAGE YES Magazine
In this kitchen, the drawers will surprise you. In the previous, the drawers are beverage chillers and a drawer-type steamer. A few steps from the kitchen island are well-organized storage nooks that hold Kris's collection of silver cutlery, Le Creuset items, and built-in containers for ingredients.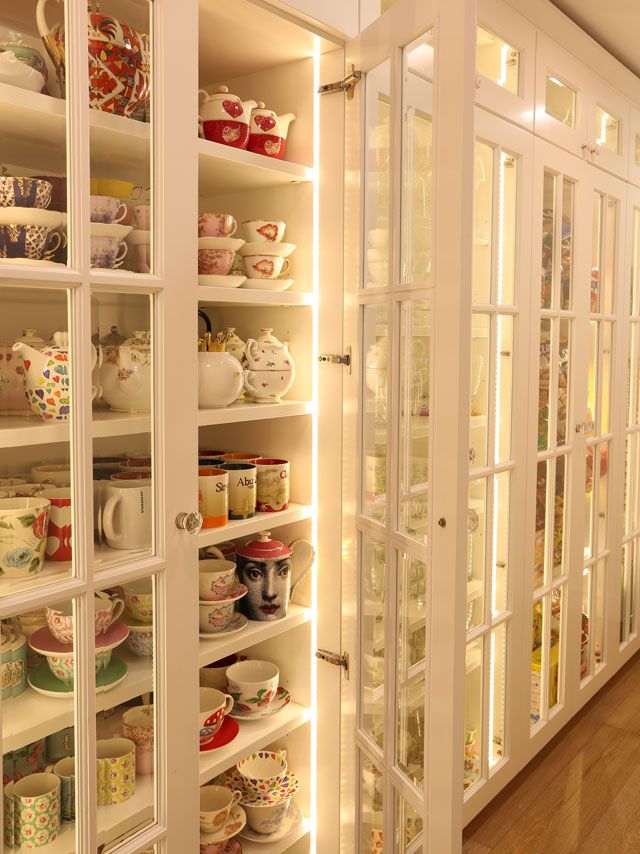 ADVERTISEMENT - CONTINUE READING BELOW
IMAGE YES Magazine
One of the interesting features of the kitchen are the lovely glass cabinets holding a collection of tea sets and other cute dinnerware. These cabinets are illuminated by strips of LED lights. The tea sets signify Kris's love for tea. "Iba diyan bili, iba diyan bigay, kasi alam nila na 'yan talaga ang gusto ko, 'yang English Country tea sets," the actress shares.
Makeup Room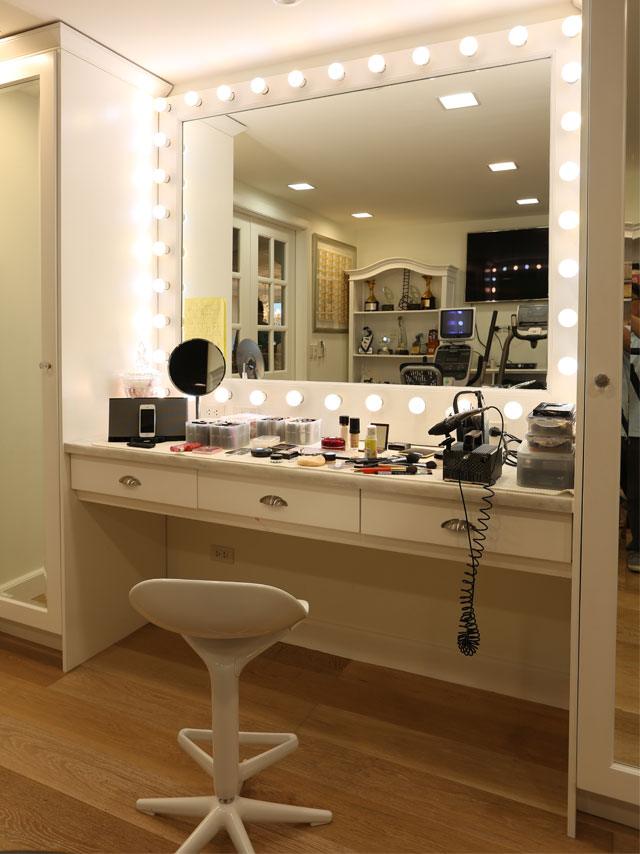 IMAGE YES Magazine
Also on the first floor is the makeup room where Kris gets ready for work. Situating this room on the first floor preserves the privacy of the sleeping areas on the second floor. "Para accessible, you don't have to go up. For example, there's a makeup artist, hairdresser—they don't need to go up sa bedroom. They're just here sa baba," says Rossy. In the room, we noted the posh "Hollywood lights" that complete the mirror, a suggestion by makeup artist Juan Sarte.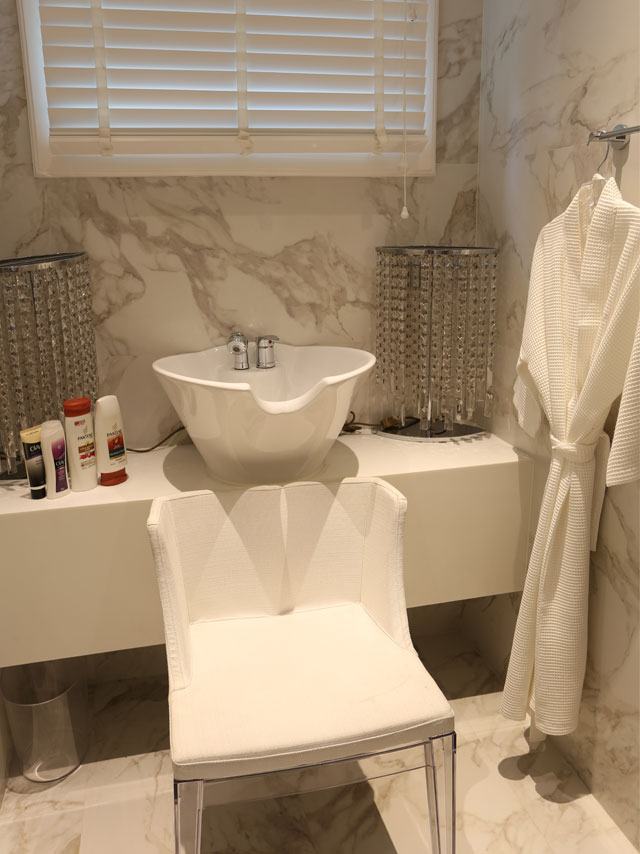 ADVERTISEMENT - CONTINUE READING BELOW
IMAGE YES Magazine
The makeup room also functions as an office and an exercise room. It has a private toilet with its own hair washbasin that we often see in salons. This comes in handy when there's a need to color Kris's hair or when she wants to rinse off hair products.
Staircase and Storage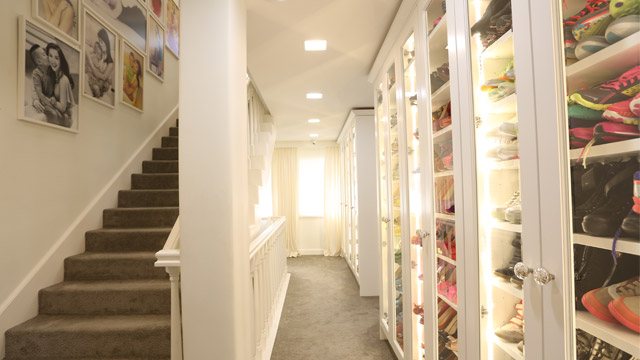 IMAGE YES Magazine
Sprucing up the stairway wall are framed photographs and portraits of Kris and her sons shot by Mark Nicdao. On the wall connecting the first and second floors are prized paintings from her parents. One of the gems we noted is a portrait by President Cory by National Artist for Visual Arts Ang Kiukok.
Storage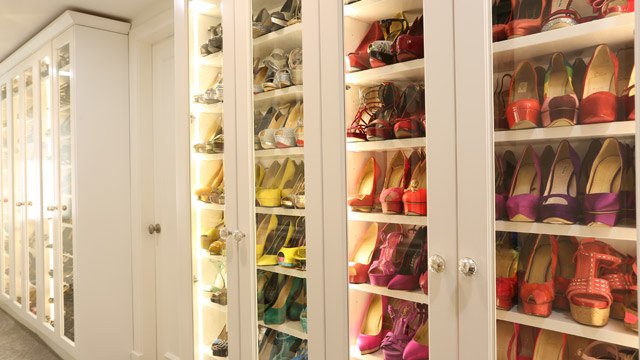 ADVERTISEMENT - CONTINUE READING BELOW
IMAGE YES Magazine
On the second floor, organized glass cabinets filled with shoes are seen. These cabinets hold Kris's collection of designer shoes and are illuminated by LED lights. All of the bedrooms are found on the second floor. Both second and third floors highlight wall-to-wall carpeting. "Nasanay na kasi sila. Gano'n kasi sa previous home nila, kaya pagdating dito, Kris instructed me na wall-to-wall carpeting din. Pati sa mga rooms nila, naka-carpet din," Rossy shares.
Bimby's Room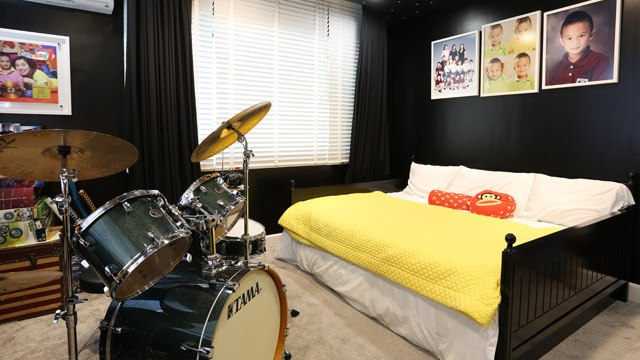 IMAGE YES Magazine
Bimby's room is defined by touches of black. It has black walls and a ceiling with glow-in-the-dark stickers of stars and alien ships. To keep it from being too somber, the sheets are in white with hints of yellow and orange. Sprucing up one wall are framed portraits of Bimby and precious family photos.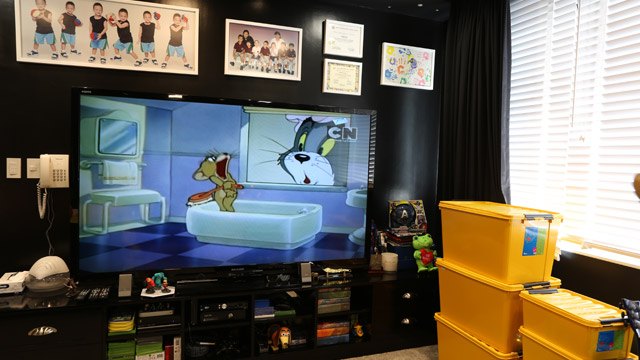 ADVERTISEMENT - CONTINUE READING BELOW
IMAGE YES Magazine
The room takes inspiration from Batman, the occupant's favorite at that time. Bimby has his own TV mounted on a storage console and a drum set.
Bimby's Bathroom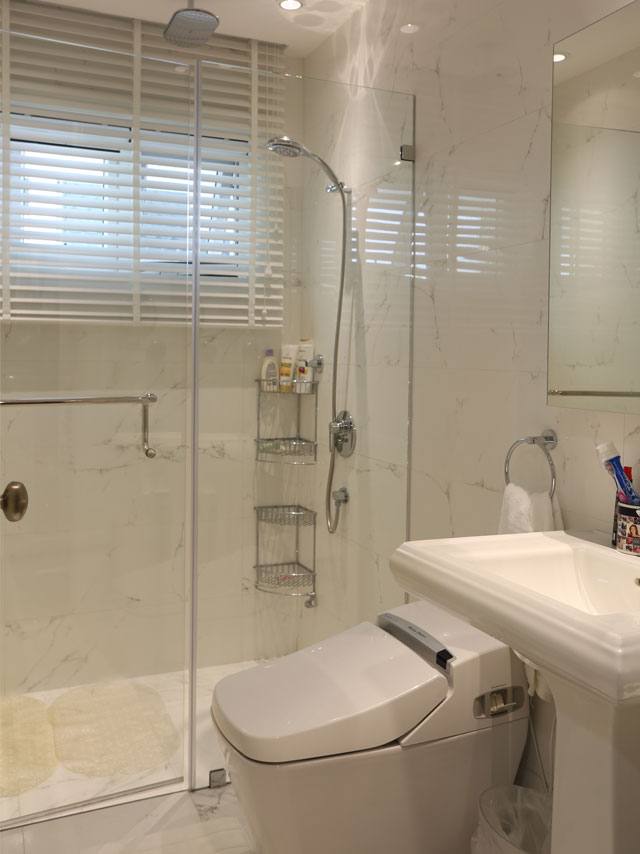 IMAGE YES Magazine
Simple yet functional, Bimby has his own T&B with an enclosed shower area, quality fixtures, and a high-tech toilet with advanced features.
Josh's Bedroom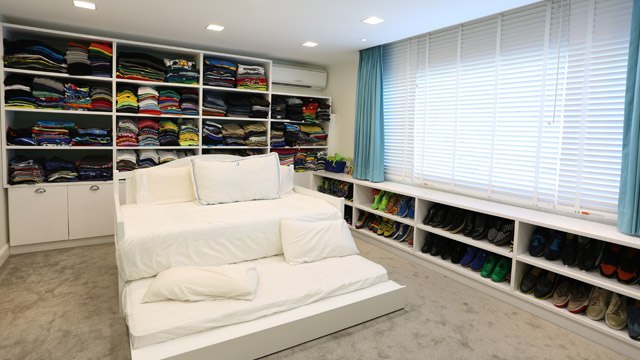 IMAGE YES Magazine
Josh's private space has a travel and explorer theme, hence the map that takes up the entire wall in his bedroom. "We had this wallpaper customized. Right from the start, travel theme na talaga ang gusto ni Josh," says Rossy. The overall vibe is comforting and relaxing as the room is furnished with essentials: a customized bed completed with white sheets, an open cabinet for clothes, and shelving units for his shoes.
ADVERTISEMENT - CONTINUE READING BELOW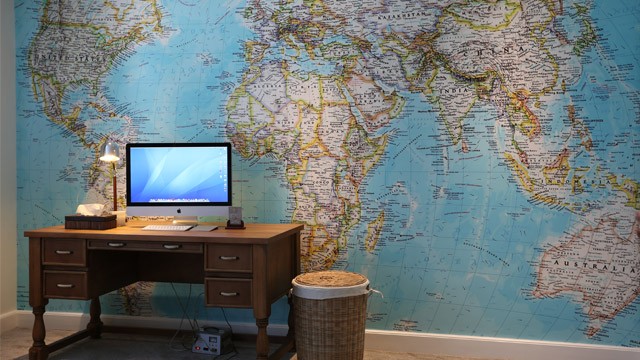 IMAGE YES Magazine
Instead of having his own TV set, Josh has a desktop computer set on a wooden table with drawers.
Find a similar table at Home Matters. Shop for wallpaper at Studio Eleven.
Josh's Bathroom
IMAGE YES Magazine
Similar to Bimby's T&B, this bathroom highlights quality fixtures in white and an enclosed shower area. It's neat and streamlined, with only the basic essentials taking up space.
Find quality fixtures at Sanitec.
Staircase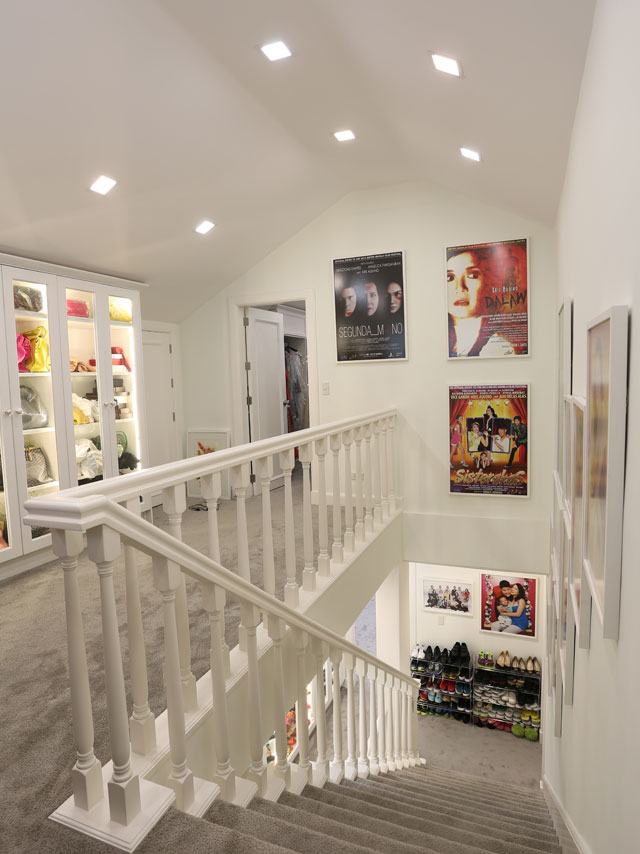 ADVERTISEMENT - CONTINUE READING BELOW
IMAGE YES Magazine
To liven up the walls on this floor, posters of Kris's past movies are on display.
Walk-in Closet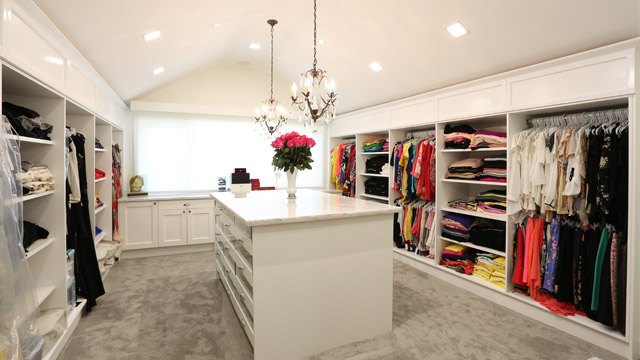 IMAGE YES Magazine
Instead of using it as a guest room, the only room on the third floor became Kris's vast walk-in closet. Aside from maximizing natural light, the space is illuminated by another pair of crystal chandeliers. To make it look bigger than it really is, the walk-in closet has a sloped ceiling.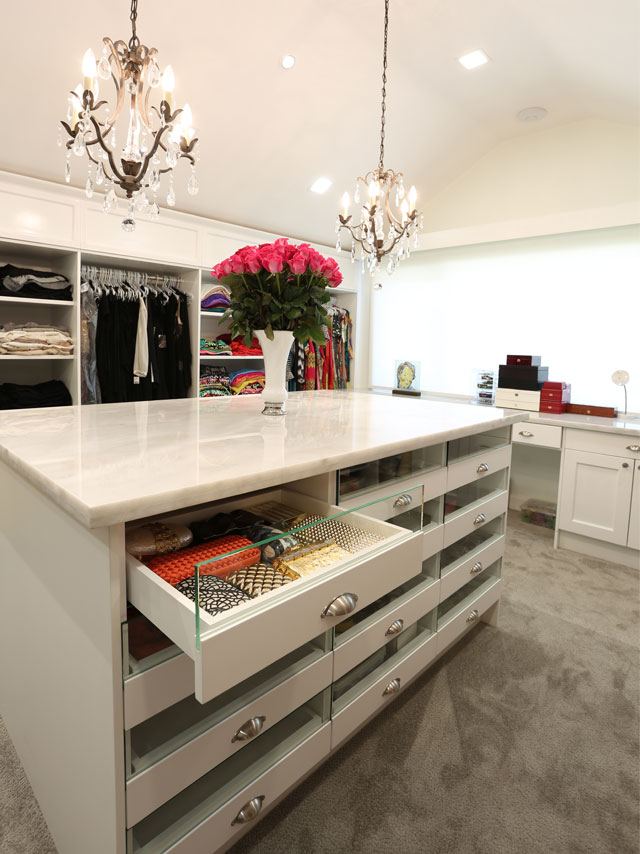 IMAGE YES Magazine
One will instantly notice that the shelves are open. "Gusto ko talaga ng open. Ayokong may excuse to be cluttered. Pag hindi 'yan bukas, magulo 'yan. Totoo naman, di ba? Kung maraming 'tinatago, maraming gulo," Kris explains. To keep the space organized, the clothes are arranged according to type and use. Clothes used for work occupy one area and are separated from clothes that Kris wears for family gatherings and the like.
ADVERTISEMENT - CONTINUE READING BELOW
The storage unit in the middle of the room holds a bevy of accessories like belts, handbags, and wallets, to name a few.
Outdoor Area/Garden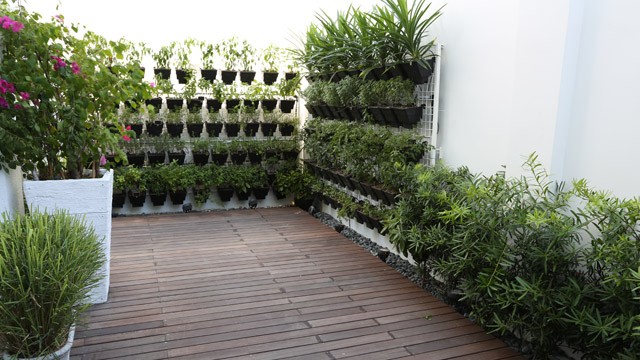 IMAGE YES Magazine
Sprucing up the outdoor area are beautiful plants that do more than prettify the space. By the front door are planter boxes where citronella is grown. Citronella is known for warding off mosquitoes. The backyard above is meant for al fresco gatherings, BBQ parties, and growing fresh herbs.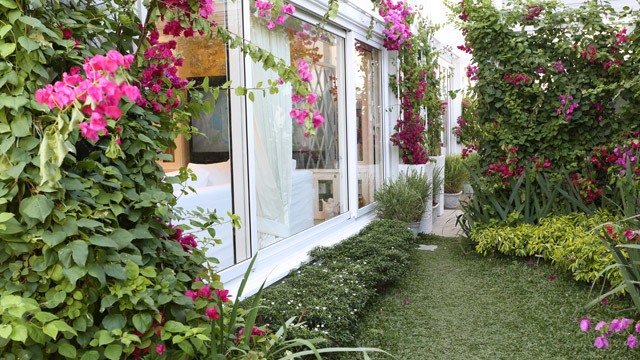 IMAGE YES Magazine
Kris was inspired to have a bougainvillea garden after browsing through Pinterest. The white trellis installed above the windows is for the thorny and ornamental flowering vines to cling to.
ADVERTISEMENT - CONTINUE READING BELOW
This story originally appeared in the May 2014 issue of YES! Magazine.
This story originally appeared on Realliving.com.ph.
* Minor edits have been made by the Preview.ph editors.