It's confirmed! Kris Aquino is Princess Intan in Crazy Rich Asians, the Warner Bros. movie adaptation of Kevin Kwan's best-selling novel of the same name.
As early as April 2017, in a phone conversation with Jo-Ann Q. Maglipon, editor-in-chief of Philippine Entertainment Portal (PEP.ph), Kris reveals how her Hollywood stint came at just the right time in her life. The actress said she got the part of a Singaporean who is "billionaire-level rich" in a movie that is about Asian families so ultra-rich they are a well-kept secret.
Kris also admitted that being in a Hollywood movie was a real thrill for her, particularly because she got the role on her own. It happened when there were so many doors that closed and a lot of things didn't go her way in terms of her showbiz career. At that time, she had yet to officially launch her venture into digital platform via her own company Kris Cojuangco Aquino Productions (KCAP).
"It was a cold call," Kris narrated to Jo-Ann. "They didn't know me. They knew the last name, but they didn't know anything. They didn't know my body of work, so pinadala, and then I auditioned. Talagang parang manna from heaven yung biglang dumating… Ang galing ni God!"
Crazy Rich Asians is based on the first novel of a trilogy authored by Singaporean-born Kevin Kwan. The novel, published in 2013, landed on the New York Times' best-seller list. Kwan, now an American citizen, followed this up with China Rich Girlfriend (2015) and Rich People Problems (2017).
In the Crazy Rich Asians movie, Kwan is also an executive producer. Directing the movie is Jon M. Chu, better known in the Philippines as the director of Hollywood movies Step Up 2: The Streets, Step Up 3D, and Now You See Me 2.
ADVERTISEMENT - CONTINUE READING BELOW
The Audition
Kris recounted how she went all out for the the audition phase."They sent a script, and you have to act it out," she revealed. "So, pina-production design ko para magmukhang authentic talaga."
By "authentic" she meant loading up on the luxe trimmings. Saying the character she was auditioning for was ultra rich, Kris booked a luxury suite at The Peninsula Manila and transformed it into her vision of a rich Singaporean woman's digs.
But first, she organized her A-team of house stylists, technical consultants, beauty stylists, and so on. By her count, "There were 20 people who worked on that audition with me!"
The whole day of March 25, 2017, a Saturday, she had them fixing the suite as well as getting her all glammed up.
"Lahat ng mga Hermés na plato ko at tea set, ginamit! As in, couture ang sinuot ko talaga," Kris noted. "Then, my online team did the Kris bio in video format, kasi they needed it for TV, with voiceover. Because they need to know who you are, hindi naman nila ako kilala dun. I explained, 'Eto yung achievements ko.' As in, parang AVP presentation talaga na, 'This is Kris.'"
Kris' team produced an audition video by 12 noon of March 26, or the very next day, which was the deadline.
The entire audition process itself, according to Kris, was demanding and multilayered. "Four layers bago ka dumating doon," she explained. "Layer number one: The agent said go, I'm sending it now to an Asian casting director who said wala pang mahanap. So pinadala. Second layer: Nakapasa kay Asian casting director [PoPing AuYeung]. Ginoogle ko rin si Asian casting director. Bongga naman mga trabaho niya—Karate Kid. Medyo big time. From him, pumasa. Third layer: From the producer, but L.A.-based pa—pumasa sa kanya. The last, I heard though, was the director and the Warner Bros. casting director."
ADVERTISEMENT - CONTINUE READING BELOW
By March 29, Kris got word that Crazy Rich Asians' director Jon Chu had already seen her audition video.
At this point, Kris told Jo-Ann, her three older sisters—Ballsy Cruz, Pinky Abellada, Viel Dee—had all become involved in her new adventure. "So, my sisters talaga, every day nagsimba! Ako, lahat na ng pari, madre na friend ko, tinawagan. Kasi umabot na sa director, so that's a super big deal," she recalled. "So, hintay kami nang hintay. I finally got word Wednesday night [April 5]—so this was 10 days of torture. And then sinabi, 'You're in!' Oh my god talaga!" said Kris, replicating her excited shriek.
ADVERTISEMENT - CONTINUE READING BELOW
Kevin Kwan Following Kris on Instagram
As early as April 6, 2017 in her Instagram posts, Kris hinted about having auditioned for an "international project." Her followers also began picking up clues about this new movement in her career after she announced that her vacation reading fare included Kevin Kwan's trilogy about Asia's ultra rich.
Of course, fans got even more intrigued when Kevin Kwan started following Kris on Instagram.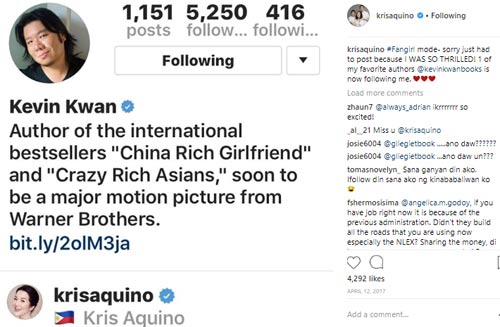 ADVERTISEMENT - CONTINUE READING BELOW
IMAGE instagram.com/krisaquino
As early as that time, netizens who have read the Crazy Rich Asians novel were already speculating which among the ultra-rich characters would fit Kris if she ends up being cast in the movie adaptation of the same name. That Kris can fit the bill of a crazy-rich Asian was easy enough to see since she is living a life of one.
ADVERTISEMENT - CONTINUE READING BELOW
Kris on Playing Royalty
On April 5, 2017, around 10:30 p.m. (Manila time), Kris was formally offered a role in Crazy Rich Asians. The character she plays, Kris says, has her moment. "It's more than a cameo—because may speaking lines," she explained. "But it's something na I'm sure hindi mae-edit out because she makes a grand entrance in the wedding. Hindi ako takot na matsutsugi ako, na nasa editing room floor ako. So, go kami, okay, yes!"
Aside from the known fact that she wore a Michael Cinco gown for the wedding scene, Kris went on to explain specific details about her luxurious ensemble that PEP.ph is not yet privy to divulge until the movie hits Philippine theaters. But it is why she was so sure not to land on the cutting-room floor.
Kris—who was 46 years old when she auditioned for Crazy Rich Asians—also admitted that the role she eventually got was not what she had aimed for. "I did not get the role I auditioned for because I was too young. Kasi, the daughter of the one I auditioned for is 32 years old," she divulged. "E, di ba, sa Hollywood hindi sila payag na hindi age-appropriate? Dito, who cares kung 32 years old ka at ang anak mo 25? Ginagawa natin dito, di ba? Sa kanila, hindi."
ADVERTISEMENT - CONTINUE READING BELOW
"So they offered me this role."
ADVERTISEMENT - CONTINUE READING BELOW
In Crazy Rich Asians, the story's central female character is Rachel Yu, a New Yorker who gets the surprise of her life when she learns that her boyfriend Nick Young, the central male character, is the heir of a very wealthy Singaporean family. Nick brings Rachel to Singapore to formally introduce her to his family, as well as to attend the wedding of his equally wealthy best friend Colin Khoo. It is in such a setting that Kris is cast.
The completely candid Kris intimated to Jo-Ann, "What they actually wanted from me was that my English, they know, is educated-abroad-type-of-English, and that mattered. They're so specific. That's what the casting director said, 'She looks the part and you know that she studied in expensive schools abroad.'"
Kris spent her elementary years at the Mt. Alvernia Academy in Boston, Massachusetts, when her father, Benigno "Ninoy" Aquino Jr., the most prominent political foe of dictator-and-president Ferdinand Marcos, was forced into exile in the United States.
ADVERTISEMENT - CONTINUE READING BELOW
The Queen of All Media Goes to Hollywood
No doubt, Kris is ecstatic about making it to the cast of Crazy Rich Asians, which is top-billed by New York-based actress Constance Wu and Singapore-based TV host Henry Golding. Talk is that four Filipino actresses in all auditioned for the multi-generational cast of the movie. But PEP.ph has gathered that Kris is the only Filipino from the Philippines to land a role, apart from Los-Angeles based Filipino comedian Nico Santos.
ADVERTISEMENT - CONTINUE READING BELOW
Kris told Jo-Ann what she thinks went right for her. "I was telling my sisters, oh my God, if in this country the Aquino name is now a negative, in the international scene it's such a plus," she noted. "Kasi ako yung nag-copyright nung how to describe [oneself]. So, the line daw that really got to them was, 'In a country of 100 million, where 10 million of those residents are working abroad, and in one of the largest active democracies in the world, there is only one queen.'"
Acknowledging that she capitalized on her showbiz monicker as the country's Queen of All Media, a cheerful Kris said, "Pambobola na! Sorry, Hollywood yun!"
She continued, "But, the 10 million working Filipinos abroad was what got Warner Bros. interested, because they said, 'That's true.' Di ba kasi, we're all over the world? That's why they gave me a copy of book number three [Rich People Problems]. One of the [main characters] goes through this life crisis. And the book ends in Palawan. She buys an island in El Nido! So, parang may full circle siya talaga. The movie and the journey of the bida ends in the Philippines, where she finds peace, and love, and her purpose in life. Ang galing! Super galing!"
ADVERTISEMENT - CONTINUE READING BELOW
Kris left for Los Angeles on April 16, 2017 to officially seal the deal to become part of Crazy Rich Asians. This was when Kris met with her Hollywood agent Chris Lee to sign her contract with Warner Bros. It was a done deal, but Kris still remained tight-lipped about her role due to her non-disclosure agreement with the Hollywood production company.
ADVERTISEMENT - CONTINUE READING BELOW
The Red Carpet Premiere
Now, a year and three months later, Kris is back in Hollywood gearing up for the red-carpet premiere of Crazy Rich Asians on August 7 at 7 p.m. (August 8 at 10 a.m. Manila time).
Kris brought with her an entourage including her sons Josh and Bimby along with her doctor, who had to join her trip to the U.S. since she is still under medication and has to be closely monitored after her recent bout of allergy attack.
While waiting for Crazy Rich Asians' premiere night, Kris has kept her followers updated with her preparation for the red carpet event and what the moviegoers can expect from her appearance in the film. Note that in a recent interview with Asian fellow Curtis Chin at the #MilkenInstitute global conference, Crazy Rich Asians author Kevin Kwan said that Kris has her own shining moment for a pivotal scene in the movie.
ADVERTISEMENT - CONTINUE READING BELOW
Kevin said, "She is the highlight of the movie. For me, she is the highlight."
When told that his statement would go viral back in the Philippines, Kevin replied, "I hope so. She doesn't need my help. Every thing she does gets viral."
A portion of the interview was reposted on Kris' Instagram account just last Saturday night, August 4, 2018.
ADVERTISEMENT - CONTINUE READING BELOW
In her caption, Kris explained that hearing Kevin's generous words meant a lot to her and made her feel better after having exercised "restraint" amid naysayers trying to belittle her inclusion in the cast of Crazy Rich Asians.
Kris wrote in part, "I'm very blessed because I never had to utter a word – the writer [and] creator of the Crazy Rich Asians trilogy said it all for me. He truly is another of my very special guardian angels."
*This story originally appeared on Pep.ph. Minor edits have been made by the Preview.ph editors.
Related Stories from Preview.ph



Hey, Preview readers! Follow us on Facebook, Instagram, YouTube, Tiktok, and Twitter to stay up to speed on all things trendy and creative. We'll curate the most stylish feed for you!