Tonight is a big night for K-drama fans who are counting down to the premiere of Netflix's The King: Eternal Monarch, a fantasy romance set in the modern-day world with a parallel universe. Lee Min Ho fans are especially on edge, as it is the actors' comeback series after a three-year hiatus. While we can't wait to witness the 32-year-old portray the dignified emperor of the Kingdom of Corea, Emperor Lee Gon, we are also equally intrigued by the rest of the cast, specifically the two female main characters.
ADVERTISEMENT - CONTINUE READING BELOW
Of course, there's Detective Jeong Tae Eul, played by Kim Go Eun, who ends up falling in love with Lee Gon. But it's not a drama without any conflict in their relationship, and this is where we suspect Jung Eun Chae's character steps in. She'll be playing the role of Koo Seo Ryong, who ends up developing feelings for the charismatic yet reserved Lee Gon.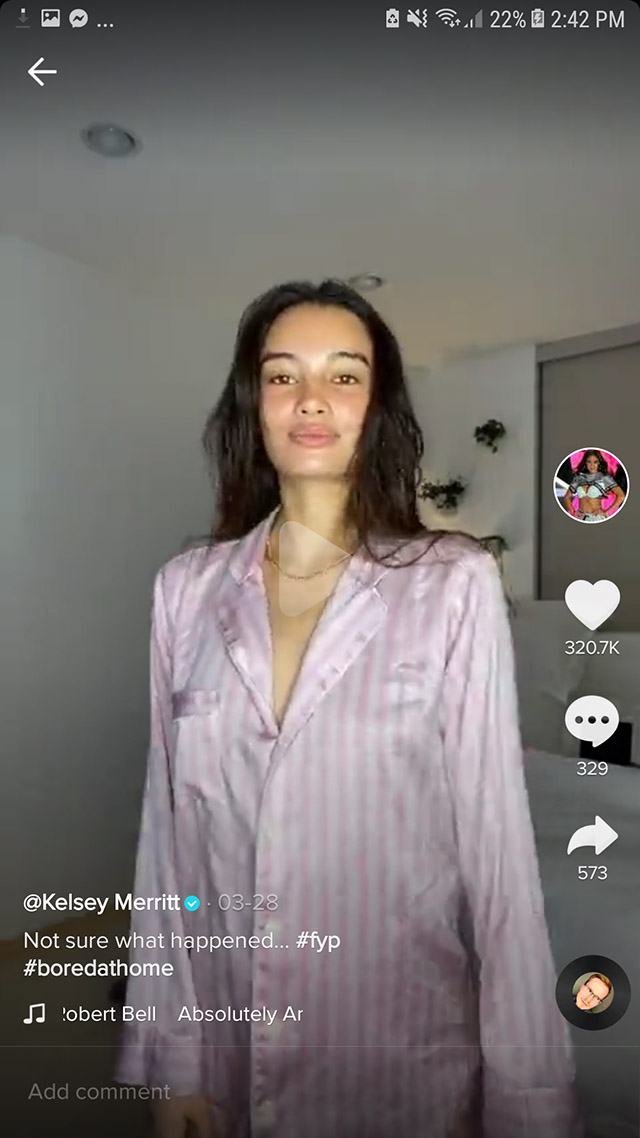 CONTINUE READING BELOW
Recommended Videos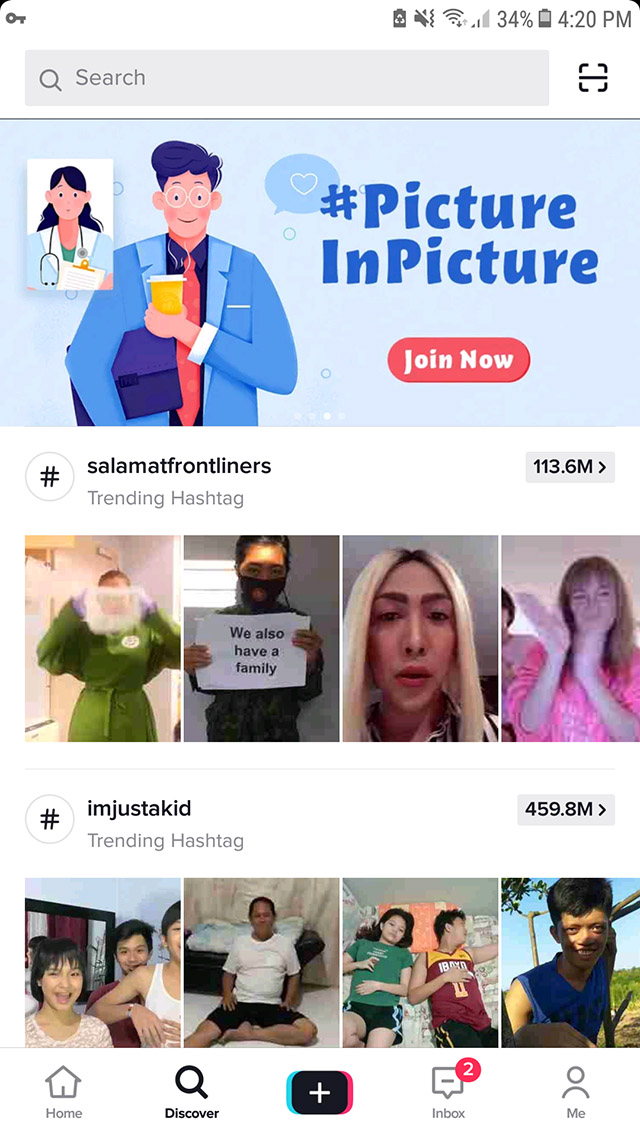 However, it's not this anticipated love triangle that has us truly interested in their characters, but rather, their powerful personas as individuals. Ahead of tonight's premiere, Preview.ph got to catch the online video conference with the entire cast and listened to what Go Eun and Eun Chae had to say about their characters:
ADVERTISEMENT - CONTINUE READING BELOW
Kim Go Eun as Detective Jeong Tae Eul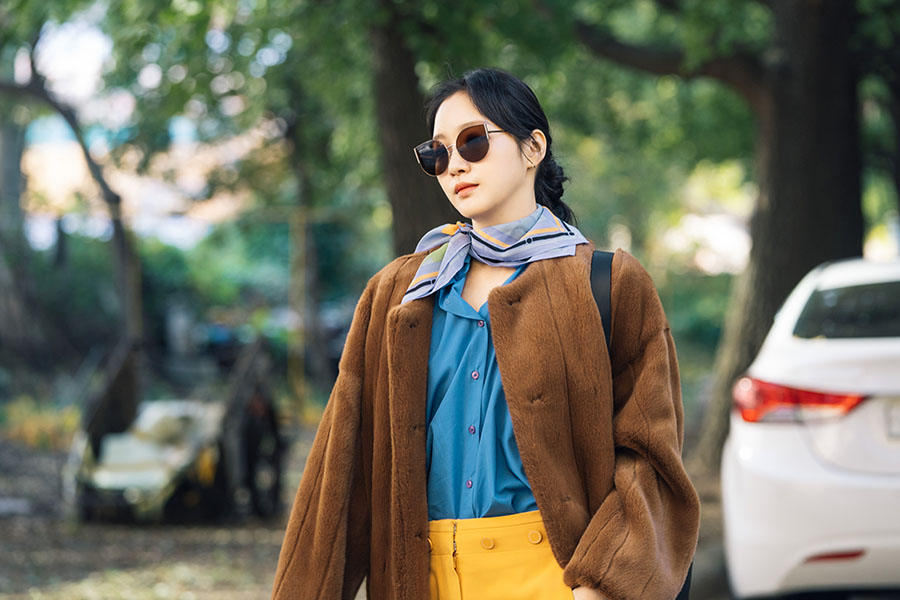 As a child, Tae Eul was obsessed with a TV show called "The People of National Police Agency," and resolved to become a police officer herself once the show ended. Through grit and determination, Tae Eul applied herself and was able to enter the force with flying colors. As an officer, Tae Eul is quick-witted and physically strong, a powerful combo that actress Go Eun diligently prepared for:
ADVERTISEMENT - CONTINUE READING BELOW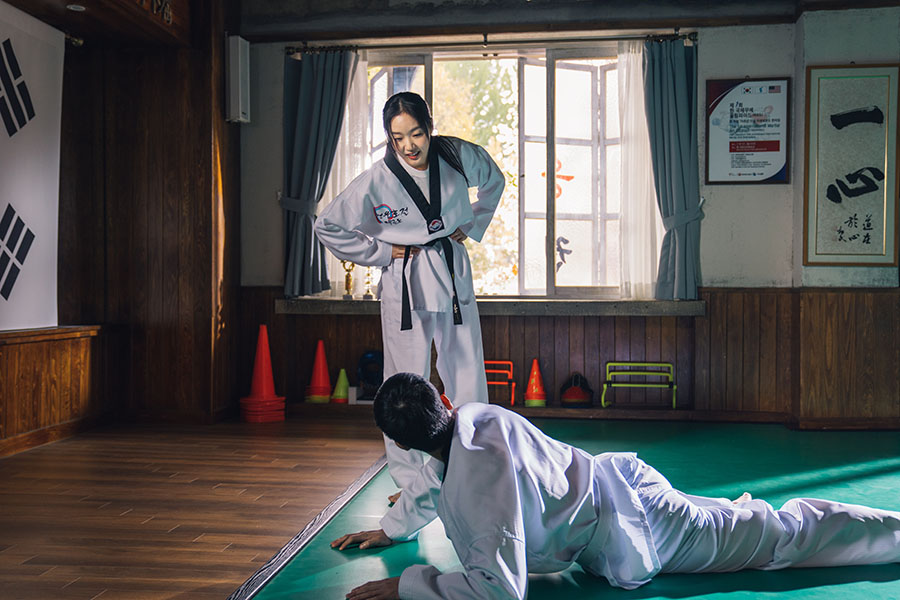 "First of all, I took some Taekwondo lessons. And also, because I was given the role of a female detective, I didn't want my role to seem like the sort of tip character that people think of when they think of a female character," Go Eun shares.
ADVERTISEMENT - CONTINUE READING BELOW
"So I looked at interviews done by actual female detectives, and I tried to look into what kind of mentality they had or what they brought to the job, and also what their working environment was like. I wanted viewers to see me on screen and be convinced of Tae Eul as a serious detective."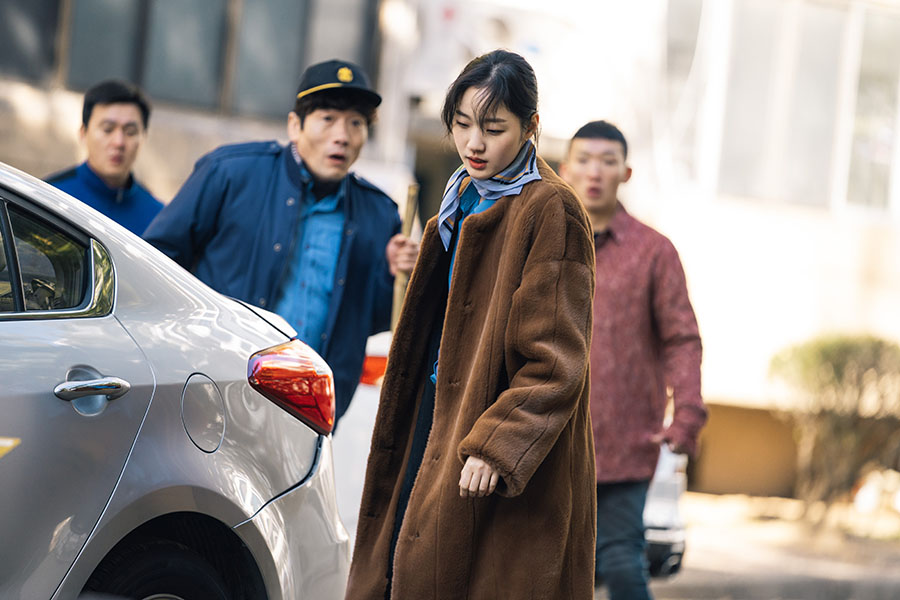 ADVERTISEMENT - CONTINUE READING BELOW
Given her authority and strong personality, Tae Eul makes sure that this reflects in the way she dresses. We are given a glimpse of her sense of style in this scene where she and her fellow detective are working an operation to catch a criminal. Clad in a blue blouse, yellow trousers, and plush coat, Tae-Eul's sense of style is making a case for "fabulous stakeout fashion." We're all here for it.
Jung Eun Chae as Koo Seo Ryong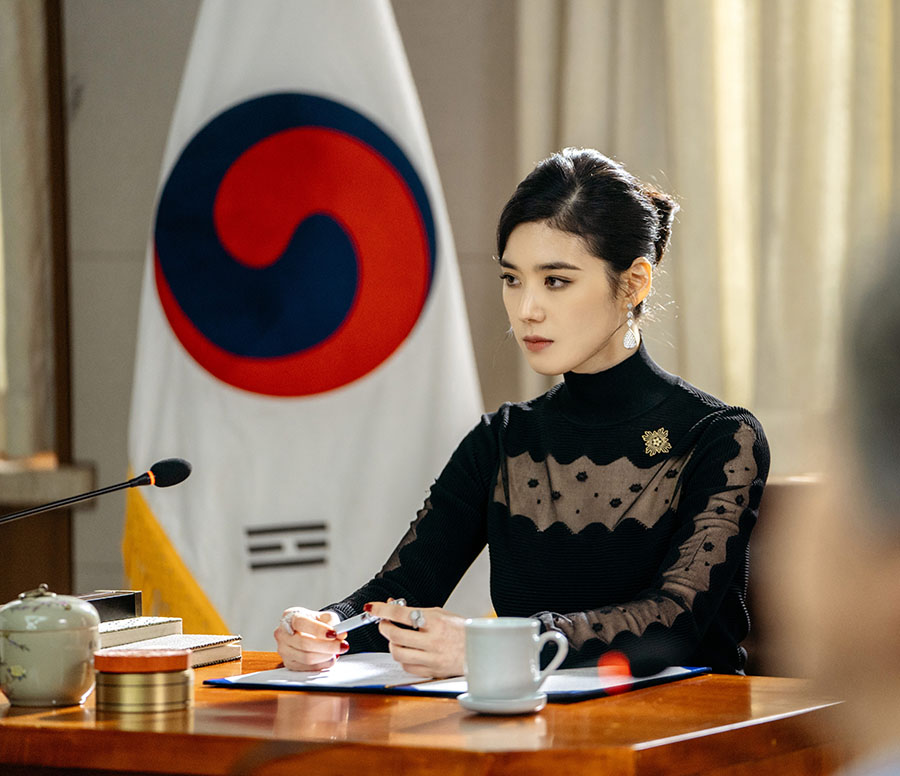 ADVERTISEMENT - CONTINUE READING BELOW
Seo Ryong's childhood wasn't pleasant, but it's this broken family background that pushed her to study hard, land a job, and fiercely work her way up the corporate ladder. However, her job as a board member of a major corporation eventually hits a glass ceiling. In her hunger for more, Seo Ryong decided to marry her way into power and saw husband material in the son of a politician. After quickly learning the ropes, she carved a glowing career in politics and was elected as the country's prime minister after only four years.
Despite her greediness, Seo Ryong's craftiness and brilliance cannot be discounted. In fact, she was even able to create a good public image by romantically linking herself to Emperor Lee Gon, which surprisingly worked to the country's advantage.
When asked about what she likes best about her character, Jun Chae says, "My character is the first female prime minister in the series, and she's quite straightforward. She does not withhold her emotions, and I think that's something that viewers will enjoy. I think it's is a very attractive part of her."
ADVERTISEMENT - CONTINUE READING BELOW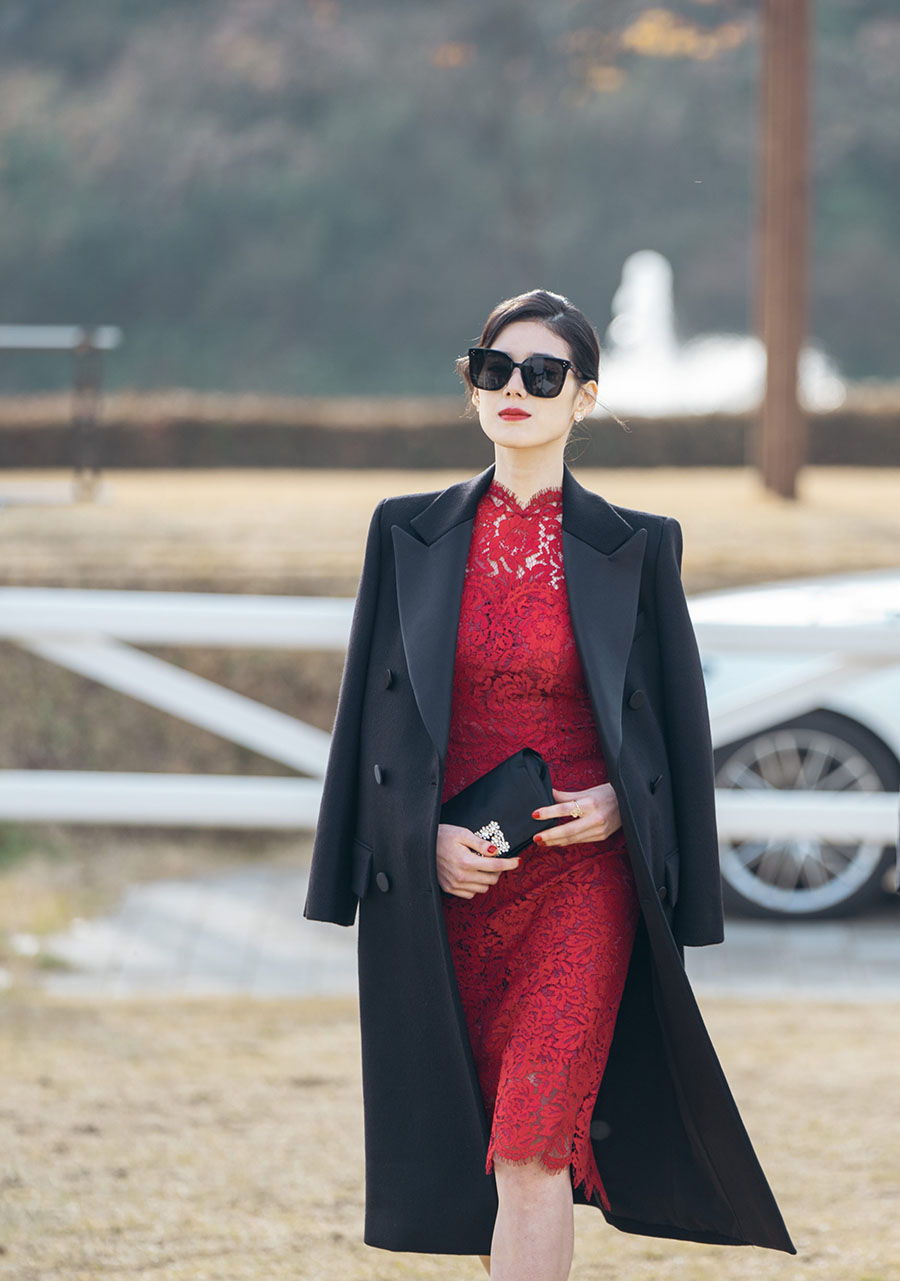 Naturally, Seo Ryong asserts her power through her clothes as well. We are given a taste of her personal style in this scene where she arrives at the royal palace for the State of the Union Address. Decked out in a striking color combo of red and black, with her hair swept into a chignon, she looks every inch the refined politician. We love how she isn't afraid to play up her femininity through lace and sheer fabrics—we can't wait to see more of her character's style.
ADVERTISEMENT - CONTINUE READING BELOW
The King: Eternal Monarch premieres tonight at 10:30 p.m. on Netflix. New episodes air every Friday and Saturday.
Hey, Preview readers! Follow us on Facebook, Instagram, YouTube, Tiktok, and Twitter to stay up to speed on all things trendy and creative. We'll curate the most stylish feed for you!