While most of us jot down our "watch later" K-dramas on a note-keeping app or simply by clicking "Add to List" on Netflix, there's a rare breed of binge-watching folk who track their progress in a more organized manner. Enter, Djo Sese Ching, a 39-year old K-drama fan who created her own spreadsheet to document all the shows and films she's watched, is currently watching, and those that she has yet to tick off from her list.
Such a methodical approach comes naturally for Djo who is a S&OP Manager and Demand Planner at a conglomerate. As a demand planner, she creates forecasts based on historical trends and other initiatives. As S&OP manager, she ensures that meetings happen as scheduled to drive the operations of the company. That said, using spreadsheets is second nature to her.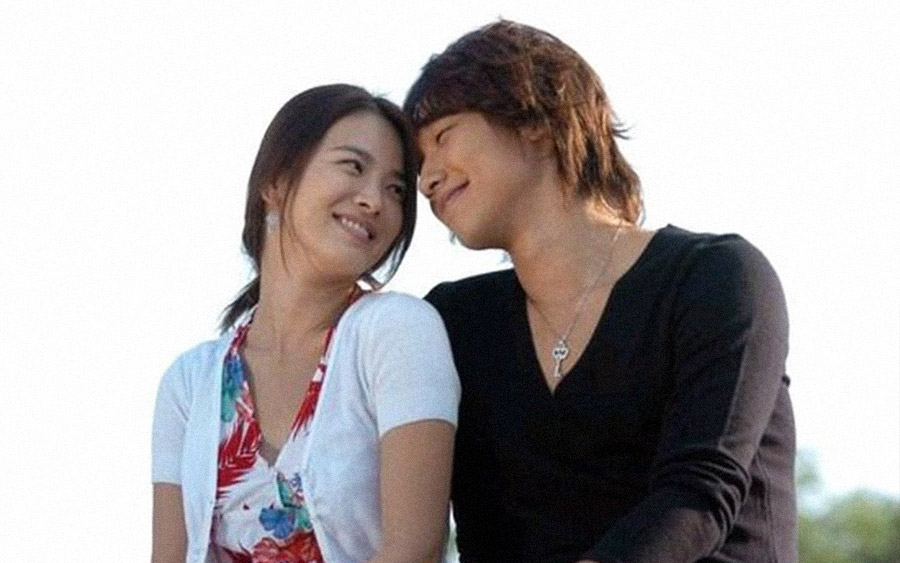 ADVERTISEMENT - CONTINUE READING BELOW
Her role of K-drama lover though started 15 years ago, back when cable TV was the one and only way K-dramas were broadcasted. Her love affair started with the show Lovers in Paris, which aired on ABS-CBN. Soon enough, she discovered Rain through the show Full House and has been fangirling over him ever since.
It was only a matter of time before she discovered more shows, more stars (Rain is still her #1 oppa though), and before she knew it, the entries on her spreadsheet had reached the hundreds. As of writing, it now encompasses over 266 shows, excluding the 200+ Asian dramas that aren't Korean.
CONTINUE READING BELOW
Recommended Videos
Now that her K-drama sojourn is more than a decade old, she has chosen to share her insights on all the shows she's watched through her K-drama account @oKdramaba where she rates each show based on her own "six-heart" system.

We have had the pleasure of catching up with Djo herself who shared with us her rich experience of being a K-drama fan long before the fandom culture even blew up in the country: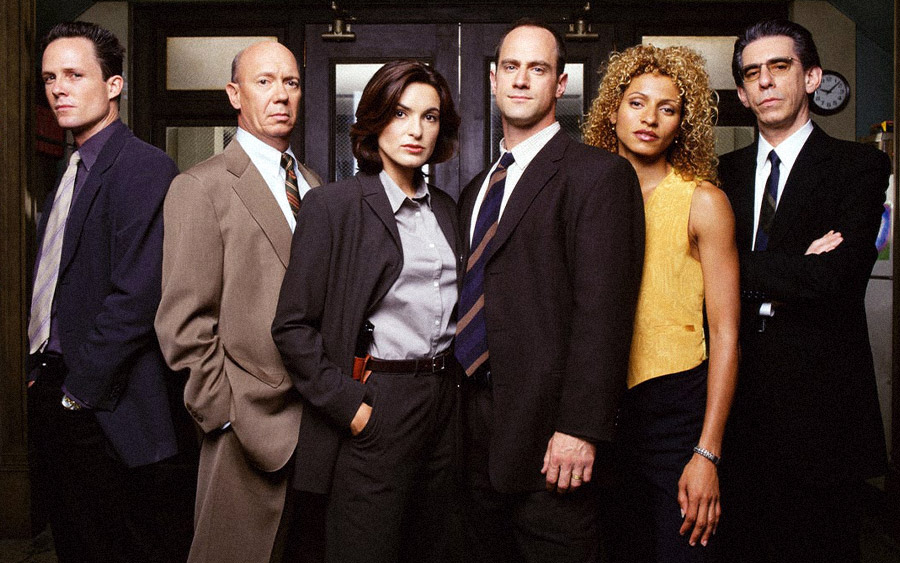 ADVERTISEMENT - CONTINUE READING BELOW
What were your TV show preferences like before you discovered K-drama?
I've always had a diverse taste in shows because I watch one after the other. It's because I like absorbing pop culture. I watched reality TV like Survivor, Amazing Race, Project Runway (which I still watch now), and American shows geared towards the youth or family like 7th Heaven, Charmed, Dawson's Creek, Popular, Smallville, Party of Five. I also watch police dramas like CSI, Law and Order, and Bones.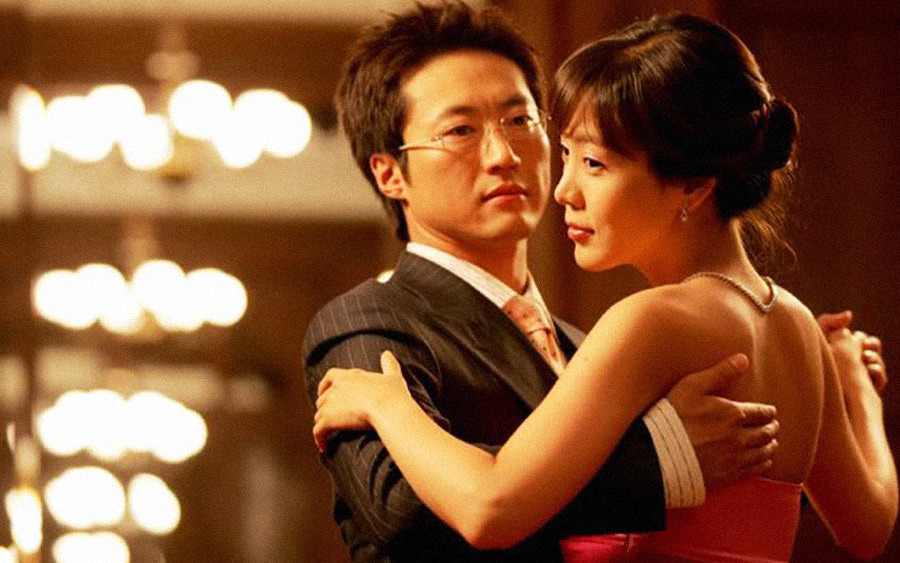 ADVERTISEMENT - CONTINUE READING BELOW
When did you start watching K-drama? Tell us about the beginning of your "journey."
I started watching in 2005 when Lovers in Paris (LIP) was on air in ABS-CBN. My family is Kapamilya so I have no choice but to watch whatever is on TV. I found myself immersed in the story and developed a second lead syndrome because I was rooting for Martin, the character of Lee Dong Gun.
Later on, I discovered other dramas and movies. After finishing Lovers in Paris, I would watch one drama per weekend. I would start Saturday afternoon and go nonstop until Sunday morning with no sleep.
The dramas were Sweet 18, Attic Cat, Full House, and Sangdoo, Let's Go To School. The movies were My Little Bride, My Tutor Friend, and He Was Cool.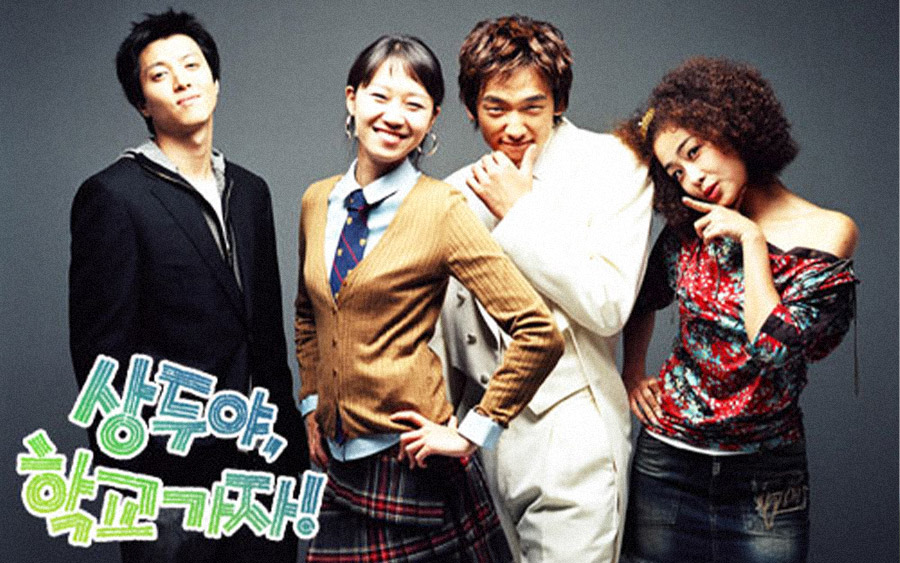 ADVERTISEMENT - CONTINUE READING BELOW
How did your obsession progress and develop?
After I finished the four dramas, I went online and discovered Soompi, the website. There, I found a whole community of K-drama lovers all over the world and in the Philippines. I even learned how to read Hangul because most of the sites were operated by Koreans, so I had to navigate my way based on tutorials given by other Koreans.
After watching Sangdoo, Let's Go to School featuring my OG oppa Lee Dong Gun and Rain, who I became fond of after watching Full House, I realized I was more of a Rain fan and hopped on board. So, I searched again in Soompi for any Rain-related material and that is how I met my fellow Rain fans. Eventually, a couple of people started an official Rain community locally and we became the Cloud Philippines. But even if I was more of a Rain fan, I never stopped watching other dramas and appreciated other oppas.
ADVERTISEMENT - CONTINUE READING BELOW
What do you think got you hooked? What set K-dramas apart from the shows you previously watched?
Since I had just started work and my hours were crazy, I discovered that I preferred K-dramas since they were conveniently available [in DVDs] compared to traditional TV. We didn't have Netflix nor were we using YouTube back then. I would always watch one drama at any given time. I was not binge-watching—just one to two episodes per night.
ADVERTISEMENT - CONTINUE READING BELOW
Aside from the convenience and availability of so many dramas, I liked that each drama is usually just 16 to 20 episodes, so the narrative was tight and didn't have a lot of side stories. I usually prefer romcoms. The kilig is not only dependent on a love team but on the story and execution, so I don't find it weird when actors have good chemistry with several actresses or vice versa.
I also realized that the dramas that I end up liking more are the dramas that have great OSTs. The good OSTs have that certain way of making you feel more immersed in the drama and when you hear that OST again, it will bring back the feelings you had while watching the drama.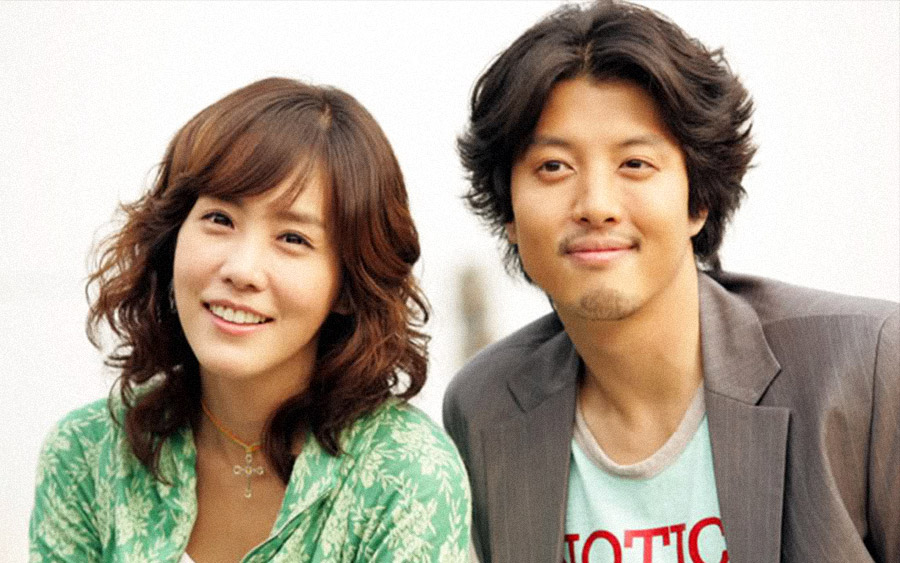 ADVERTISEMENT - CONTINUE READING BELOW
Who are your favorite actors and why?
Rain will always be my number one because I did the whole intense fan thing that I never did before, like becoming an official member of his global fan club and buying legitimate merchandise. We almost booked a stay in Manila Hotel when Rain was here to shoot his drama for a month. I did even though I had work during the day.
I also love Lee Dong Gun because he was the first actor I liked.
Aside from them, I like Kim Rae Won and Gong Yoo because they have good chemistry with any actress. There's also a group I call the handsome criers: Lee Dong Wook, Lee Min Ho, Lee Seung Gi, and Ji Chang Wook.
For the actresses, I like Song Hye Kyo for her beauty (not for her acting) and Ha Ji Won.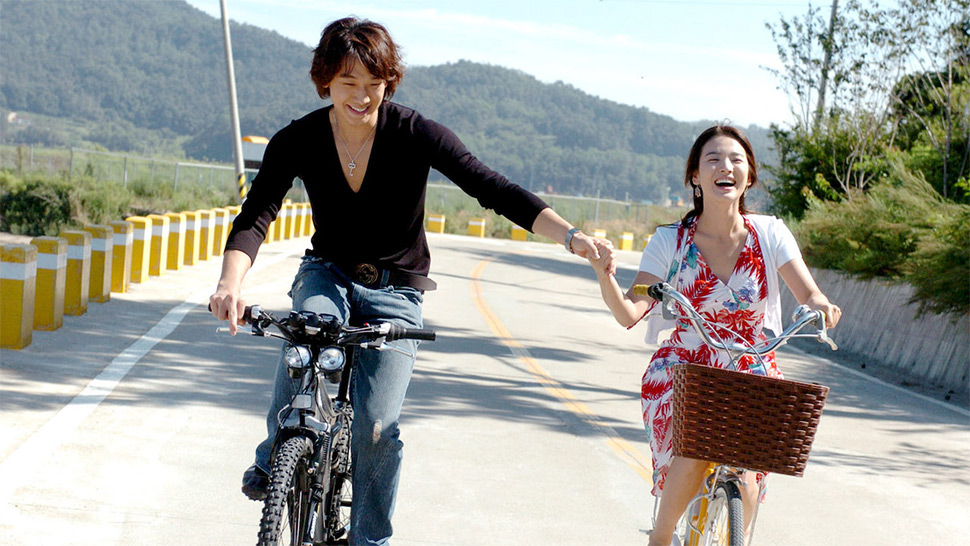 ADVERTISEMENT - CONTINUE READING BELOW
What are your favorite shows and why?
Full House is special because that was my first binge and had the most rewatches. I think I saw it more than six times. The drama that made me feel a wave of emotions is King 2 Hearts. For overall production, I liked Healer.
What's your "K-drama watching schedule" like? Are you the type to stay up late just to finish a show?
It depends on my workload and family responsibilities. In the early days, I would watch one drama in one sitting. Now, I usually finish a show within 2 to 3 days depending on how much I like the story. I don't really sleep that much so I could go on until 4 a.m. then sleep a little before heading to work or before I tend to my kids.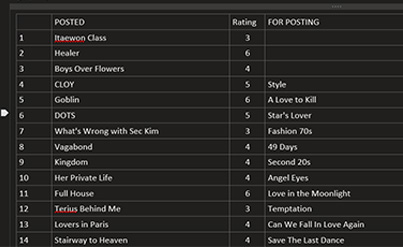 ADVERTISEMENT - CONTINUE READING BELOW
Could you tell me more about the spreadsheet with a list of all your K-dramas?
I started tracking dramas because I sometimes watch several at a time, so I needed a way to know which episode I was in per show. Then, I started a list of the dramas that I wanted to watch so I could easily pick one when I am about to start a new one.
Since I am a planner at work, I kept the inventory of the dramas I have watched so that I would also know what I could recommend to others. The list just started growing after a while. Actually, it also includes other Asian dramas and movies and Korean variety shows. I sometimes watch Thai, Taiwanese, Chinese, and Japanese dramas and movies too, especially the adaptations of Korean ones.
The list is now at 492 but that includes those that I have watched, am currently watching, the ones I plan to watch, and those I have parked because I didn't like the story. Before, even if I didn't want to continue anymore, I would still finish a drama since I invested some of my time already. But now, I have become more ruthless in hitting pause on a drama if I feel that it will be a waste of time.
ADVERTISEMENT - CONTINUE READING BELOW
Recently, I started an IG account (@oKdramaba) because of the ECQ and people were always asking for recommendations from me, so I made a new list exclusive to the Korean dramas that I have finished in full. This new list helps me track what I had posted on IG already and the rating I gave, plus those that I am about to post. The list is currently at 266.
ADVERTISEMENT - CONTINUE READING BELOW
What makes you feel that a K-drama is a "waste of your time"?
When I feel the story is cliché, I know how it will end by Episode 2, or if the story is not going anywhere by Episode 4.
Do your family members watch K-dramas too? What about your peers? If not, what do they think about your K-drama obsession, and have you tried to influence them in any way?
My family watches, too. I have a sister who watches as much as I do. We have influenced our other sister who had resisted it for years. The ECQ does that to you. My two daughters started watching last year, but they know when to watch and when to prioritize their schoolwork. My husband also watches when he finds the lead actress pretty or if the drama I am watching falls under the action genre. My sister's and my other recruit is our dad who is into romcoms.
ADVERTISEMENT - CONTINUE READING BELOW
Since I have been watching for 15 years, my peers all know that I am the Korean Helpdesk. I don't really influence them to start watching but once they have started on their own, they usually rely on me to give them recommendations.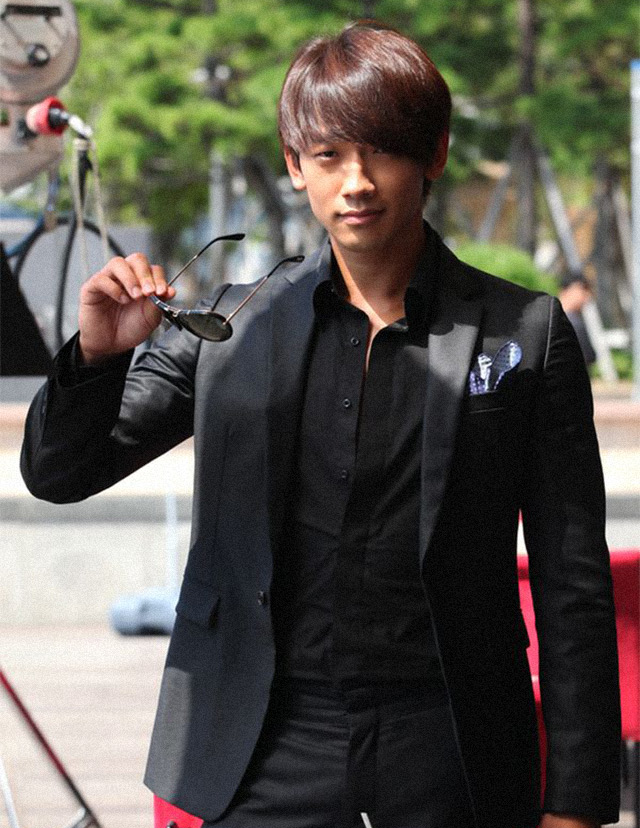 ADVERTISEMENT - CONTINUE READING BELOW
What's the craziest thing you did for or because of K-dramas?
Going to shoot locations around Metro Manila where Rain was filming his drama, The Fugitive: Plan B, 10 years ago. The crew was here for almost a month and most of my friends were also full-time employees, so we took "shifts." We had fellow fans [with us] who were foreigners who flew in, so we also had to take care of them. We went to the Cubao Expo on a hunch even if we hadn't confirmed it was a shooting location. We parked our selves at the Manila Hotel lobby almost every night ordering expensive drinks so we could get a glimpse of the cast.
Related Stories from Preview.ph
Hey, Preview readers! Follow us on Facebook, Instagram, YouTube, Tiktok, and Twitter to stay up to speed on all things trendy and creative. We'll curate the most stylish feed for you!