The newlywed bride Jess Wilson just revealed that her dreamy beach wedding in Palawan wasn't as perfect as we all deemed it to be. A few hours ago, Jess officially posted on her IG story a series of photos that explained her near-death experience which only happened after her wedding. "It wouldn't be right to leave this part out of the wedding story as much as I would like to forget every single minute of it," she shares.
On a late Sunday afternoon, Jess and her friends were out and about to sightsee the ethereal sunset reflecting the waters of Palawan. To commemorate the magical moment, the friends were simply taking photos of the painting-like sky. But little did they know, this very moment was about to change the course of Jess' life forever.
"I asked my friend to take my photo by the water. Another friend went first, took her photo, and came back out. I then went to take mine and in a few seconds, [I] felt this immense sharp sting to my foot," she says. Her apparent reaction in the Instagram photo below shows the fear and anxiety in Jess' eyes when she was stung by a stonefish.
ADVERTISEMENT - CONTINUE READING BELOW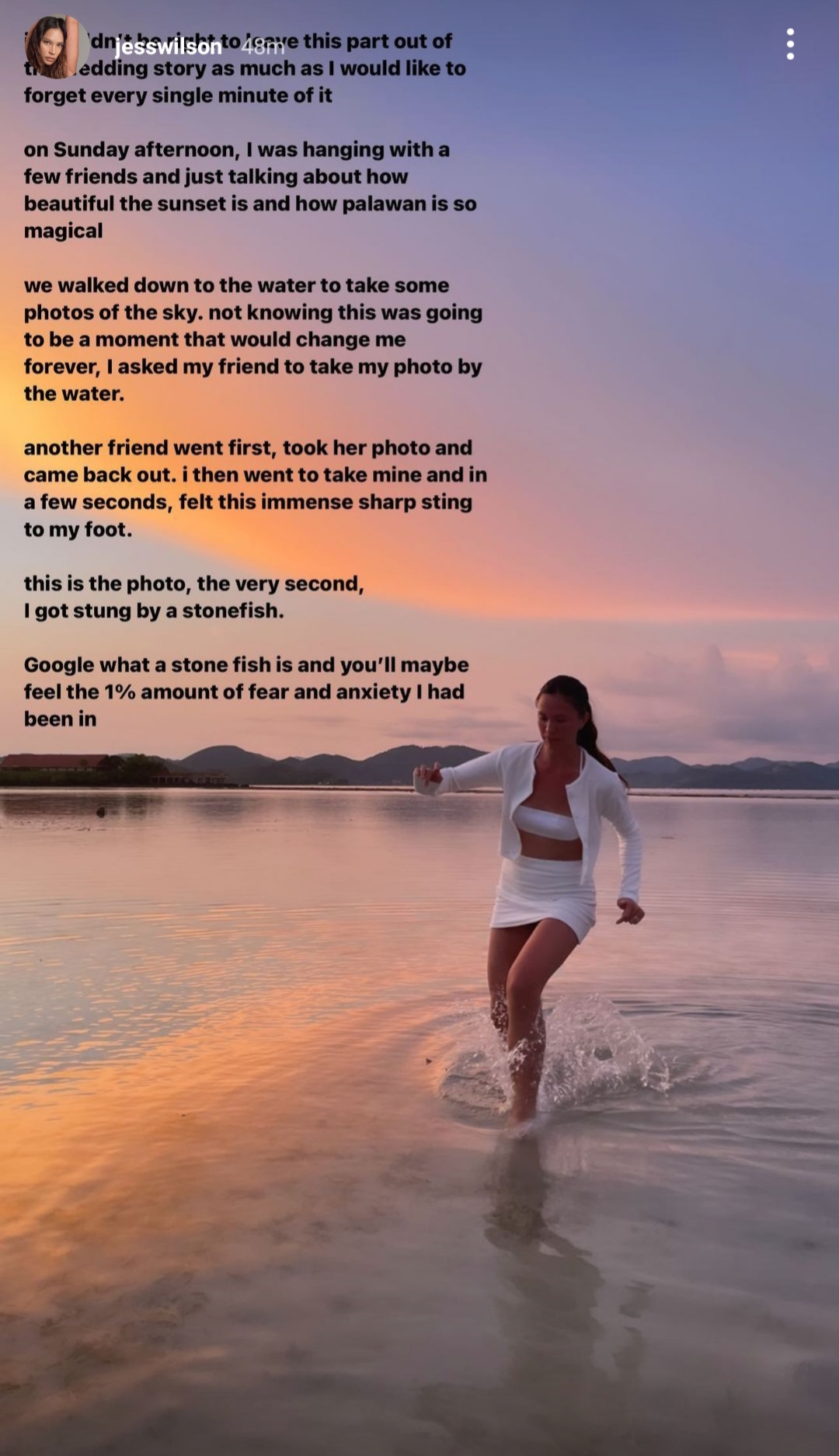 When the accident happened, her friends and the resort staff quickly carried her to a speedboat. Jess explains the excruciating, unusual pain she felt on the way to the hospital. "I could only describe it as that pain when you burn yourself. That sting that won't go away. It's that, for hours, ten times."
As if the day was over with the sunset now a pitch black sky, Jess really thought that this was it for her. Fortunately, since Jess, her friends, and the resort staff were able to react quickly and apply first aid once the stonefish scraped her toe, the doctors were able to disinfect and treat her wound just as fast when she was brought to the ER in Culion Hospital. After three IVs, two tetanus shots, two ER visits, and multiple doses of painkillers, Jess was able to have a second chance in life.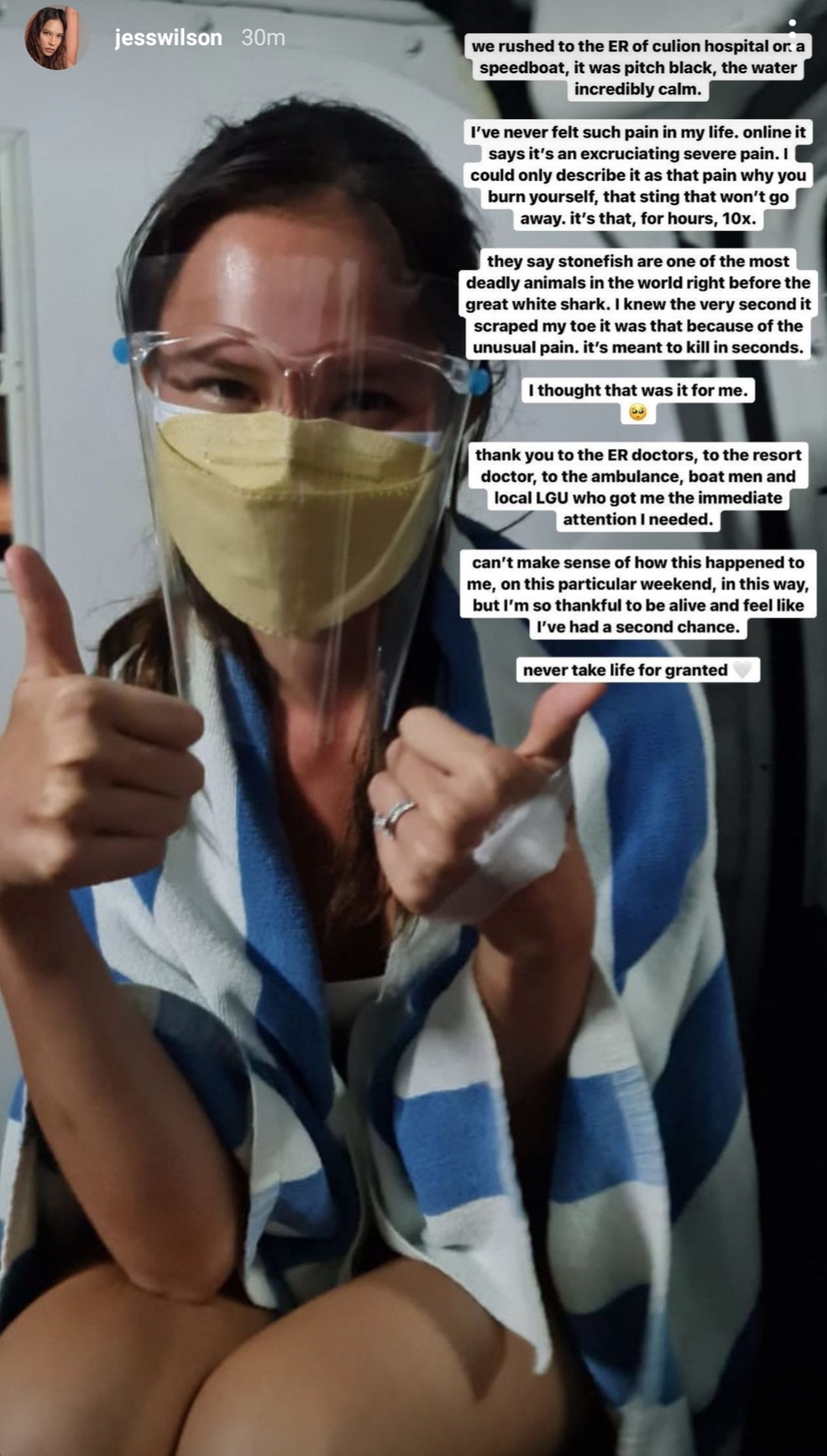 ADVERTISEMENT - CONTINUE READING BELOW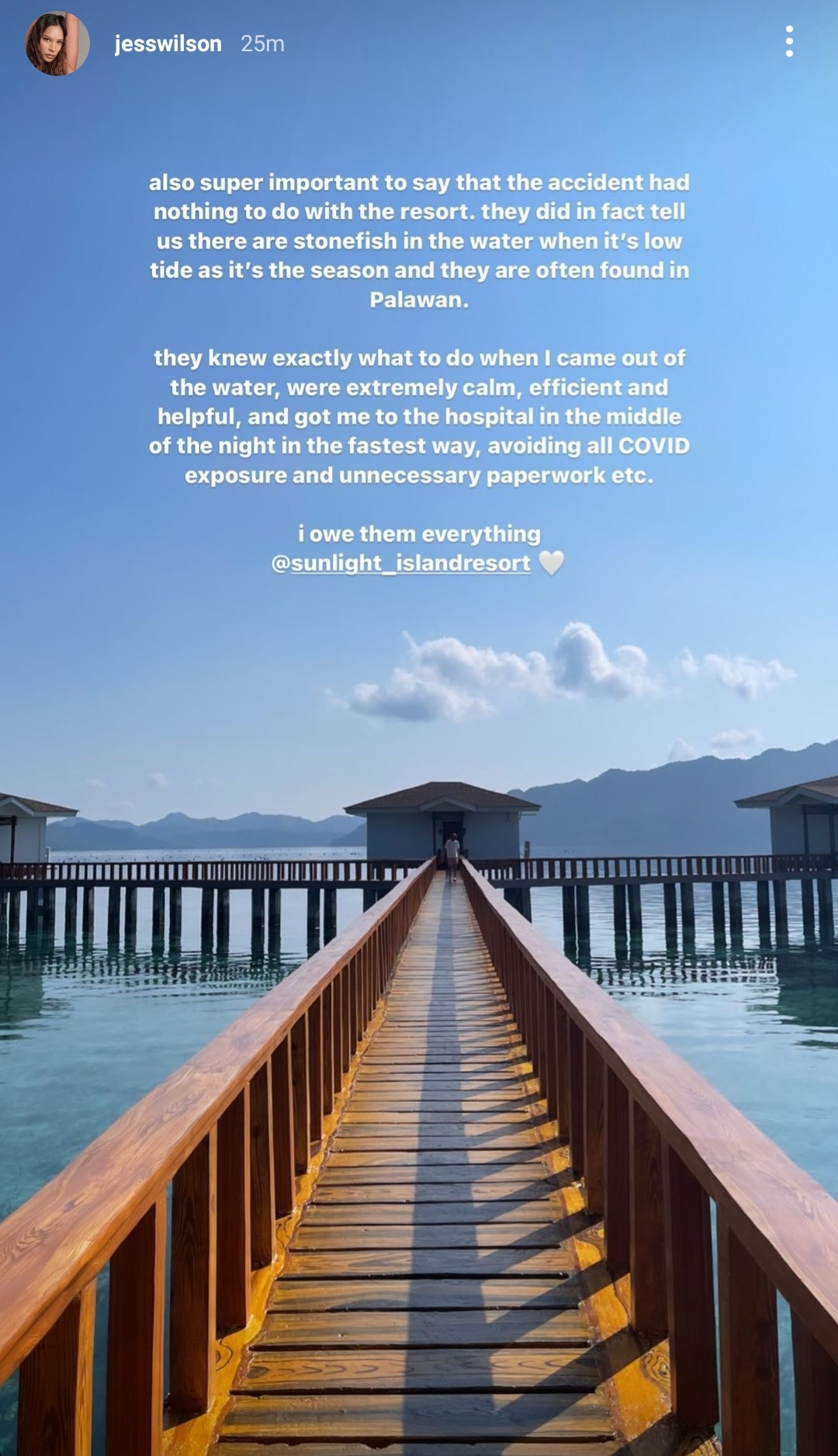 In reflection of this tragic incident, Jess tells her followers to not take life for granted because of how fragile life truly is. It could quickly turn a 180 degree when you least expect it. She also reveals that even after the wedding, she's still recovering. "I will look back on this one day and try to make sense of this story," she adds.
ADVERTISEMENT - CONTINUE READING BELOW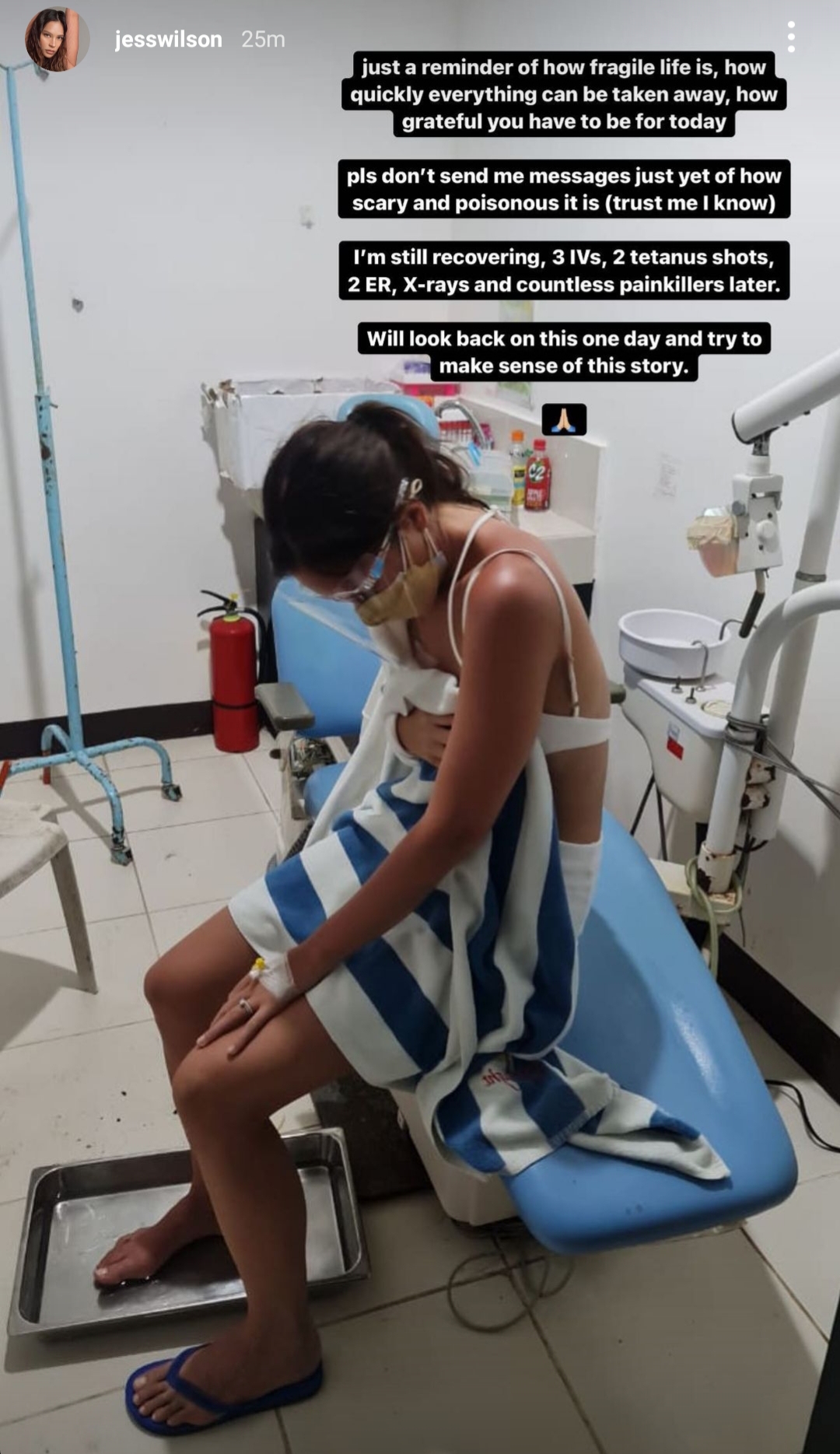 And in case you didn't know, a stonefish is one of the deadliest fishes in the ocean. Through its fin spines, one step could directly pierce its venom through a person's foot. During their hunt for prey, it is almost impossible to see them as they camouflage themselves underneath the sand especially during low tide. For Jess, she also wasn't able to see it coming.
ADVERTISEMENT - CONTINUE READING BELOW
If you're about to travel for your next beach vacation, make sure to be extremely cautious while walking on the shore. We urge you to ask locals, wear water shoes, or bury and shuffle your feet under the sand when walking to avoid directly stepping on a sea creature so you can avoid any accidents.
We're so relieved you're alive and well, Jess!
Related Stories from Preview.ph



Hey, Preview readers! Follow us on Facebook, Instagram, YouTube, Tiktok, and Twitter to stay up to speed on all things trendy and creative. We'll curate the most stylish feed for you!