The now-deleted tweet of Pinoy Big Brother alumni and Hashtags member Jameson Blake got the internet fuming faster than anyone can type "Lucid Express"—and quite frankly, we're not at all that surprised.
Two days ago, the 21-year-old local entertainer waged an impromptu Twitter contest in search of a graphic designer who could make him a social media banner for free. "Best one gets a shout-out from me," he announced, possibly in assumption that artists would disperse like frantic ants on his whim and present him their life's best work in exchange for his precious 24-karat shout-out.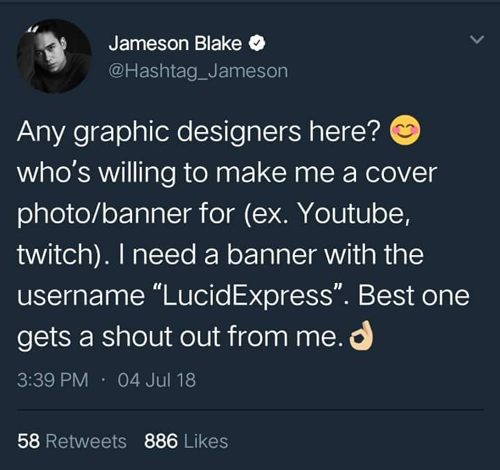 ADVERTISEMENT - CONTINUE READING BELOW
IMAGE twitter.com/Hashtag_Jameson
Naturally, the netizens—most especially the ones who work in the creative industry—were quick to react, pointing out that he should pay the artist for the artwork he's asking for. Others also criticized him for allegedly looking down on graphic designers and sneering at their hard work. One Twitter user commented, "As long as people like Jameson Blake exist, people who think a mere 'shout-out' is enough compensation, the creative industry of the country will always be belittled at best."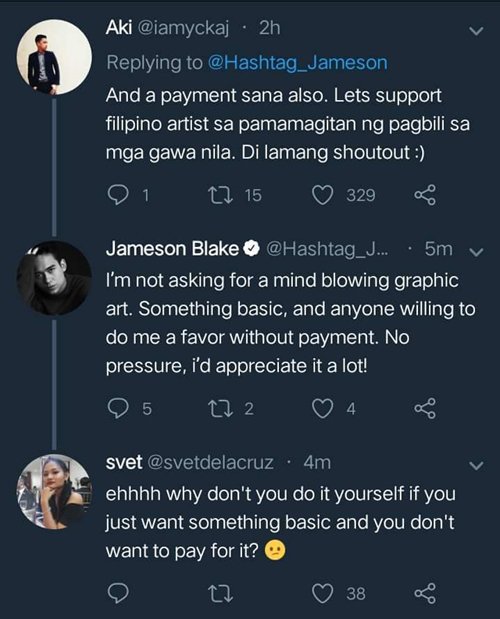 CONTINUE READING BELOW
Recommended Videos
IMAGE twitter.com/Hashtag_Jameson
To his credit, Jameson already deleted the tweet in question and even posted a public apology on his social media accounts:
Now, since he already apologized, this means it's time to let it go and put the issue to bed. Right? Well, wrong. Not really.
ADVERTISEMENT - CONTINUE READING BELOW
Mildly put, it seemed more like a band-aid solution. And honestly, we don't know which is worse: the fact that his "apology" sounded more like a malfunctioning defense mechanism, or the part where he said we can "simply ignore [his] tweet." After all, as his fans have been defending the issue, Jameson was only looking for an x-deal and there could possibly be no harm in that.
Sure, there's totally nothing wrong with an "x-deal." The industry, after all, thrives on creatives who help out fellow creatives: designers teaming up with stylists, photographers collaborating with models, makeup artists working hand-in-hand with hairstylists. Still, the way Jameson puts things into perspective does not in any way honor that code—if anything, it makes a mockery out of it. We know very well that he can easily shell out a few thousand bucks for a "basic" banner. But even if he doesn't have a dime to spend on artwork, the professional way to collaborate is to reach out to an artist and offer something with far more value than a vague "shout-out." Make a formal proposal, discuss what you have to offer and how the partnership will be beneficial to both parties, and negotiate your terms if you must, but the important thing is that you show the artist the respect he deserves as a creative professional.
ADVERTISEMENT - CONTINUE READING BELOW
To set the record straight, this issue does not only concern graphic artists. It trickles down to the entire creative industry and validates a culture that implies that what they do has little to no value. It's practically the same as telling photographers, "Pakuha naman ng bagong profile pic, hobby mo naman 'yan eh," or asking writers, "Isipan mo naman ako ng caption, 'dyan ka naman magaling eh." In the same way, you can't go on your merry way trying to score a free dress from designers because you'll "tag them on Instagram," and you can't just go around soliciting fashion advice from stylists because "friends naman kayo." It trivializes their skill sets and talents, making them seem worth less than they actually are. But newsflash: These are real jobs. So the answer is no, dear Jameson, you need to pay for that artwork, regardless if it's "something basic."
ADVERTISEMENT - CONTINUE READING BELOW
In a cutthroat industry where creatives seek out each other's support while striving to earn their place and make a name of their own, they constantly find themselves banking on their passion, along with literal blood, sweat, and tears. These people deserve better. So excuse us if this celebrity's offer for a "shout-out" felt more like a punch in the face rather than a helping hand.
And to you, Jameson Blake, for what your influence really is worth, you could've used it where it's needed: as an ally of the creative industry you're supposedly a part of, to lead by example, and to support struggling artists who deserve more credit than they're usually given.
So thanks, Jameson, but no thanks.
Related Stories from Preview.ph
Hey, Preview readers! Follow us on Facebook, Instagram, YouTube, Tiktok, and Twitter to stay up to speed on all things trendy and creative. We'll curate the most stylish feed for you!