The very first thing Nadine Lustre said upon hearing about this Preview cover was, "Ate, don't tell me mag-i-interview pa tayo ha!" We were at... actually, I can no longer remember where we were exactly when she said that, because shadowing Nadine is a lesson in that industry jargon lagare, which means, work, work, work, work, work. (Thanks, Rihanna !)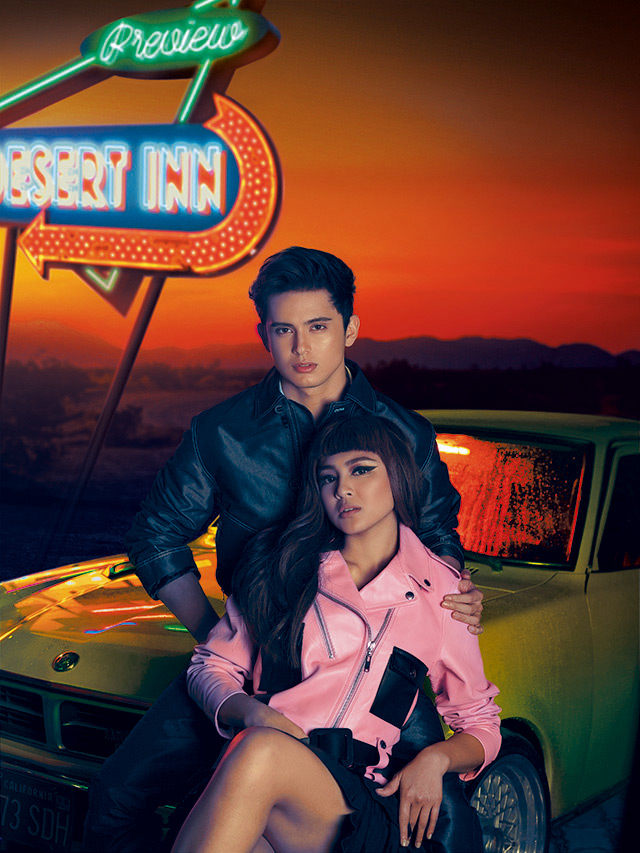 ADVERTISEMENT - CONTINUE READING BELOW
ON NADINE: Pink leather moto jacket, price unavailable; ON JAMES: Denim jacket, shirt and jeans, prices unavailable, all LOUIS VUITTON
And her boyfriend—it's still such a trip to say and hear that, no?—James Reid, is just as crazy busy. 2016 has been both kind and unforgiving to these two. Kind, because everything they do and everything they touch become certified moneymakers. Their first teleserye, On the Wings of Love, was a win, that rare Pinoy TV show that appeals to all social classes; while their JaDine in Love concert—where James unexpectedly professed his love for Nadine—at the Araneta Coliseum was sold out. (Nine million pesos earned on the first seven hours of sales—whew!) JaDine is so bankable that the producers decided to do a JaDine in Love World Tour, to give their fans abroad a chance to watch these two live onstage. They were also shooting a movie (This Time, despite going head to head with another Pinoy romcom starring John Lloyd Cruz and Jennylyn Mercado, earned an impressive 15 million pesos on its opening day, a monument to this love team's ability to draw the paying crowd), plus squeezing in TV commercial/print shoots for their numerous endorsements.
CONTINUE READING BELOW
Recommended Videos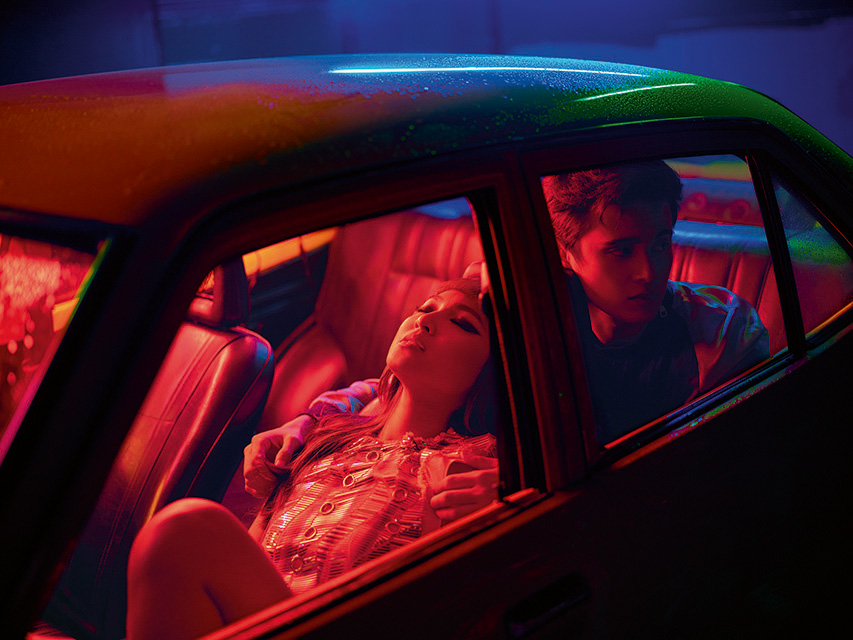 ON NADINE: Sequined dress, price unavailable, LOUIS VUITTON, Greenbelt 4; ON JAMES: Silk pullover, prices unavailable, LOUIS VUITTON
Yes, the universe has been kind. But it's also been unforgiving in the sense that they only have 24 hours each and every day, but have to do all those, plus be a daughter, a son, a sister, a brother, a friend, among many other roles they play. And when they weren't being all those things? They were answering my many, many, many questions inside an air-conditioned tent, inside a van with a noisy engine, in her all-white bedroom, in his brand-spanking-new house.
ADVERTISEMENT - CONTINUE READING BELOW
They were working on their first book.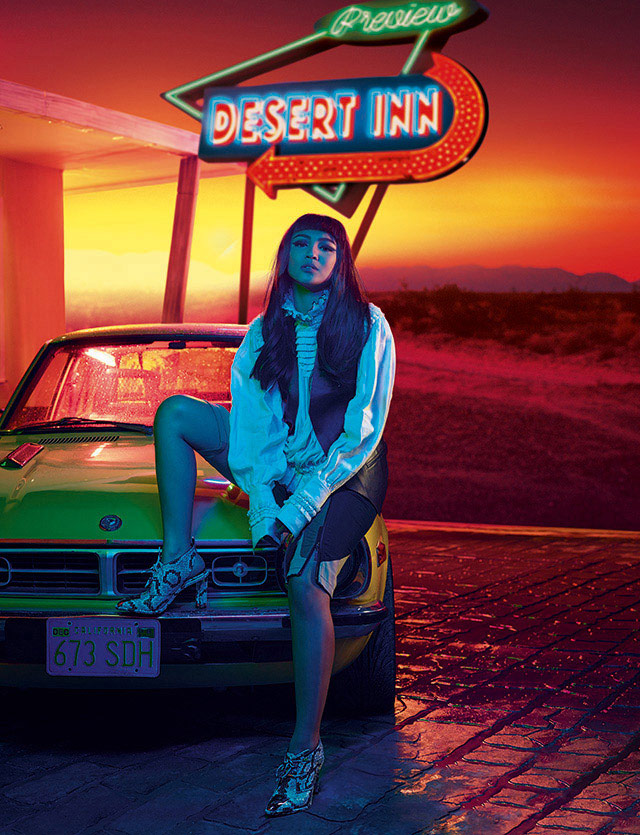 High-collared ruffled shirt, leather vest, Bermuda shorts, and slingback heels, prices unavailable, all LOUIS VUITTON, Greenbelt 4
ENGINE: START
So you can probably understand why Nadine and James begged not to do interviews for this cover story anymore. "Alam mo na lahat sa amin eh," she said with a tired smile, as her beau nodded in agreement. I acquiesced, and observed them on set instead. Inside the cold, cavernous studio, a Preview Desert Inn has been set up. Since we couldn't fly to shoot in Las Vegas, we brought Vegas here instead. Mark Nicdao is doing what he does best, and James and Nadz emote for the camera expertly, beats from the Drive soundtrack putting them in the mood. "It feels like a movie," Preview Editor-in-Chief Isha Vallés quips, and it really does. Between the elaborate setup and the two Vuitton-clad A-listers, it isn't your typical cover shoot. Eyes here, lean back a little, boom, we got the shot, next! As always, when you're working with JaDine, arguably the hottest love team in the country, time is of the essence. There's always somewhere else to be, something else to do. That's why creating a book by them, about them, for "the best fans in the world" (James' words)—given their insane schedule—required ninja skills, tenacity and heart, lots of heart. The project was first floated in December 2015, and the idea was to create a book, a "diary" of sorts to endear the two to their fans even more (not that they need it). But production didn't start until March 2016 because OTWOL and the concert were priority. In early March, convincing these two very private stars to be shot in their homes proved to be challenging. "My house is not yet done," protested Nadine; "There's no furniture in there yet," complained James. In the end, they agreed. The magic sentence was always "But your fans would want it." We struck a compromise: Give the world a peek without giving everything away. That's pretty much the JaDine manifesto.
ADVERTISEMENT - CONTINUE READING BELOW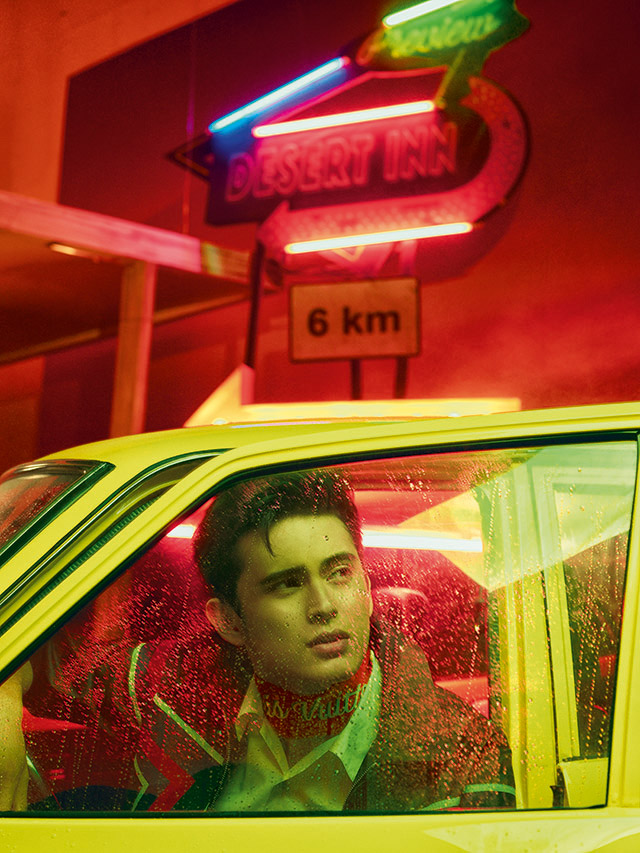 Jacket, shirt, and scarf, prices unavailable, all LOUIS VUITTON, Greenbelt 4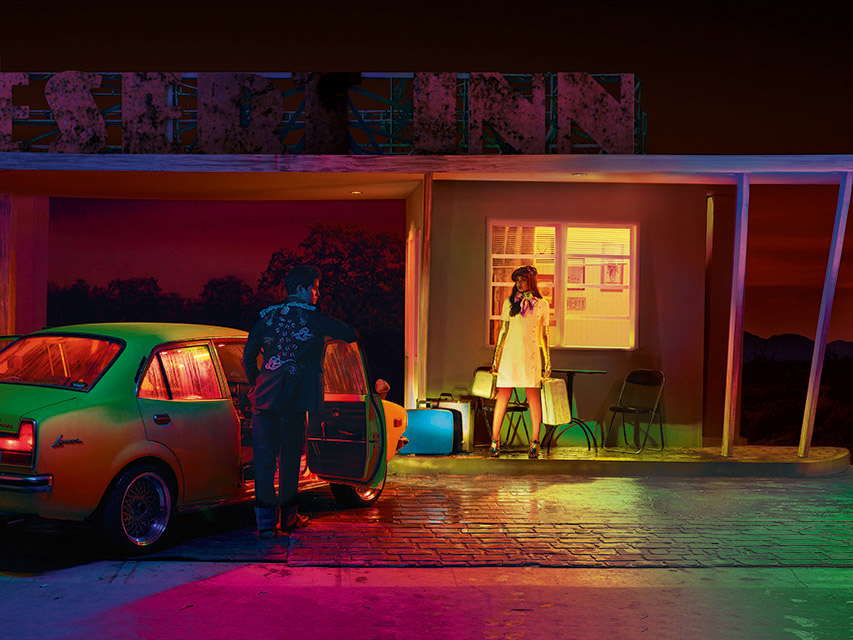 ADVERTISEMENT - CONTINUE READING BELOW
ON JAMES: Jacket with embroidery, jeand, fur slides, price unavailable, all GUCCI, Shangri-La Plaza East Wing; ON NADINE: Dress, knit tights, fingerless gloves, spiked heels, neckscarf, flower pink, and beret, prices unavailable, all GUCCI
It was a joy to see Nadine, the artist, not the artista, emerge during those home photo shoots. The girl did the production design for Chapter 1, even going as far as cabbing it (not GrabCar or Uber; as in a dingy, smelly cab we hailed) to SM North EDSA to buy cozy blankets, striped swimming shorts, and neon pink and green floaties for her hubby's shoot. Hands-on, perfectionist: Two words that come to mind as you watch her select and set things up. That unplanned trip to the mall revealed how mind- bogglingly unaware Nadine is about her popularity. She actually thought she could walk (really fast) inside the mall unnoticed. In the end, we had to make a mad dash for the exit because the crowd was swelling and the pitter-patter of feet behind us became more intense.
ADVERTISEMENT - CONTINUE READING BELOW
For his wifey's shoot, James also contributed a little something production design-wise: He brought a vinyl player to her house, just in case she needed it. (And it ended up being a focal point in one of the photos.) He stayed for a while, watched his girl get dolled up, and played raw versions of the tracks from his still-in-the-works album (it's going to be sick, trust us) before going off to shoot scenes for This Time. These pockets of intimacy are valuable. Sure, they're together a lot, but it's always in the context of work. This home shoot is work, technically, but it's their turf, their terms, without prying eyes. At least.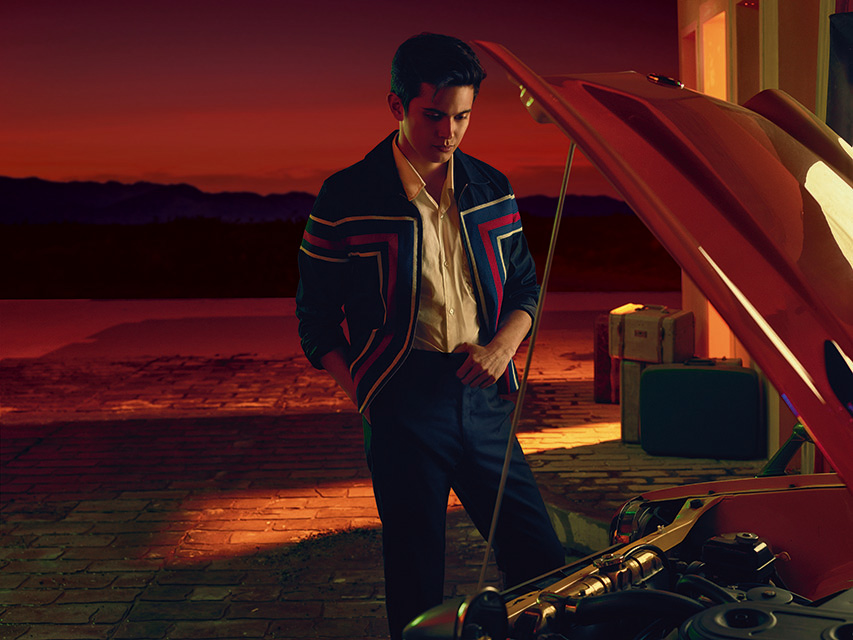 ADVERTISEMENT - CONTINUE READING BELOW
Jacket, shirt, and jeans, prices unavailable, all LOUIS VUITTON, Greenbelt 4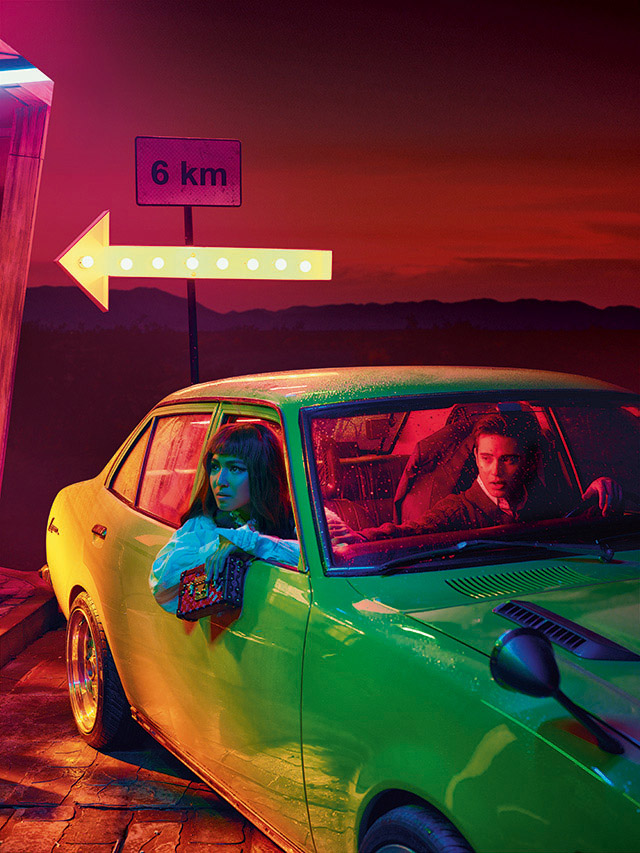 ON NADINE: High-collared ruffled shirt, leather vest, and Petit Malle, prices unavailable, all LOUIS VUITTON; ON JAMES: Suit, shirt, and cableknit pullover, prices unavailable, all LOUIS VUITTON, Greenbelt 4
DRIVE
As early as May, JaDine fans have been reserving copies of the book without even knowing the title. There are hints that answers to questions like, "What did they really fight about during the Wang Fam premiere night?" and "Who fell in love first?" could be found in its pages, and this is us going on the record to say, yes and yes. The book is an all-access pass into James Reid and Nadine Lustre's world, each page showing their views on everything—from money to pop culture, beauty to love. Fashion takes up an entire chapter in the book, something vital to the love team's massive success. They never plan to be matchy-matchy but somehow end up looking like style twins. And fans really hone in on what they wear: Recently, for the premiere of This Time, Nadine surprised everyone by designing her own gown, executed by designer Mak Tumang. For their book cover, James and Nadine wore #TeamReal jackets custom-made by designer Esme Palaganas for her label Basic Movement, with a wolf (his) and a lion emblem (hers) designed by Concrete Design embroidered onto the back of each one. They love it so much they wear it onstage and off. You only have to check candid shots of them on Instagram to see for yourself. The pair each have a strong point of view, especially in terms of dressing up: Nadine always gunning for classic but edgy, and James always aiming for that James Dean daydream look. Both always land on best-dressed lists for a reason: They wear the clothes; the clothes don't wear them.
ADVERTISEMENT - CONTINUE READING BELOW
Unlike other celebrity books, it's not a how-to, not really. What it is is a get-to-know-the-real-us read, accompanied by photos from their own cameras.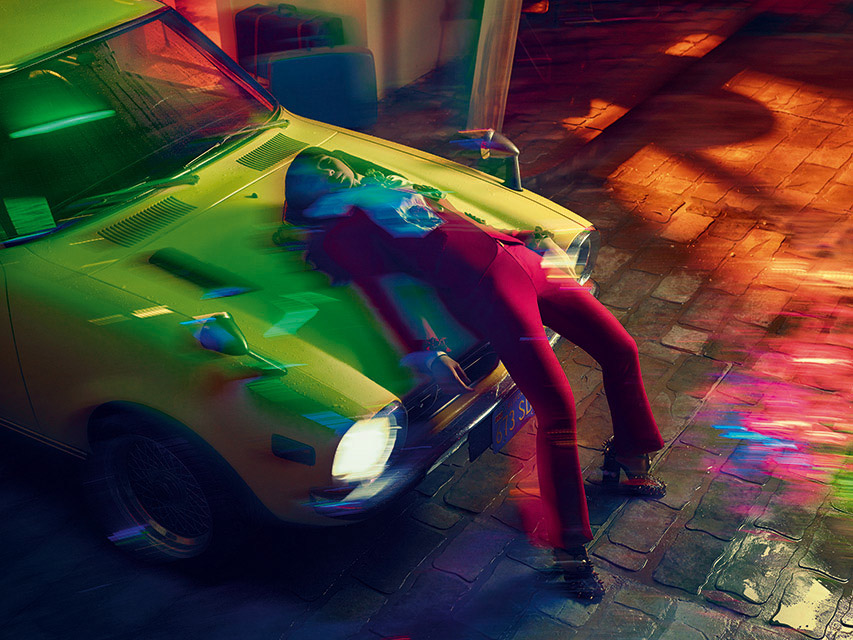 Flared pantsuit, embroidered pussybow shirt, spiked heel, and chain-strap purse, prices unavailable, all GUCCI, Shangri-La Plaza East Wing
Words are not exactly this pair's medium. They're more visual creatures, their stunning Instagram photos always just sparsely captioned. It's probably just how they are as people, but it could also be an artista defense mechanism: The less you say, the less your chances of courting a sh*tstorm. For this project, though, they step out of their comfort zones and put on their storyteller hats: James exploring a haunted house in Baguio, Nadine on what she really feels when bashers nitpick her flaws, how they see style and fashion, their perceived secret to scoring success and money. You'll be glad to know these two aren't just eye candy. There's meat in between those pretty ears. And you'll hear what they have to say when the book drops on June 19.
ADVERTISEMENT - CONTINUE READING BELOW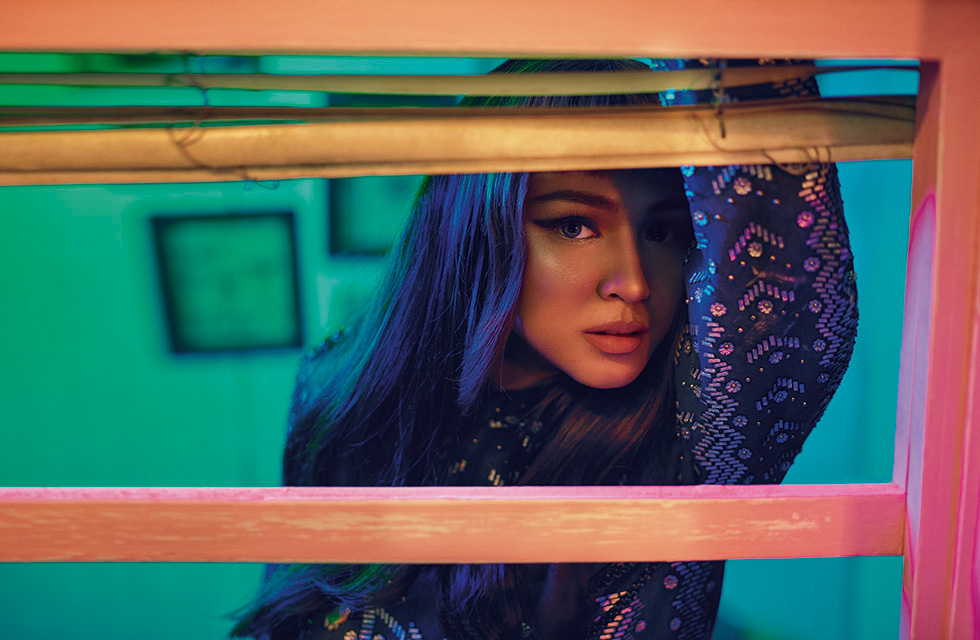 Belted gray beaded coat, price unavailable, LOUIS VUITTON, Greenbelt 4
ACCELERATE
The two stay on for an extra two hours, a fact that brings joy to the Preview team. (You can't rush perfection.) Aside from the occasional jokes and small talk, they don't really say much, and prefer to channel their energy in front of Mark's camera. At one point, Nadine does a weird dance and a sleepy smile forms on James' lips. His birthday is coming up in a few days, and the team surprises him with a cake with candles to blow. (You can watch the video here). For those still unconvinced about #TeamReal, the Preview team was witness to the couple's affection for one another. In the frenzy between outfit changes, despite the village of people around them, we found the two locked in a brief embrace, as though taking a quiet breather together in the midst of work. The moment felt and looked private, and the rest of us in the room looked away to give them that space. Time check: 11 p.m. There's still work to do after this shoot, rehearsals for the North America leg of the JaDine in Love World Tour, and I honestly don't know how these two are going to haul themselves to their next appointment. Interviews for the book are not finished yet, and I tell them—frantically— that the deadline is uncomfortably close. "We will finish the interview tomorrow," says James. "Promise," Nadine reiterates.
ADVERTISEMENT - CONTINUE READING BELOW
I take their word for it. Because #TeamReal—in not so many words—always delivers.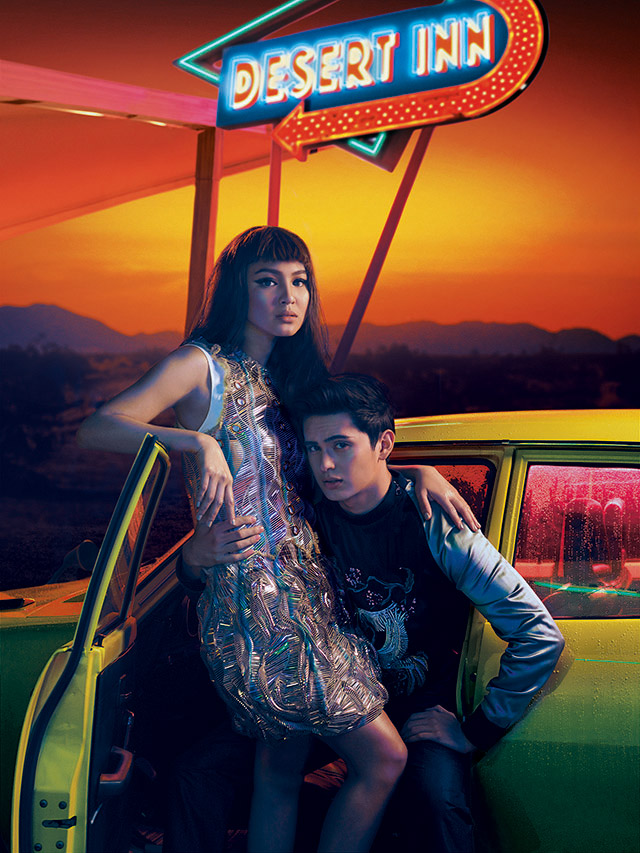 ON NADINE: Sequined dress, price unavailable, LOUIS VUITTON, Greenbelt 4; ON JAMES: Silk pullover and trousers, prices unavailable, both LOUIS VUITTON
Creative direction by Vince Uy
Makeup by Jelly Eugenio (Nadine)
Grooming by Mac Igarta (James)
ADVERTISEMENT - CONTINUE READING BELOW
Styled by Loris Peña
Stylist's assistant: Yanna Lopez
Hair by Paul Nebres (Nadine)
Nails by Bernadette Cruz of Posh Nails
Shoot assistants: April Lozada and Ednalyn Magnaye
Interns: Patricia Co and Dainnie Lopez
Production design by Dindo Pangalangan of Rooster Production Design
Special thanks to Andrei Torres for the vintage Mitsubishi Lancer
*This cover story originally appeared in the June 2016 issue of Preview Magazine.
Related Stories from Preview.ph
Hey, Preview readers! Follow us on Facebook, Instagram, YouTube, Tiktok, and Twitter to stay up to speed on all things trendy and creative. We'll curate the most stylish feed for you!