Entrepreneur Ben Wintle's wedding proposal to Iza Calzado at Sonya's Garden last Sunday came as a surprise to the Preview girl—"I absolutely had no idea," she muses—but it seems she inadvertently helped plan her engagement, after all. Between Iza's conversations with her long-time boyfriend—now, fiancé—and with her friends, Ben, who is the founder of dining app Booky, made sure to pay attention to all the hints she had occasionally dropped.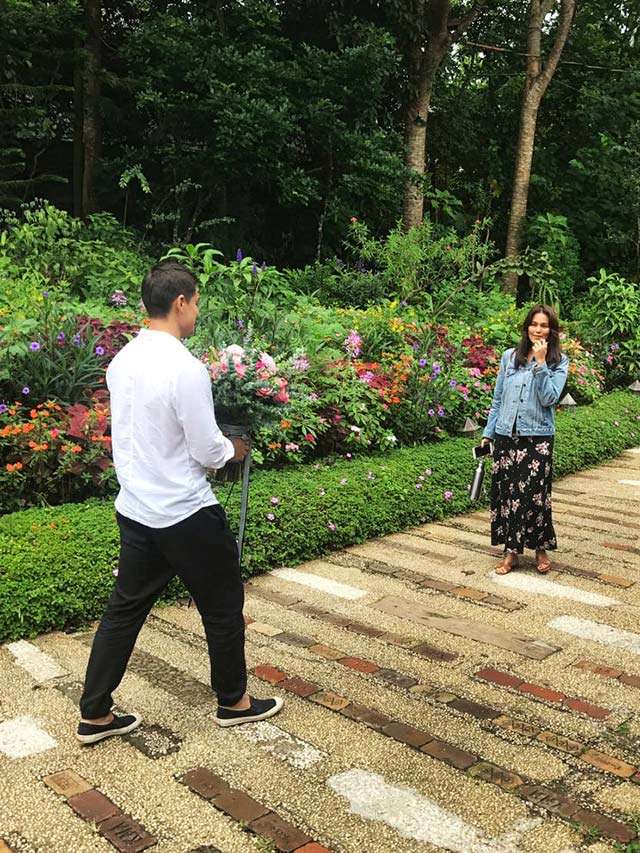 ADVERTISEMENT - CONTINUE READING BELOW
IMAGE Rajo Laurel
Below, Iza shares with Preview how it all went down.
Did you have any idea at all? What did Ben tell you the plan was for the day?
"I had no clue, whatsoever—nothing. We were just supposed to have family lunch at Sonya's with his mom and his brother who happen to be in town and then my tita and my cousin from Canada were also in town. So we were kind of just going to enjoy Sunday. So that was the plan—with my kuya, my kuya's baby, the girlfriend and then my other pamangkin, my younger brother... It was going to be a happy family lunch—I was excited because we were going to be complete. So, I wanted to take photos. Hence, I wore a dress. The last time I had a family photo was also at Sonya's Garden and my dad was still alive. It was a nice family photo we had and I wanted to recreate that. It was good I dressed nicely but then I forgot my makeup at home. I put on a bit but we were rushing—it was a crazy time leading up to that."
CONTINUE READING BELOW
Recommended Videos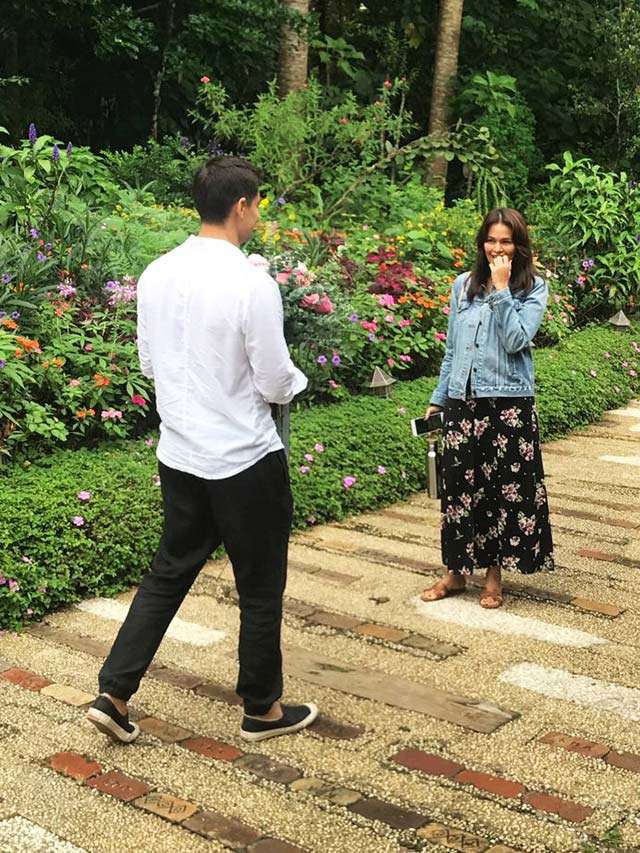 IMAGE Rajo Laurel
Ben proposed to you in Filipino. Were you surprised?
"So part of the proposal was in Tagalog—part of me wanted to laugh out loud. Am I mean? It was cute (laughs). You know, it felt like an out-of-body experience. I wasn't actually there, to be honest. I could hear him, I could see people there, but I was kind of a little numb. Then I started to cry because I remembered my parents, but more my dad because I was last there with him just seven years ago. It was cute. It was a good try because he does not speak Tagalog. If you've seen the videos, he tried really hard. It was cute."
ADVERTISEMENT - CONTINUE READING BELOW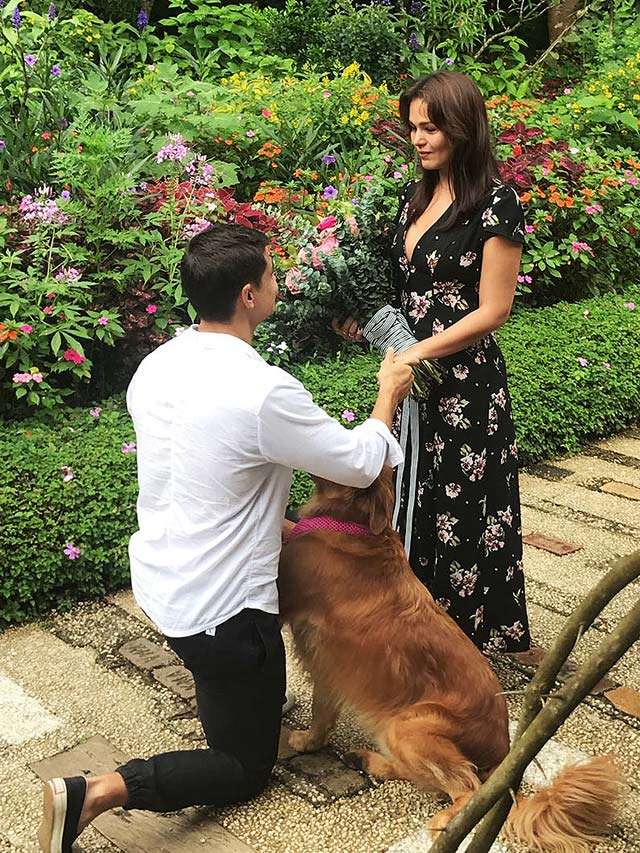 IMAGE Rajo Laurel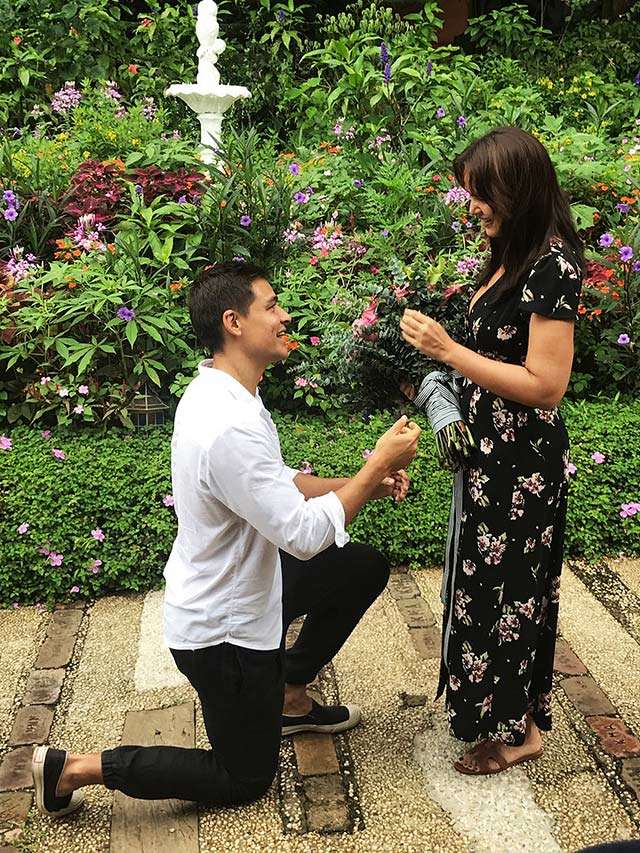 ADVERTISEMENT - CONTINUE READING BELOW
IMAGE Rajo Laurel
"Pwede ba kitang makasamang kumain at sumayaw habang buhay?"
What do you love the most about the way he proposed to you?
"Early on in our relationship, apparently I did say this, I did make a demand saying that when he proposes, [my] family has to be there [and] it has to be recorded because I want to see my reactions. But I kind of forgot and I actually thought he was going to propose on our upcoming vacation, which we're planning but haven't decided on yet. I thought he was going to propose there so I absolutely had no idea this was going to happen. But I loved that all my friends and family were there. I loved sharing that moment with them. The downside, though, is that you can't contain an event like that and savor it. It's overwhelming—but I wouldn't have it any other way."
ADVERTISEMENT - CONTINUE READING BELOW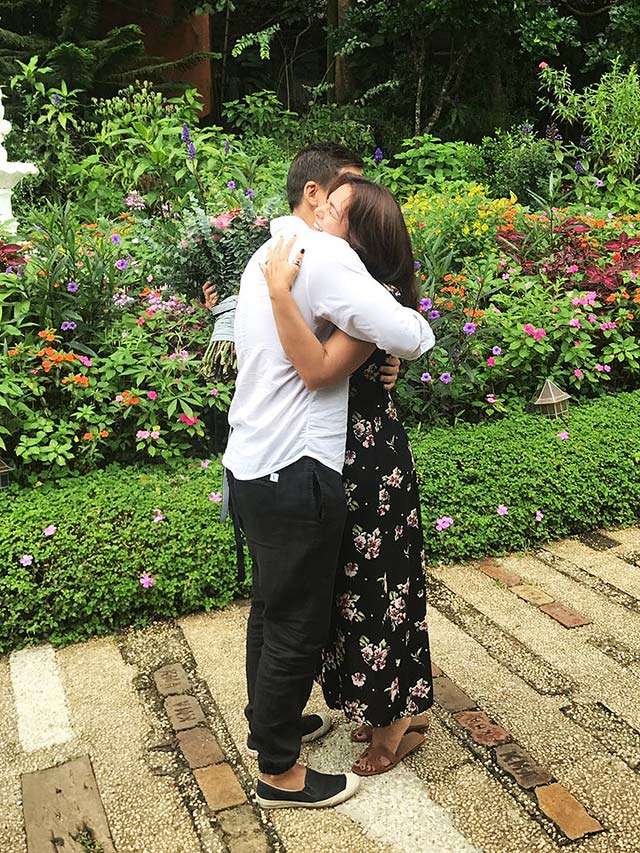 IMAGE Rajo Laurel
The bouquet was beautiful.
"His friend asked him, 'Do you have flowers?' and of course he didn't. Ben is not ma-detalye like that but he did make an effort to get everyone together and I love him for that. They somehow came up with a bouquet and it was really, really nice. It was a little too heavy, to be honest, but very beautiful. It was arranged by Dave Sandoval."
ADVERTISEMENT - CONTINUE READING BELOW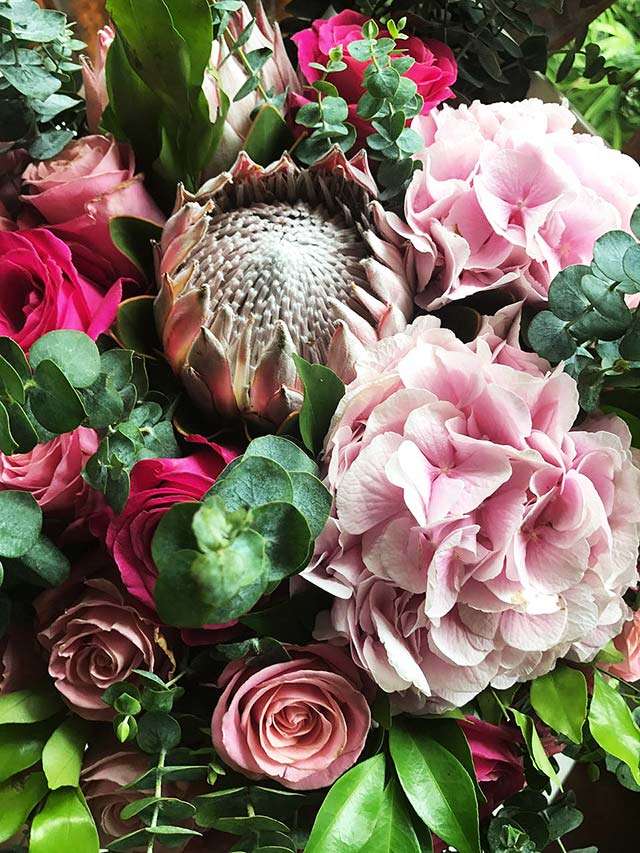 IMAGE Rajo Laurel
What's the story behind the ring?
"I kinda had something to do with the ring (laughs). I've been taking screenshots of rings for about three years now. Then last year, Belle Daza made me follow Lauren B Jewelry. So for a time, I considered an oval-shaped ring but then I was thinking my fingers don't match that. So my jeweler and good friend, Candy Dizon of Jul B Dizon Jewellery, and I would always talk about the ring. She would ask me, 'What do you want ba?' And then we saw this huge, cocktail ring type and at the center were three stones. I said I like the stone of that one; and then she said, "Oh, that's a D." Ano yun? She said it means it's flawless. So I said, parang gusto ko D. So, I kept saying I want a D. She said, 'Girl, that's mahal!' Oh no, patay.
ADVERTISEMENT - CONTINUE READING BELOW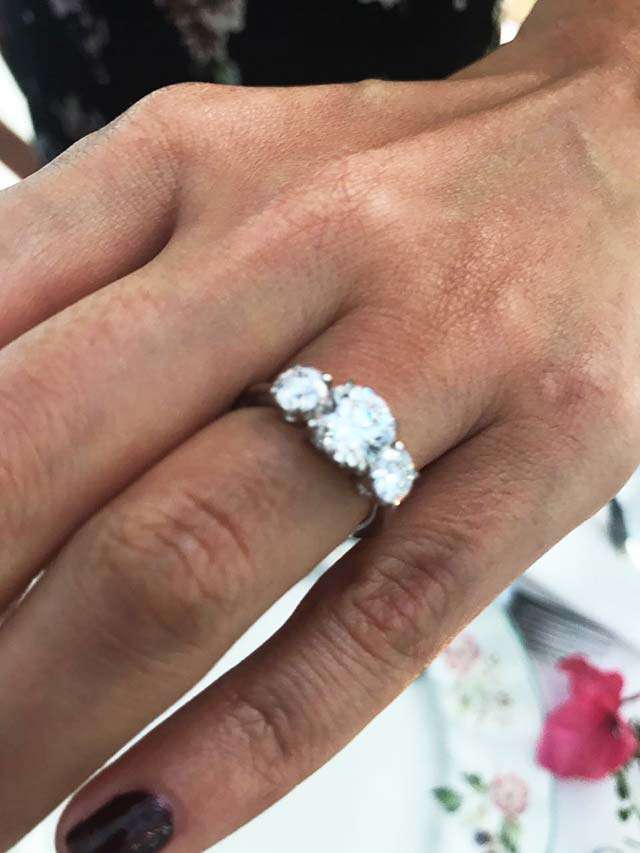 IMAGE Rajo Laurel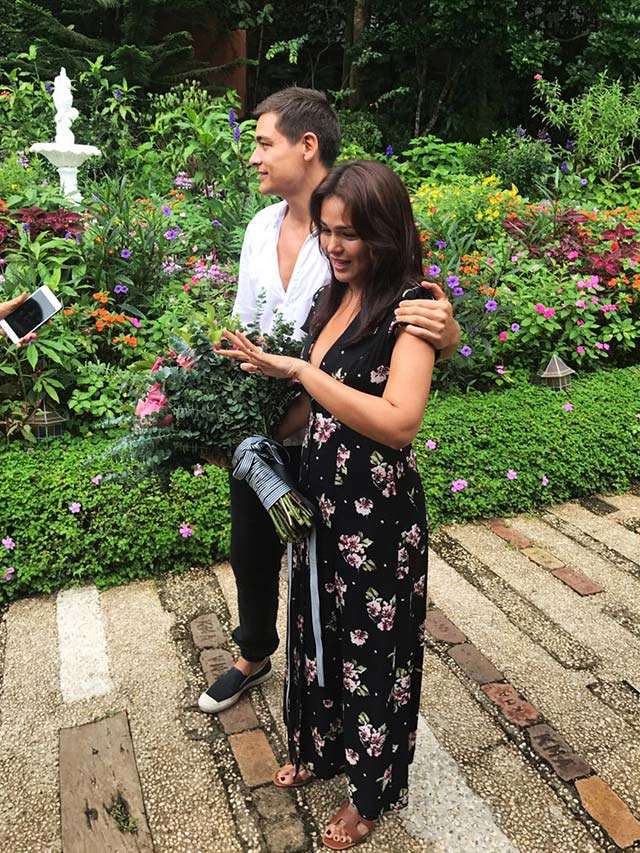 ADVERTISEMENT - CONTINUE READING BELOW
IMAGE Rajo Laurel
"I didn't want Ben to spend so much on the ring because eventually we have the wedding and our lives to save up for. But I wanted a ring which is more quality than quantity or size. So Candy suggested, 'What about a trio?' I said that's kinda nice because I do have a thing for trios—like the Orion's belt, I feel like three means I-Z-A, and then for us, it can also mean, B-E-N. So I liked it, I just didn't know what stones would go. That's the story of the ring. So I kind of helped choose the ring. It wasn't a very big surprise. It was just a big surprise."
Why, after all these years together, is Ben the one you happily see yourself with?
"Initially, for me Ben was very good on paper but I wasn't sure where I was. It was really more me. I wasn't sure where I was in life or what I wanted. I [should] be ready because I kinda knew that he was the real deal, but I wasn't sure I was the real deal. So I had to really make myself mentally prepared for this whole marriage thing. I guess marriage had always been this sweet and cute idea in my head but it's such a big commitment. It shouldn't just be an idea. You really have to decide and be 100% ready or somewhat ready to take on a commitment like that.
ADVERTISEMENT - CONTINUE READING BELOW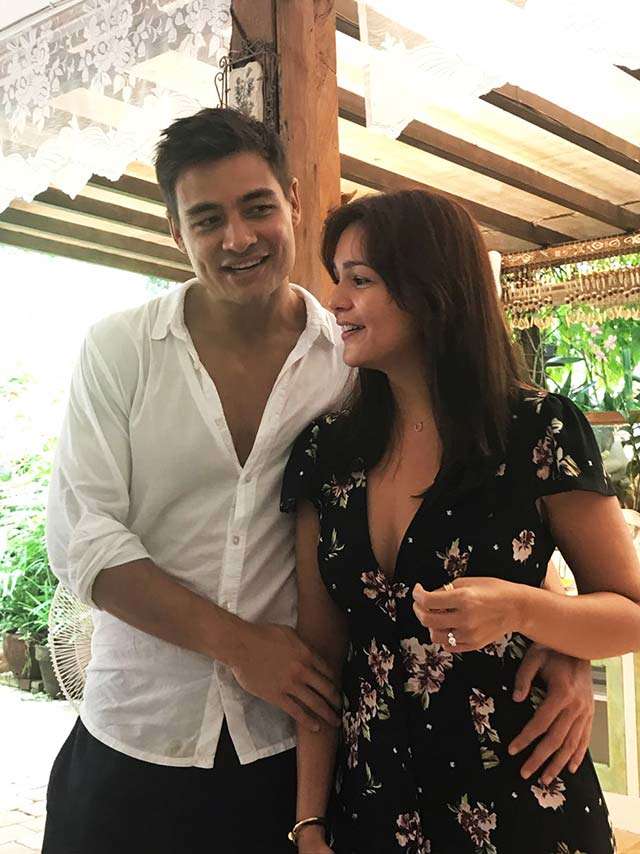 IMAGE Rajo Laurel
"I feel like Ben is the right guy for me because he balances me. Together, we're a good partnership. We're a strong partnership because his strengths are my weaknesses, and vice versa. And we love the same things. We eat the same food. We have the same dietary principles, which is so important for me. And of course, on top of that, he's gorgeous (laughs). He's very hardworking, and the most important of all, he's very mabait. He's perfect for me."
ADVERTISEMENT - CONTINUE READING BELOW
Related Stories from Preview.ph
Hey, Preview readers! Follow us on Facebook, Instagram, YouTube, Tiktok, and Twitter to stay up to speed on all things trendy and creative. We'll curate the most stylish feed for you!