Most nights at live music venue Route 196 fade into the background for the bands that play there and the fervent young crowds that come to greet them. But for IV of Spades, one night stood out. "I was asking them if we were going to take this seriously or not," recalls bassist Zildjian Benitez, who goes by Zild. "Parang, 'Ano, habang buhay ba tayong magti-trip lang, o seseryosohin na natin 'to?'"
The quartet had been jamming together and playing shows for the last two years, but they hadn't made any ripples. It was now or never. Together, they made a decision: They were going to take the band seriously and see it through.
Their resolve made all the difference. Not long after, they came out with Hey Barbara, having exchanged mussed hair for neater mod cuts. The edginess in their early releases had been done away with in favor of falsettos and soft harmonies, but the precision they had become known for remained. And in case there was ever any doubt, they eschewed subtlety altogether with the single that followed, Where Have You Been, My Disco? They were rediscovering and repurposing dance music from an analog generation. And people took note.
ADVERTISEMENT - CONTINUE READING BELOW
On a break from this shoot, the members of IV of Spades have changed back to their own clothes when we sit down to do the interview—and yet they still look as though they had just stepped out of a 1970s poster, all corduroy jackets and paisley patterns. Joining Zild are guitarist Blaster Silonga, drummer Badjao de Castro, and lead vocalist and guitarist Unique Salonga.
Before the band, they were near-strangers tied together by one thing in common: musician parents. They all found music at young ages: Unique was given a guitar by his dad at six, Blaster took the guitar seriously in high school, and Badjao has been playing the drums since he was 11. Zild, son of drummer Franklin Benitez, who had played with Barbie Almalbis in Hungry Young Poets and later Barbie's Cradle, began learning to play the drums at seven and stopped because he didn't want to be in his dad's shadow. When he was 12 or 13, he picked up a bass, but also grew up thinking like a producer and arranger. In 2014, singer Allan Silonga of Daddy's Crib had been encouraging his son Blaster to start a band when he got the idea to call up his musician buddies so they could introduce their sons and see what would happen. "Sabi niya, 'Anak natin, banda-banda,'" Blaster says. "We had jam sessions."
CONTINUE READING BELOW
Recommended Videos
In the beginning, they were divided, hogging solos and playing without cohesion. "It was terrible!" Zild admits. "There was a lot of conflict and division, especially between me and Unique sa songwriting." "Insecure kami sa isa't-isa," Unique agrees. Putting their differences aside enabled them to figure out the best way to play together, which they accomplished by adjusting to and complementing each other's strengths. The results still highlighted their individuality without singling or washing anybody out. "We became real friends," Zild recalls. "Not just being, like, music friends, kaya parang nakasakay kami sa trip ng isa't isa."
Blaster adds: "Nung mas naging tight 'yung relationship namin sa isa't-isa, mas naging natural kami. Kumbaga naging tunay na banda na, hindi yung pinag-sama-samang indibidwal."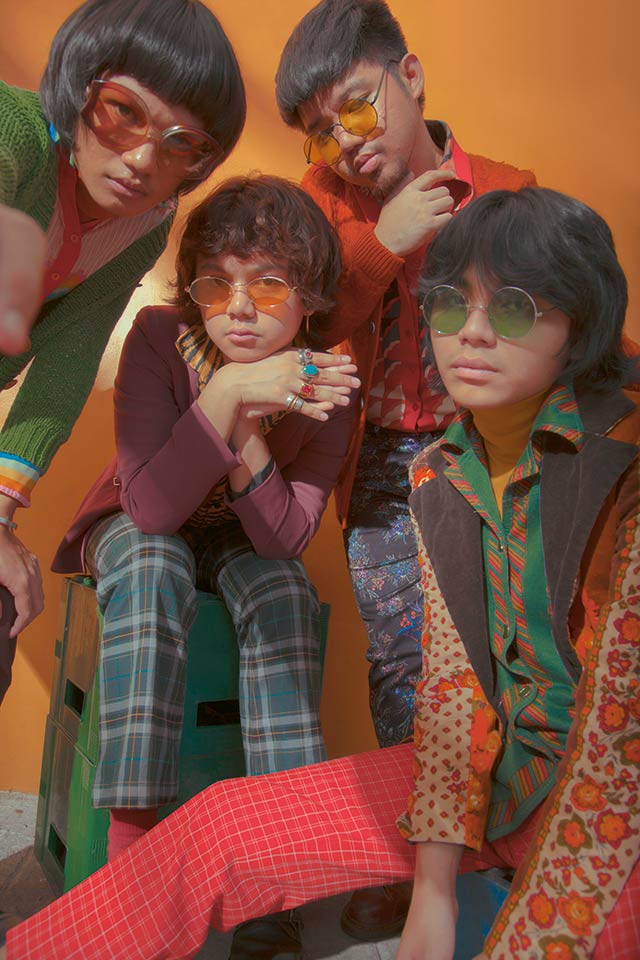 ADVERTISEMENT - CONTINUE READING BELOW
IMAGE Shaira Luna
While they claim that they're making no attempts to subvert or play around with the conventions of funk, the band does cite a wide range of influences, including disco canon like the Bee Gees, and Earth, Wind & Fire, The Beatles, Michael Jackson and The Jackson 5, Stevie Wonder and even Guns N' Roses and Gloc-9. But more than anything, their music owes its existence to who they are and what makes them tick. "When it comes to establishing a sound, identity is one of the most important things," says Zild. "I think identity can beat technicalities when it comes to creating music." Unique pipes up: "Tsaka style."
When I ask them what each member brings to the band, I hear banter along the lines of "Nakakahiya!" and "Nakakakilig!" Still, there's no denying how well they know and care about each other when they answer. Zild sums it up best: "Walang pwedeng tanggalin sa IV of Spades."
ADVERTISEMENT - CONTINUE READING BELOW
Blaster brings the sparkle, the creative spirit. He's indecisive about certain things, but he never plays it safe. "'Subukan natin 'to.' Siya ''yung ganun," Unique shares. According to Zild, Badjao is the backbone: "'Yung unconsciously hindi mo alam na, kaya ka dumarating sa idea na 'yun dahil may nagagawa siya. Because of the beat, may naririnig ka nang ibang part. You can hear the bass, you can hear the guitars." Zild makes sure IV of Spades sounds like, well, IV of Spades, and you'd be able to hear each member in the song to the best of their abilities. He works overnight and is a stickler for discipline. "He's [in] music school," Badjao says, "so any way you look at it, dito na talaga siya." Unique is the songwriter. He's intuitive and wise—the soul of the band. He's not much of a talker, but his voice takes on a different form entirely when he sings. "Hindi ko alam," Blaster laughs. "Minsan kilala ko siya, minsan hindi."
ADVERTISEMENT - CONTINUE READING BELOW
They make it a point to stress that they write songs for fun, to get creative and amuse themselves. "Minsan hindi namin iniisip kung ano 'yung gusto naming iparating," Unique muses. "Minsan lumalabas na lang siya sa kagitnaan. Gusto lang namin ng wordplay, gusto lang namin ng maganda sa pandinig."
"Every song has a different approach," Blaster says. The lyrics take on varying points of view from different personas, detailing stories and conversations that aren't always firsthand or personal. Hey Barbara, for example, began with names being thrown around, and ended up being an attempt to criticize catcalling and the culture of entitled men through irony.
"At the end of the day, dapat nag-e-enjoy kami," Badjao says. "If [the listeners] feel something, that's it," Zild adds. "Good job, effective 'yung music."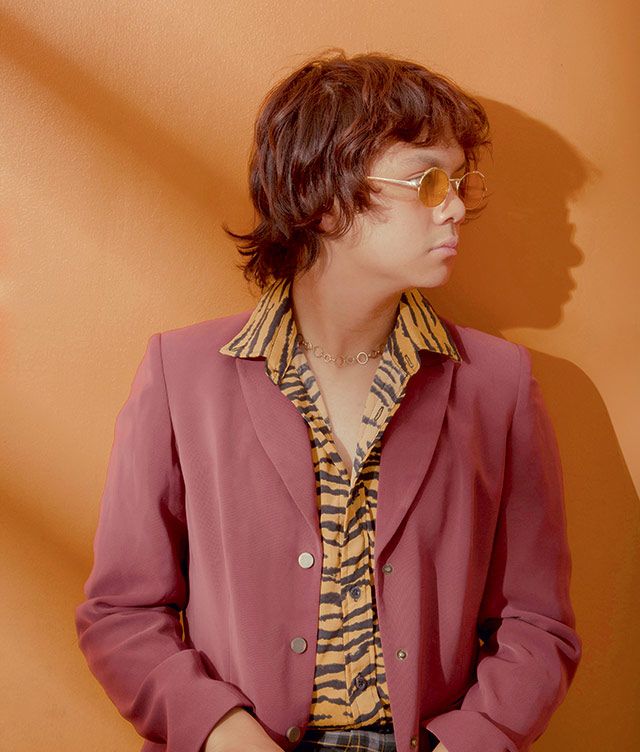 ADVERTISEMENT - CONTINUE READING BELOW
IMAGE Shaira Luna
Although they have a refreshingly earnest process of making music—as though it were still a hobby and not a career—the young men of IV of Spades are aware of the platform they've been given and the attention of adoring fans. "May responsibilidad [kami] sa [kanila]," Unique acknowledges. "We can change a lot of minds," Zild says. "Lalo na sa kabataan. We're still growing up, but people listen to what we say, and we don't take it lightly. We could be a big part of their lives, [we could help] them when they're struggling with something. We just want them to live [well] and stand on their own feet." To which, Blaster agrees: "We want to make the most out of it in a good way."
Because they left such a strong impression following their strobe-lit reintroduction, it's possible that they could be written off simply as "that disco band" or a one-trick gimmick. They stick out among their peers because nobody really quite sounds or looks like them. But they assert that it's something they're committed to, and it's the real deal—and it doesn't mean they can't still be the same four guys from Marikina, going out for fishballs and takoyaki when they're not rocking out. "We want to challenge stereotypes," Zild begins. "It's an expression. We want the way we write, the way we portray ourselves visually, the way we dress, and the way we act onstage to be a reflection of our music."
ADVERTISEMENT - CONTINUE READING BELOW
He goes on to say that it's less of a "rebrand" and more of an effort to stay true to themselves. He remembers that fateful night at Route 196 as something of a turning point. "It was a wake-up call to just accept who we are," Zild says. "We used to try hard to be someone else before, then dumating sa point na, 'Hindi tayo ganun eh. Let's be ourselves.'"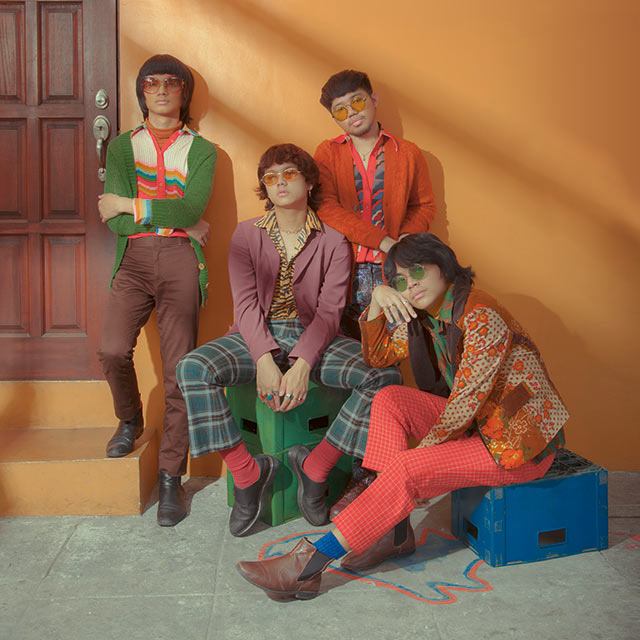 ADVERTISEMENT - CONTINUE READING BELOW
IMAGE Shaira Luna
Unique nods. "Kasi ayaw namin 'yung ganito, ganyan, na ginagawa namin 'to, pero ano 'yung maiiwan naming bakas kapag namatay na kami?"
With a full-length album in the works and the rest of their lives ahead of them, IV of Spades better keep their tinted sunglasses on because everything's looking bright. "Thank God we were all serious [about this band]," says Zild. "This is our dream, and I think it would always be our dream to play together."
*This article originally appeared in Preview Magazine March 2018 issue.
Related Stories from Preview.ph
Hey, Preview readers! Follow us on Facebook, Instagram, YouTube, Tiktok, and Twitter to stay up to speed on all things trendy and creative. We'll curate the most stylish feed for you!