It's Isabelle Daza's very first Mother's Day cradling her adorable baby boy, and in light of growing up in the spotlight with a famous mama of her own, we ask her about the tricky transition from It Girl to It Mom. So how does she deal? With unparalleled honesty and openness, natch. Preview sits down for a candid chat with the new mom to talk breastfeeding, weight gain, and dealing with unsolicited advice.
How did your personal style change after becoming a mom? How has having a baby affected your fashion decisions?

"It's weird 'cause becoming a mom makes you a bit more conscious about what's appropriate to wear? But I actually haven't been out much since the baby was born. If anything, the weight gain has definitely made me more conscious of what to wear."
How did you deal with the changes in your body—specifically, weight gain—after giving birth?

"I was miserable. And I was honest on social media. It seems really shallow and petty in the great scheme of things but I will not be ashamed to say that being conscious of your body and the change it goes through when you are pregnant and after giving birth is an actual thing. That was the only thing I was sad about, especially being in an industry where your weight really weighs in.
ADVERTISEMENT - CONTINUE READING BELOW
"I really had to tell myself to slow down because I wanted to work out and diet right away, but everyone said that I needed to establish my milk supply so I shouldn't be so worried for the first two months. So that's what I'm doing: just listening to my body. And trying not to pig out! But the hunger I feel [when I'm] breastfeeding is like never before—I feel like a Spartan soldier that went to war or something."
You've been openly posting about breastfeeding. What have you learned about it now that you're actually doing it?

"I used to think that women who breastfeed talk about it all the time. Eye roll. But now I get it, because it is so tough and time-consuming! It's basically all you do for the first six weeks! It's a sacrifice mothers do physically but it builds a really great bond between you and your baby. Still, it's really tough. Women are really the superior race! [laughs] Between pumping and breastfeeding, your schedule revolves around your boobs! And people just comment all the time on what to do or how to improve."
CONTINUE READING BELOW
Recommended Videos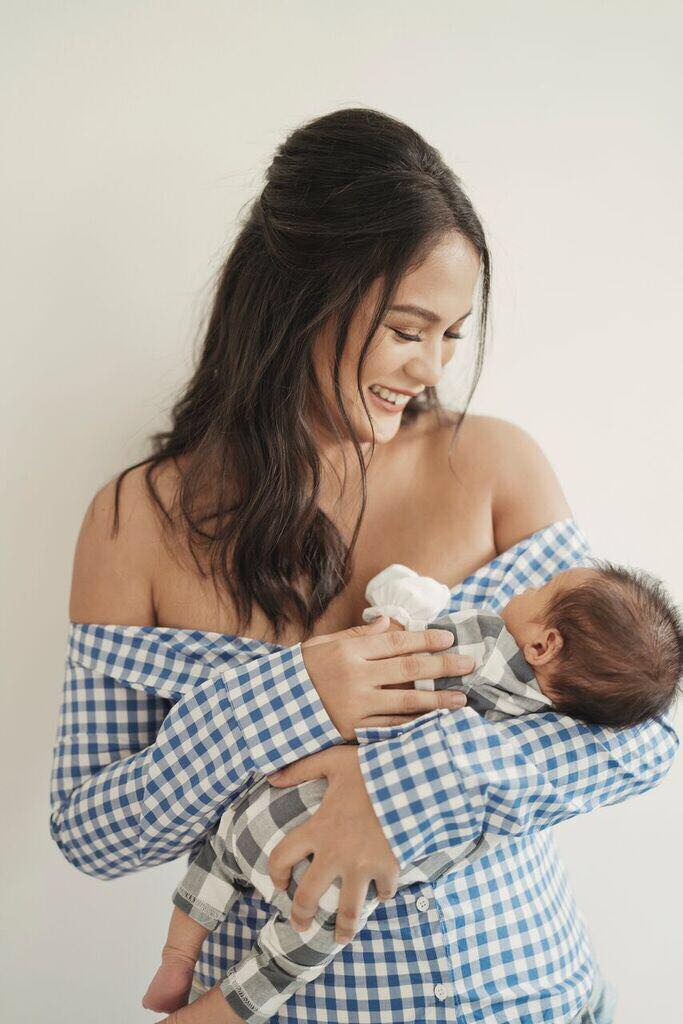 IMAGE Courtesy of Isabelle Daza
You've always been an advocate for fitness. Have you managed to find time to start exercising or have you mapped your future workout plans?

"Yes, I recommend keeping fit during pregnancy—with your doctor's approval, of course. I have one hour at night, at around nine or 10, when the baby goes to bed. That's when I'm able to squeeze in some steps on my new Nordic track treadmill at home! I received it for Mother's Day!"
ADVERTISEMENT - CONTINUE READING BELOW
What's your diet like now?
"I'm starting to cut my high glycemic carbohydrates, so that means less bread, less pasta, and less rice. More cauliflower rice and quinoa, lean proteins and vegetables. That's it. I love nourishing, home-cooked food!

"Well, the first six weeks [after giving birth] I was not exactly dieting. I was just controlling how much I ate, but I would eat pretty much anything, pasta and rice included. Now I need to be more thoughtful!"
How about your skincare and beauty routine? Has anything changed?
"I put on La Mer's Soft Gel Cream and the matching Eye Cream literally twice a night since my skin is so much more dehydrated now."
Who do you talk to for mom advice?
"Bea Soriano is my mom goals. Other friends like Marielle Santos-Po, my cousin Gabby Limjoco who owns Playworks Early Childhood Center, and Beng Feliciano from The Parenting Emporium have really helped me ease into it. And my kabarkadas who have more than two kids are usually more reasonable and less panicky when I ask them if things are normal! I would say I try to be more chill and not constantly worried."

Has your mom given you any advice?
ADVERTISEMENT - CONTINUE READING BELOW
"She hasn't stopped giving me advice. Everyday she comes over with something new! [laughs] But now that I have a baby I keep thinking, 'I'm probably going to do the same thing to him when he's older,'"
Whats the best advice she's given you?
"Save money! Babies are expensive. Wait 'til they start asking you for allowance. [laughs]"
How do you deal with unsolicited advice or advice you may not agree with?
ADVERTISEMENT - CONTINUE READING BELOW
"I get a lot of unsolicited advice, but I appreciate it naman. Sometimes, though, people impose what they know on you so I just nod my head. If it's something I don't agree with I let it be known or challenge their theory.
"I realized that mommies become know-it-alls from their own experiences, but at the same time they are the number one support system you will always have. They are always willing to help you no matter what. I had a revelation while I was pregnant: The mommy club is so exclusive and you have this 'initiation' into it by other moms."
What's the thing you were most worried about before becoming a mom and how do you feel about it now?
"Balancing work and having a baby. Now I'm still scared and figuring out how to be able to do it when I do get back to working every day."

What's the one thing you wish you'd done differently while pregnant?

"Hmm...maybe eat less during the last two weeks of pregnancy 'cause people kept telling me to enjoy it! But I don't necessarily think I was eating for two. It was just in the last weeks that I really indulged."
ADVERTISEMENT - CONTINUE READING BELOW
Related Stories from Preview.ph
Hey, Preview readers! Follow us on Facebook, Instagram, YouTube, Tiktok, and Twitter to stay up to speed on all things trendy and creative. We'll curate the most stylish feed for you!