In this day and age, anyone can easily register on Wordpress or Tumblr to launch a blogging career. It'll only take about two minutes to get you started. Just write down your name and email address, provide a password, answer a few basic questions about your hobbies, interests, and preferred layout—and voila! You're officially a blogger. And in case you're wondering when you can expect the freebies and #sponsoredposts to start rolling in, well, that's what we're here to discuss.
Khai Nunag, owner of the now defunct accessory line Quirkypedia, was one of the first ones to benefit from an ex-deal setup between brands and bloggers. The process is pretty simple: the business sends a free item to the blogger, and the blogger posts about it on social media. Depending on how influential the blogger is, the business can earn new followers and potential sales out of the ex-deal. Luckily for Khai, the blogger she collaborated with was Tricia Gosingtian, who was one of the pioneers of the local blogging community—and an exceptionally popular one at that.
ADVERTISEMENT - CONTINUE READING BELOW
"I was the one who initiated the sponsorship. I asked Tricia if we could design accessories for her," says Khai, whose business move turned out to be a great idea. "Just a few hours after she posted about it, there was an influx of likes and requests that came. I gained a lot of followers, and they were ordering the same items that I sent her. She was that influential."
This, however, was almost a decade ago. It was during the peak of Lookbook.nu, when Instagram was not yet the king of photo-sharing apps. It was back when an OOTD post would require more insight that's normally longer than a typical IG caption, or more specifically, it was before a number of "bloggers" decided to switch names and start calling themselves "online influencers" instead. Needless to say, the times have changed, and even the "ex-deal" system has evolved. The two or three top fashion bloggers in the country, as aspirational as they are, paved way for many others to follow suit. The three became five, the five became ten, and then countless of other bloggers sprouted like mushrooms in the world of digital, making the competition stiffer and the odds of becoming noticed a lot less likely. So, what's an aspiring blogger supposed to do?
CONTINUE READING BELOW
Recommended Videos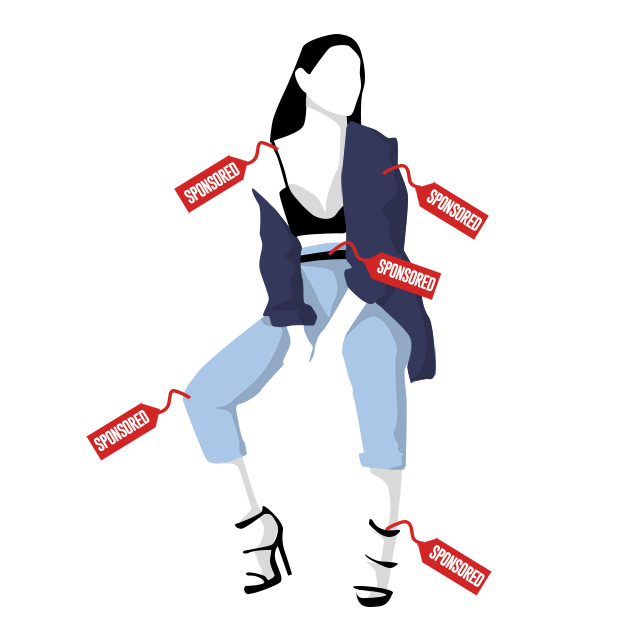 ILLUSTRATION Gab Gutierrez
From the big companies' point of view, bloggers have become a more affordable alternative compared to celebrities when it comes to raising awareness for their brand. They can easily send free products as gifts and write them off as promotional expense—their items would most likely be posted on IG or Snapchat anyway. This created a semi-acceptable "culture" in the blogger industry, which made "freebies" seem like a very natural thing to ask. But for today's young designers and startup brands, the same cannot be said.
ADVERTISEMENT - CONTINUE READING BELOW
One young designer who refused to be named opened up to Preview about her recent and not so pleasant encounter with bloggers who ask for free stuff. She shares, "Since I launched my first collection, random bloggers have been emailing me, asking for sponsorships and free items. They're offering to pay me with Instagram posts and high-quality photos, which I found funny." And like any other millennial with quick access to the Internet, this led her to look them up on social media. "After checking their accounts, I found that most of them seem well-off. They can actually afford the items from my shop, but they just don't want to spend money on it, which is kind of an insult as a designer. It honestly made me feel that my clothes are not worth buying [since they think they can just get them for free]."
Unlike how Khai's sponsorship went about with Tricia, the above-mentioned young designer was not the one who hinted about the sponsorship and offered a free item in exchange for a social media post. She was, in fact, surprised that this kind of culture exists. She reveals, "I also learned that I have [designer] friends who've experienced the same thing, and it's sad to know that this is the norm in the blogging industry." To which, she also added: "What some don't understand is, Instagram likes won't pay the bills. It may give you a few IG followers, but based on some of my friends' experience, blogger posts on social media don't result to new clients or buyers. I think the only brands that can profit from that kind of exposure are big companies."
ADVERTISEMENT - CONTINUE READING BELOW
And with that comes a question: Is it wrong for a blogger to proactively ask a brand for sponsored items?
The answer to that, of course, is no. It's a free country and you can market yourself in any way you want. When it comes to asking for an item in exchange for a social media post, no one can stop you from trying, although you should also understand that they are not obligated to give you anything, and the best you can do is ask nicely. Some brands and designers may actually be more open to the idea of #sponsoredposts. And if you want to start things on the right foot, there's a proper way of presenting a proposal that will make you sound more like a professional, credible influencer and not just a random wannabe who's begging for handouts. It will make a huge difference if you introduce yourself politely first, and then give information about your blog or social media accounts—follower count, daily average engagement, et al, and why you think you can both mutually benefit from the collaboration.
ADVERTISEMENT - CONTINUE READING BELOW
It's also important to ask yourself if you can really deliver what you're promising. And don't even think you can just simply buy followers and get away with it! Because FYI, it's quite easy to tell if a person who claims to be an influencer is indeed influential.
At the end of the day, nothing really comes for free—not even those "freebies."
Related Stories from Preview.ph
Hey, Preview readers! Follow us on Facebook, Instagram, YouTube, Tiktok, and Twitter to stay up to speed on all things trendy and creative. We'll curate the most stylish feed for you!