If there's one thing we've learned from the pandemic, it's that our most valuable relationships are all we really need. We've already moved on from semi-maintaining proximal acquaintances. All this physical distance has pushed us to reach out to the people we want to keep in our lives, and intentionally cultivate our ties with a cherished handful of ride-or-dies.
That said, intimacy, practicality, and quality are the wedding themes of the season. No more decadent, overflowing open buffets and vast 300-person ballrooms. And, of course, keeping your wedding reception small and tight is the wisest option given the current health crisis.
If your own intimate reception is in the works, check out these six ideas we've lifted from real Filipina brides. Some of these ideas work excellently with a small budget, so keep reading!
6 Ideas for an Intimate, Practical Wedding Reception

1. Set a table out on the beach, and let ethereal lighting carry the mood.
For an intimate reception, you really won't need a massive dance floor or a multi-table setup. Keep it cozy and opt for a long picnic table on the sand. If your guest list is downwards of 30, this will be ideal!
It'll save you the headache of figuring out which guests to seat together, and it'll greatly simplify the food situation—a straightforward spread will totally be enough. Your attention won't be split between several tables, and you'll get to dine together as a big family. This is a win in every possible way.
ADVERTISEMENT - CONTINUE READING BELOW
We got this idea from Jess Wilson, who wed her longtime beau Moritz Gastl in a breathtaking seaside ceremony last June. Fairy lights were strewn on the sand surrounding the table, adding to the warm glow of the candlelight. One word: gorgeous.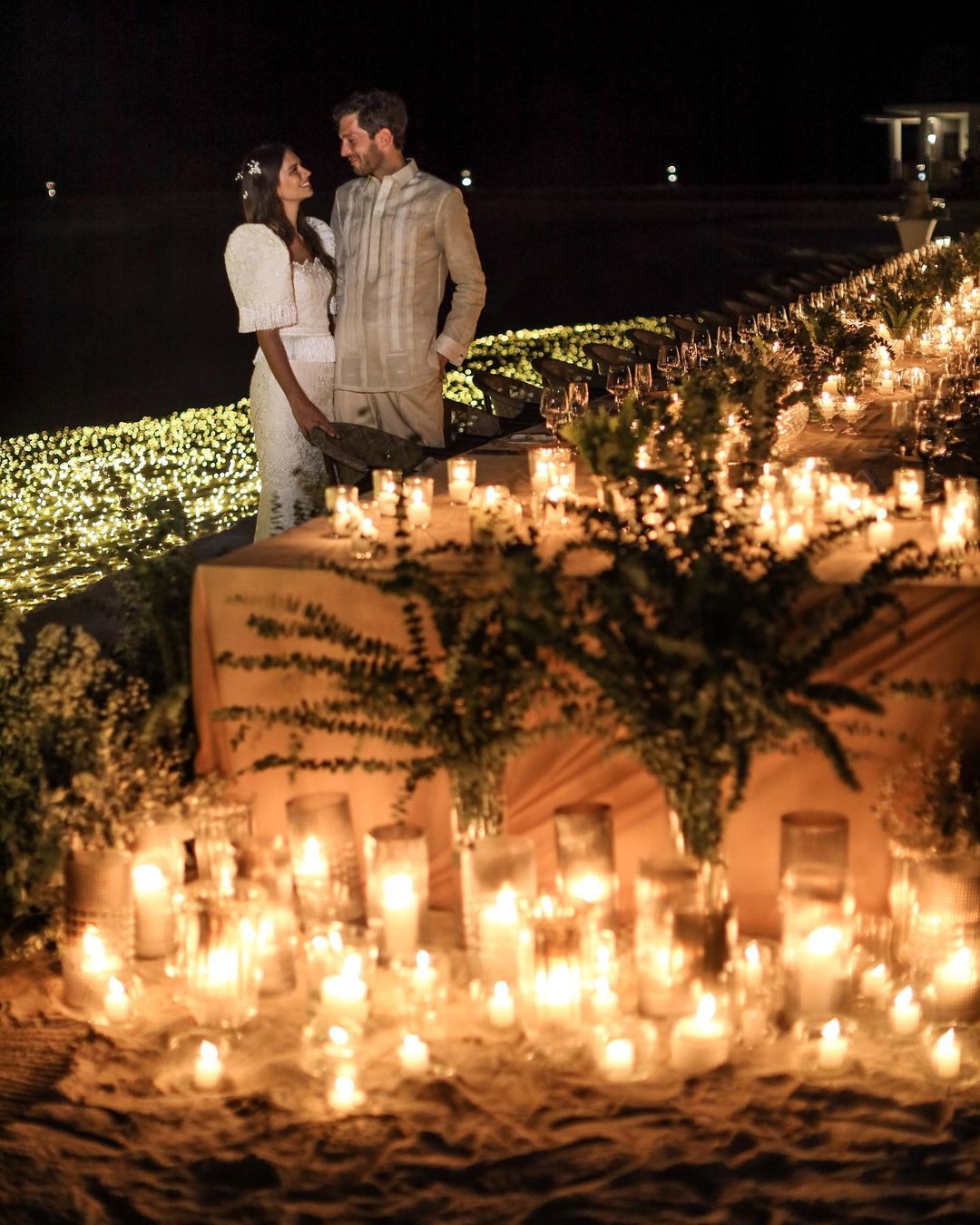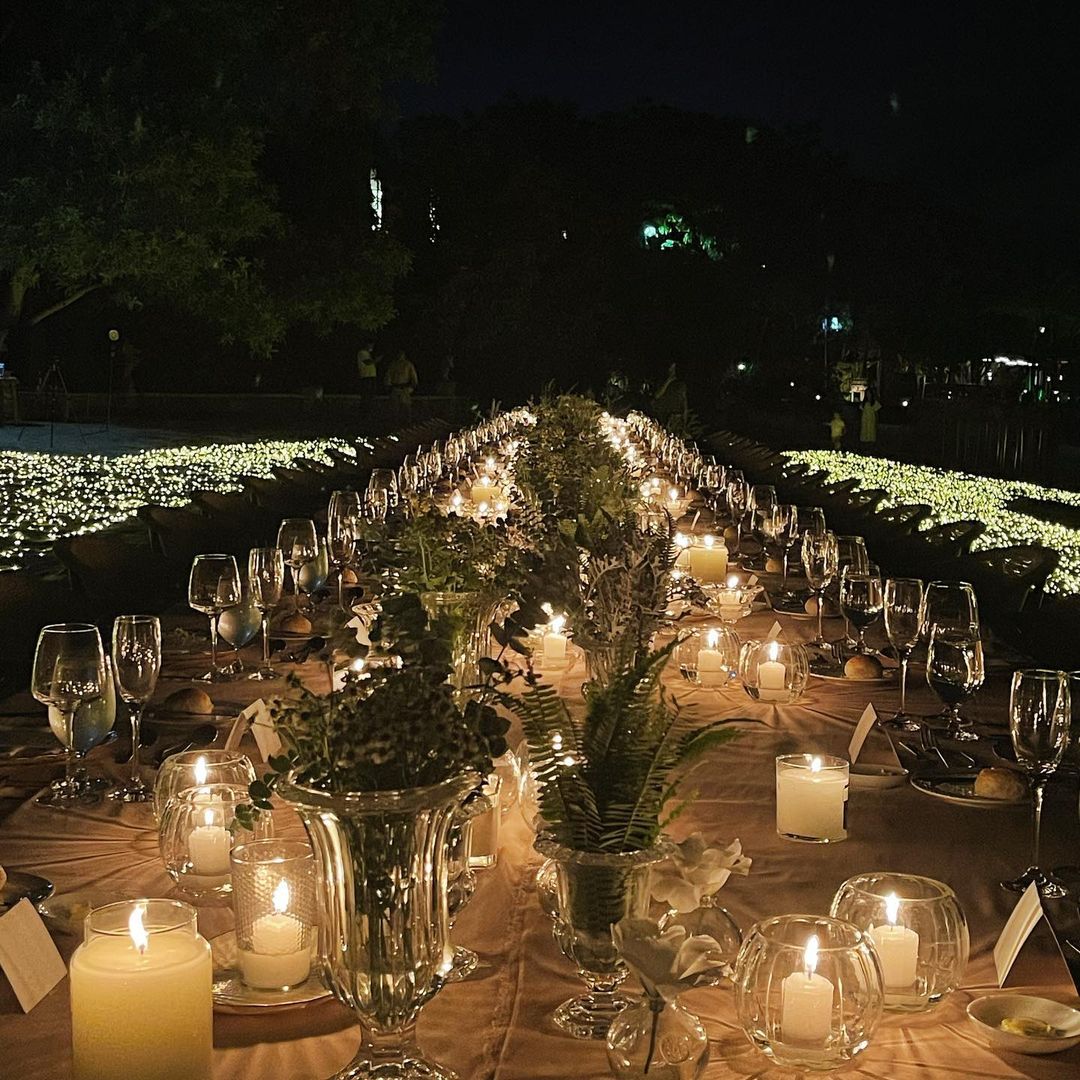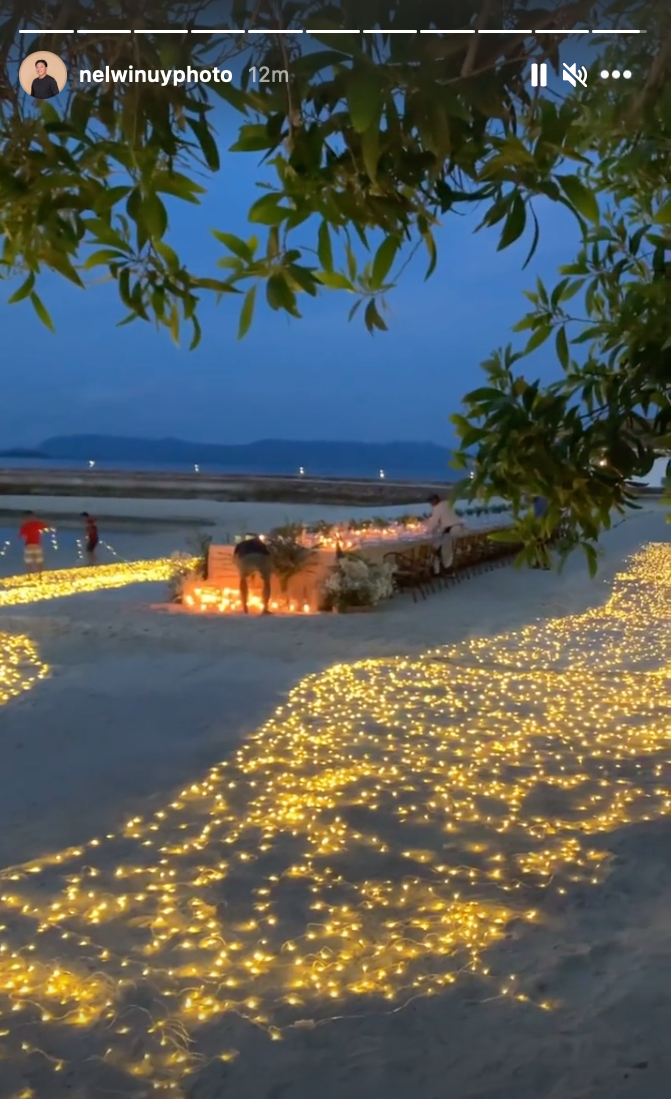 2. Hold the reception in your own living room.
You've probably seen a few living room weddings on social media, and their growing popularity is merited. A home reception is perfect for the practical couple, provided, of course, that the space is roomy enough. If you opt to do this, you won't have to rent a venue, which dramatically cuts costs. More budget for the food!
Actress Bianca King made a case for this back in early June. By the way, she totally fits the bill of a practical, no-nonsense bride: She did her own makeup and flower arrangements, and did away with fancy gowns and entourages. She totally made her wedding her own, and that's how it should be done.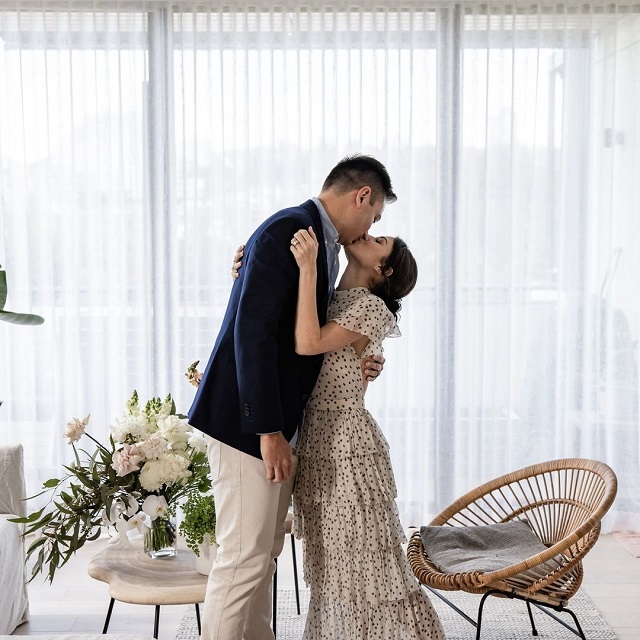 ADVERTISEMENT - CONTINUE READING BELOW
3. Ask your friends to plan it.
Speaking of living room receptions, Dubai-based Filipino couple Camille and Ben Gendrano took the concept even further by entrusting all the reception planning to their friends. Yes, it was definitely a trust fall, (they were totally in the dark during the whole preparation phase), but the end result was nothing short of spectacular.
If you have friends who are willing to revamp your space and take total control of your nuptial party, you might want to consider giving them the privilege of doing so. It imbues the celebration with so much more meaning.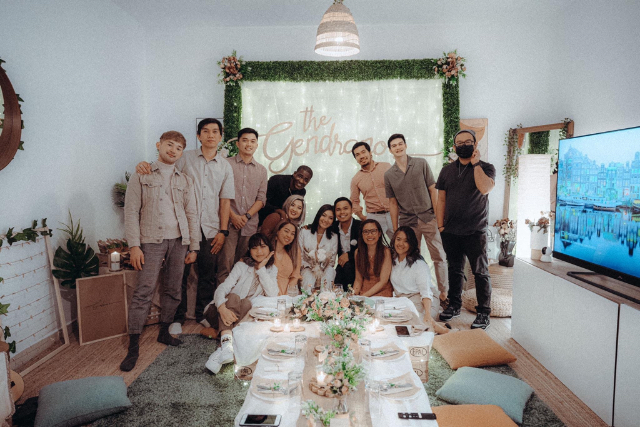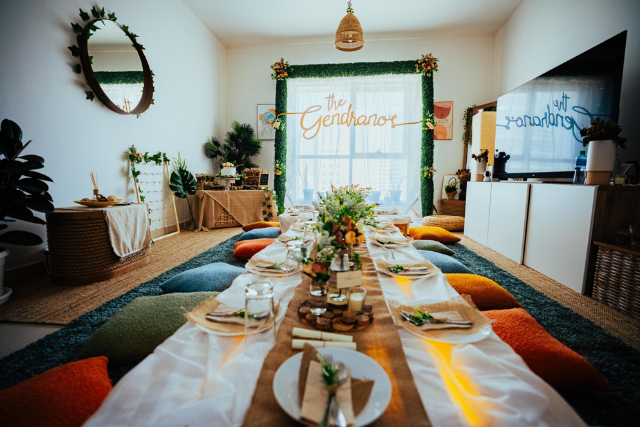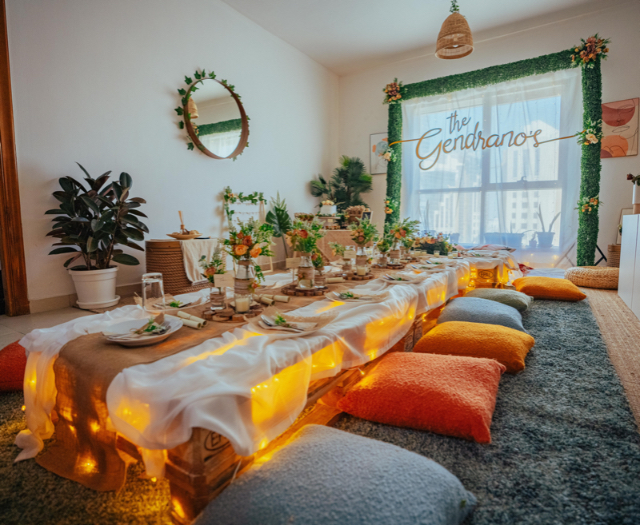 4. Make sure that your giveaways are practical and exciting.
Let's now turn to the tricky subject of wedding giveaways. As much as possible, you'd want to avoid shelling out cash to produce figurine giveaways that'll just collect dust in your guests' homes. Additionally, given the limited space of an intimate venue, you have to make sure that there will be no dead area, since every square foot is essentially prime real estate. That means: No stock table for boring giveaways.
Krina Cayabyab and Steven Viñas found the perfect solution to this problem. During their reception, they gave out fresh produce sourced from local farmers, and supplied each of their guests with a bayong for easy harvesting! It was a threefold success: 1) The giveaways were definitely useful; 2) It turned into a fun activity for the guests; and 3) They got to help out local farmers!
ADVERTISEMENT - CONTINUE READING BELOW
For your wedding, you could follow in the same vein and find a way to uplift local businesses or producers. Since you'll be investing quite a bit in your nuptials, might as well ensure that your resources will be put to good use!
5. Hold it in a studio so that you can build the set up from scratch.
If you really can't find a venue that aligns with your creative vision, go back to basics start with a blank canvas. Creative professionals Mica and Jason Maximo opted to hold their intimate wedding in a photography studio, which they decorated with plants and LED lights. Due to health restrictions, non-immediate family members and friends tuned into the wedding via Zoom.
To be honest, we're astounded by the fact that this is still an under-the-radar gameplan. Given the peaking interest in highly-personalized, non-conventional weddings, building your own wedding set from scratch should be an established option. It just makes so much sense, and we're here for it.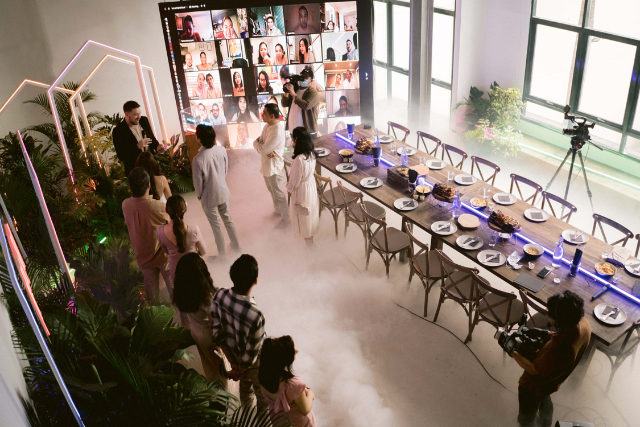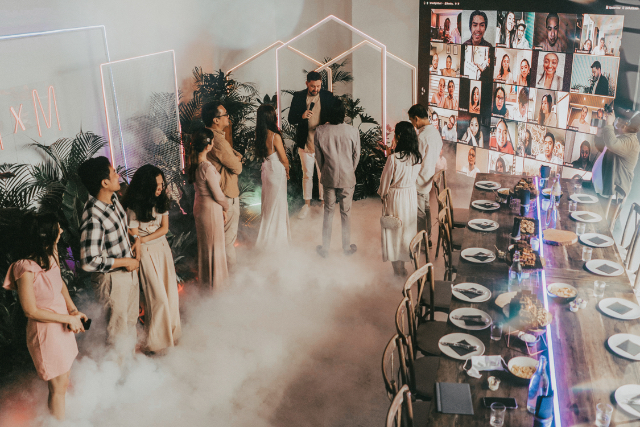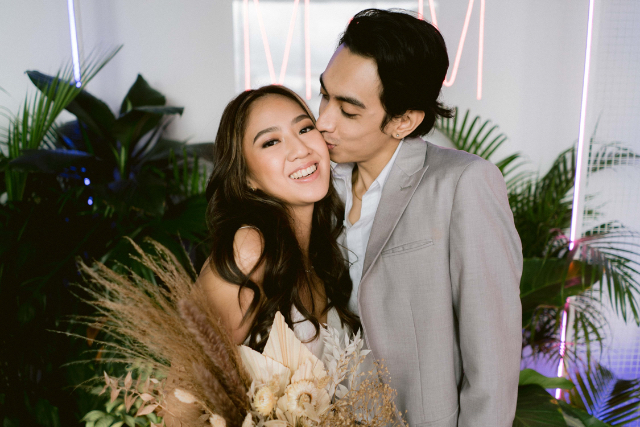 6. Serve as the emcee.
We're still thinking about how cool of a bride Megan Young was. She famously broke tradition by driving her own bridal car, wearing sneakers to her reception, foregoing bridesmaids, and, of course, co-hosting her own reception with her groom, Mikael Daez. Given that you'll be surrounded by your closest circles, why not take the reins and serve as the emcee for the night? You really don't need to sit still on a fancy couch up on a stage while everyone else plays party games. Hold the mic and interact with everyone! By all means, be the center of the party!
ADVERTISEMENT - CONTINUE READING BELOW
Related Stories from Preview.ph
Hey, Preview readers! Follow us on Facebook, Instagram, YouTube, Tiktok, and Twitter to stay up to speed on all things trendy and creative. We'll curate the most stylish feed for you!