Wall decoration is a practice that, surprisingly enough, is common across all stages of life—from making crayon art on the living-room wallpaper (much to your parents' dismay) to having posters of your fave musicians plastered all over your bedroom and now, putting the finishing touches in your own space. It's little details like framed photographs and books on the shelf that really give any space that personal touch. So why not make the most of your bare walls and give your room life and flair with some gorgeous decor?
Here are 10 pieces to spruce up your bare walls:
1. Bath from Strange Mercy
This multipurpose scarf from Strange Mercy can be used as a top, skirt, wrap, and yup, even wall decor. Lay it out flat and tack it onto your wall for a pretty, pastel-toned poster with a relaxed, modern illustration. It'll look great as an accent poster in an all-white or monochromatic room.
ADVERTISEMENT - CONTINUE READING BELOW
CONTINUE READING BELOW
Recommended Videos
Bath, P2000, STRANGE MERCY, strange-mercy.com
2. Mathari from Casa Consunji
This unique piece from Casa Consunji is both mirror and decorative piece in one. The sun-shaped rattan design is perfect for your home's boho aesthetic. Mirrors can help make any room look much bigger than it is, so it's a great addition to a small space. Not to mention, it'll totally level up your mirror selfie game!
ADVERTISEMENT - CONTINUE READING BELOW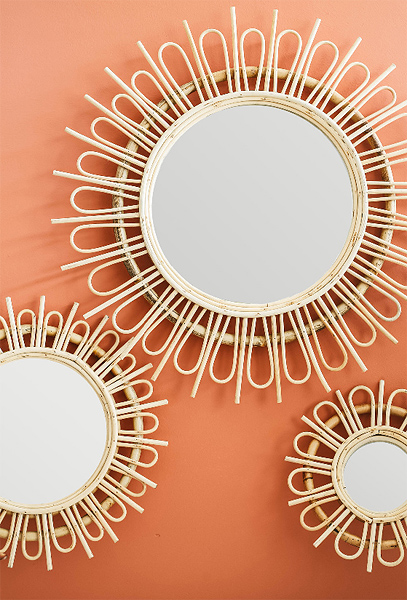 Mathari, P2500, CASA CONSUNJI, Casa Consunji
Casa Consunji is at Unit 8-10, The Tent, Acacia Avenue, Acacia Estates, Taguig City
3. String Frame from Habil Crafts
Personalize any wall by hanging up your fave photos and postcards. If you'd rather not tape them all up (and risk ruining your paint job), you can clip them onto this string frame from Habil Crafts, which will give any space a homey, lived-in feel.
ADVERTISEMENT - CONTINUE READING BELOW
String Frame, P869, HABIL CRAFTS, studiohabil
4. Geo Wall Clock from Curio Cavern
For spaces with more contemporary interiors, hang this clock from Curio Cavern, which has a cool geometric shape and a clean, minimalist face. The diamond-like texture and all-white design will look especially great against a bright-colored wall.
ADVERTISEMENT - CONTINUE READING BELOW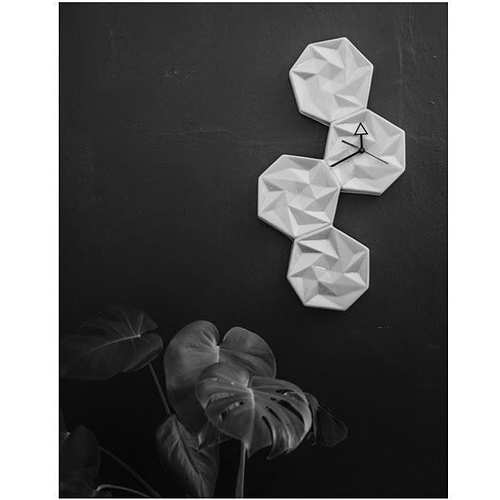 Geo Wall Clock, P4395, CURIO CAVERN, Curio Cavern
Curio Cavern is at Unit 127, LRI Design Plaza, Makati City.
5. Wooden Ladder from Nooke
Those of you who prefer a lazy, slightly cluttered ambience to your space will love this ladder from Nooke, which makes anything dangling from it look like it's part of the design. Leave your scarves and belts on it for easy access and for a messy-on-purpose aesthetic that'll make your home feel cozier and keep your IG photos from looking overly curated.
ADVERTISEMENT - CONTINUE READING BELOW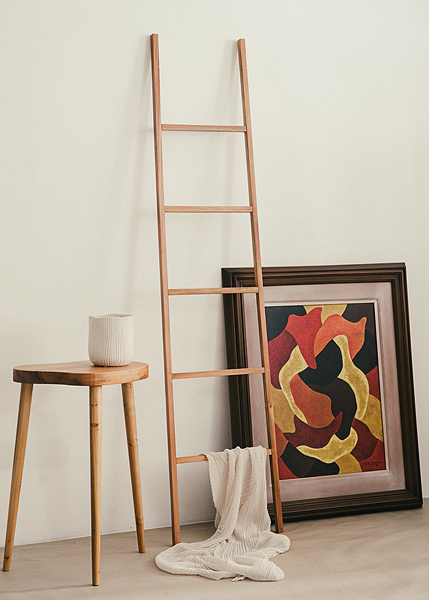 Wooden ladder, P2590, NOOKE, nooke.ph
6. El Mirage from Cool Girls Club
Add color to your space with this framed set from Cool Girls Club. The abstract print art is inspired by the sun and can brighten up any room—yup, even your dark apartment that doesn't get much light coming through the windows. Plus, the pink and orange tones on these will look great alongside some bright green plants.
ADVERTISEMENT - CONTINUE READING BELOW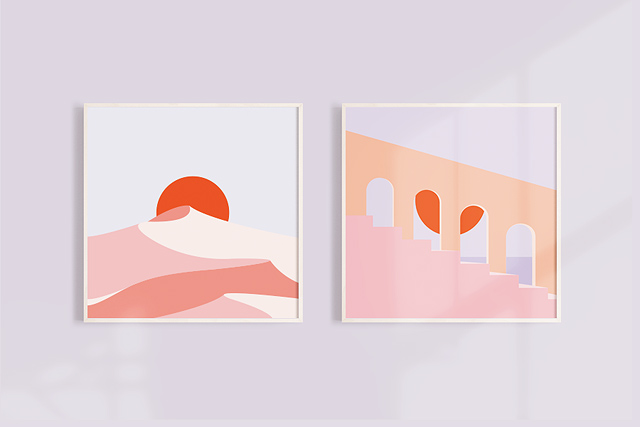 El Mirage, P1200, COOL GIRLS CLUB, shopcoolgirlsclub.com
7. Classic Lettergram from Lettergram PH
Leave yourself daily inspirational messages or funny quotes with this customizable letterboard from Lettergram. You can easily change up the message anytime you feel like it, allowing the space to be a little different each time anyone comes to visit. You can even take it off the wall and use it for flatlays.
ADVERTISEMENT - CONTINUE READING BELOW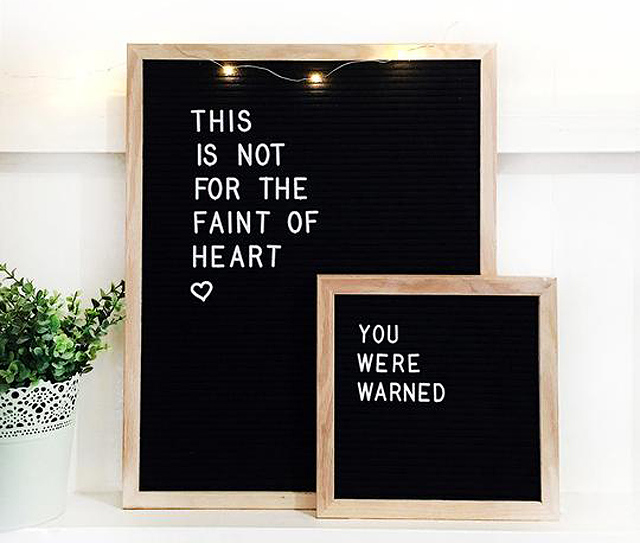 Classic lettergram, P2500, LETTERGRAM PH, lettergramph.com
8. Metal Shelves from Dimensione
Mix and match these metal shelves from Dimensione to have your own custom shelf arrangement that isn't overly bulky and fits perfectly into your design scheme. You can put anything in them like books, framed photos, plants, small ornaments, and more to show off your style and personality, and to go with your home's overall vibe.
ADVERTISEMENT - CONTINUE READING BELOW
Metal shelves, P3198-P4695, DIMENSIONE, Dimensione branches
9. Weekly Cork Planner from The Cork Project
This corkboard from The Cork Project is both a decorative piece and a productive tool that you can put up in your bedroom or living room. You can leave yourself memos throughout the week to help you remember all your tasks or you can tack on little notes, photos, and pins to make it look even cuter. It's especially handy to have if you live with family or roommates and you need to keep track of each other's schedules.
ADVERTISEMENT - CONTINUE READING BELOW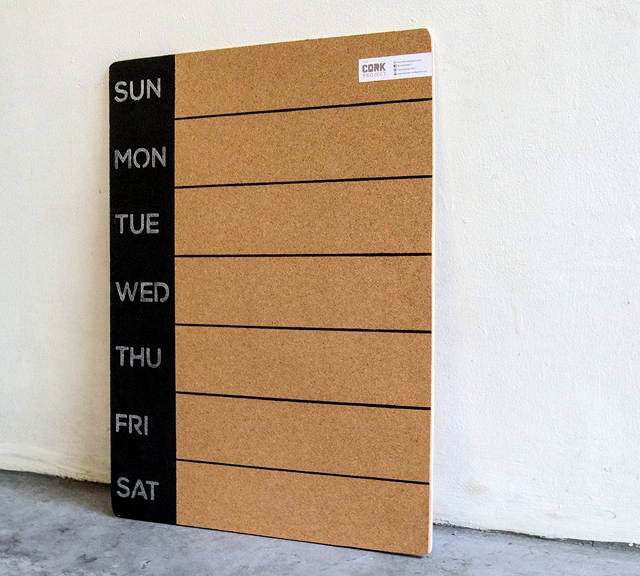 Weekly cork project, P499, THE CORK PROJECT, Common Room
10. Map Metal Wall Art from Mandaue Foam
Though you might be constantly dreaming of your next big vacation, you'll probably be spending most of your time at home. But you can fuel your wanderlust (and motivate yourself to start saving up for your dream destination) with this cool metal wall art from Mandaue Foam, which shows a stylized, black-and-gold version of the globe. You can even stick magnets or stickers on the countries you've already been to or are planning on going to soon!
ADVERTISEMENT - CONTINUE READING BELOW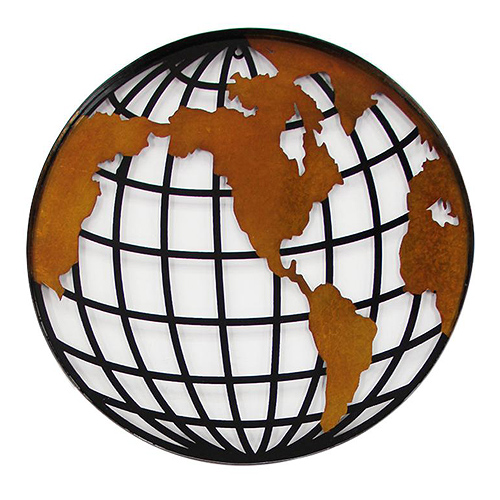 Map metal wall art, P1949, MANDAUE FOAM, Mandaue Foam branches
*This story originally appeared on Spot.ph. Minor edits have been made by the Preview.ph editors.
Top Articles from Preview.ph