In the rampant age of social media, our Instagram profiles are quickly doubling as a possible first or second impression. The result? More and more people are obsessing over creating perfectly curated Instagram feeds that aptly project versions of themselves they'd like other people to see. While some may see these staged, aesthetically pleasing profiles to be fake and misleading; we disagree. There's nothing wrong with wanting to present an ideal version of your every day that you yourself can constantly aspire to, especially if it means leading you to actually go out, see the world, and live your best life.
That being said, half the thought that comes into posting eye-catching photos are spent mulling over the ways in which you can edit them to fit your feed's overall look. To help you achieve the ideal aesthetic in your head, we've rounded up 10 of some of the best photo editing apps you'll want on your phone right now.
ADVERTISEMENT - CONTINUE READING BELOW
1. VSCO
VSCO arguably takes the cake for being one of the most popular photo editing apps to date. The app has a variety of free Instagram-friendly filters to start with, along with a multitude of extra filter packs if you're up to paying for its pro version. It also has your usual editing tools that are easy to use and fun to play with once you get the hang of its practically text-free interface. A personal favorite feature of the app is its ability to copy the edits you've made on a previous photo, and quickly paste it onto a different one. With a few adjustments to fit your latest image, this essentially allows your posts on Instagram to have a consistent look and feel of their own.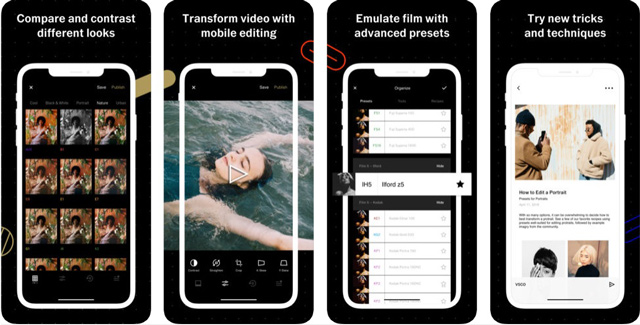 CONTINUE READING BELOW
Recommended Videos
2. Snapseed
Jumping on to a slightly more advanced version of VSCO, Snapseed takes the former's editing tools and adds on a little extra. Aside from its own custom filters, you'll also have an array of unique editing options available, such as glamour glow, retrolux, HDR-scape, and even a double exposure feature if you're taking a more artistic route or just looking to experiment. For color geeks who are obsessed with their photos looking a certain way, there's always the selective tool. This option allows you to isolate a specific area on your photo which you can adjust to your liking—based on saturation, contrast, or brightness—without affecting the rest of the image. Say, the sky's not blue enough but adjusting the saturation for the whole photo would make you look too orange. Fret not, because Snapseed's selective tool can definitely fix that for you.
ADVERTISEMENT - CONTINUE READING BELOW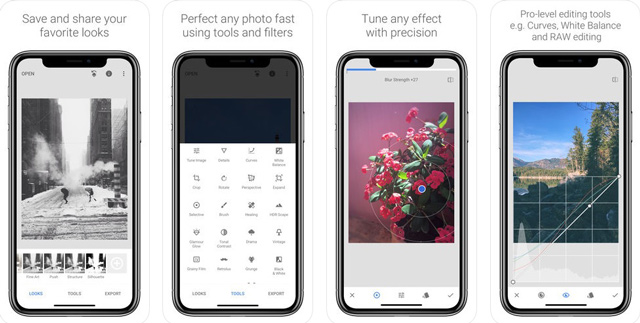 3. Afterlight
Next to VSCO and Snapseed in popularity is Afterlight, an editing app that comes with its own camera for when you want to jump straight into the studio to enhance a freshly taken pic. However, this app is most famous for the abundance of filters it houses. Afterlight's filters are split into three categories: original, guests, and seasons, allowing for any type of aesthetic you might want your photo to have. It also has a library of film effects that include different types of dusts and light leaks for that novel vintage feel.
ADVERTISEMENT - CONTINUE READING BELOW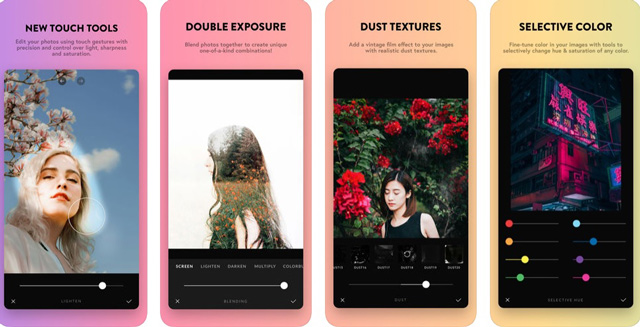 4. RNI Films
For film photo enthusiasts who can't afford a film camera, or just can't be bothered to actually use one, RNI (Really Nice Images) Films can provide you with a quick editing alternative. The app's filters are specifically created to give your image a film effect, and the best part? The filters don't have vague names that seemingly have little to do with how it grades your photo. Instead, they're categorized by actual classic film stocks like Fuji Pro 400H, Kodak Gold 200, or Fuji Astia 100F.
ADVERTISEMENT - CONTINUE READING BELOW
Available on: iOS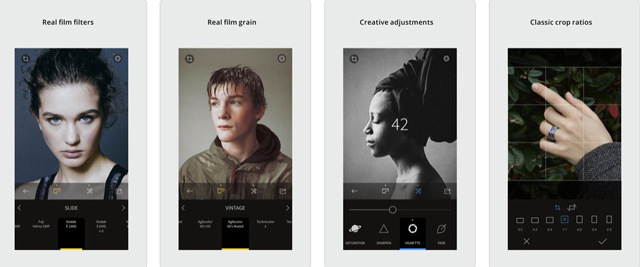 5. Nebi - Film Photo
While RNI Films is only available on iOS, Nebi can act as a close alternative for Android users. Although it doesn't have the exact classic film filters of RNI, it is equipped with quite an array of grain and dust effects, as well as light leaks and bokeh options. Plus, the interface is simple, straightforward, and a piece of cake to navigate without any extra clutter to distract you.
ADVERTISEMENT - CONTINUE READING BELOW
Available on: Android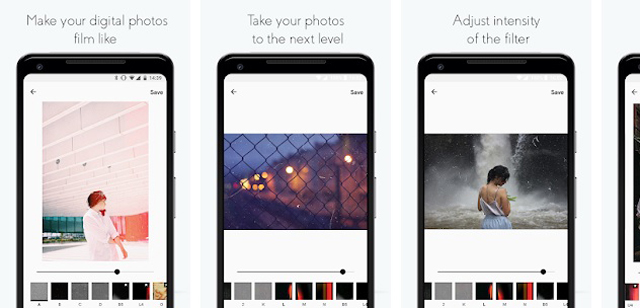 6. Aviary
Another editing app with an ample range of filters is Aviary. Equipped with the basic editing tools you'll need, plus special options for when you're working with food or scenic shots, its streamlined interface is ideal for editing beginners who'd rather not deal with the complexity of VSCO or the overwhelming number of tools on Snapseed.
ADVERTISEMENT - CONTINUE READING BELOW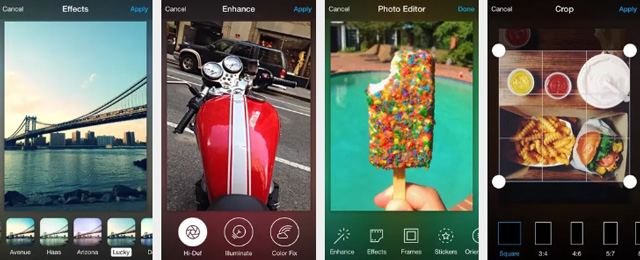 7. Carbon
For stunning and dramatic black and white photos, Carbon's your go-to app. While other editing apps also allow B&W filters, nothing beats an app that specifically caters to that aesthetic, seeing as it's equipped with a myriad of monochromatic filters to choose from.
ADVERTISEMENT - CONTINUE READING BELOW
Available on: iOS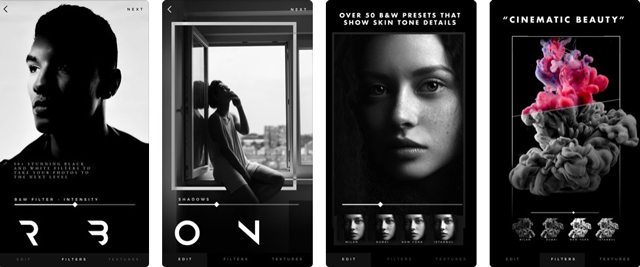 8. Hypocam
Android users can find their own version of Carbon in Hypocam. The app is also built with a live newsfeed meant to update you on the latest monochrome photography trends, and can also double as inspiration for your next B&W photo.
Available on: Android
ADVERTISEMENT - CONTINUE READING BELOW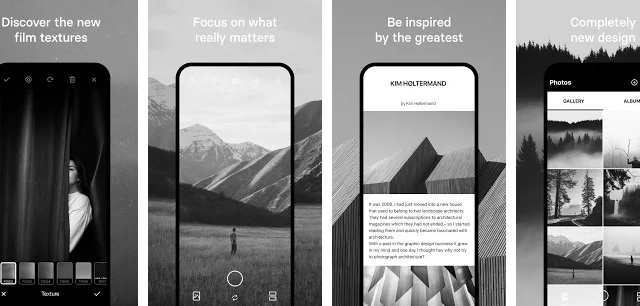 9. Foodie
Food bloggers take note! You can finally take the perfect photo of your scrumptious meals and drinks with Foodie. Structured for flat lay photography, the app comes with a camera that detects your positioning over your food so you can be sure to get the ideal shot. If it thinks you're finally in the best position to snap a pic, the camera's shutter button will turn yellow. Once you've taken your perfectly positioned photo, you can further enhance the image with the in-app filters, categorized based on the type of food you have from meat to pastries, and beyond!
ADVERTISEMENT - CONTINUE READING BELOW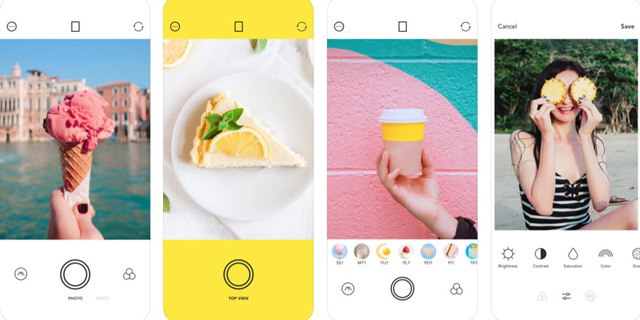 10. A Color Story
With over 20 free tools to choose from, A Color Story is quickly climbing up the photo editing app ladder in popularity. Mostly used for vibrant, color-popping edits, the app allows you to save your edits and apply the same to a similar photo—much like VSCO—for a cohesive and streamlined Instagram feed. It also comes with other editing options such as light leaks, lens flares, bokeh, and color fogs, that are unfortunately only available in a limited number for the free version.
ADVERTISEMENT - CONTINUE READING BELOW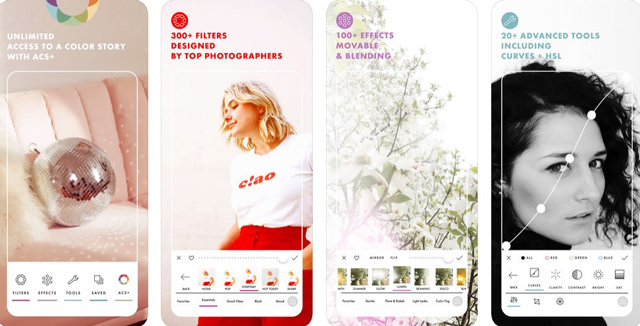 Related Stories from Preview.ph
Hey, Preview readers! Follow us on Facebook, Instagram, YouTube, Tiktok, and Twitter to stay up to speed on all things trendy and creative. We'll curate the most stylish feed for you!