It was a picture of Jennifer Lawrence in a bikini that made me think it was OK if I never got skinny again. I used to be Taylor Swift-thin, but at 27, my ribs-abs-Bobblehead had morphed into something quite un-model size: wider hips, thicker thighs and torso and arms plump at the tops like drumsticks.
"I'm a tasty Chickenjoy," I texted my thinnest friend in defeat.
All that changed when I saw J. Law's latest beach pic. Her arms stretched skyward (she's on top of a human pyramid, sunning with the comedienne Amy Schumer on a boat), she made me realize it was perfectly normal – sexy, even! - to have a body that was less little boy, and more grown woman. Two days later, I overhauled my ab-centric workout routine for something a lot more soft, and pillowy.
At a quarter to 7 a.m. on a Manduka mat at the new LIFE Yoga Center in Bonifacio Global City, I was on all fours, curving my spine then rounding back down like a cat. Having hopped on the Bikram bandwagon years ago (guilty!), muscle memory allowed me to ease back into the poses, excited for what I had once experienced to be great tone all over.
The dew had settled on the golf course through the glass wall in front of me, framing my Ashtanga instructor, Teef, a petite yet athletic-framed girl with impeccable posture. I could put a ruler to the center of her body and each side would be a mirror image of the other. She was instantly my body peg.
ADVERTISEMENT - CONTINUE READING BELOW
"Inhale, exhale," she said in a calming voice. "Inhale, exhale."
Her shoulders were fleshy like mine - except by drawing them back and squaring them perfectly, she looked much taller, and stronger.
At the end of that first class – a series of deceptively simple looking stretches that made me drip sweat on my mat, and still others that folded me into a human pretzel - Teef taught me the first secret to success. Reclined like a dead body with my eyes closed, I felt her massage minty liniment on the slight valleys of my shoulders.
"In Ashtanga, your arms are always going up that sometimes your shoulders tend to go forward," she explained to me after the others left. "This will help."
When I looked at myself in the mirror after my shower (there are no reflective surfaces inside the room to make you more aware of what to correct), the menthol alerted me to square my shoulders, along with the rest of my body. Tailbone under, belly in, neck long, head to the top of the ceiling, like there's a string pulling you up. Just minding my posture like that made my upper abs show like Jessica Alba - She swears by power yoga with light weights in a 105-degree room.
I went back the day after, the day after after, and the day after after after. LIFE is so inviting, what with all the art on the walls, Soundcloud-y music playing all day, the cleanest bathrooms and a really good café (you must try their pineapple chunk granola). Painted wooden panels made it look like Big Bad Wolf, the bar across the street, one of whose owners is a LIFE-partner lol. Plus the teachers were super helpful!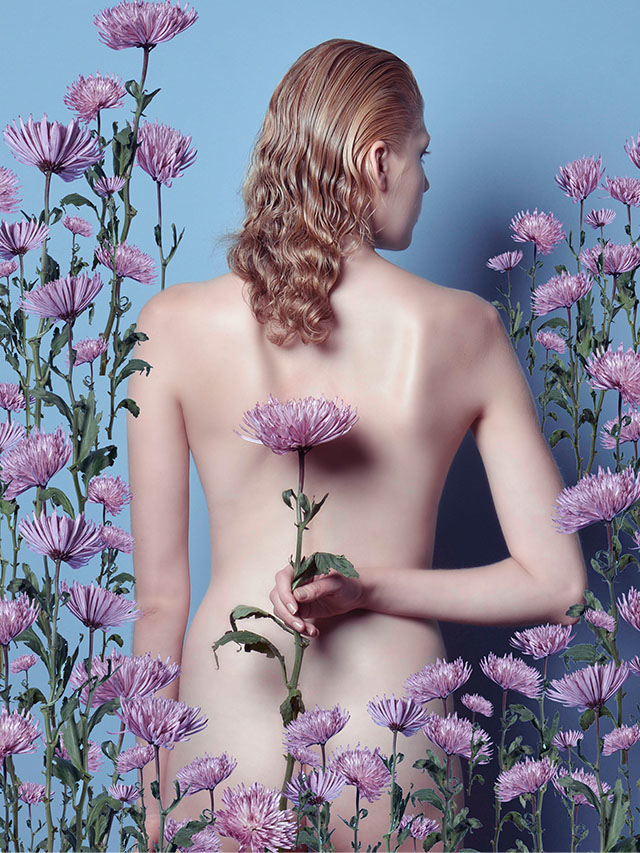 Eyes up front. Mirrorless yoga studios train you to be hyper-aware of the body.
Apart from Teef, who walked over from the front of the room to straighten my hyperflexed arms despite the quick pace of the practice, there was Michelle, who rubbed mint on the backs of my and my classmates' necks to really warm us up for hot yoga; Enzo, the sub who gave us a "chill" class on a Monday morning, and Sebastien, the French-Italian dude who I was told to watch out for my very first day at LIFE.
"His class is really intense," said a friend on the mat next to me after class. "But you're just going to focus… on his hazel eyes."
Of course, I felt a certain smugness on the escalator ride down, crossing paths with the girls on their way up to uber-trendy spinning boutique Electric Studio on the same floor. Like them, I used to subscribe to a hamster-on-a-flywheel program: a shit ton of cardio, daily crunches a la old Britney and even some sporadic boxing to make sure I looked rock-hard in my crop tops. I even tried Crossfit once! And couldn't walk down the stairs for a week. Just like a month ago when an Elorde instructor made me flip a tire across the room (I nearly flipped the bird on him), all these boot-camp moves were just too much for me in my late twenties. Call it the lola syndrome but I don't have the stamina for a super-intense workout that is the evil hellbaby of bodybuilding, track and field and police training. Neither would I want to. Prioritizing speed and repetitions over proper posture, crossfit is a recipe for injuries, say many doctors. On the other hand yoga urges you to use your breath to flow safely into the next pose. Even the most static looking stretches, like the aptly named downward dog, works your shoulders, hamstrings, calves, arches, and hands. And if you're one of those people who just can't quit having abs, you can go through a sequence that takes you into a plank pose. Personally, I've grown to appreciate the more feminine figure that a more holistic practice, versus a targeted attack, creates. Give me my hip openers! Lunge thy thighs! I just want to be Yoncé.
ADVERTISEMENT - CONTINUE READING BELOW
Like her and Lawrence (also: Rihanna, Scarlett Johansson and Kim Kardashian), my body's a pear, according to a Body Shape Calculator I fiddled with online.
Enter measurements:
32-28-35
I tend to gain weight in my lower abdomen before I do my thighs.
I tend to gain weight in my butt and thighs before I do my lower abdomen.
I clicked the second. The calculator responded:
As a Pear Body type (sometimes called triangle), your hips are larger than your bust and you have a nicely defined waist. You have an elegant neck and proportionately slim arms and shoulders. You first gain weight in your bottom and legs flowed [sic] by your tummy and upper body. Your waist is your best asset so don't be afraid to show it off.
A revelation, as in my early twenties, a guy kept inviting me for lunch with the expressed intent of putting "meat on my bones." Women's bodies change based on how the body distributes fat over time, not just how much fat you have, and it got me thinking about conversations with other girls my age. Skinny all through their teens and early 20s, they discovered new curves at 27 - always 27! - despite not giving birth or gaining significant amounts of weight. Even my skinniest friend, who is still thin enough to be naked at parties at 28, is bracing herself. She just Instagrammed a photo wearing Hindy Weber and Dennis Lustico dresses that Celine Lopez unloaded on her, with the caption: "I have a year or two of staying a size 0."
"His class is really intense," said a friend. "But you're just going to focus on his hazel eyes."
People talk about yoga being an overall lifestyle and I guess it's true. I became more mindful of what I ate. I didn't overeat before classes, lest the dreaded workout rolf. All that stretching and massaging of my inner organs increased my energy ("You've unlocked your life force, or prana," cooed an instructor) and didn't leave me starved like a lot of fat-torching exercises. For lunch, I'd be satisfied with a cold pressed juice from Vibe, LIFE's café. Those green drinks always have the added benefit of recalibrating my taste buds - Bacon and fries taste saltier than they usually do, so I don't eat as much. I've also mustered the discipline to meditate on one of those phone apps. (I snuck in a 10-minuter in the carpark after class one Sunday.)
After five sessions on the mat, I felt like I was lengthening my body, gaining supple tone (not the "angry" kind that comes with push-to-failure exercises) and getting that overall glow that comes from the instructors' constant reminder to relax the face and, well, smize, even in the hardest poses. Valuing form, yoga is all about these mental notes. In fact, I may have gone overboard with one of them.
Obsessed with aligning my hips, I had fixated on one of my legs being shorter - it didn't hit the floor evenly with the other when I practiced. So I took up my sister's invitation to go to Karada, a Japanese massage and therapy center that Paul Soriano frequents.
ADVERTISEMENT - CONTINUE READING BELOW
A therapist in black pajamas clapped my feet together as I lay facedown on the treatment bed.
She asked, "Ma'am, are you aware that your right foot is higher than the other?"
She told me not to cross legs or favor one when standing (how did she know??) then led me to a popping-and-locking mechanical bed, where, with a few pushes along my spine, she fixed me! She did the foot-clapping test again and my heels, balls and toes perfectly met. I couldn't wait to bring my congruent ass back to yoga class!
The last time I went, Sebastien was teaching. He looked like a Harvard-educated soldier from the World War, or maybe I was just thinking of Channing Tatum in Dear John. At that point, it was perfectly normal to have a teacher's hands on your bum to balance each cheek - they will ask, of course. But something in me felt different this time. My legs in front of me in a seating position, peace fingers hooked around my big toes, I felt a gentle push from behind, fingers walking from my spine to my neck like Eensy Weensy up a waterspout. I exhaled and went even deeper into the stretch, nose by my toes, belly cautious against my thighs, feeling the rise and fall of my chest. Inhale, exhale. Inhale, exhale. The breaths felt good, like I could stay there forever. There's familiarity, and then there's the familiarity you find with yourself. Nothing could be more intimate.
Photographed by Miguel Miranda in New York; creative direction by the author
Visit LIFE Yoga Center at 2/F Eight Forbestown Road, Burgos Circle, BGC Taguig, Metro Manila
Hey, Preview readers! Follow us on Facebook, Instagram, YouTube, Tiktok, and Twitter to stay up to speed on all things trendy and creative. We'll curate the most stylish feed for you!