If you haven't gone down the K-drama rabbit hole like the rest of the Philippines under the enhanced community quarantine, then perhaps it's because you haven't found the right series to binge-watch. Luckily, there's a myriad of options on Netflix: from feel-good kilig hits like Crash Landing on You to more hard-hitting and offbeat series like Itaewon Class. But for the benefit of those who don't know where to start or what to watch next, may we suggest the stylish courtroom drama Hyena?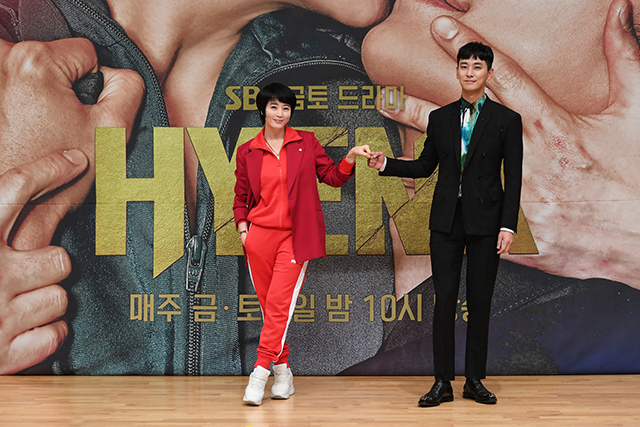 ADVERTISEMENT - CONTINUE READING BELOW
Kingdom lead Ju Ji-Hoon also stars in Hyena, which simultaneously aired alongside the second season of the Joseon zombie epic. In case you didn't know, Song Hye Kyo was rumored to have been offered the lead role for this series but turned it down, though we think veteran actress Kim Hye-Soo (who previously starred in Signal) is perfect as the feisty and mysterious female lead. Without giving out any spoilers—because episode one has a jaw-dropping plot twist already—this legal drama focuses on the intertwined careers and rivalry between ace attorney Yoon Hee-Jae (Ju Ji-Hoon) from popular law firm Song & Kim and the smart and cunning small town lawyer Jung Guem Ja (Kim Hye-Soo).
Though the plot starts off straightforward and simple, nothing is ever as it seems in Hyena. Intrigued? Read on to find out why you should give it a go!
What I Liked About It
The story starts off simple but unravels with a lot of complexities.
CONTINUE READING BELOW
Recommended Videos
What Hyena does so well is conceal what each character's true motivations are. Especially with Geum Ja. Though the series revolves around one major case, the show has a way of cleverly revealing personal motives. The intrigue is sustained and will keep you glued.
It's a mature romantic-comedy that showcases a different kind of chemistry between the lead actors.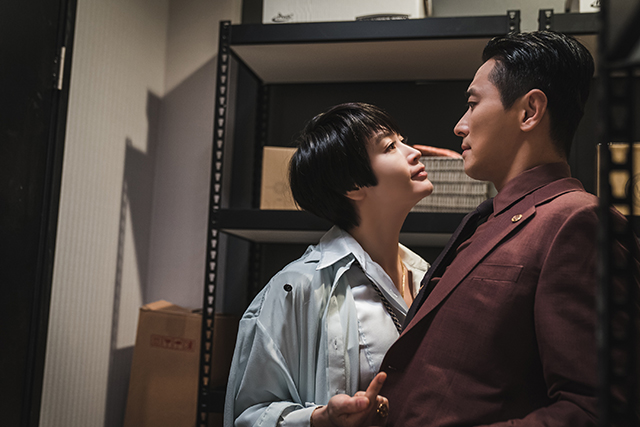 ADVERTISEMENT - CONTINUE READING BELOW
The kilig in K-dramas is often times described as sweet and innocent. But in Hyena, the two leads capitalize on an electrifying sexual tension, which makes each of their encounters exciting to watch. They bicker and fight like the typical cat-and-mouse tropes, but both Hee Jae and Geum Ja are strong individuals in their own right that actually do not need each other.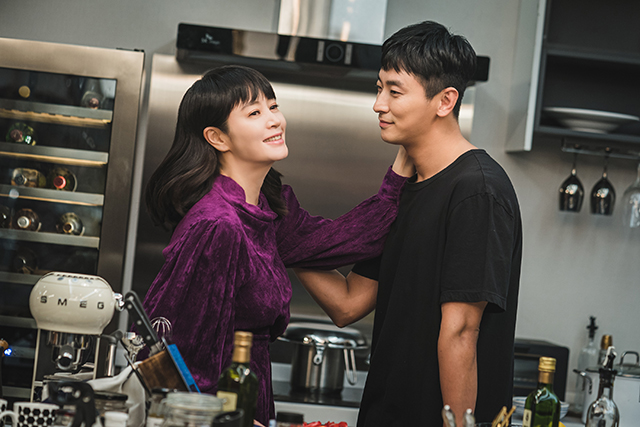 ADVERTISEMENT - CONTINUE READING BELOW
The result is seeing two equally attractive and intelligent people hopelessly drawn to one another. The love is built upon this respect and competitiveness and that's quite refreshing. No one needs saving, and I'm all for that.
The cinematography is beautiful.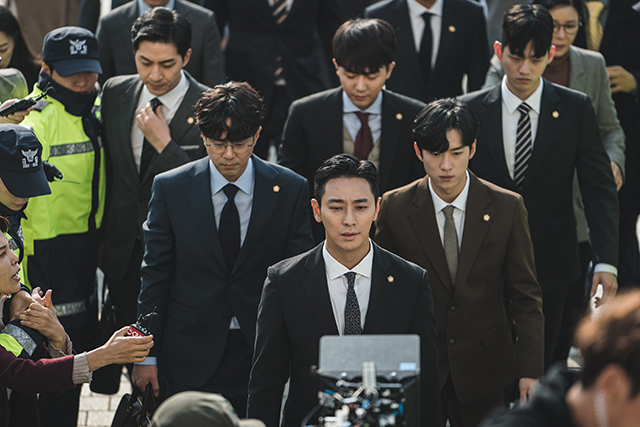 Hyena is a gorgeous K-drama to look at. It's visually beautiful for a TV series and I'm not just saying that because of the camera quality, but in terms of the art and photo direction, too.
ADVERTISEMENT - CONTINUE READING BELOW
Watch for the fashion, because it's worth it.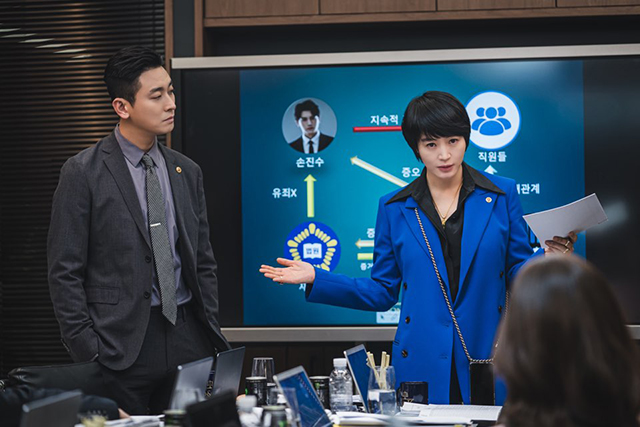 Since Ju Ji-Hoon's character is an ace attorney, he dresses like it, too. While he picks out suits that fit him perfectly and prefers a somber and earthy color palette at work, he opts for more fun laidback pieces at home; simply put, He Jae dresses flawlessly on and off court.
ADVERTISEMENT - CONTINUE READING BELOW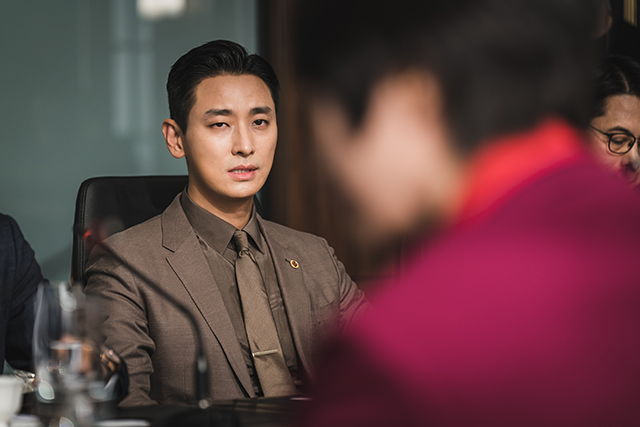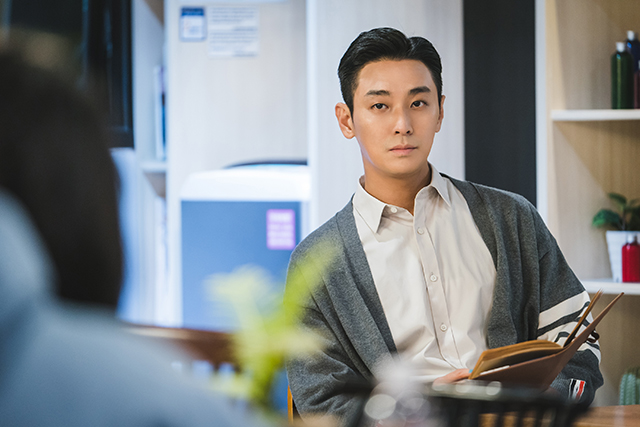 ADVERTISEMENT - CONTINUE READING BELOW
But the real style stealer is Geum Ja with her androgynous wardrobe.
Though she starts off in the series wearing Gucci-esque tracksuits and oversized trench coats, her style evolves into more tailored and streamlined pieces but with a hint of quirkiness still—she has a penchant for oversized collars a la Louis Vuitton and Fendi Spring/Summer 2020! She's drawn to bright colored suits with a more masculine silhouette, never body-hugging yet she's still able to come across quite sexy. She has a very unique sense of style you rarely see in K-dramas and it's great to see a female lead who doesn't have to flaunt some skin to be femme fatale.
ADVERTISEMENT - CONTINUE READING BELOW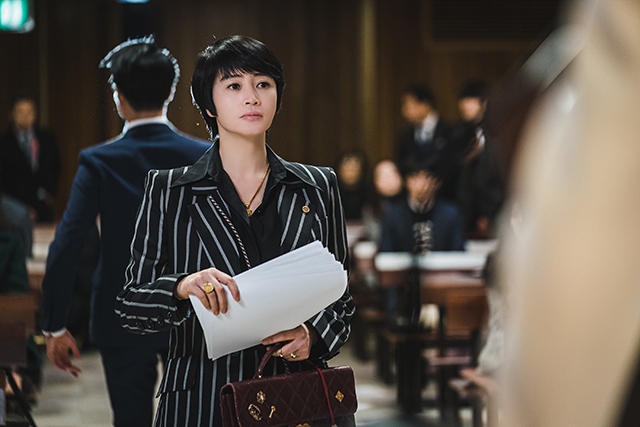 What I Didn't Like About It
The setup for the romance might not be everyone's cup of tea.
Hyena throws you off right away with how the romance starts between Hee Jae and Geum Ja. It can be incredibly annoying, but it's the fact that it gets under your skin that makes it different. You'll either end up wanting to know more and rooting for both, or dropping the series altogether.
ADVERTISEMENT - CONTINUE READING BELOW
So Should You Watch It?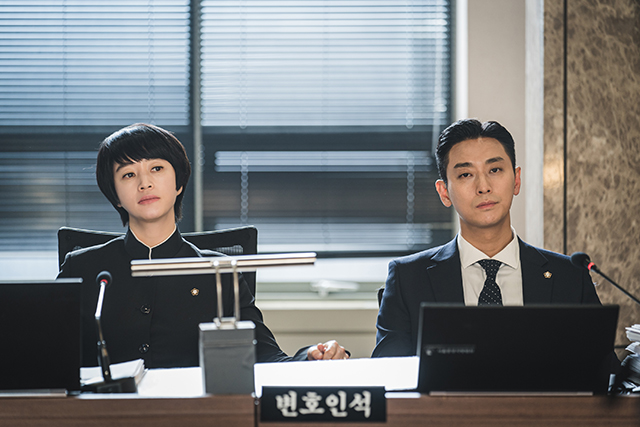 Courtroom dramas could either be super boring or extra interesting. Hyena is definitely the latter as it showcases a different kind of love story you should be open to seeing. It's a well-written series that has mastered that flirt-and-bicker chemistry between the leads and also delivers a thrilling, meaty, and somewhat provocative legal story. If you ask us, it's worth adding to your watch list.
ADVERTISEMENT - CONTINUE READING BELOW
Hyena is currently streaming on Netflix.
Related Stories from Preview.ph



Hey, Preview readers! Follow us on Facebook, Instagram, YouTube, Tiktok, and Twitter to stay up to speed on all things trendy and creative. We'll curate the most stylish feed for you!