Food and fashion aren't the first worlds you might think to pit together, but the two have more in common than meets the eye. Both, after all, are arguably (we'd argue they are indeed!) forms of art—ones that fulfill practical purposes, e.g. sating your hunger and safeguarding your body, but also go beyond that, being mediums of conveying emotion in their own right.
Partners Happy Andrada-Gras and Tanguy Gras would know a good thing or two on the matter, being of F&B and fashion design backgrounds, respectively. Their proverbial baby, H&T Wine Gallery, bridges their two passions, peddling wine and light bites in a decidedly zany, visually striking space.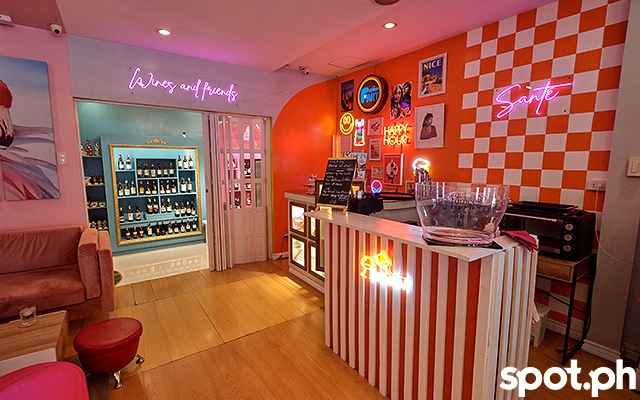 ADVERTISEMENT - CONTINUE READING BELOW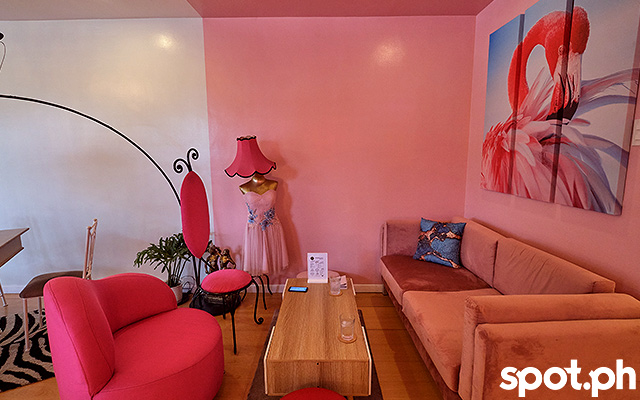 READ: Everything You Need to Know About Fashion Designer Happy Andrada's H&T Wine Gallery
Greeting us in his checkered olive vest and handlebar moustache-pinned polo shirt (perfectly mirrored by his own real-life 'stache), Tanguy welcomes us to the wine gallery, which lies on the first level of Happy's Fashion Art building. The French native is a food-and-beverage veteran, having worked as F&B Director at MGallery Hotel and F&B Manager at Sofitel Manila, among other experiences—and having long been passionate about the world of wine. He has a side to him that enjoys dressing up as well: "Tanguy is fashionable," Happy tells us. "[I] think we inspire each other. He's my muse; I dress him up and I also create outfits for him like his aprons that looks like suits."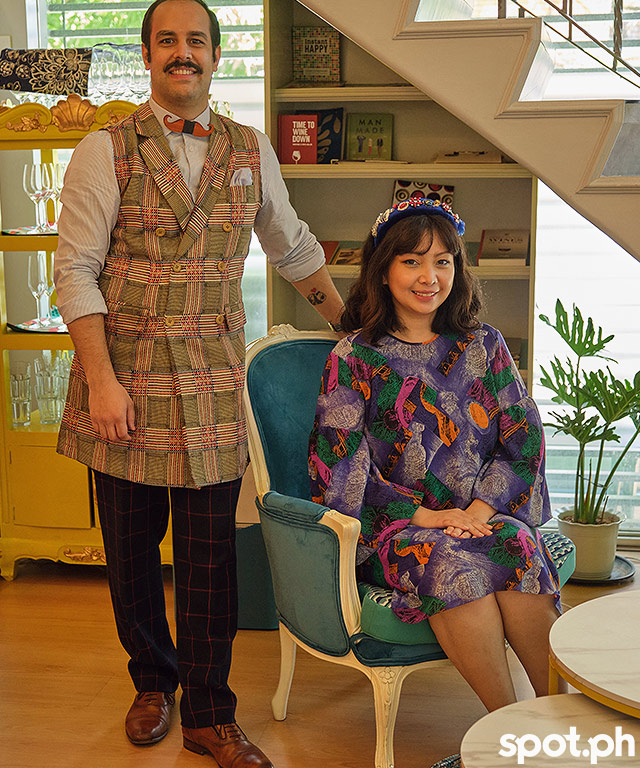 Happy has been in the fashion design scene for many years, heralded for her ready-to-wear, bespoke gowns and other pieces inspired by Filipino tradition, using textiles from around the country. There's a romantic element to Happy's work, what with the use of frills, ruffles, bows, soft pastels (side-by-side with earthy tones and the occasional more vibrants pops of color), and intricate detailing to embellish her wearable pieces of art.
ADVERTISEMENT - CONTINUE READING BELOW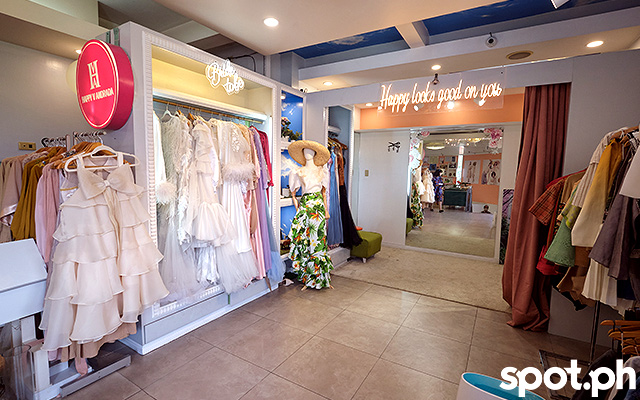 Happy is also well-versed in interior design, having studied it for a year and a half before fully going the fashion route—and she reconnects with that side with her at the wine gallery, having taken care of the visual side of H&T Wine Gallery, herself.
ADVERTISEMENT - CONTINUE READING BELOW
You see this in practice the moment you step into their eccentric, yet ultimately inviting space. She admits this is her first foray into designing interiors for a restaurant specifically, but happily took on the challenge anyway, going for a look that's unmistakably them.
ADVERTISEMENT - CONTINUE READING BELOW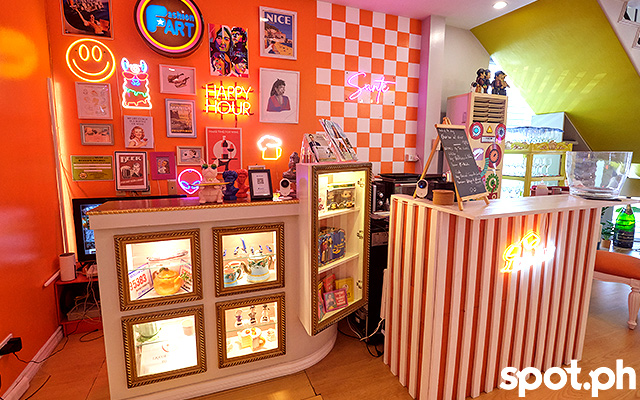 By no means is this like the more sleek or brooding wine bars you'd find elsewhere. It immediately strikes the eye with the vivid colors all around, among them a peppy yellow squiggle on the ceiling, Barbie pink on the wall fronting their entrance, and Tiffany blue and orange shelves when you get to the wine room. More is more here; for its relatively small size, H&T boasts plenty of knicknacks on display that you're bound to run into a surprise at every corner you turn. Patterns and fun prints—among them a checkerboard by the counter and a zebra mat on the floor—lend textural pizzazz. Happy's getup that day also darlingly complimented the shop interiors, what with her donning a plush blue shift dress and matching headband (with a wine-bottle charm!) both from her own collection, plus Irregular Choice heels with a fun rubber-duck detail at the back, during our visit.
ADVERTISEMENT - CONTINUE READING BELOW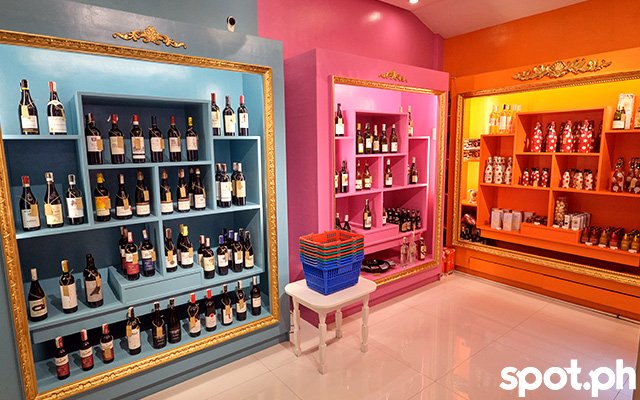 The couple shares how they had initially envisioned a wine bar with a "totally different design," meant to open at the beginning of 2020, but, well, cue pandemic. You know the drill. They proceeded to go the online, delivery-only route in the meantime, but kept the dream of eventually opening a brick-and-mortar shop—and with more time on their hands, they had the opportunity to go more elaborate in the design department. The resulting store is not just a store, but a wine wonderland of sorts that reflects their love for food, fashion, and art.
ADVERTISEMENT - CONTINUE READING BELOW
The use of the term "wine gallery" is deliberate—not only in that it matches the quirky nature of their interiors, but also as Happy and Tanguy are intent on highlighting how making wine is an art. "There's a lot of hard work behind wine," Tanguy says, explaining how winemakers take into consideration factors like the variety of grape, and the region it grows, the time of the year a grape is harvested, and so on, in making their wine. "That's art, you know, to know the exact moment."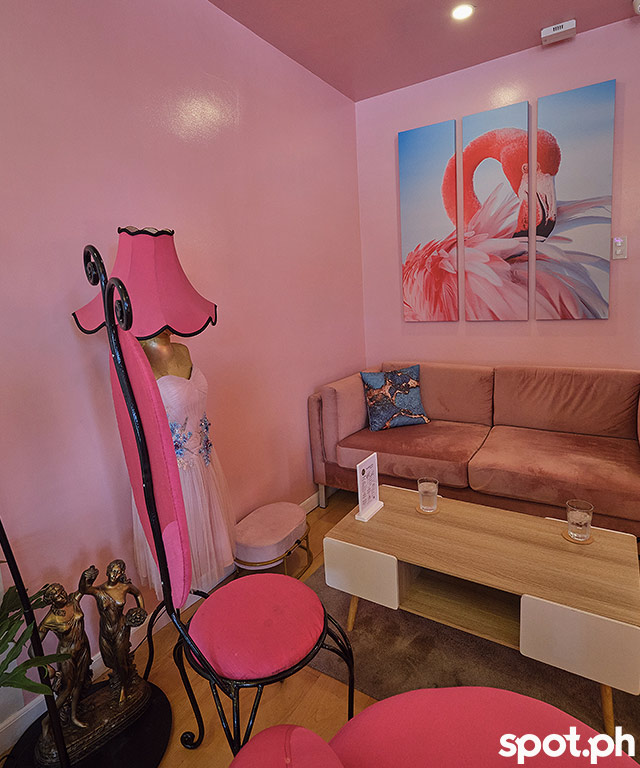 ADVERTISEMENT - CONTINUE READING BELOW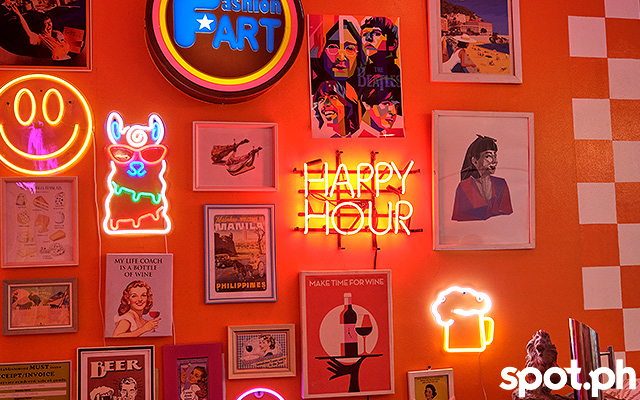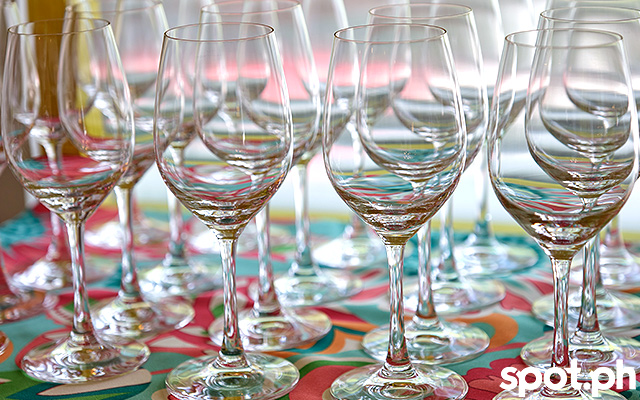 ADVERTISEMENT - CONTINUE READING BELOW
H&T's range mostly covers Old World bottles—particularly wines from Spain for how it "pairs really well with food" and generally offers great value for money, says Tanguy—though they also carry New World wines and other sips from around the world. You're bound to find a bottle to suit your needs as they've got everything from quality essentials under P1000, including Valdivieso Chardonnay 2021 (P640) and Wild House Shiraz 2021 (P750). Higher-end and/or relatively hard-to-find bottles are available as well—including Sarget de Gruaud Larose 2015 (P3550), a wine from Saint-Julien, Bordeaux with a blend of Cabernet Sauvignon, Merlot, Petit Verdot, Cabernet Franc grapes; and the Viña Zorzal Nat'Cool 2020 (P1680) that features Graciano grapes from Navarra, Spain.
Should you opt to dine in—and we recommend you do—you can open your bottles in-store, or order wines by the glass; H&T stocks a rotating selection of red and white wines (P290/regular, P390/premium) available in 150-ml pours. Sips of the Diego de Almagro Reserva 2014, a bold red of Tempranillo grapes from Valdepenas, Spain, and the Valdivieso Sauvignon Blanc 2022, a classic sprightly Sauv from Chile, keep us company during our visit.
ADVERTISEMENT - CONTINUE READING BELOW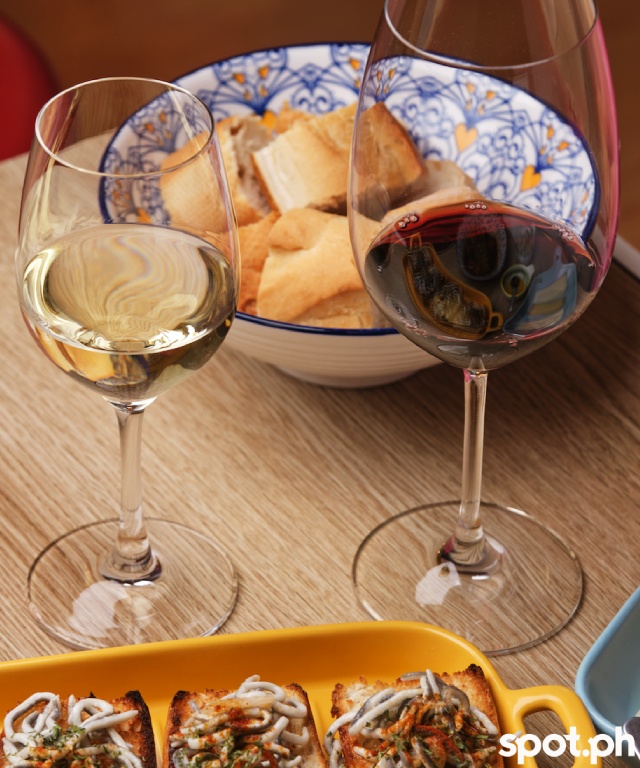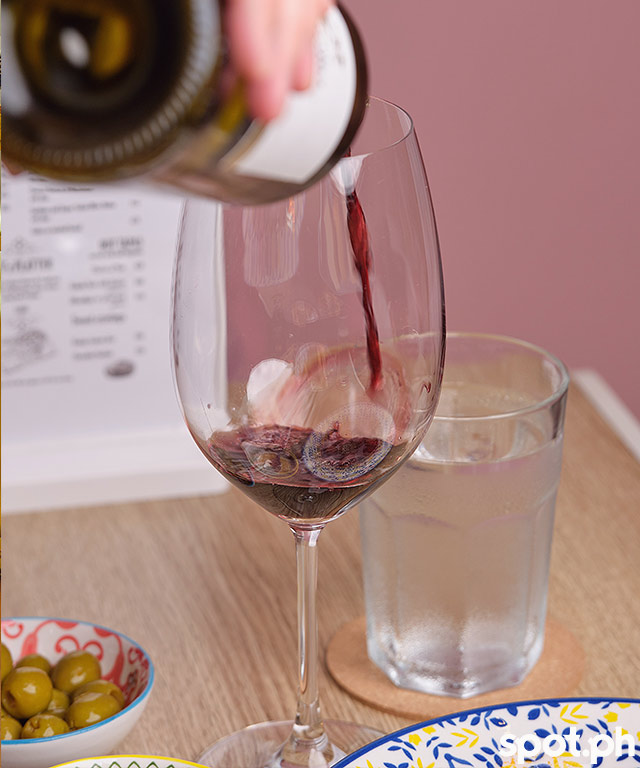 ADVERTISEMENT - CONTINUE READING BELOW
Wine, of course, is especially great had with food to match; H&T has a short yet ample selection of bites, many of the Spanish-leaning sort, that you can order one or more of as a filling snack or light meal. The Cheese Trio (P710) includes three European variants—quezo de oveja semicurado, a semifirm, sheeps'-milk cheese on the sharp and tangy end; Comte 12 months, a nutty, buttery number; and the queso tierno, another sheeps'-milk cheese that ends with the distinct taste of caramelized milk—plus truffle honey for sweet contrast. Charcuterie—like the Chorizo Iberico plate (P415)—make for meaty, savory, melt-in-the-mouth companions to a glass of red.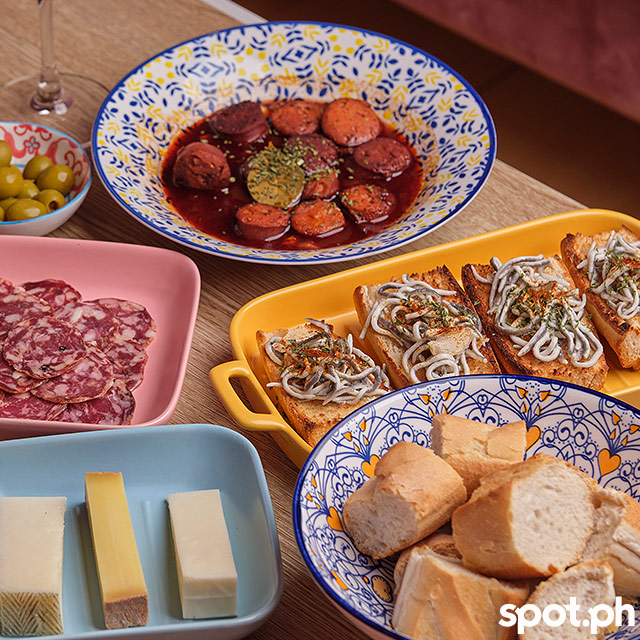 ADVERTISEMENT - CONTINUE READING BELOW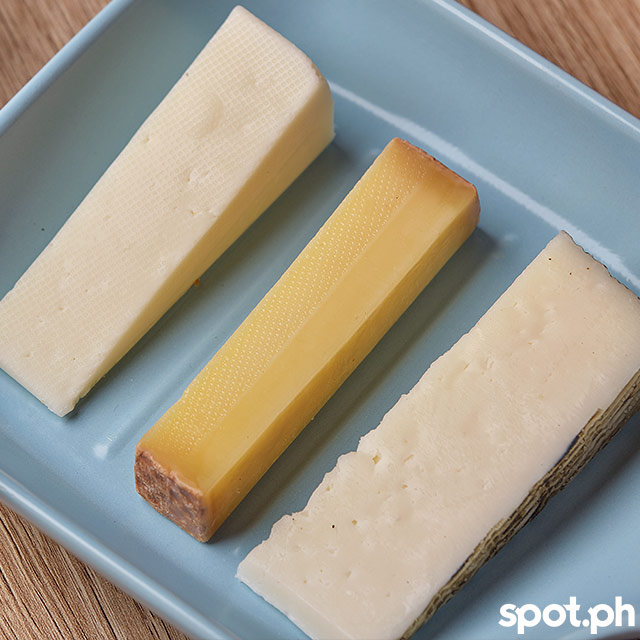 Looking for more substantial options? The wine gallery's also got hot tapas—of which the Chorizo al Vino (P450), or chorizo sausage cooked in red wine, makes for a soul-warmng option. Served with half a baguette, this dish brings to mind Filipino adobo with its garlicky, bay leaf-scented profile—but with chorizo as your protein, plus Mediterranean wine from the wine. Sandwiches and tartines, like Gulas on Toasted Bread (P710) featuring gulas or surimi baby eel, are also available. Pro tip: the complimentary olives they serve are well worth nibbling on, too, as they're fattier and less salty than the generic jarred stuff you get at the supermarket.
ADVERTISEMENT - CONTINUE READING BELOW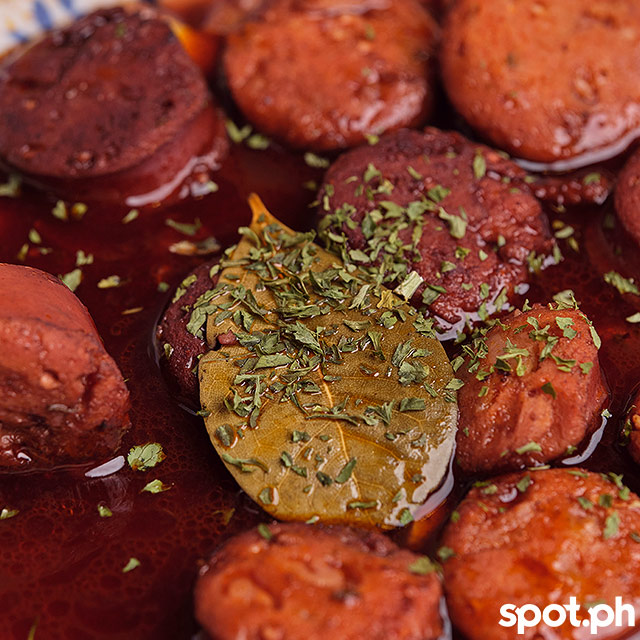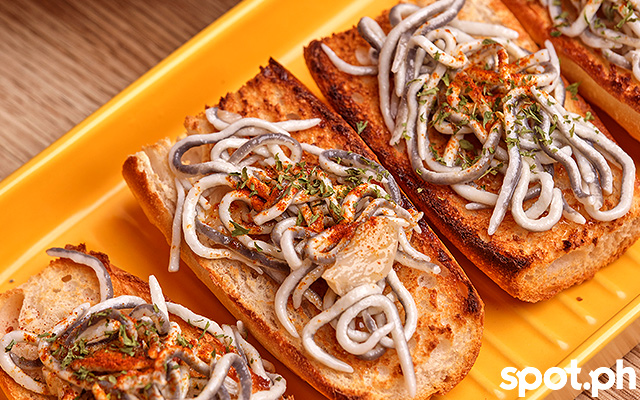 ADVERTISEMENT - CONTINUE READING BELOW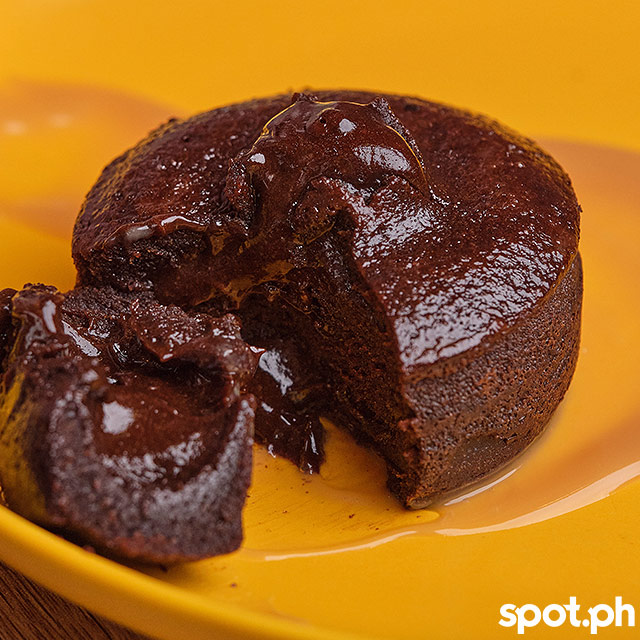 Far from intimidating, H&T Wine Gallery is all about the pure celebration of both food and fashion's artistic cores, and of Happy and Tanguy sharing this love with others.
H&T Wine Gallery is located at 24 K-D corner K-1st Streets, Kamuning, Quezon City
For more information, you may contact 0917-175-2779 or visit their official Facebook
ADVERTISEMENT - CONTINUE READING BELOW
This story originally appeared on Spot.ph.
* Minor edits have been made by the Preview.ph editors.
Hey, Preview readers! Follow us on Facebook, Instagram, YouTube, Tiktok, and Twitter to stay up to speed on all things trendy and creative. We'll curate the most stylish feed for you!