During this enhanced community quarantine, pharmacies, grocery stores, and banks are still open. When supplies need urgent restocking, you'll have to head out. Since COVID-19 is an unseen, indiscriminate threat (the adage "it only happens to other people, not me!" simply does not apply anymore) we need to be vigilant about keeping ourselves safe and sanitized.
The Department of Health released steps to follow upon returning to your house from the outside world. Keep scrolling for more details and keep this infographic handy!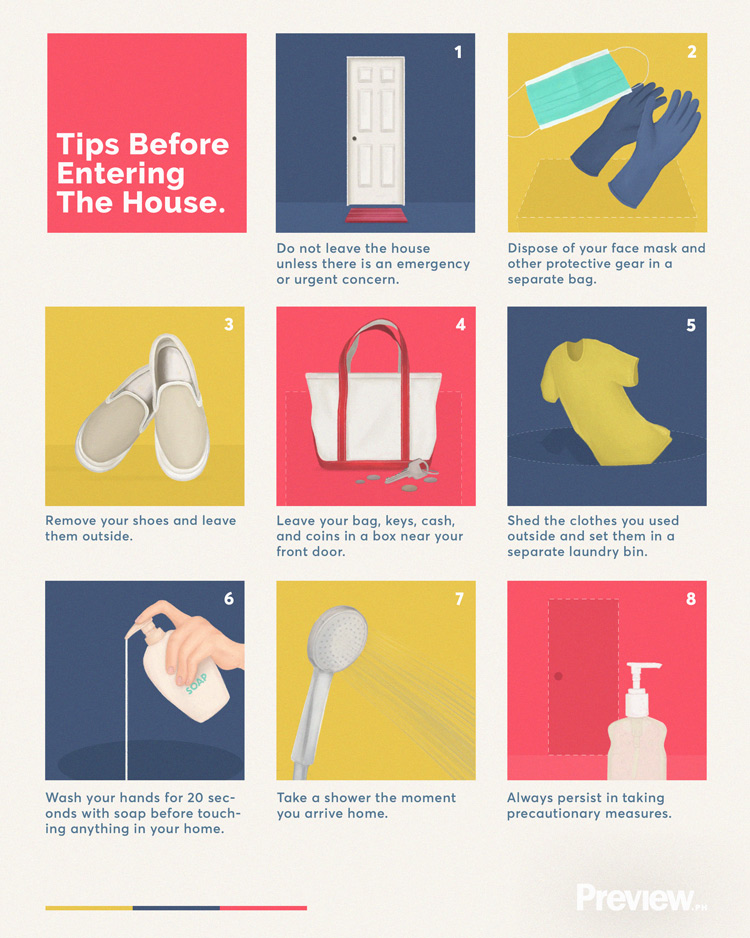 ADVERTISEMENT - CONTINUE READING BELOW
1. Do not leave the house unless there is an emergency or urgent concern.
Only one person per household is allowed to leave their home. If you must leave the house, bring alcohol and sanitizer. Do not touch your face while you are outside your home.
2. Dispose of your face mask and other protective gear in a separate bag.
Leave your spent (unreusable) protective gear in a sealed garbage bag for at least 72 hours before leaving the bag outside to be picked up by garbage collectors.
Related Stories from Preview.ph
3. Remove your shoes and leave them outside.
Sanitize your shoes thoroughly with the bleach and water mix. To be safe, leave them on a shelf by your front door and do not bring them inside your house.
4. Leave your bag, keys, cash, and coins in a box near your front door.
Disinfect the items you brought outside with a spray bottle filled with water and bleach, or a 70% alcohol solution. Opt to keep a box near your front door to hold these items.
CONTINUE READING BELOW
Recommended Videos
5. Shed the clothes you used outside and set them in a separate laundry bin.
Designate a laundry bin outside your house for the soiled clothes. (This may necessitate the placement of a tent or divider if you have one, so you can change in private.) Immediately wash the outside clothes with bleach, detergent, and water.
6. Wash your hands for 20 seconds with soap before touching anything in your home.
Keep a bottle of hand sanitizer or alcohol by the door. As much as possible, do not enter your house without sanitizing your hands. If this is not possible, refrain from touching any objects in your house without first washing your hands with alcohol, or better yet, soap and water.
Related Stories from Preview.ph
7. Take a shower the moment you arrive home.
Pay special attention to the areas of your body that were exposed. Use a soap with disinfectant capacities, and scrub yourself for at least 20 seconds. Visualize getting all the germs off during your thorough bath!
ADVERTISEMENT - CONTINUE READING BELOW
8. Always persist in taking precautionary measures.
Practice social/physical distancing. Keep washing your hands. Cover your nose and mouth when you cough or sneeze. As much as possible, don't leave your house, and religiously clean high-touch surfaces. In times like this, it's always better to go the extra mile in doing what we can to keep ourselves and those around us safe, healthy, and calm.
ADVERTISEMENT - CONTINUE READING BELOW
For more stories on COVID-19, please click here.
Related Stories from Preview.ph
Hey, Preview readers! Follow us on Facebook, Instagram, YouTube, Tiktok, and Twitter to stay up to speed on all things trendy and creative. We'll curate the most stylish feed for you!