Going to New York has been a lifelong dream I never thought would actually happen—but did.
Last year, I spent two weeks in my favorite city: getting to know more about NYC, meeting my book publishers, exploring places on my travel bucket list, and learning to love a place I've always dreamed of visiting. While I wasn't skimping when it came to my budget (of course, I wanted to be able to enjoy my trip!), I made sure not to overspend and get my money's worth out of every experience.
My goal was simple—to live like the locals and get to discover most things on my own. Not that I'm an anti-tourist, I just find it more serendipitous that way. And I'm always up for spontaneity when it comes to exploring places for the first time.
Here are some tips on how to spend two weeks in NYC on a budget, taken from my own experience during my first visit.
ADVERTISEMENT - CONTINUE READING BELOW
Book your lodging outside of Manhattan
…or better yet, if you have a relative or friend living in New York, ask if you can stay with them while you explore the city. Booking a room in Manhattan is expensive, especially if you choose five-star hotels that are just a few meters away from Times Square. Opt for neighborhood areas and check out deals on Airbnb or hostels to save on your travel funds.
CONTINUE READING BELOW
Recommended Videos
Commute via the New York City Subway
I've been told that if I could commute the NYC subway, every subway in the world would seem like an easy feat. It's true, though—I found myself getting lost between uptown and downtown the first few times I took the subway. But the catch is, as I traveled more, I learned to understand the different stations and which routes to take to get to my destination on time.
To give you an idea, a Metrocard (with unlimited rides for 7 days) costs $32, regardless of where you're headed (Tip: on a free day, visit Coney Island, which is the last stop of the D, F, N & Q trains). I found the unlimited rides deal to be the most cost-efficient one, since I was sure to explore most areas as it was my first time in NYC (I stayed in Queens and went to Manhattan and Brooklyn on most days). Here's a more in-depth guide on commuting in New York via the subway.
ADVERTISEMENT - CONTINUE READING BELOW
Have your Empire State of Mind moment
Want to see the best view of Manhattan? It's either you visit the Top of the Rock ($34/adult) or Empire State Building ($37/adult). I got to visit both, but personally prefer seeing the ESB from the other side, so I recommend Top of the Rock. Another tip: book a table at a rooftop bar in Manhattan and there's a big chance you'll get the best view, too—paired with good food and drinks.
Spend an afternoon at Central Park
There's nothing quite like being surrounded in greenery in the midst of a busy city. That's what Central Park is for—whether you're geared up to go for a run or have a picnic by the lake, spending an afternoon at Central Park is your best option. At no cost, of course! Just make sure to clean up as you go.
ADVERTISEMENT - CONTINUE READING BELOW
Check out Central Park's website for more about where to go inside the vicinity.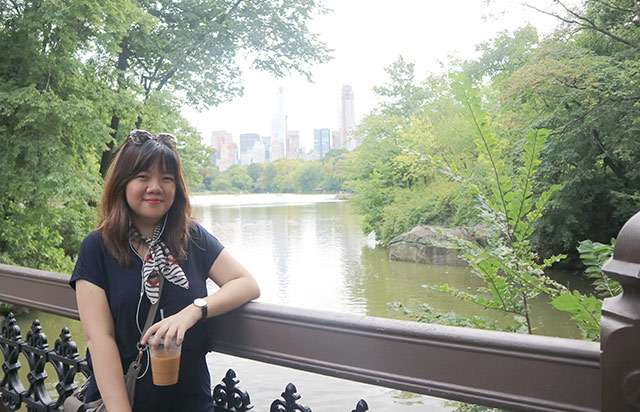 IMAGE Abbey Sy
Fuel up at a coffee cart
Not gonna lie, I love my morning coffee and I always need at least an iced coffee before heading out. Luckily, there's a coffee cart near most train stations—and a serving costs only around $1.50. Not bad for some fuel to keep you up and running! You can choose to have it black or white (with half and half and sugar), depending on your preference.
ADVERTISEMENT - CONTINUE READING BELOW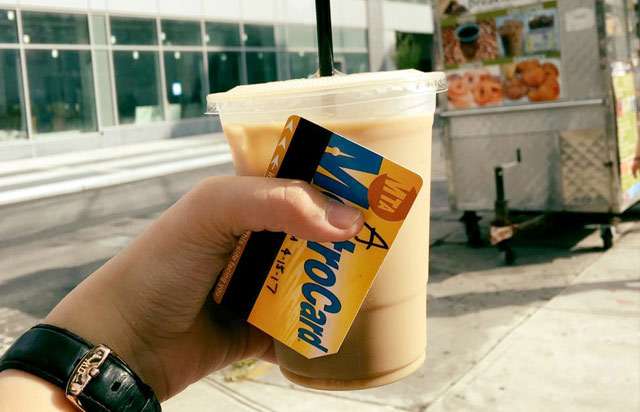 IMAGE Abbey Sy
ADVERTISEMENT - CONTINUE READING BELOW
Take a free campus tour
If you're planning to take up some courses in New York soon (like me!), booking a campus tour is the best way to check out the school's facilities and ask questions about possible educational routes to take. I got to visit my dream school, SVA (School of Visual Arts) and I was amazed with their library, among all the places we toured on campus.
Visit their site for more information about campus tours and courses.
ADVERTISEMENT - CONTINUE READING BELOW
Work at Bryant Park
Looking for a smaller place to spend your downtime? Bryant Park became my instant favorite the minute I stepped foot—a quiet space filled with food kiosks (loved the coffee at Joe's!) and lots of tables and chairs, making it the perfect park to work in. Plus points for their outlets to charge your laptops and devices, as well as free wi-fi. On another note, if you want to start the day with some inner peace and stretching, the park also offers yoga classes on select weekdays—for free!
Check out Bryant Park's website for schedules of activities.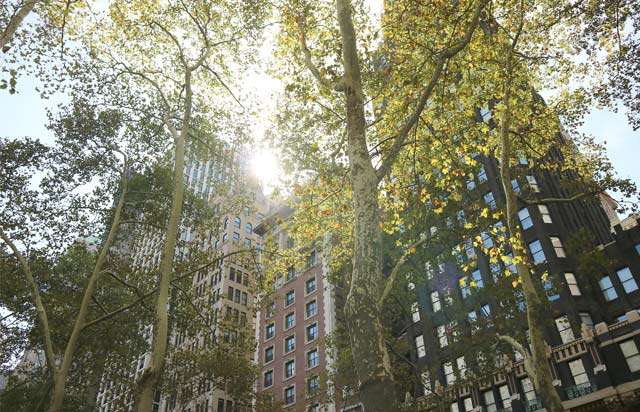 ADVERTISEMENT - CONTINUE READING BELOW
IMAGE Abbey Sy
Spend quiet time at the New York Public Library
The NYPL is situated beside Bryant Park, so you have two options to choose from when you come out of the 42nd Street–Bryant Park/Fifth Avenue station. Love staying indoors? Let the beautiful interiors of NYPL inspire you to work or read. What I love about this library is each area has a designated outlet and you assign yourself in a seat—and get this, silence is observed (of course, it's a library). The introvert in me came out of the library feeling instantly refreshed (fun fact: I went twice! I couldn't help it.)—and yes, it's free, too!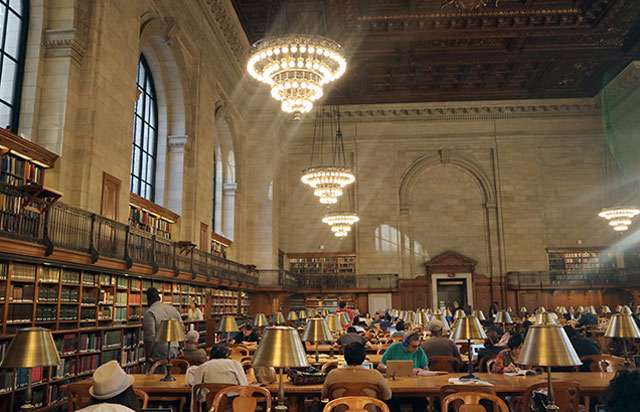 ADVERTISEMENT - CONTINUE READING BELOW
IMAGE Abbey Sy
Get your culture fix at NYC's museums
I'm a modern art loyalist, so by default, I didn't mind shelling out $25 at the MoMA. In return, I was able to fangirl over the works of my favorite modern artists (Picasso, Monet, Kahlo, Dali, Mondrian, and Warhol, to name a few) and step foot into the museum shop (which was a trap, for someone like me who collects museum merch!). If you're keen on visiting MoMA for free, drop by on a Friday night from 4-8PM.
ADVERTISEMENT - CONTINUE READING BELOW
But if you've set a specific budget for museum hopping, visit The American Museum of Natural History as they operate with a "pay as you wish" system. Most museums in New York are relatively cheaper and a lot of them are also open to the public for free. You can check out more of NYC's museums here.
ADVERTISEMENT - CONTINUE READING BELOW
Go strolling (and window shopping) at SoHo
Stepping into Chinatown felt so different from other neighborhoods in Manhattan. Take a stroll into this quirky neighborhood lined with cafes, retail stores, and stationery shops. Afterwards, spot the beautiful street art and brick walled exteriors for photo ops—and unwind with a cup of Joe to end the day.
ADVERTISEMENT - CONTINUE READING BELOW
Shop at independent bookstores
Independent bookstores like Strand have unique souvenirs for you to take home, and discounted books on sale for as low as $1. Best of both worlds, right? If you're the type who likes visiting bookstores (like me), getting lost in Strand is likely to happen.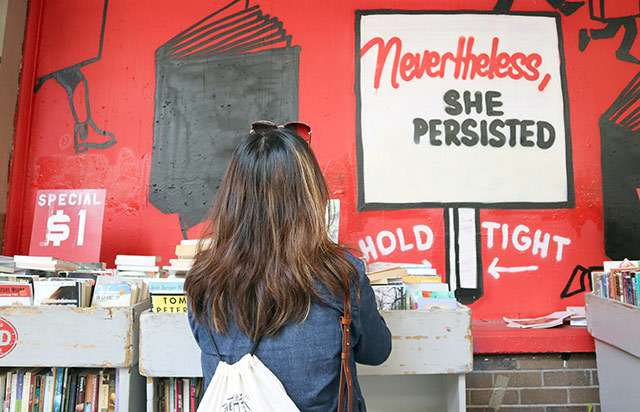 ADVERTISEMENT - CONTINUE READING BELOW
IMAGE Abbey Sy
Cross the Brooklyn Bridge
Start your Brooklyn walkathon with crossing the famous Brooklyn Bridge. You'd be surprised how most people use this as a way to get to the other side of the city—while most of us tourists stay for a good few minutes taking photos and appreciating the view.
ADVERTISEMENT - CONTINUE READING BELOW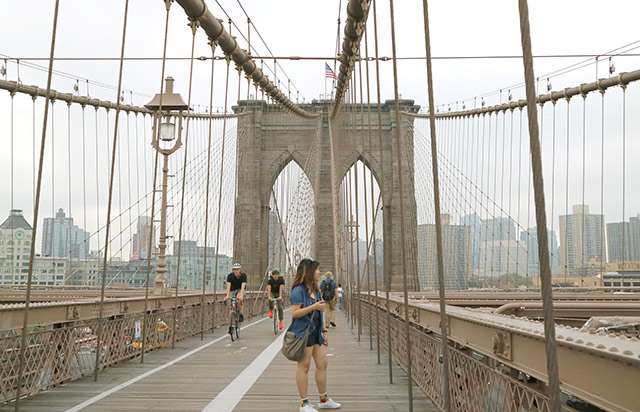 IMAGE Abbey Sy
Explore DUMBO
At the end of Brooklyn bridge is DUMBO (short for Down Under the Manhattan Bridge Overpass), a neighborhood full of restaurants, establishments, and cafes. There's also a nearby carousel and park where you can relax after a long walk. I spent a chilly morning sketching both the Manhattan and Brooklyn bridge before heading out to my next destination.
ADVERTISEMENT - CONTINUE READING BELOW
ADVERTISEMENT - CONTINUE READING BELOW
IMAGE Abbey Sy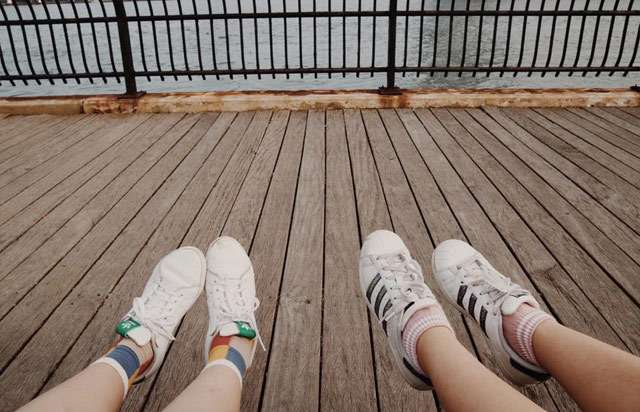 IMAGE Abbey Sy
ADVERTISEMENT - CONTINUE READING BELOW
If you're exploring DUMBO on a weekend, drop by the Brooklyn Flea to score some vintage finds you can use to jazz up your wardrobe. Take home a few enamel pins and posters as well to add to your stash of NYC souvenirs.
Have you visited NYC before? What are some of your non-negotiables? Comment below!
ADVERTISEMENT - CONTINUE READING BELOW
Abbey Sy is Preview.ph's guest editor for the month of January. This artist and best-selling author is known for her analog-style travel journaling and whimsical illustrations and lettering. You can find her books The ABC of Hand Lettering, The ABCs of Journaling, journaling kits and more of her merchandise at bookstores nationwide and here.
Related Stories from Preview.ph
Hey, Preview readers! Follow us on Facebook, Instagram, YouTube, Tiktok, and Twitter to stay up to speed on all things trendy and creative. We'll curate the most stylish feed for you!