When it comes to designing your own place, chances are you've already saved (read: took screenshots of) several pegs that capture the aesthetic you're going for. Some prefer to take the minimalist route, while others go for a more unique and quirky look. If you're a beach lover like 25-year-old Pinay Bianca Isaac, then you're probably into a more tropical-inspired space. In an exclusive e-mail interview with Cosmopolitan Philippines, she shared how she transformed her apartment into a gorgeous boho paradise within two years. Keep reading to know more.
What made you decide to do a boho aesthetic home makeover?
Bianca: "This was the first space I had all to myself, so I wanted it to feel most like me! I'm a total beach bum, and I try to go to the beach every chance I get with my friends or fam. The beach is definitely my fave place to be, so I wanted a boho, tropical aesthetic that made me feel most comfortable and at ease. It's also very laid back aesthetic, which fits my personality."
ADVERTISEMENT - CONTINUE READING BELOW
What changes were made to your space?
Bianca: "When I had the one bedroom renovated, I just asked for the whole thing to be painted white since I wanted to have a lot of space and freedom to decorate from scratch. This gave me the chance to be creative and really be able to fill in each wall, nook, and cranny with something I genuinely liked!
"My parents went with me to pick out the basics such as my bed, couch, and dining set. I furnished the rest of my place with decor, art, and accessories throughout the months—I was dedicated in investing in items to make my place as homey and as me as it could be."
Linens & Pillows


"My first actual splurge was spent on high quality linens and pillows for my bed! This is such an investment as you spend a third of your life sleeping, and I wanted my bed to be as comfortable as ever. I spent around P15,000 on my duvet, pillows, and linens (with extra sets for changing). I got them all in white for a clean, classy look. It was a bit pricey since I went for sustainable organic bamboo cotton (which is so soft, and cooling), and a few sets of silk pillowcases. All totally worth it though!"

Dining ware

"At the time I started moving in, it was pre-pandemic, mid-2019. I was so excited to get cute dining sets not only for myself, but also to host big dinner parties with friends! (I only ended up hosting a few before lockdown). Either way, I had so much fun shopping for plates, bowls, and silverware! My friends and I went to Dapitan Arcade, where you can surprisingly find so many chic dining items for low, low prices. A set of six colored, good quality plates would cost just around P500 to P600. It was so fun to get different colors and patterns—the first actual items that brought my place to life. It was such a great experience! Now, I believe you can purchase their items online. I also got my gold cutlery set from an IG store for around P3000. I'm a gal who loves gold for everything—so I had to make sure my utensils fit perfectly!"

Plates from Dapitan Arcade

COURTESY OF BIANCA ISAAC

Gold cutlery

COURTESY OF BIANCA ISAAC

ADVERTISEMENT - CONTINUE READING BELOW

ADVERTISEMENT - CONTINUE READING BELOW

Mirror decor

"I first saw rattan mirror decor on Pinterest, and instantly knew I needed to have some to give my place an instant boho vibe. There were so many different kinds of rattan mirror decor in the shapes of suns, and I got my hands on all kinds I could! I purchased them from IG shops, and even found gold ones from H&M. Each mirror cost me around P800 to P1200 depending on the size. I really loved the vibe it gave, and how they made the place feel more spacious. I also loved how I could always randomly take a peak at my reflection from any part of the apartment, since I had them hung up on almost every wall—from the living room, to the bedroom, and even my balcony. I also found the perfect mirror set to hang above my bed—mirrors in different phases of the moon! I got the set from Llure for around P3000."

ADVERTISEMENT - CONTINUE READING BELOW

ADVERTISEMENT - CONTINUE READING BELOW

Rattan Decor

"One of my favorite furniture ever is my full body rattan mirror in my bedroom—which I had made based on a photo from Pinterest. It cost me around P6000 but it's really made my room feel so much bigger. And aside from being so tropically chic, it's so functional too! To keep the tropical feel throughout the apartment, I would have other functional accent pieces in rattan too. I surprisingly got these on Facebook marketplace for really good prices. Although my bed frame is solid dark wood, I wanted my nightstand to be more playful so I opted for a low glass rattan table for one side of my bed. It's a great accent piece!"

"I also got rattan drawer shelves for beside my bathroom, and a little rattan bar cart for the dining area! The bar cart has got to be a favorite since I love to make drinks for myself and for when friends come over. It also adds a 'big girl' feel to the place, LOL."

ADVERTISEMENT - CONTINUE READING BELOW

ADVERTISEMENT - CONTINUE READING BELOW

Plants, plants, plants

"It wouldn't be a boho tropical vibe without greens!! Plants really livened up my place, and I was obsessed with getting new ones all the time. I'd fill my apartment up with all kinds of indoor plants, with palmeras being my favorite. Unfortunately, not all have survived throughout the years (as much as I tried haha!). But I would always replace them if they died since plants literally bring so much life and color to the rooms. I would order plants from stores online for around P400 to P1000 each, depending on the type and the kind of pot or basket it came with. I prefer my plants to come in rattan baskets rather than heavy bulky pots."

My palm plant

COURTESY OF BIANCA ISAAC

ADVERTISEMENT - CONTINUE READING BELOW

"Also, I prefer live plants rather than plastic, but I had to make a few exceptions for my accent wall behind my couch. This was the latest edition, which I initially just bought as a backdrop for my birthday dinner photo area. Each vine had fairy lights(!) and was only around P130 each on Shopee (excluding batteries). I hung up around 10 vines and kept it there ever since!"

ADVERTISEMENT - CONTINUE READING BELOW

"My bedroom also has a small balcony, which totally came to life when I had turf or fake grass installed. It cost around P6000 for the actual turf material and installation fees. I'd have to say it was the best decision since I now have my own little garden outside. I love spending time "outside" to get air while staying in the comforts of my own place. It's a really small space so I just filled it with throw pillows to make it cozy, instead of making it tighter with chairs. It's the best place to spend sunset from the 21st floor—the view isn't bad at all! I spend time here by myself to think, or just vibe with the sky."

ADVERTISEMENT - CONTINUE READING BELOW

ADVERTISEMENT - CONTINUE READING BELOW

ADVERTISEMENT - CONTINUE READING BELOW

Art

"I was so excited to commission a set of artwork from one of my oldest friends, Josh Paterno! He designed these amazing watercolor-style photos that were beachy and boho, exactly how I wanted it. It's such a beautiful, personal touch to my place. I also have a painting done by my talented best friend in the same room, of a plant with the most amazing abstract style and color shading."

Lighting

"Lighting really affects the whole ambiance of your space! I am obsessed with natural light so I kept all my curtains linen so it's thin and would have the light come in each room nicely. I love warm lights, and made sure all the fixtures of my place were warm bulbs to give a more cozy, relaxed ambiance. I also recently got a sunset lamp (inspired by TikTok, lol) on Shopee for around P700. It makes the ambiance just amazing, and is fun to take photos with as well."

ADVERTISEMENT - CONTINUE READING BELOW
Around how much have you spent in total on the home makeover?
Bianca: "Overall, I think I spent at least P100,000 on my dining ware, decor, and small furniture in the span of two years. These are investments that really make your space your home, and are extensions of yourself. It's always worth it to spend on design and aesthetic that you'll see everyday. I really believe that the ambiance of your space affects your mood and overall disposition!"
ADVERTISEMENT - CONTINUE READING BELOW
Overall, what are your final thoughts on the home makeover?
Bianca: "It was definitely one of my favorite hobbies/projects because I did it all according to myself. It felt freeing, and made me feel very independent as I called the shots on what I wanted my space to become. I absolutely love how I was able to transform each corner of my bare space to really be my own aesthetic. My apartment definitely feels like an extension of myself, and the things I love!"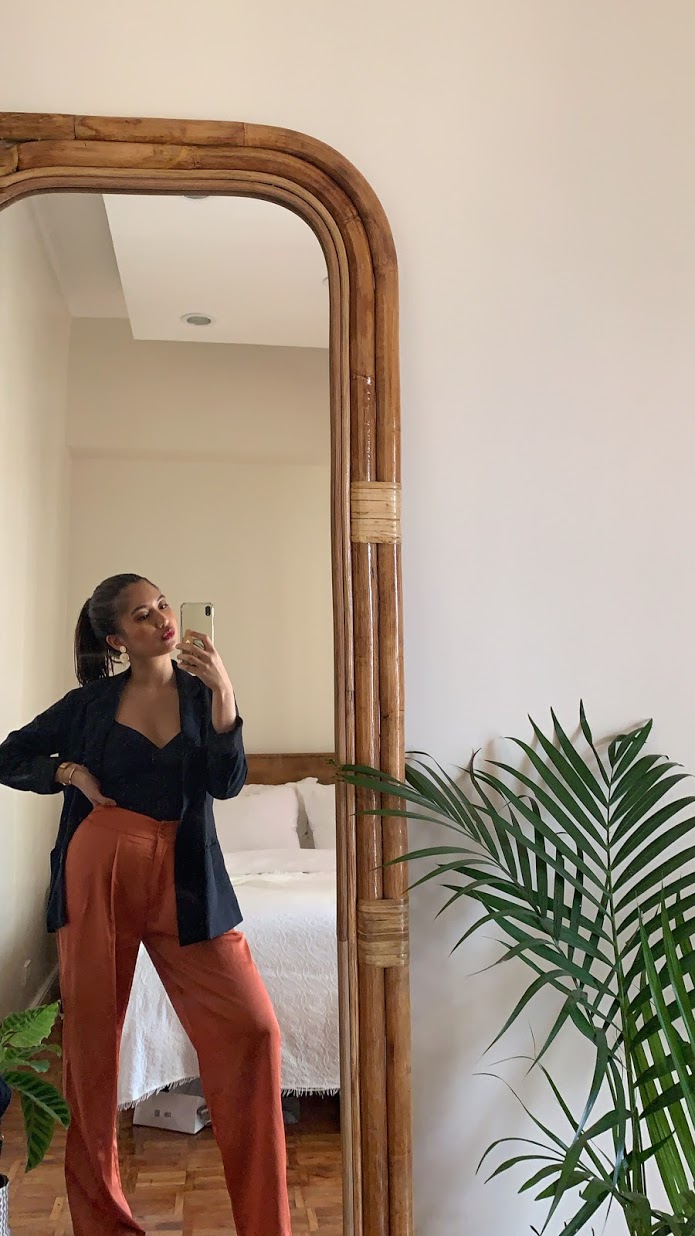 ADVERTISEMENT - CONTINUE READING BELOW
This story originally appeared on Cosmo.ph. Minor edits have been made by the Preview.ph editors.
Related Stories from Preview.ph



Hey, Preview readers! Follow us on Facebook, Instagram, YouTube, Tiktok, and Twitter to stay up to speed on all things trendy and creative. We'll curate the most stylish feed for you!