Karl Lagerfeld is known for his signature white ponytail and his creative visionary for Chanel. But with his recent team-up with worldwide-known German brand Faber-Castell, now finally we see him as Karl, the artist. Containing 350 pieces of art tools, the box, which Karl designed himself, looks like a Chinese wedding cabinet with removable drawers to store a wide range of colored pencils, ink pens, and pastels. All personally chosen by Karl, it comes with watercolor brushes, water cup, eraser, and sharpeners.
"To me, drawing is like breathing and writing. These are things that almost relax me," Karl shares. Only 2,500 of the Karl Box are available on the market, each with a unique serial number and a certificate of authenticity.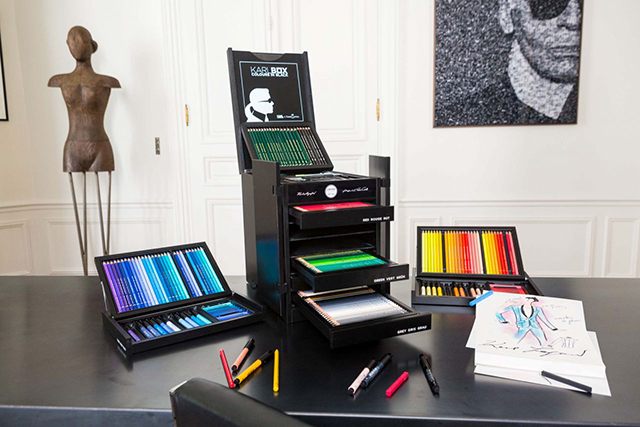 IMAGE Karl.com
So what exactly have people done with their $2850 Karl Boxes?
Following Karl, most of them have created fashion illustrations:
Check out this satisfying watercolor painting!
Sprichst du Deutsch? Being of German descent, Karl's pencils are labelled both in Deutsch and English.
With the slogan Colours in Black, the art kit is an homage to artists and visioanries, without whom our world will be colorless.
Look at the brilliance of its pens and colored pencils!
The Karl Box isn't just limited to fashion illustrations. You can also try your hand on calligraphy and free-hand lettering!
ADVERTISEMENT - CONTINUE READING BELOW
Main image from Karl Lagerfeld